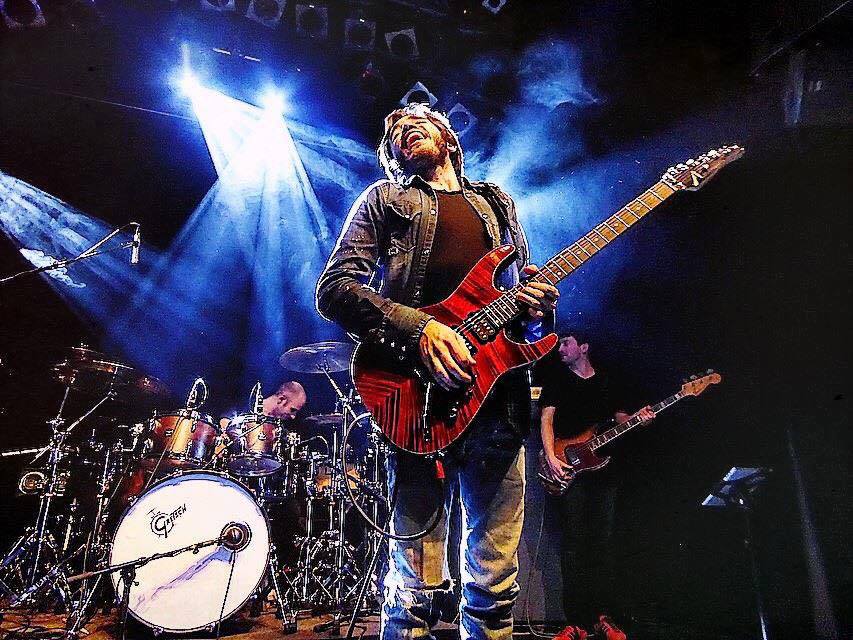 Őszintén bevallom, hetekkel ezelőtt fogalmam sem volt, hogy ki is Eric Steckel és milyen zenei műfajban is alkot pontosan, de a LOTS Musicnek köszönhetően eljutott hozzám a gitáros legújabb lemeze, a Polyphonic Prayer, és mit is mondjak, rendesen felkeltette az érdeklődésem a srác.
Srác. Már ez is egyfajta meglepetés, a lemezt ízlelgetve először az jutott eszembe, jó ez, de ki ez a pacák? A zene alapján egy Adrian Vandenberg és Doug Aldrich fazont vizionáltam hozzá, amíg rá nem kerestem. Egy 27 éves amerikai blues-rock gitárossal kerültem szembe, aki óriási tehetsége lesz a műfajnak, – ha már nem az. De nézzünk is utána, hogy ki is ő a zenei színtéren. 2002-ben! Igen, 11 évesen adta ki első lemezét A Few Degrees Warmer címmel. Ez nagy sikert hozott számára a lemez turnéján nem más, mint maga John Mayall hívta fel a színpadra, ezzel azonnal a legfiatalabb Bluesbrakerré avanzsált. Egy évvel később közös koncertet adtak, 2005-ben pedig Mayall lemezén is feltűnt a fiatal titán. Eric a szólólemezekkel sem fukarkodott az évek során, csak termelte a korongokat. Legutóbbi az idei év elején látott napvilágot Polyphonic Prayer címmel.
Az albumról elöljáróban annyit mindenképp elárulnék, hogy a dobok kivételével minden hangszert Steckel játszott fel.
A lemezt a Waiting For The Bus nyitja, és akiknek ismerős a cím, azokat megnyugtatom:  Igen, ez az a Waiting For The Bus! De nemhiába nincs szakáll és fura sapek, hiszen Eric elég rendesen saját ízére formálta a dalt. Kapott egy – ha lehet így fogalmazni – még dögösebb hangzást, egy arcpiritíóan jó gitárszólót, és a dal végére egy olyan gitár-hammond egyveleget, amitől totál ledobtam a láncot.
A dallal erősen bekezdett, az első benyomásom abszolút pozitív. Visszább is vett a We're Still Friendsben, amiben ugyancsak képet kapunk arról, hogy a srác billentyűkön is rendesen képzett. A Muddy Waterstől átvett She's 19 Years Old, a Make It Rain, vagy az It's My Own Fault Eric bluesosabb oldalát mutatja meg. A Tennessee stílusában leginkább a fent említett ZZ Top cover-höz hasonlít, igazi felstenkelt erőtől duzzadó blues-rock darab. Érzi a stílust rendesen, efelől semmi kétségem, nekem mégis azok a dalok tetszenek, amikben ledobja kliséket és szabadon zenél. Az egyik kiemelkedő darab az Unforgettable. Személyes kedvencem. Egy melodikus ballada óriási gitárszólóval, egy fülbemászó énekdallammal. A dal minden egyes alkotóeleméből sugárzik az érzelem. Nálam vitte a prímet.
Összegzés: A gitározás szerelmesei kétségtelenül kajálni fogják ezt a lemezt. Gyilkos futamok ezreit sikító gitárszólókkal tetőzi a srác, az meg csak hab a tortán, amit a billentyűkön művel. Hölgyeim és Uraim, a jövő egyik kivételes tehetségével van dolgunk.
Aki élőben is meghallgatná ezeket a kiváló dalokat, annak van egy jó hírünk, ugyanis LOTS Music jóvoltából október 7-én a Backstage Pub színpadját hódítja meg Eric Steckel. További infó itt!
Értékelés: 9/10.