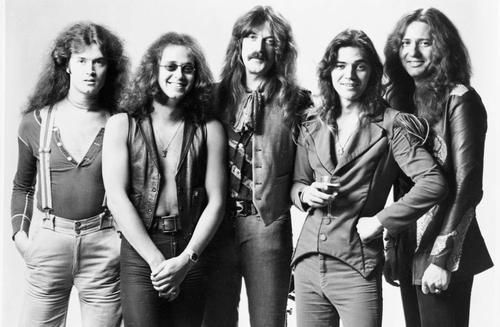 1966-ban Chris Curtis (The Searchers) londoni művésztanyáján egy orgonista kért egy napra szállást, akit Jon Lordnak hívtak. Innen datálható a Deep Purple története, amely vitathatatlanul a hard rock műfajának egyik alapzenekara lett. Lord mellett olyan meghatározó zenészek alapozták meg benne a hírnevüket, mint "mosolynélküli" Ritchie Blackmore vagy Ian Paice - és még csak a zenekar első felállásánál tartunk...
Mert bizony a csapat olyan intenzíven élte meg az 1969 és 1976 közti hőskorszakát, hogy a különböző posztokon egymást váltották a pótolhatatlannak hitt zenészek. A Deep Purple köpönyegéből bújt elő Ian Gillan, a mai napig aktív rockisten Glenn Hughes és az örökifjú aranytorok, David Coverdale is - hogy csak a legismertebbeket említsük. 1975 novemberére azonban a "Nagy Felállás" végnapjai a zenekar emblematikus gitárzsenijének, Blackmore-nak botrányos körülmények közt zajló kilépésével fejeződtek be. Ekkor a zenekarvezető Jon Lord és a mellette akkoriban zenélő tagok (Ian Paice dobos, David Coverdale énekes, Glenn Hughes basszusgitáros-énekes) is komolyan elgondolkoztak azon, hogy pótolható-e a gitáros, vagy pont kerül a történet végére.
A nagy öregek, Lord és Paice azon a véleményen voltak, hogy a kezdetektől velük zenélő, a zenekar hangzását alapvetően meghatározó Ritchie pótolhatatlan. A két "új fiú", Coverdale és Hughes viszont másképp gondolták, és inkább a folytatás mellett voksoltak. Talán furcsának tűnik, de az ő álláspontjuk érvényesült, így a csapat elkezdte keresni Blackmore utódját. Az első jelölt a posztra Clem Clempson volt, aki korábban a Colosseumot és a Humple Pie-t erősítette, így a rock-közönség számára nem volt ismeretlen, ráadásul profinak számított. Ennek ellenére a meghallgatásokon "nem működött a kémia", így a Purple tagjai tovább keresgéltek.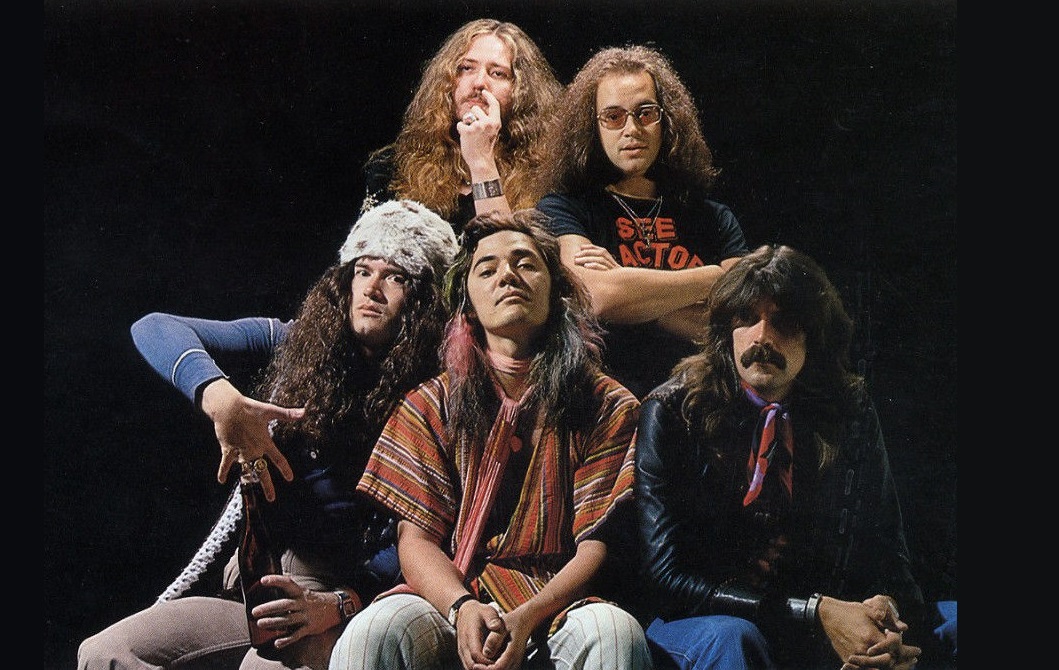 Coverdale állt elő az ötlettel, hogy a Billy Cobham Spectrum című lemezén játszó gitárost, Tommy Bolint (1951. 08. 01. - 1976. 12. 04.) kellene szerződtetniük. Bár a lemez egységesen a zenekar kedvencei közé tartozott, mégis szokatlan lépésnek tűnt számukra egy Blackmore-hoz képest szinte ismeretlen, teljesen más stílusú gitárost bevenni. Bolin 1969 és 1975 között a Zephyr és James Gang lemezein játszott, valamint közreműködött John Lee Hooker egyes anyagain, tehát a szakmában nem volt ismeretlen a neve, de igazi A-ligás produkcióban még nem próbált szerencsét. Coverdale azonban ragaszkodott Bolinhoz, és végül sikerült meggyőznie a többieket - az más kérdés, hogy ezzel kimondták a klasszikus Deep Purple halálos ítéletét, de ezt maguk sem tudták még ekkor. Bolin végül meghívást kapott a Deep Purple-be, aztán a csapatnak és új gitárosának össze kellett szoknia: Bolinnak az elődjétől gyökeresen eltérő, bluesos/jazzes stílusa volt, ráadásul sokkal inkább ösztönből játszott, mint Blackmore.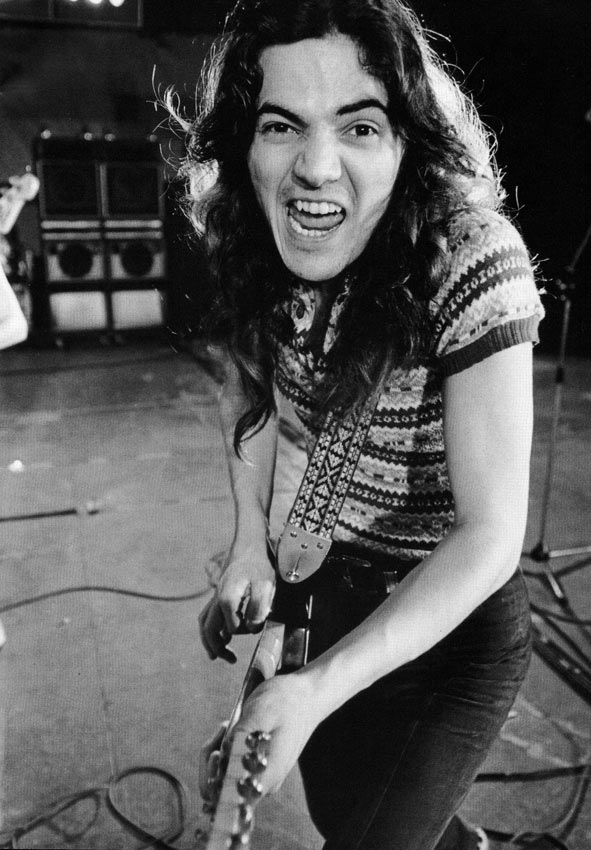 A zenekar egy érdekes kísérletbe kezdett: hogyan lehet társítani az új gitáros könnyedebb stílusát a Deep Purple kemény zenei világával? Az elkészült új lemez a Come Taste The Band címet kapta, és 1975 augusztusában jelent meg. A zenei szaksajtó szerint azonban ezt csak megszokásból lehet Deep Purple lemeznek tekinteni. A zenekarvezető és a csapat öröksége háttérbe szorult, Hughes és Bolin viszont nagyon egymásra találtak, és gyakorlatilag ketten komponáltak egy lemeznyi dalt, a dallamos fekete blues/soul/funky örökség jegyében. A szövegeket Coverdale jegyezte, aki -megszabadulva Blackmore lelki terrorjától - egy sokkal felszabadultabb alkotási folyamatot élt meg, mint bármikor korábban.
A Bolin-Coverdale-Hughes hármas tehát egymásra talált, a zenekar öregjei azonban nem érezték magukat otthonosan ebben a közegben. Ráadásul a lemezírás közben feltűnt, hogy Bolin hol zseniálisan, hol teljesen szétesve játszik. Kiderült, hogy az új gitáros súlyos heroinfüggő, ami értelemszerűen kockázati tényezőnek bizonyult, és tovább fokozta a csapaton belüli feszültségeket. Az elkészült lemez kiválóan sikerült, de teljesen elütött a korábbiaktól, és ez meg is látszott a bevételen: az eladási listákon az anyag korántsem teljesített fényesen.
A menedzsment egy japán és ázsiai turné ötletét vetette be mentőövként, ugyanis itt a zenekar rajongótábora stabilabb volt az amerikainál. Az ázsiai körút első állomása a jakartai dupla koncert volt, amely botrányosra sikeredett. Egy, a helyi szervezőkkel kialakult inzultust követően Patsy Collins, a zenekar testőre egy liftaknába zuhant, és meghalt. Glenn Hughest és a zenekar menedzserét, Cooksey-t letartóztatták. Az óvadék a zenekar egész gázsiját elvitte, de mire Cooksey és Hughes kiszabadultak, még nagyobb baj kerekedett... Bolin ugyanis mindeközben egy helyi dealertől szerezte be a szokásos heroinadagját. A rossz minőségű szerrel beinjekciózta magát, amitől szinte lebénult a karja, képtelen volt hangszert fogni a kezébe. Néhány primitív akkord lefogása is nehézségnek tűnt számára. A másnapi koncertet így négyes felállásban, az előző esti tragédia árnyékában játszották le, a helyzetet pedig Jon Lord kivételes képességei mentették meg valamennyire: a szólórészeket mind ő játszotta billentyűn. A koncerteket ráadásul fel is vették, és később meg is jelentették: a hangmérnökök sem tudtak azonban az anyagból csodás dolgot csinálni, így minden bizonnyal ez a leggyengébb minőségű lemez, ami Deep Purple néven valaha megjelent.
A zenekar megvárta, míg Bolin rendbe jön, és 1976 januárjában újra turnéra indultak: ekkorra azonban már katasztrofális hangulat uralkodott náluk. Bolint - bár zseniális zenész volt, ha nem anyagozott - a heroinfüggősége megbízhatatlanná tette, és a közönség sem fogadta el őt. Alig két hónappal az turné kezdete után, egy liverpooli koncert közben az alapítók, Jon Lord és Ian Paice, abbahagyták a játékot, és kivonultak a koncertteremből. a Deep Purple feloszlását hivatalosan június 6-án jelentették be.
Bolin a zenekar szétszéledése után hazautazott az USA-ba, megjelentetett egy szólólemezt (Private Eyes), és Jeff Beckkel próbált közösen dolgozni, de még 1976 decemberében elhunyt túladagolás következtében egy szállodai szobában Miamiban. A klasszikus Lord-Gillan-Glover-Blackmore-Paice felállású Deep Purple 1984-ben állt össze újra, a zenekar pedig, változó felállásban és intenzitással ugyan, de a mai napig aktív.
Forrás:
Kapuvári-Sebők: Deep Purple, 1987., Zeneműkiadó Vállalat
WikiPedia