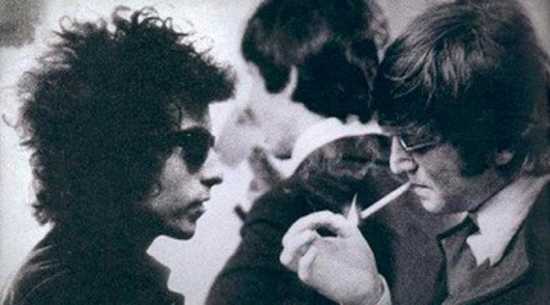 Ha a rocksztárok szerfogyasztását szeretnénk tanulmányozni, nagy eséllyel törne bele a bicskánk a témába, hiszen elég nehéz lenne felidézni bármiféle sztorit is egy-egy ikon első piálásával, vagy kábszerezésével kapcsolatosan. Még szerencse, hogy a Beatles esetében voltak a helyszínen józan társak is így, a sztori megmaradt az utókor számára, persze ehhez egy másik ikon is kellett...
1964 augusztusában a Beatles első ízben indult az Egyesült Államokba turnéra. A körút a San Francisco-i Cow Palace-ben startolt, majd a keleti parton, a Paramount Theatre-ben zárult New Yorkban. Augusztus 28-29-én az angol négyes a Forest Hills Stadionban adott koncertet, ami után a Delmonico Hotel elnöki lakosztályában tértek nyugovóra a zenészek.
Egy vendég azonban váratlan fordulatot az estébe, ugyanis kedélyes mosollyal lépett be az ajtón az angol négyes akkori kedvence, Bob Dylan.
Van egy kis piátok srácok? – kérdezte az akkoriban a The Freewheelin' Bob Dylan lemezével egekbe jutó folkzenész.
A szobában egy pillanatra feszült csend lett Dylan láttán, aztán persze mindenki ellazult és irányba vette a szálloda minibárját. Legnagyobb meglepetésükre, üdítő, és fagylalt volt a választékon, így valahonnan muszáj volt alkoholt szerezni. Brian Epstein menedzser kiadta a feladatot Mal Evans személyi testőrnek, hogy szerezzen bort.
Addig azonban el kellett ütni valamivel az időt így Dylan megkérdezte, hogy van-e kedvük füvezni?
Sosem szívtunk még füvet – mondták az ötletgazdának. Dylan szeme óriásira tágult, lába a földbe gyökerezett és majdnem elejtette a félig elkészült jointot
Na de várjatok. Akkor mi van akkor azzal a nagysikerű dallal, amiben azt éneklitek, hogy… - majd dúdolni kezdte az I want to hold your hand-et."… "And when I touch you, I feel happy…., I get high, I get high…"
Nem I get high, hanem I can't hide! – lépett közbe a fülig vigyorgó Lennon.
A cucc elkészült és Dylan a szokáshoz híven elkezdte körbeadni cigit. Lennon felé nyújtotta, aki azonnal átadta lehetőséget. Kinek? Hát persze, a dobosnak. Ringo csak ennyit mondott. Én kezdjem? ... Mint valami királyi előkóstoló? – Ringo mit sem sejtve az "etikettről" az egész szálat elszívta anélkül, hogy bárkinek is adjon belőle. Ennek örömére Dylan mindenkinek tekert egyet. A buli vége pedig elég mókás lett, az aznap esti feljegyzések azt írják, hogy a srácok egész este azt ordibálták, hogy a mennyezeten vagyok.