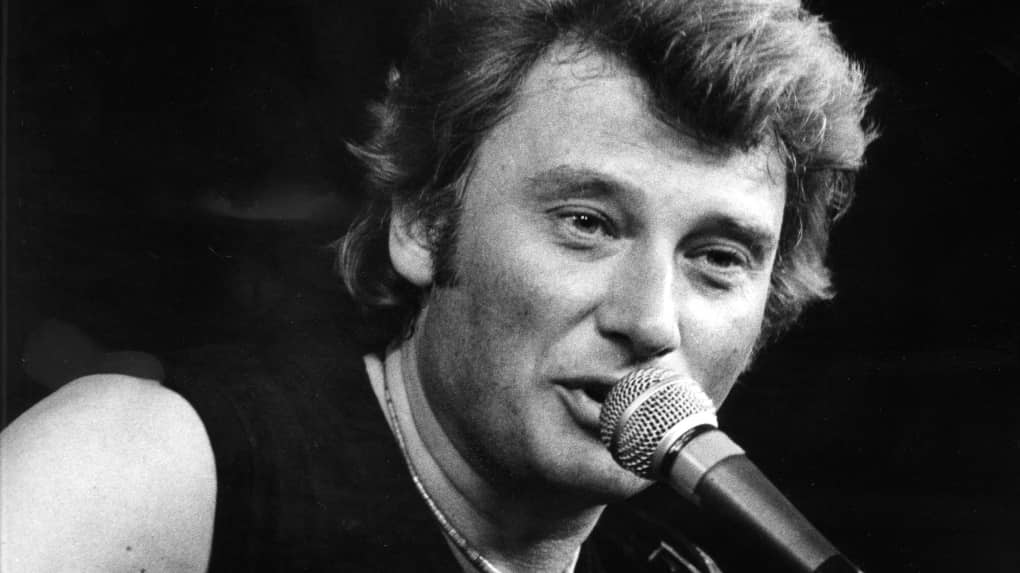 Teakbois írása
Tavaly hunyt el minden idők egyik legsikeresebb előadója, aki folyamatosan felfelé ívelő karrierje során több mint 110 millió lemezt adott el, ám az életművét behatóan elsősorban azokban az országokban ismerik, ahol a hazája nyelve hivatalosnak számít. Johnny Hallydayről van szó, a franciák Elviséről és legelső rock and roll énekeséről, nemzeti kincséről, kulturális ikonjáról.
Elvis vérpezsdítő és szemérmetlen rock and rollja forgószélként tarolt végig a világon, ám az amerikai fenegyerek hamar szögre akasztotta a bőrdzsekit meg a lázadó stílust, és az 1960-as évek elejétől szinte csak szirupos albumokat adott ki: sem a beat korszak, sem a hippi mozgalom fiataljait nem volt képes megszólítani, és a rebellis tinik helyett végül a megtakarításaikat Vegasban eljátszó középosztálybeli nyugdíjasok váltak a célközönségévé. Hallyday viszont, noha egyértelműen a nagy előd nyomdokain indult el, élete végéig megőrizte kísérletező kedvét, muzsikája lépést tartott a rockzenében zajló változásokkal. Noha ő is készített kifejezetten az idősebb korosztályt megcélzó felvételeket (főképp a klasszikus ízeket felvonultató, de modern hangszerelésű sanzonjai sorolhatók ebbe a kategóriába), ezeket rendre ellensúlyozta keményebb rockslágerekkel, így jelezve, hogy az ő bőrdzsekije még nem lett molyok tanyája egy padlás legsötétebb zugában.
Az 1969-es év divatos műfajának a blues, a pszichedelikus rock és az épp ekkoriban keletkező hard rock számított (tehát eléggé más volt a közhangulat, mint manapság), Hallyday pedig egy francia szempontból meglehetősen felháborító cselekedetre szánta el magát: többségében brit kísérőzenészeket és dalszerzőket választott a következő albumához. Johnny már korábban is dolgozott angolszász muzsikusokkal: Brian Augerrel és Otis Redding zenekarával vett fel dalokat, 1968-ban pedig két remek számot rögzített Jimmy Page közreműködésével (Psychedelic és A Tout Casser – utóbbi egy azonos című, az énekes főszereplésével forgatott film betétdala), de ilyen fokú "brit invázióra" addig nem került sor a zenéjében.
Az énekes 1969-es albumának hangszerelői teendőit Micky Jones és Tommy Brown vállalták magukra. Előbbi Mick Jones néven a '70-es évek végén világhírnévre tett szert a Foreigner gitárosaként, utóbbi pedig egy keresett session dobos és komponista volt. Némi tanakodás után kísérőzenekarnak az ekkor már széthullóban lévő Small Faces-t kérte fel Hallyday stábja, akiknek ez lett az utolsó stúdiófelvételük a feloszlásuk előtt. Hallyday és a Small Faces még 1966-ban barátkoztak össze, amikor a csapat többször átruccant koncertezni Franciaországba, Johnny pedig 1967-ben feldolgozta My Way Of Giving című dalukat (Je N'ai Jamais Rien Demandé).
A lemezfelvétel bajtársi hangulatban indult, de hamar elmérgesedett a helyzet. Steve Marriott ugyanis magával hozott egy Peter Frampton nevű feltörekvő és tehetséges gitárost, hogy ő is nyűje a hangszerét az albumon. Kenney Jones (a Small Faces és később a Who dobosa) állítása szerint a lemez producer-hangmérnöke, Glyn Johns bogarat ültetet Marriott és Frampton fülébe, és a munka szüneteiben folyton arra bíztatta őket, hogy alapítsanak közös zenekart. Az ennek kapcsán kirobbant vita végül igazi rockzenei szappanoperába torkollott: Nagy-Britanniába való hazatérésüket követően Marriott felhívta Framptont azzal a hírrel, hogy kilépett a Small Faces-ből, és kettőjüknek azonnal létre kell hozniuk egy új formációt. Másnap a Small Faces maradék három tagja megjelent Frampton lakásán, és közölték vele, hogy szeretnék bevenni Marriott helyére! Hogy miképp döntött Frampton, közismert, és egy bizonyos Humble Pie nevű zenekar születését eredményezte.
De milyen is az album, amit a franciák nemzeti hősének készítettek brit hőseink? Elsőrangú, és egyértelműen az énekes legrockosabb produkciója hosszú pályafutása során, sőt a Small Faces sem készített ennyire kemény anyagot korábban. A lemezt nyitó Rivière... Ouvre Ton Lit igazi power ballad karcos gitártémákkal és sodró dobolással, ami kétséget sem hagy afelől, hogy Johnny ezúttal nem Elvis-hangulatban ügyködött. A másodikként felcsendülő Voyage Au Pays Des Vivants kegyetlenül húzós tempót diktál a Ronnie Lane és Kenney Jones alkotta ritmusszekció parádés összjátékával − ennyire kemény rockot ebben az évben talán csak a Led Zeppelin tudott prezentálni. Az Amen Hallyday második Small Faces-feldolgozása: a csapat pszichedelikusabb szerzeményei közé tartozó That Man-t formálta saját képére, és még Marriott jellegzetes hajlításaival sem vallott szégyent, pedig teljesen eltérő a hangkarakterük (Johnny jóval mélyebb orgánumú volt Steve-nél). A Viens ugyancsak a pszichedelia jegyében született, az előbbieknél könnyedebb hangulatú tétel, a '67-es év hippi slágereivel rokonítható, és valaki (Marriott? Frampton? Jones?) igen kellemeset gitárszólózik benne.
A következő két tétellel Marriott annyira elégedett volt, hogy angol szöveggel a Humble Pie-jal is rögzített őket a néhány hónappal Hallyday lemeze után megjelenő As Safe As Yesterday Is készítésekor. A Reclamation (Humble Pie-verzióban a Bang címet kapta) megint csak egy, az évjárathoz képest szokatlanul kemény szám. Steve Marriott a világ egyik legjobb énekese volt, aki megannyi feldolgozást süvöltött el ezerszer lehengerlőbben az eredeti előadóknál, ezúttal viszont "a saját számának saját verziója" kevésbé lenyűgöző és előremutató a Hallyday társaságában felvettnél. A nóta sokkal jobban működik Johnny macsó zúzdájaként, mint a Humble Pie boogie-sabb, jammelgetős számaként. A Regarde Pour Moi ugyanolyan kiváló, mint a Humble Pie-verzió What You Will: míg az előbbi afféle rocksanzon Hallyday nagyívű és érzelmes (nem pedig érzelgős!) vokáljával, az utóbbi olyan, mint a Black Crowes elvont, country hatású dalai az Amorica és a Three Snakes And One Charm című lemezeken. A hatodikként elhangzó Je Te Veux jóféle pszichedelikus blues rock torzított flegma vokállal, a hetedik Les Anges De La Nuit pedig egy helyenként keleties dallamvilágú, fuvolával feldúsított dal, amit Kenney és Ronnie szilárd alapozása izmosít meg. Az utolsó előtti Je N'Ai Besoin De Personne-nal megint keményebb vizekre evezünk, "szavalós" vokállal és isteni basszussal. A lemezt a Je Suis Ne Dans La Rue című sallangmentes, mégis fantasztikusan elővezetett gyors blues zárja, amely leginkább a Crossroads Cream-féle feldolgozására hasonlít.
Az illusztris zenész- és dalszerzőgárdának (és persze magának a "főnöknek") köszönhetően Johnny Hallyday 1969-es nagylemeze a '60-as évek végi nemzetközi albumtermés kiemelkedő darabjává vált. Megjelenésekor azonnal a francia lemezeladási lista élére ugrott, és tekintélyes mennyiségű időt töltött ott, az elmúlt évtizedek során pedig a világ számos pontján kultikussá nemesedett a Small Faces- és Humble Pie-rajongók körében. Abszolút megérdemli, hogy Magyarországon is szélesebb körben ismertté váljon.
Johnny Hallyday − Johnny Hallyday tracklisting:
Rivière... Ouvre Ton Lit
Voyage Au Pays Des Vivants
Amen
Reclamation
Regarde Pour Moi
Je Te Veux
Les Anges De La Nuit
Je N'Ai Besoin De Personne
Je Suis Ne Dans La Rue
Megjelenés: 1969.
A felvételek a párizsi Studio Des Dames-ban és a londoni Olympic Studios-ban készültek.
Producer: Glyn Johns, Lee Hallyday
Teljes játékidő: 36:43