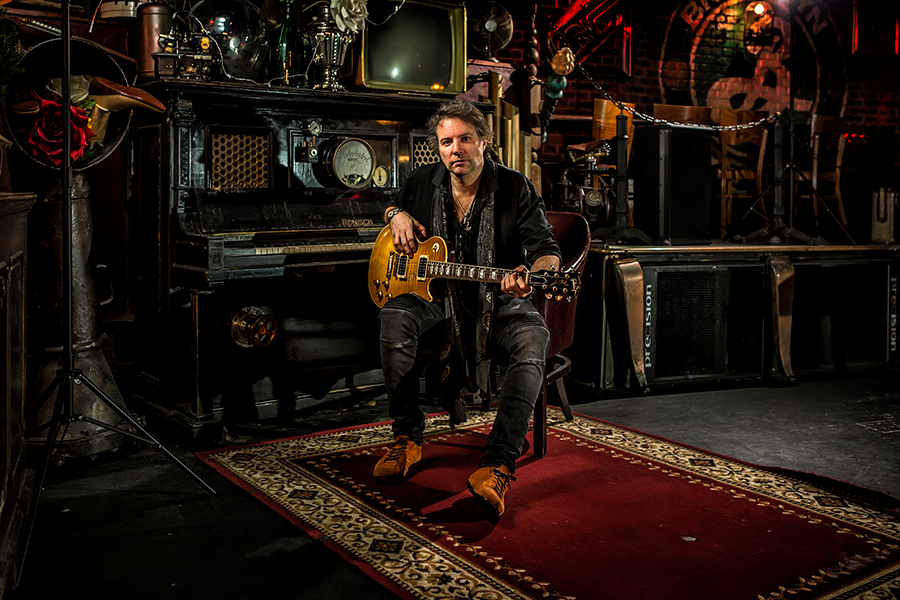 Az elmúlt három évben a Gary Moore Emlékesteken, valamint tavaly önálló koncerten is megismerkedhettünk a finn gitáros, Ben Granfelt zenéjével. Az Another Day című nagylemeze után My Soul To You című korongjával járja Európát, szeptember 28-án, a Backstage Pubot is megzengeti majd a trio.
Leginkább az érzelmes szóval lehetne illetni az 55 éves finn zenész új, 10 dalt felvonultató nagylemezét, mely júniusban látott napvilágot az A1 Records gondozásában. Társai: Masa Maijanen és Okku Laru mellett két énekes, Bryn Jones és Ben felesége, Jasmine Wynanst-Granfelt is szerepel a korongon, Atte Laru és Muddy Manninen gitáros mellett.
A Weight Of The World a ballada a világ súlyát pakolja emberünk lelkére, hiszen egy mély érzésű balladával indítja a lemezt. Az introt és szólót hallva leginkább sírni támad kedvünk, de a szövegtől sem száll tova ez az érzés. A Life, Living And You már pozitívabb hangvételű darab, hard-blues-os riffel és egy hatalmas hangzással. A This is Love hangulatában az utóbbi csoportba sorolható. Jasmine Granfelt hangja egy új karaktert a dalnak (Óvatosan padlóig ért az állam, amikor elkezdett énekelni) Muddy Manninen slide szólója pedig amolyan hab a tortán. Egy igazi rádióbarát rocksláger (HAHÓ HAZAI RÁDIÓK!! ;) )
A pozitív gondolatok tovaszállnak, a címadó dalt hallgatva. A hasonlóan szívfacsaró darabot hallgatva szinte azonnal megjelennek a finn gitárhős védjegyei, a hangzás a tónus, ami eddigi lemezeit jellemzi. Ehhez a dalhoz készült az album első hivatalos klipje is. Stratocasterre pattanva, azonnal itt van nekünk az A Better Place, ami az SRV-s időket idézi. A Jasminennal közös duettet is kipiálhatjuk a listán, a Fuel To Burn, ha lehet így fogalmazni egy elég skizofrén darab lett. Az alaptéma erőteljes kicsit sötét, southern hatású, míg a vokális részek inkább a kellemes dallamos témák táborát erősítik.
A My Heroine-ban Bryn Jones is színre lép, és akár egy új Rolling Stones sláger is születhetne a dalból, adnak a Telecasternek rendesen, és egy kis Mark Knopfler fűszer is finoman megízesíti.  A rockos téma után jöhet egy kis slow blues, ahogy anno Gary Moore csinálta. A Tough Love a lemez egyik gitárcentrikus dala. Szimpla verze, chorus, tremolo és wah effect, brutális gitárszólók. A My Soul To You egyik legkeményebb darabja a Mind Your Head And Watch Your Step. Valamiféle düh felszínrejutása, vagy egy felszakadt seb hozhat ki ekkora indulatot valakiből. Pacsizok a fuzzpedálért! A Sunrise pedig leginkább – mint ahogy a címe is mutatja – egy gyönyörű nap reggelét tárja képzeletünk elé. Nem is kell más, hagy beszéljenek a hangok.
Azt gondolom, hogy Ben egyik legtudatosabban felépített lemezét mutatta be a My Soul To You-val. Precíz és megismerhetjük azt, hogy milyen sokoldalú előadó is ő. Ezt persze nem csak a lemezen tapasztalhatjuk meg, hanem a LOTS Music-nek köszönhetően szeptember 28-án élőben is a Backstage Pubban is.