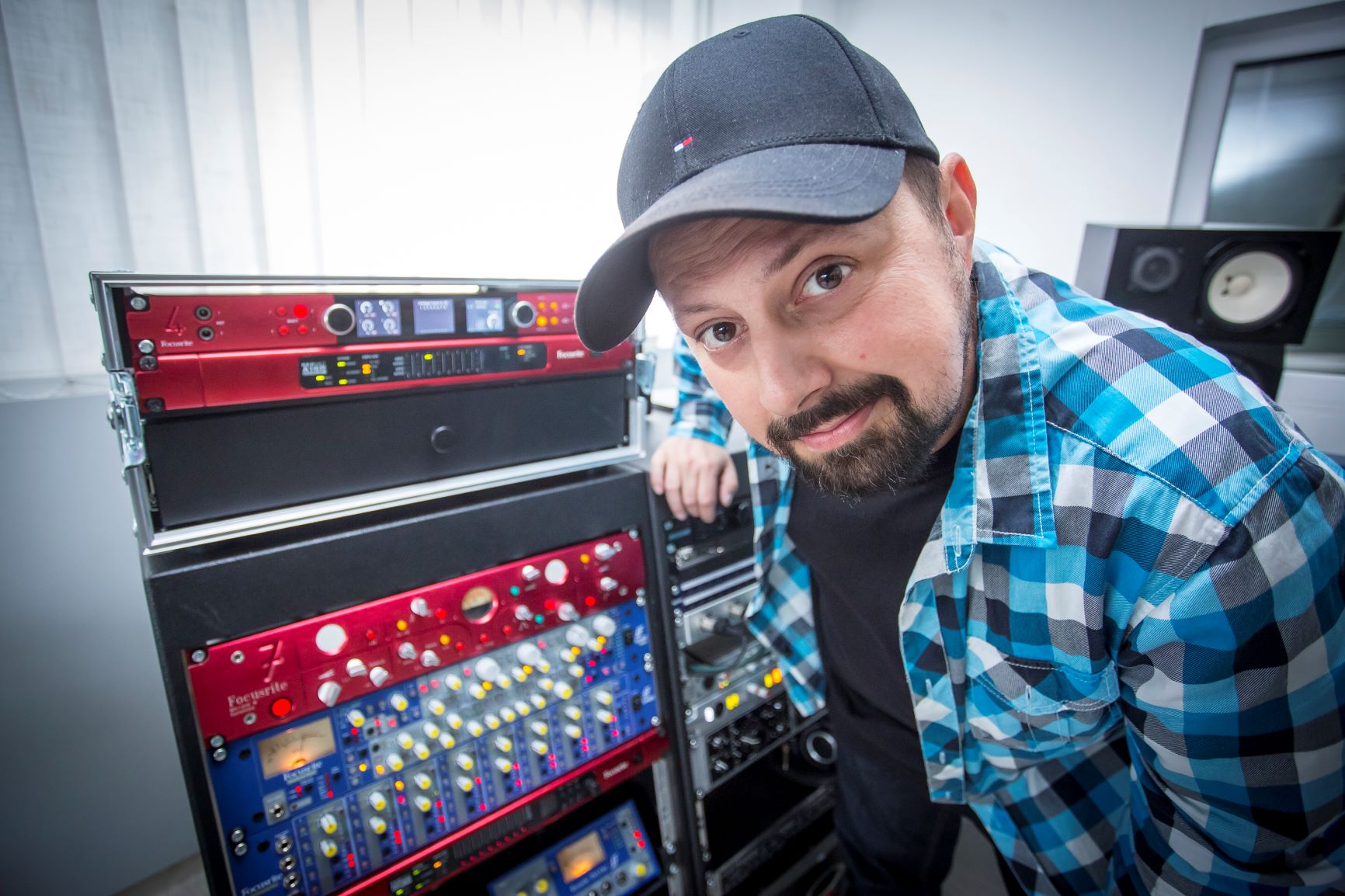 A SuperSize egykori , a Noniusz Productions jelenlegi hangmérnöke, az ország egyik legsokoldalúbb zenei producere , Nóniusz Gábor osztja meg veletek sorsfordító lemezeit. A rovat eddigi szereplői mind azt nyilatkozták, hogy nagyon nehéz volt 10 lemezt választani. Gábornál nyert értelmet ez igazán: ő évente 250 lemezt hallgat végig, az volt a kiválasztási szempontja, hogy azt választja ki, amit kívülről tud.
"Nagyon nehéz a rengeteg kedvenc lemezem közül kiragadni azt a néhányat, amik jelentősen befolyásolták az életem és a gondolkodásom. Próbálom azokat kiemelni, amelyekhez nem kizárólag érzelmi szálak kötnek, hanem tényként jelenthetem ki, hogy másban gondolkodnék ma, ha akkor és ott nem találkozom velük. Bocs, ha csapongnék egy kicsit!"
Beastie boys - Licenced To Ill (1986)
Felénk vidékre jelentős késéssel érkeztek az új trendek és kazetták, szóval a '90-es évek nagyon elején - amikor a fordított baseball-sapkáért egy kisvárosban még gondolkodás nélkül megrugdostak - a Queen és Deep Purple lemezek hallgatása mellé az unokatesóm Csepelről hozta ezt, annyit hozzáfűzve, hogy torz gitár ezen is van. Az össze-vissza másolt számsorrendes kazettán elindult a No sleep 'till Brooklyn, én pedig a dobgép belépésénél valami olyat éreztem, amit előtte soha. Ja, hogy ezt így is lehet?! A lemezen hallható megoldások egy részét a mai napig alkalmaztatom rock és metal lemezeken. Mellesleg a fent említett dalban a Slayeres Kerry King tépi a húrokat és csomó klasszikus riffet hamarabb hallottam itt mintaként, mint az eredeti előadótól.
Run DMC - Raising Hell (1986)
Ugyanahhoz a másolt kazettás időszakhoz köthető, mint az előbbi, ráadásul ugyanaz a Rick Rubin producelte. Rick nagyon jó érzékkel keverte bele a dalokba a fehér kultúra utalásait, hogy a feketék zenéjét a korszak fehér hallgatósága számára is hallgathatóvá, szerethetővé tegye. A gitár itt is riffel, de ha egy dal nem igényelt többet az acapella-dobgép párosnál, akkor nem is erőltettek mást bele. Ez adott egy nagyon feszes, fegyelmezett és súlyosan kimért alapot az egésznek. Igen, ezen van a szarrá játszott, mégis megunhatatlan Walk This Way is, de a lemezt bárkinek mutatom, két dalonként biztos felkiált, hogy, "Ja, ezt ismerem."
Mex - Őrülj Meg! (1993)
A lemez, ami a szívverés intenzitásában rávert a Beastie Boysra is a kezdésével. Egyáltalán nem tudtam, mire számítsak, de hogy 1993-ban egy karcos héthúros gitár riffelése alá bejöjjön a kedvenc fekete grooveloopom, arra végképp nem! Egy szerkezetében pop lemezekre jellemző felépítésű dalokat tartalmazó album, olyan minden szabályt magasan leköpő, mégis zseniálisan egészet alkotó muzsikával, hogy évekig nem tudtam leszakadni róla. A szövegek intelligensen voltak bunkók, - erős alternatívát adva Geszti munkásságára- , és még a szüleim sem kérdezték, hogy ezt most muszáj-e, pedig mind pontosan értettük, hogy Závodi Gábor mire utal éppen. A zenekar teljes munkássága fejből megvan, minden lemez a tankönyvek mellett a polcon, de nekem akkor is ez volt az első.
Extreme - Extreme II: Pornograffity (1990)
Volt az az érzelmes dal az MTV-n, a More Than Words… a szekundsurlódásos vokáljaival. Kár, hogy nem hallgattad meg miatta a lemezt is, pedig  bebizonyította volna számodra, hogy a lá pentaton és a harmonikus mol után is létezik virágzó élet! Ott jöttem rá, hogy nem tudok gitározni. Akkoriban igyekeztek mindenkire a metal-funk fusion billogot rásütni, de ha az a kérdés, hogy mit tett ez a zenekar a stílusban az asztalra, nos, akkor ők hozták az asztalt is! (A többiektől elnézést kérek.) Csak szívtam magamba, amit ez a lemez adott és szentül hiszem, hogy ők lehettek volna a Queen méltó utódja, ha a zeneipar nem arra változik, amerre végül változott.
Black-Out - Fekete-kék (1994)
Ezt a kazettát egy lány nyomta a kezembe az iskolafolyosón, majd jó sokat várt, mire visszaadtam. Amikor egy Extreme irányból induló banda elkezd magyar nyelven korai grunge-ot játszani olyan erővel, hogy leszakad az agyad, amellett nehéz elmenni szó nélkül. Rendesen megírt dalok, jó vokálok, Kowalsky akkori zaklatott világát tükröző egyénisége… szóval adott valamit, amit nekem más előtte nem. Nem volt egy kifejezetten vidám és életigenlő album, de rongyosra hallgattam ezt is. 
Pink floyd - Dark Side Of The Moon (1973)
Felrakod, elindul, ott vagy 1971-72-ben. Pont. Oké, hogy 11 hónapig készült és a korszak progresszív rock megalomániáját jellemzően minden van benne, de akkor sem értem, hogy a kor technikai körülményei között hogy hozták ezt össze. Repít, visz. Mindig mosolygok egy kicsit, amikor olyan lemezt kell csinálnunk, ahol a megemlítik a referenciák között. A felszíne kapargatható, de utánozhatatlan.  
Slash's Snakepit - Ain't Life Grand (2000)
Az élet nem mindig igazságos. Ezt a lemezt megkaptam megjelenés előtt promó példányban, majd a Koch Recordsról sajnos hamar kiderült, nem hogy nem ér addig a keze, mint a Geffené. Ennek eredményeként a szerintem legjobb Slash lemez nem kaphatta azt a sorsot, amit igazán megérdemelt volna. Amikor meghallottam, felsírtam, mint a csecsemő, hogy na végre! Mintha egy brutál erős banda eredeti gitárossal megcsinálta volna az Appetite for Destruction egyenes folytatását, némi Led Zep ízzel. Mindig is imádtam a Rosest, az anyabanda sok éves vergődése alatt ez a lemez nagy űrt töltött be nálam. Lehengerlő energiabomba, ragadós riffek, jó refrének. Simán tízből tízes, bármikor jöhet.
Drumcorps - Grist (2006)
Szeretem, ha valaki feszegeti a határokat. Akkoriban teljesen rákattantam a breakcore-ra, és a hozzá hasonló, tömegoszlató perifériazenékre. Amikor a klasszikus metál riffek és a technológia nem merül ki a Demanufacture keretei között, és a kísérlet sikerül. Főhősünk bármit bemintáz és bármelyik gombot megnyomja szívesen. Nem egy csajozós lemez, a megoldások felét hús-vér zenészekkel nem is lehetne megvalósítani, de a cél sem ez.  
Family Force 5 - Business Up Front / Party In The Back (2006)
Egy párhuzamos univerzumban Marylin Mansont a Hello Kitty szponzorálja, és az öreg helyett a Parappa időszak-beli Fluor 'Filigrán' Tomi a frontember. A funktól a hip-hopon és electron át a metálig minden összerázva egy bádogvödörben, gitár helyett a nyakba akasztós "fogkefe"-szinti, Chris Lord-Alge által keverve. A lazább crunkot játszó csapat nem lett túl ismert, de ennek az oka talán az, hogy mindent évekkel korábban hoztak ki, mint ahogy annak eljött volna az ideje. Ha hazai piacra kell esetleg valami "igazán mai", akkor simán inspirációnak elővehetők a régi cuccaik. Elgondolkodtató…
Click Five - Greetings From Imrie House (2005)
Ez egy tinilemez. Célzottan, kiadagolva, pofátlanul. Mai füllel is olyan, mintha a Punk Goes Pop feldolgozás-lemezeket felvizeznénk, adnánk hozzá egy tonna cukrot, ehhez klisé-szinten elővennénk a Beatles leginkább bevált megoldásait, rátolnánk vokálban a Beach Boys legszebb pillanatait, tennénk bele torz gitárt, és iskolás lányoknak tálalnánk mindezt. Egy 2005-ös lemez, ami a rádiós pop-rock lemezek minden szabályának máig megfelel annak ellenére, hogy elméletileg a mai tinik saját bevallásuk szerint másban keresik az értékeket. Az arány kicsit más, az irány ugyanaz. Szokták mondani, hogy az ördög a részletekben rejlik, érdemes úgy vizsgálni ezt a lemezt is.
A fenti felsorolásból (mivel 10 albumról volt szó, és a single alapból kiesett) kimaradt a Fahrenheit első lemeze, a Faith No More Real Thingje, az összes Living Colour, az Infectious Grooves, a Korn, a Queen összes, a Tool, az Infected Mushroom összes, a Karthago, a Periphery, a Black Sabbath, a Prodigy, a Kraftwerk, Sonny Moore AKA Skrillex, Jeff Beck, a Skid Row, Steve Vai, Zappa, Lee Scratch Perry, a Mahavishnu Orchestra, Gary Moore, a Prodigy, az Animals as Leaders, Jack White, mindenféle Dave Grohl ügy, Imogen Heap, a Machine Head, az Iron Maiden, a Pantera, és sokan mások...