A debreceniek megszokhatták, hogy a Nagyerdei Víztorony remek zenei kínálatot, italokat és ételeket, élményeket biztosít-sőt néha RockVloggerek is feltűnnek ott műsorfelvétel céljából (konkrétan MI.)
Így nem lepődünk meg, hogy a pszichedelikus rock vizein evező Ljubljana kiváló érzékkel csapott le a valószínűtlen időpontra -az iskolakezdés előtti vasárnap este- hogy elbúcsúztassa a nyarat. 
És persze, egy ilyen menő zenekarnak dukál egy felvezetés is...így esett, hogy aznap este az LJ gyakorlatilag saját maga előzenekara lett. 
Hogy mi???
Nos, az történt, hogy a zenekar köré csoportosult baráti kör -amely egyébként illusztrisnak is mondható, hiszen benne van a Péterfy Bori gitárosaként ismert Mészáros Ádám, vagy a jelenleg inaktív The Orange Sofa zenei agya, Illó Pisti is- örömzenei projektbe fogott Brotherhood of Eternal Love néven, és mindenféle megfelelési kényszer nélkül összedobtak pár számot. Igen, ezek a számok pszichedelikusak, sokszor hosszúak, indokolatlan három gitár van bennük, több tételük instrumentális, meg van oylan is amiben kántálnak. Szóval seminem indokolja, hogy befussanak-mégis, szép számú közönség összegyűlt a csapat második koncertjén (első felvillanásuk egy nappal korábban egy nyilvános próba volt a saját próbatermükben). Néha azt hittem, hogy a Middlemist Red van a színpadon, néha azt, hogy Henry Rollins, néha meg azt, hogy Tarantino kedvenc új mexikói filmzenekreálói, mindenesetre idegen, de örömteli érzés volt olyan embereket látni, akik egyszerűen csak ZENÉLNEK, ÖRÖMBŐl, és kész...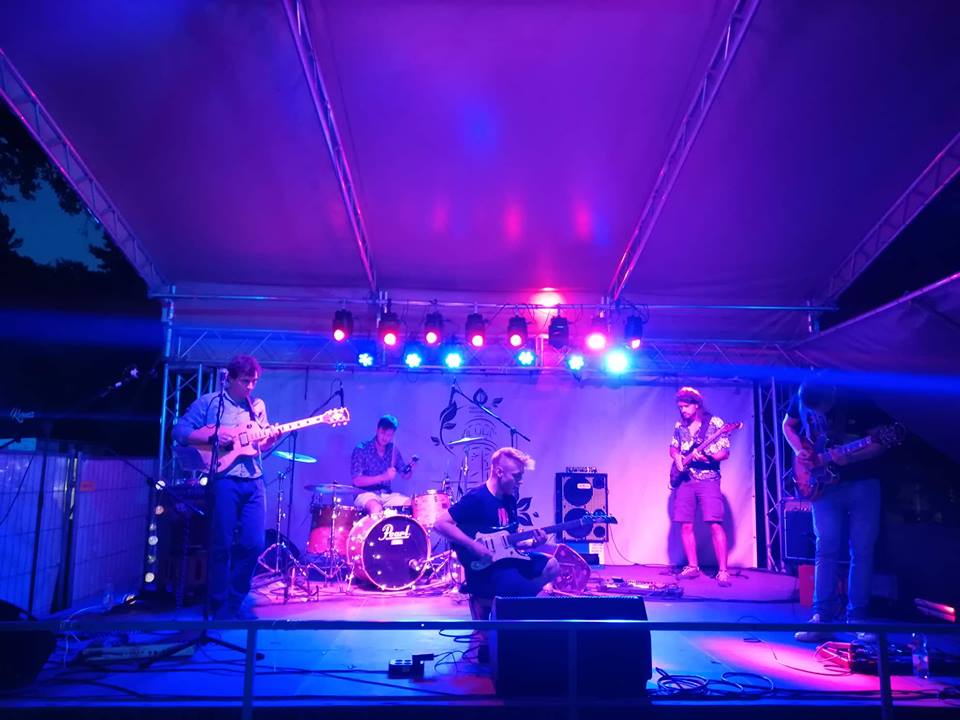 A baráti örömzenélés után egy rövid átállást követően a Ljubljana zenekar vette át a színpadot (nagy változás ugyan nem történt a tagságban:D), és lenoymták a koncertjüket, amely színtisztán a rock and roll hőskorát idézte. És itt nem csak a dalok stílusásól, és megszólalásáról van szó, hanem az intrepletálásról is. 
A Ljubljana a magyar garage/pszichedelia revival közepébe érkezett, és mostanra lett annyira kiforott a produkció, hogy simán oda lehet tenni őket egy Middlemist Red, vagy egy Dope Calypso mellé. 
Örülök, hogy egy meglepetés koncert és egy meglepetés tüzijátékkal tudtuk a 2018-as nyarat búcsúztatni.