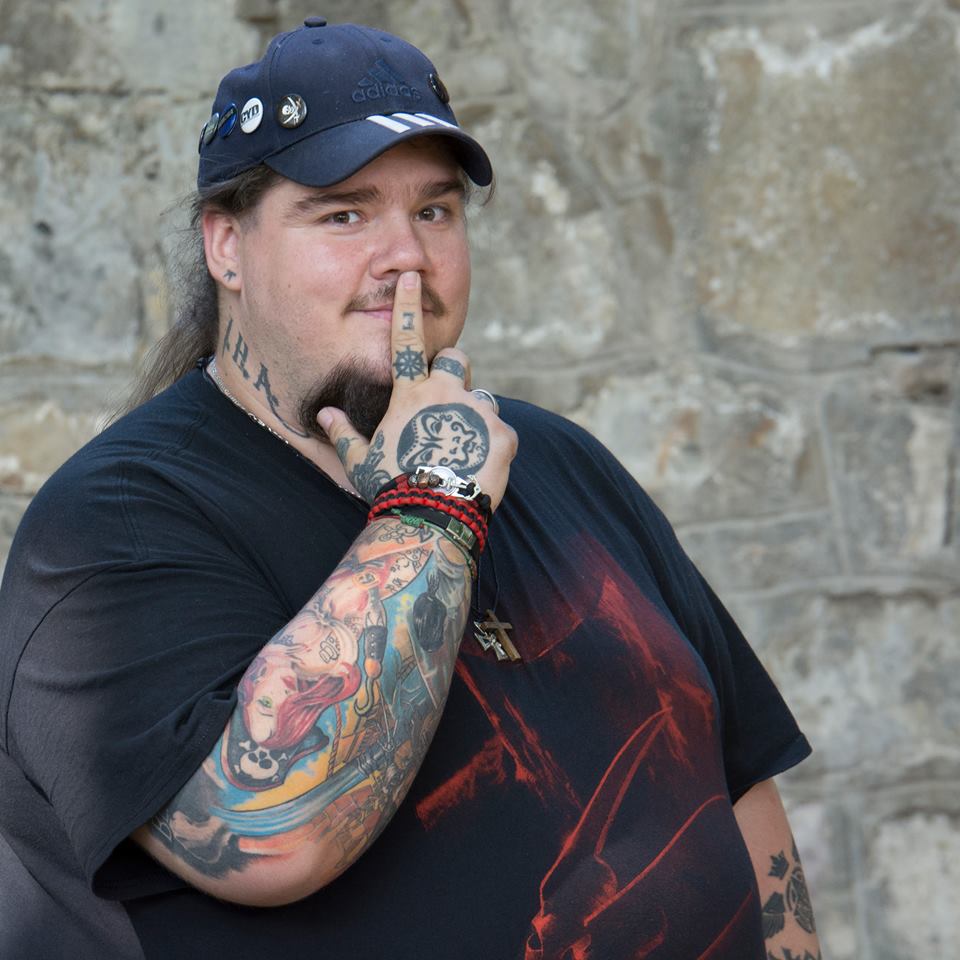 Aki ismeri Galaxis Utikalauz Stopposoknak című alapművet, az tudja, hogy a 42-es szám a legvégső válasz a létezés kérdésére. Talán jelenthet valamit, hogy a magyar rock-és filmblogolás fenegyereke, az esztergomi Sportalsó örökmozgó szervezője épp a 42. ember a Sorsfordító Korongok rovatában. És azt is megtudhatjátok, hogy a 20 az új 10...:
Kezdjük a legelején: Szénégető Richárd vagyis Ric$ vagyok, a ricsandgreen.hu, HammerWorld és a konyvbagoly.blog.hu újságírója, aki civilben amúgy a Sportalsó koncertszervezője és mindennel foglalkozom, amihez éppen kedvem van. Jelenleg például egy podcastet csinálok, Ric$Cast címmel. (Keress meg a soundcloudon!) Voltam már minden, csak akasztott ember nem. (Ez valószínűleg azért maradt ki, mert sem kötél, sem bitó nincs, ami kibírna.) Aki még nem találkozott a munkásságommal, az ne csüggedjen, elég sokan vannak így ezzel. Ez az eklektikus összeállítás ad majd rólam egy képet, amit kicsit nehezen ugyan, de talán meg lehet érteni, de leginkább csak elfogadni, az úgyis sokkal fontosabb.
Sorsfordító korongokról írni rettenetesen nehéz. Már eleve végiggondolni azt a tény, hogy mik voltak azok a lemezek, amik az emberben felébresztettek valamit és ültették el benne azt a gondolatot, hogy mától másképp hallod a zenét, önmagában is nehéz. Aztán ezeket a találatokat leredukálni tízre, nyugodt szívvel kijelentem: lehetetlen. Számomra legalábbis az. Igyekeztem csalni itt-ott, mert egyszerűen muszáj volt. Volt, ahol azért csaltam, mert a múlt ködébe veszik az emlék, melyik is volt az, ami először szólalt meg, volt, ahol pedig azért, mert egyszerűen képtelen voltam eldönteni, miért is az lett az, ami meghatározó volt. Így az én tízes listám néhol egy picit bővebb, de azért igyekeztem arra törekedni, hogy beleférjek a szigorú szabályokba. Lesz itt minden, talán még olyan is, amire felhúzod a szemöldököd, talán fel is háborodsz rajta, de attól még bizony az a lemez, akkor, ott nagyon is Sorsfordító volt. Egy fontos adalék: egy kis faluban nőttem fel, Sárisápon, ahol a zenei ízlés eléggé le volt (?) maradva, így a források is elég szűkösek voltak. És akkor most, tabuk nélkül:
P. Mobil - Ez az élet, Babolcsai néni! (1994)
Ugyan találkoztam már előtte is (hazai) rockzenével, mégis ez volt az a lemez, ami miatt elkezdtem tudatosan zenét hallgatni. Édesapám óriási Omega rajongó volt, ez pedig nálam is azt eredményezte, hogy bizony megkedveltem a zenekar munkásságát, de nem mondtam azt, hogy én ott menthetetlenül rajongani kezdtem volna. Aztán jött a P. Mobil. Először csak tetszett, hogy a Szívpörköltben milyen hisztérikusan ordibál Lóri a refrénben, aztán szépen sorban minden dalt megszerettem. (Mára talán meg is értettem őket…) Ez az a rajongás, ami a mai napig tart, nem lanyhul, nem szakadt meg és mára már a zenekar több tagjával barátinak mondható viszonyt ápolok, mégis tudok ugyanolyan őszintén üvöltve énekelni minden dalt. Amikor a Babolcsai nénit meghallgattam, már éreztem, hogy ez egy tartós kapcsolat lesz…
Beatrice - '78-'88 / Bikini: Hova lett… (1988)
A következő fordulópont az volt, amikor egy reggel, mielőtt suliba mentem, Édesapámmal a konyhában ültünk és miközben vártam a kakaómra, megszólalt a rádióban a 8 óra munka. Nagyon tetszett az az egy k…..tt szó, így megkérdeztem pár ismerősömet, hogy van-e ilyen kazettájuk? Megkaptam a '78-'88-at és a Hova lett, majd később a XX. századi híradó kazettákat is és nem akartam elhinni, amit hallok. 11 éves voltam, az életről alig tudva valamit, zenét is alig hallgattam, de egész egyszerűen elképesztő volt Ferót hallani, hallgatni, a zenéről nem is beszélve. (Emlékszem, akkoriban gyakran eltekertem a Meditáció-t, most meg az egyik kedvencem…) Amikor az átmenetileg újjáalakult Ős-Bikini nyomott pár koncertet, az esztergomin volt szerencsém ott lenni, azóta Hősöm Feró és örök kedvenc a Bikini és a Rice is.
Aurora - Balkán Express (1999), Die Arzte - Das Beste Von Kurz Nach Früher Bis Jetze (1994)
A Beatrice meghozta a kedvem a punkhoz, így elkezdtem kutakodni egy csomó ilyen jellegű zene után, amennyire az faluhelyen lehetséges. Hallottam már az Auroráról és a Viszlát Iván! meg is volt kazettán, de valamiért nem ütött be elsőre. Aztán Székesi András cimborámtól megkaptam az akkor megjelenő Balkán Express-t és Die Arzte best of-ját, a Das Beste Von Kurz Nach Früher Bis Jetze-t. Sosem felejtem el, amikor hazafelé sétálva betettem a discmanembe a Balkánt, és megszólalt a Hazafelé: "Ballagok egyedül hazafelé, hűvös köd szitál…" Libabőrös pillanat volt. Ez is megmaradt, azóta is szünet nélkül, és ennek hatására kezdtem el a magyar punkba jobban beleásni magam. Így került a kezeim közé a Prosectura, a CPg, az Üveges Csirkeszemek, majd kicsit később, főleg Fritz hatására a Vágtázó Halottkémek és persze a klasszikusok, mint a Sex Pistols, vagy Gyurma hatására a Ramones.
Romantikus Erőszak - Magyar História X (2000) / Oi-kor: X. év (1993)
A punk persze magával hozott más irányzatokat is. Először a CsizmáSKAndúr: Bulizik a SKA maffia! lemeze kezdett el sokat pörögni, majd egy Csizmás koncert után ajánlotta Gergi Attila a frissen megjelent Romantikus Erőszak lemezt. Előtte hallgattam már több nemzeti rock bandát, a Magozott Cseresznye és a Független Adó sokat is mentek, de igazán nem robbant be nálam a stílus. Aztán megszereztem a Magyar História X lemezt, ráadásul együtt az Oi-kor 10. születésnapi koncertjének felvételével. (Utóbbit mai napig az egyik legjobb, legőszintébb koncertlemeznek tartom.) Ahogy a Romer elkezdődik a Himnusz hangjaival, azonnali libabőr, még sokszor most is, de akkor, ott óriási élmény volt. Móritz Norbi basszusjátéka, Balázs szövegei és éneke, valami olyan hatással voltak rám, ami szintén nem engedett el, a mai napig sem. A X. év pedig a nyers energiával és teljesen pőre megközelítésével érte el azt a hatást, amitől még mindig olyan számomra, hogy ahányszor csak meghallom, azonnal inni akarok egy korsó sört és üvölteni, hogy "Indulás, a buli vár, az összes kocsma csak ránk vár…"
Sex Action - Sex Action (1989), F.O. System - F.O. System (1990)
Akkoriban elég sok Ganxsta Zolee és a Kartel szólt otthon, mert a bátyám nagy rajongójuk volt, akárcsak én, így ez egy közös pont volt. Aztán egy Kartel interjúban olvastam a Sex Action-ről, majd megszereztem az első lemezt. Sosem felejtem el, amikor bekapcsoltam és megszólalt. Valami olyannyira más volt, mint minden, amit akkoriban hallgattam, hogy döbbenetes volt. Felkutattam minden régi interjút, amit csak tudtam, így bukkantam rá az F.O.-ra, az Agnus Dei-re és a Dance-re is, de ezek közül akkoriban igazán csak az F.O. fogott meg. Mára ez már nyilván máshogy van, de akkor, ott abszolút ez a kettő volt az etalon. Ebből jött aztán később nagyon sok egyéb, mint a Danzig, meg persze az Action révén a hardcore vonal egy része, de az nem volt elsőre libabőr.
Stainless Steel: Wigant / Iron Maiden: No Prayer For The Dying
Itt már elkezdtem abszolút tudatos zenehallgatóvá válni és figyeltem, olvastam az interjúkat, majd egyik rockmagazinban látott arcot megláttam a sárisápi távolsági buszon. Ő volt Diószegi Dominik, aki éppen akkor dobbantott a Watch My Dying soraiból és kezdte el gőzerővel a zenélést a Stainless Steel-ben. Jó barátok lettünk, aminek az lett a vége, hogy elkezdtem Stainless Steel-t hallgatni. A dobos, Kokás mondta, hogy hallgassam meg az Iron Maiden-t is, ha nem ismerem, mert mennyire jó banda. A kötelező dalokat nyilván hallottam előtte, de valahogy kimaradt a komolyabb ismerkedés addig. Aztán megvettem a No Prayer For The Dying kazit és onnantól jött a szerelem. Én is tudom, hogy messze nem a legjobb lemez, de nekem óriási élmény volt. A borítók közül pl mai napig az egyik kedvencem.
Ice-t - Original Gangster (1991), Boo-Yaa T.R.I.B.E.: West Koasta Nostra (2003)
A rock/metal vonal mellett mindig is egyenrangú szerelem volt számomra a rap is. Ez így van manapság is, valahogy nem tud elengedni ez a műfaj. A klasszikus Ice-t lemez nem is emlékszem, hogy került hozzám, gondolom valamelyik Kartel, vagy Dopeman lemezt akarta valaki "felülírni", hogy hallgassak valami "igazit" is, ne csak a hazai gagyikat. (Mondjuk a mai napig etalonnak tartom a Kartelt, illetve több hazai rap produkciót is, szóval nem jött össze a cél…) Valami elképesztő volt hallgatni azt a lemezt. Annyira, de annyira más volt, még úgy is, hogy nyilván csak a fuck és shit szavakat értettem a szövegből. Áll a padlón és ott is maradt. Aztán nagyjából le is szűkült a rap mániám ide, egészen addig, amíg a Boo-Yaa T.R.I.B.E. ki nem adta a (minden bizonnyal) utolsó lemezét. Ez volt az a korong, aminek hatására aztán rendesen megismerkedtem a klasszikus amcsi rap muzsikákkal is jött az N.W.A., Ice Cube, Mack 10, Notoriuos B.I.G. és még sokan mások.
Body Count - Body Count (1992)
Furcsa volt ez a kettősség a falusi cimborák szemében, hogy egyik pillanatban rock/metal, a másikban meg rap. Aztán egy italozás alkalmával a legendás Stressz Kocsmában Vöri cimborám a kezembe nyomta az első Body Count-ot és ennyit tett hozzá: Nesze, hallgass zenét is, ne csak azt a sok szart! Amikor bekapcsoltam, nem hittem el, hogy ilyen zene létezik. A mai napig a legnagyobb rajongás és talán a legnagyobb hatásom ez a banda. Hiába térképeztem fel azóta a rap-metal műfajt (tudom, tudom, a Body Count nem rap-metal állítólag), hiába jött egy csomó más kedvenc is, mint például a Stuck Mojo, az etalon mégis a BC maradt és marad is örökre.
Pantera - Far Beyond Driven (1994), One Scene Unity - Demo
A kis rapes és rap-metalos kitérő után ismét szomjaztam a fémzenét, amikor egy barátom a reggeli sulibuszon odaadta a Far Beyond Driven kazettát, mondván nagyon jó a borítója, de neki ez már sok. Betettem a walkman-be és ahogy a Strength Beyond Strenght elkezdődött, kirázott a hideg. Teljesen rákattantam, napokig csak azt hallgattam és tudtam, hogy ez megint valami tartós rajongás kezdete lesz. Az újdonság örömével mutattam egy cimborámnak, aki mondta, hogy a bátyja és a haverjai hasonló zenében utaznak és most jelent meg a friss lemezük, hallgassam meg! Ez volt a One Scene Unity. Hasonlóság ugyan nem volt, mert az OSU oldschool-hardcore-ben utazott, de arra bőven jó volt, hogy az egyik koncertjük után kifaggassam a tagokat, miért ilyen zenét nyomnak? Aztán elkezdtem ezeknek utánanézni és bizony láttam, hogy a Pantera tábora és ezek a zenekarok még itt-ott kapcsolódnak is egymáshoz. Innen pedig jött a Helmet, az S.O.D., Biohazard, a Madball, a Sick Of It All, az A.M.D. és egy csomó minden más. Csodás időszak volt.
Lynyrd Skynyrd - God & Guns (2009)
Amikor a God & Guns kijött, annyi jó kritikát kapott, hogy muszáj volt meghallgassam. Előtte csak a Sweet Home Alabama-t és a Freebird-öt ismertem a bandától, és valahogy nem éreztem a késztetést, hogy elmélyedjek a munkásságukban. Amikor a Still Unbroken elkezdődött, nem akartam hallani a fülemnek. A zene, a szöveg, a hangszeres játék, a borító… Ha létezik abszolút tökéletes, hibátlan lemez az elmúlt 10 évből, akkor biztosan ez az. A címadó dal, a Simple Life, a Still Unbroken, a Southern Ways és a Storm, hogy csak gyorsan kiemeljek párat, azt eredményezték, hogy olyannyira rákattantam a Skynyrd-re és a stílusra, hogy az LS mára közel akkora favoritommá vált, mint a Body Count. (Még ha valahol kicsit perverz is e két zenekart egy bekezdésben említeni.)
+1, ami 2: Jake Owen - Days Of Gold (2013) / Alan Jackson - Good Time (2008)
A God & Guns környékén már kacsintgattam a country felé, de igazából pont annak hatására kezdett le jobban érdekelni a műfaj. Aztán meghallottam Alan Jackson: Country Boy című dalát a rádióban és ott valami megmozdult benne. Megvettem a Good Time lemezt és rongyosra hallgattam. Bevallom, jól esett Johnny Cash mellett másik előadótól is ilyesmit hallgatni. Az itthon fellelhető egyéb lemezek annyira nem fogtak meg, vagy csak rosszul válogattam. Ugyan a Good Time helyett akár az At Folsom Prison-t is írhattam volna, de ténylegesen Sorsfordító a Good Time volt, azóta vagyok Alan Jackson rajongó. Jake Owen már valahol Alan Jackson hatása volt, és amikor Peidl Balázs barátom megmutatta az akkor éppen friss Days Of Gold lemez frissen klipesített dalát, a Ghost Town-t, teljesen megbabonázott. Sokkal inkább volt ez pop, mint country, de valahogy mégis ízig-vérig ott van benne a poros csizma és a kalap hatása. Akkor kezdtem el behatóbban ismerkedni és foglalkozni a newcountry/countrypop vonallal és jött a képbe Luke Bryan, Blake Shelton, Brantley Gilbert, Big&Rich, Jason Aldean, vagy éppen Carrie Underwood. Ezek a zenék aztán életem egy nagyon fontos változásának "soundtrackje" voltak, így a mai napig imádom és rajongom őket.
++1.: The Joystix - …And Joystix For All! (2008)
Végső bónusz pedig még egy hazai lemez, aminek megismerése nélkül valószínűleg elég sok lemezt csak sokkal később ismertem volna meg. Eleve az, hogy a megboldogult mp3portal fórumába Szöszö maga rakta vissza a lemezt, mondván akinek tetszik, az úgyis megveszi majd, adott egy érdekes fűszert a hozzáálláshoz. Ahogy a Powerdirve elindul és óriási lendülettel száguld, az nekem még mindig egy etalon lemezkezdés. Ez a skandináv ízű punk-rock pedig annyira megfogott, hogy később el is kezdtem a zenekar körül sertepertélni, aminek hatására Szöszövel később jó haverok is lettünk, és köszönhetem neki, hogy megismertem általa egy csomó más bandát: Backyard Babies, Michael Monroe, Hanoi Rocks, Ratt, Cinderella, Tuff, Vain, Supersonic Blues Machine és még egy csomó egyéb, ám mindehhez kellett ez a lemez.
Eljutottunk oda, hogy a 10 lemezből csináltam húszat, és még mindig borzasztóan fontos albumokról nem írtam. Nem írtam Rob Zombie-ról, aki mára az egyik első számú favorit lett, vagy a Halloween Hootenanny válogatáslemezről sem. Szó sem esett Prince: 3121 lemezéről, amitől elkezdtem rajongani a Mestert, Tom Petty & the Heartbreakers Greatest Hits albumáról, ami alapvetően forgatta ki a kis metalos fejemet a fémzenéből egy időra, a Pearl Jam Vs/Riot Act duójáról, vagy a Temple Of The Dog lemezről, amitől rákaptam a grungre-ra, a nu-metal éra és ezzel pl a Papa Roach is kimaradt, pedig a Getting Away with Murder nagyon-nagyon fontos volt. Sőt, az extrémebb zenék szinte teljesen kimaradtak, mert nem írtam a Lividity/Nile/Cannibal Corpse/Cephalic Carnege/Unleashed kedvencekről sem. A hazai raplemezek is kimaradtak, akárcsak egy csomó glam/sleaze album, pedig a Mötley Crüe: Red, White & Crüe lemeze, amitől megszerettem a hajmetal érát, vagy a Rock City Angels, Cinderella, Circus Of Power, Little Caesar és még estig sorolhatnám. Vagy a Ghymes, ami szinte kompletten felforgatta a világnézetem… Nem lehet 10 lemezben megmondani még a fontos hatásokat sem, pedig megpróbáltam… Így is hosszú lett. Talán még rekord is, nem? Mindenesetre, ha idáig elolvastad, hatalmas nagy köszönet, hogy érdekelt, mit zagyválok itt össze. A zene számomra kiemelten fontos, anélkül szerintem lélegezni sem tudnék. Ha valamelyiket meghallgattad, nagyon köszönöm! Pacsi mindenkinek, a lányoknak természetesen puszi is!
- The Blues Brothers: Complete
- Depeche Mode: Playing The Angel
- Buena Vista Social Club presents: Omara Portuondo
- 100 Folk Celsius: Országút
- Aerosmith: Permanent Vacation
- Kid Rock: The History Of Rock
- Ganxsta Zolee és a Kartel: Jégre teszlek
- Mohaman: Da Flava Story