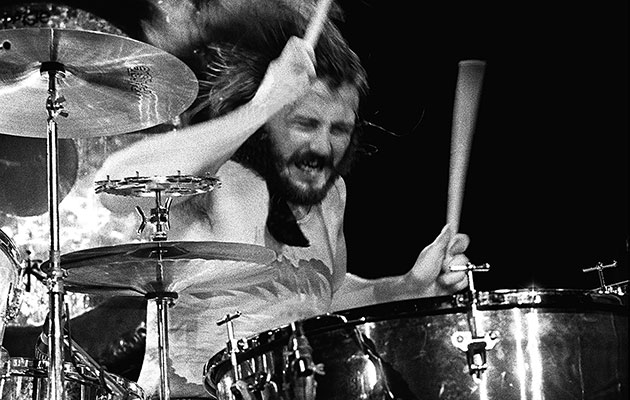 1980. szeptember 25-én, 32 éves korában hunyt el a legendás Led Zeppelin dobos, John "Bonzo" Bonham, és akarva-akaratlanul kimondhatjuk, hogy ez a rock történelem egyik legendás zenekarának végét is jelentette.

1948-ban született Worcestershire-ben, Joan és Jack Bonham fiaként. Öt évesen kezdett dobolni egy kávéscsészékből, konzervekből, dobozokból összetákolt házi dobcuccon, és ezen utánozta bálványait: Max Roach-t, Gene Krupa-t és Buddy Rich-t. Tíz évesen kapott egy pergőt édesanyjától, majd öt évvel később édesapjától amolyan özönvíz előtti rozsdás Trixon dobfelszereléssel is gazdagabb lett. Bonzo sosem vett dobleckéket, azonban tini korában sokat tanult más dobosoktól.

Középiskolájának igazgatója ezt írta róla: Egyszer vagy kukás, vagy milliomos lesz belőle.  A suli után apja üzemében végzett ács/asztalos kisegítő munkákat. Sok helyi zenekarban megfordult, majd 1967-ben először zenélt együtt Robert Plant-tel a Crawling King Snakes-ben. Ő és Plant egyébként gyermekkoruk óta jó barátok voltak.

Később a legközelebbi nagyvárosba, Birmingham-be költöztek, ahol az első olyan zenekarban játszottak, melyben volt rendszeres jövedelmük. Ez volt a Band of Joy. '68-ban Jimmy Page a Yardbirds-be keresett embert, és mivel akkoriban nem ment jól a zenekarnak így sokan elutasították, végül Bonzo-t ajánlották neki.

"Amikor megláttam, micsoda cséplőgép ez a Bonzo, rögtön tudtam, piszkosul illene a csapatba. Pontosan ugyanazt játszotta, mint én." – mondta Page.

Később John Paul Jones is csatlakozott hozzájuk.

Amint meghallottam John Bonham játékát, éreztem, hogy minden klappolni  fog majd. Ez a srác nagyon tud, és eszméletlen jól játszik. Azonnal összeállt a kép. Erős dobos volt, mi meg rock and rollt játszottunk, nem szordínóra volt szükségünk. Egész lényéből áradt az erő, én meg basszusgitárosként ezt szeretem.

1968-ban a Robert Plant, Jimmy Page, John Paul Jones, John Bonham felállásban megalakult a Led Zeppelin. Ez a töretlen négyes világszínvonalú albumokat, és hatalmas sikereket ért el. A korai lemezeiken a blues, a folk és a pszichedelikus stílusok domináltak. Sokan a heavy metal megteremtőinek tartják őket, ők maguk azonban nem állítják ezt. Különös módon a Led Zeppelin legismertebb albumait nem stúdióban készítette el, hanem különböző vidéki kastélyokban, a Bron-Yr-Aur-ban, vagy például a Headley Grange-ban rögzítették.
 A fent látható videó az 'It Might Get Loud' című filmből egy részlet, ahol Jimmy Page a Headley Grange-ot mutatja be nekünk, ahol a "Led Zeppelin IV" mellett a "Houses Of The Holy" és a "Physical Graffiti" albumok készültek. A dobot az előtérben állította fel Bonzo, és a hatalmas belmagasság miatt elképesztő hangzást produkált a lemezen.

A hetvenes évek végére, nyolc nagylemez kiadása, és miután az összes díjat megnyerték, amit meglehet, a Led Zeppelin egy rövid időre parkoló pályára állt. Utolsó koncertjeiket 1980-ban adták az NSZK-ban, ahol például a nürnbergi koncertet félbe kellett szakítani Bonzo rosszulléte miatt. Október 17-vel indult volna a kanadai turné, ahol nagy meglepetések vártak a közönségre, ez azonban meghiúsult. 1980. szeptember 25-én John Bonham meghalt. Sajtómegjelenések szerint a túlfűtött életvitel, az állandó koncertezések és a hétköznapi élete tették tönkre, néhány helyen a szívrohamot jelölik meg halála okának. Az újságok a kábítószerrel és az alkohollal is összefüggésbe hozták a halálát. A boncolás kimutatta, hogy Bonham nem fogyasztott semmilyen kábítószert, viszont a halálát megelőző utolsó próbán rengeteget ivott, és a halottkém állítása szerint az alkohol hatására bekövetkező tüdőödémában halt meg.
A Led Zeppelin eleinte megpróbálta helyettesíteni Bonzo-t. Sok dobos neve felmerült a pótlására (Cozy Powell, Carmine Appice, Barriemore Barlow, Simon Kirke, Bev Bevan), de a tagok döntése az volt, hogy nem tudják Bonzo nélkül folytatni, így Jimmy Page pár hónapra rá bejelentette, hogy a Led Zeppelin befejezte pályafutását. A gitáros szavaival búcsúzom én is:

"Ha megfelelőek a körülmények, nincs jobb dobos John Bonhamnél. Tudta, hogyan kell belőni a dobjait. Én mindig is úgy gondoltam, hogy a dobok adják a zenekar gerincét. Minden mást erre kell alapozni – a basszusra és a dobokra."