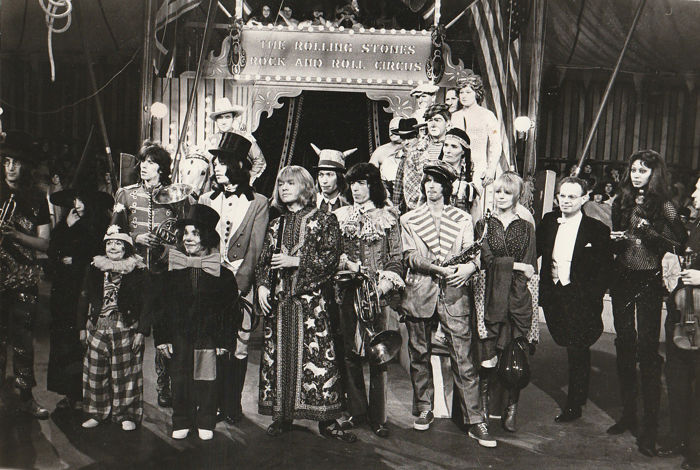 1968-ban mutatták be a Gördülő Kövek első televíziós megkísértését, a The Rolling Stones Circust. 
Mitől egyedülálló ez az összművészeti kísérlet a mai napig? 
- mert az első vetítés előtt letiltották, és majdnem 30 évig pihent a  dobozban? 
- mert a kor zenei krémje szerepelt benne?
- mert több művészeti ágat egyesített?
- mert ez volt Brian Jones utolsó közös produkciója a zenekarral?
- mert ez az egyetlen dokumentált felvétel, amin a fiatal Tony Iommi a Jehtro Tull gitárosaként látható/hallható? 
Igen, ezek miatt is...de lássuk, hogy hozták össze Jaggerék ezt a cirkuszt...
A kiinduló pont az volt, hogy a Mick gyermekkora óta nagy rajongója volt a mutatványosoknak, és akrobatáknak. Majd egyszer csak megvilágosodott, hogy össze kell hozni egy bizonyos rock and roll cirkuszt. Ebben az ihletett pillanatban minden bizonnyal már nagyon unatkozott, hiszen akkor már két éve, hogy a Stones nem jelent meg a nyilvánosság előtt...ugyanúgy, mint a nagy "ősellenség" a The Beatles sem. 
Így hát megkereste John Lennont és Yoko Onót, a blues legenda Taj Mahalt (akinek zenekarának gitárosa akkoriban egy igazi indián, Jesse Ed Davis volt, aki apai ágon commanche, anyai ágon pedig kiowa törzstag) , az még ismeretlen Jehtro Tull-t, Eric Claptont (a Lassúkezű ekkoriban már a feloszlás szélén álló Cream utáni időszakát tervezgette), és a The Whot, valamint egy rakás akrobatát, és pár nap alatt összehozták a produkciót.
Kiegészítő szerepben a zenekar múzsája Marianne Faithfull is feltűnik (prezentál egy betétet), de nem csak ő az egyetlen korabeli celeb, aki összefüggésbe hozható a produkcióval. A Led Zeppelin szerepeltetése is felmerült, de a zenekar egyéb elfoglaltságai  miatt ez a vendégszereplés meghiúsult. 
A porondmester szerepére Jagger eredetileg a kor szexszimbólumát, Bridget Bardot-ot kérte fel-mivel ő azonban nem vállalta, Jagger maga vette fel a női frakkot -nem kis identitászavart okozva ezzel magának és a közönségnek- és az artisták bevonulásával kezdetét vette a Rock And Roll Circus. A forgatás egy erős nap volt, december 11.-én délután kettőkor kezdődtek a Wycombe Roadon található Intertel Studióban-amely a kor legnagyobb profi televíziós helyszíne volt- és másnap hajnal 5-kor fejeződtek be. 
Eredetileg TV műsornak készült, de a botrányos (ma már emblematikus) előadású Sympathy For The Devil és egyéb polgárpukkasztások miatt az akkoriban konzervatív angliai televízió nem tűzte műsorra. ha ez nem lett volna elég, maga Mick Jagger sem volt elégedett a végeredménnyel, főleg a saját zenekarának produkciója volt számára vállalhatatlan. Még az újraforgatás is felmerült lehetőségként, de Brian Jones 1969-ben bekövetkezett halála eldöntötte a vitás kérdést. Soha többé nem volt lehetőség a javításra. Így, ebben a megismételhetetlen formában maradt az anyag , amely  1996-ig pihent a BBC egyik raktárában, míg egy vágott verziót VHS-n (később DVD-n) magukhoz vehettek a rajongók. 
Bár a felvételen látható felvételek-vájtfüllel hallgatva-rendgeteg pontatlamnságot tartalmaznak- mégis lejön a felszabadult hangulat, és a feeling. Ennek köszönhetően ez minden hibájával együtt egy élvezhető és gördülékeny produkció, és nem utolsó sorban, így fél évszázad távlatából, remek kordokumentum is. 
A felsorolt zenekarok - a The Beatles kivételével-mind alanyi jogon játszott egy-két számot-az ötletgazda Rolling Stones hatot. Az est különlegessége a kizárólag erre az alkalomra összeállt a  Dirty Mac (John Lennon, Eric Clapton, Keith Richards és a Jimi Hendrix Experience dobosa, Mitch Mitchell, Yoko Ono, és közreműködőként a hegedű izraeli nagymestere, a napjainkban ENSZ Jószolgálati Nagykövetként ismert Ivry Gitlis). 
Egyszeri, megismételhetetlen , kötelező.