"Thank you for your service"...ebben a mondatban benne van az, hogy az amerikai társadalom mennyire tiszteli azokat az állampolgárokat, akik katonai szolgálatot teljesítenek.
Olyannyira, hogy november 11.-e a Veteran's Day, vagyis a Veteránok napja, 1919 óta, majdnem száz éve (eredetileg az első világháborút lezáró béjkeszerződésre emlékezve "fegyverszüneti nap" volt. )1954-től lett nevesítve veterán emléknap, szövetségi ünnep és iskolaszüneti nap.
Számos általunk tisztelt és kedvelt "old timer" zenész életútját szinesítette hosszabb-rövidebb katonai szolgálat (olyanokét is, akiről az ember kevésbé gondolná).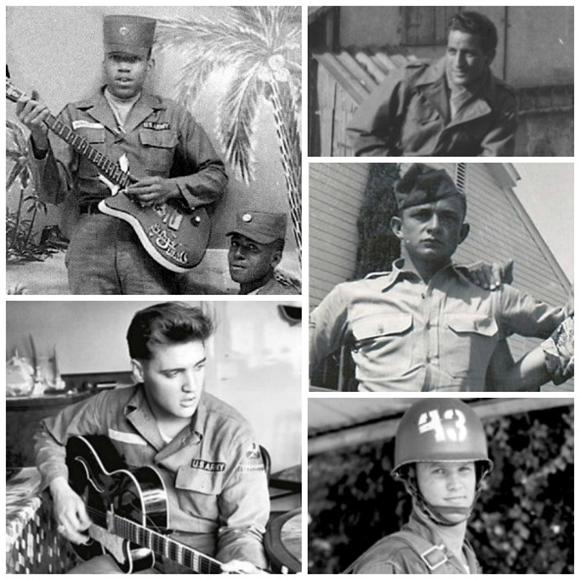 A Veteránok Napjára így mi a magunk módján rójuk le tiszteletünket: készítettünke egy összeállítást ezekről a rockikonokról.
1.Elvis Presley
A rock and roll koronázatlan királya 1958-tól 1960-ig szolgált a US Army kötelékében. Nyugat-Németországi szolgálata alatt ismerkedett meg későbbi feleségével Priscilla Presley-vel is. A többit tudjuk...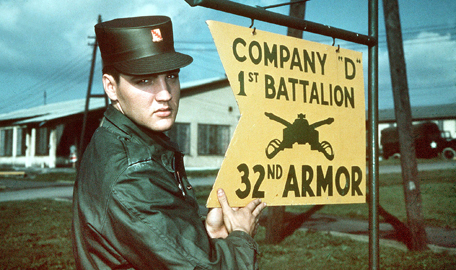 2.Tony Bennet:
A többszörös Grammy díjas jazz énekes a második világháború idején a US Army gyalogos katonájaként szolgált, a "255th Infantry Regiment of the 63rd Infantry Division" tagjaként végig küzdötte Franciaország felszabadítását, és a német frontvonalakon is harcolt Berlin összeomlásáig.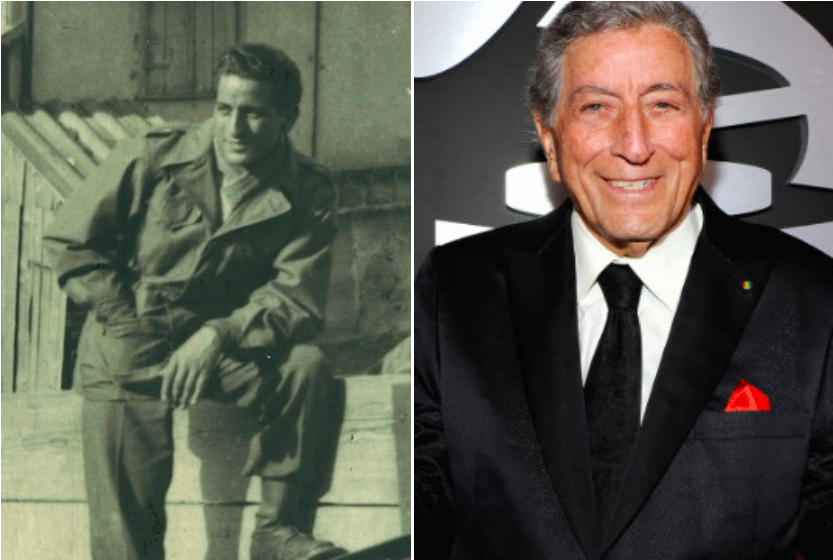 3.Ice-T
A híres rap/hardcore arc Ice-T nem igazán az old time rockerek táborát erősíti, de a kemény-gyerek imidzsébe mindenképp belefér a katonai múlt. A US Army "25th Infantry Division" tagjaként szolgált, szakaszvezetői rangban Hawaii-on. Érdekesség, hogy nem hazafiasságból, hanem anyagi okokból vonult be eredetileg, és a visszaemlékezések szerint nem is volt egy mintakatona...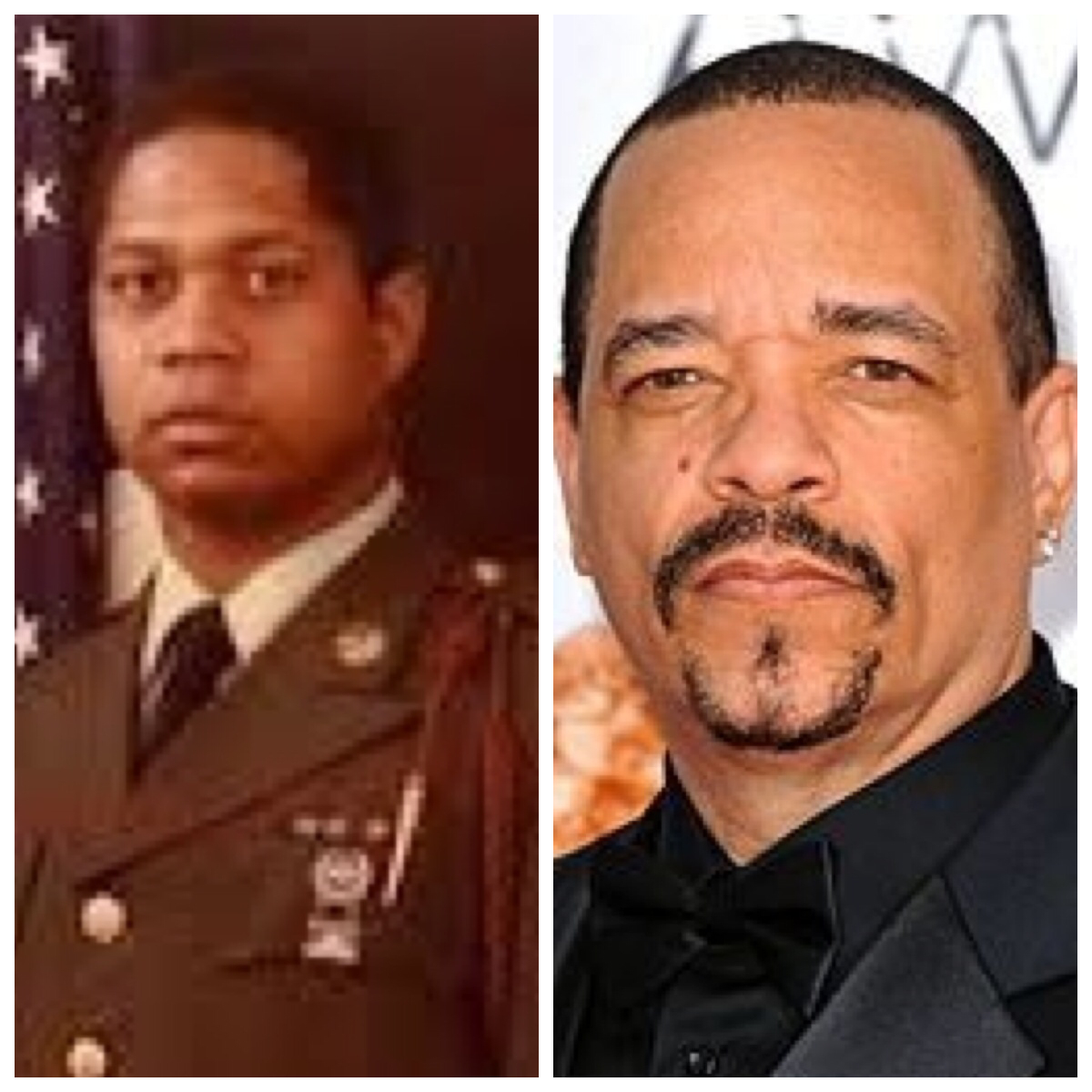 4.John Coltraine
A jazz újraformálójaként ismert Coltraine 1945-ben kapta meg behívóját a US Navy toborzóirodájától. Igaz, a seregben sem nagyon csinált mást, mint a civil életben, ugyanis katonazenészként töltötte le szolgálati idejét.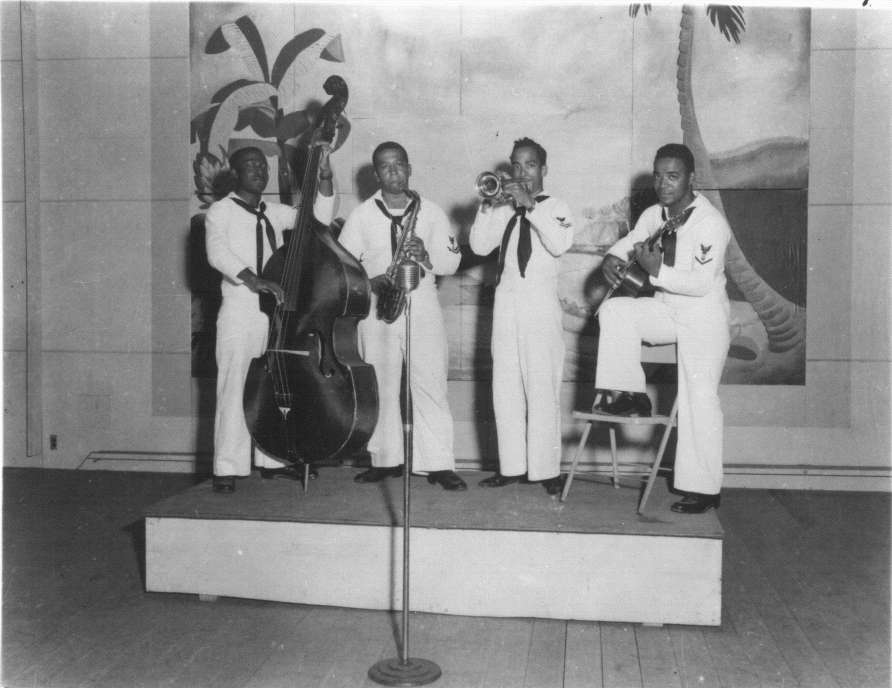 5.BB King
A Blues Boy a második világháborúban 1943-ban szolgált US Army kötelékében.
6.Maynard James Keenan (TOOL, The Prefect Circle)
A meglehetősen elborult zenéjéről és polgárpukkasztó viselkedéséről híres Tool főkolomposa a US Army kötelékében kezdte karrierjét. És, bár felvették a West Point katonai akadémiára, úgy döntött, hogy nem lesz ott hallgató, inkább az akítv bakaságot választotta. Felderítőként szolgált. A leszerelés után került a művészetek közelébe, napjainkban pedig borászkodik (miközben a soha el nem készülő Tool lemez előkészületein dolgozik néha). Egyébként brasil jiu jitsu tudását is szépen fejlesztette a katonaságnál, és még azután is. Ezt egy színpadra hivatlanul érkező rajongó meg is tapasztalta egyszer.
7. Jimi Hendrix
A zabolázhatatlan vadember hírében álló gitárikon fiatalabb korában szolgált a seregben, nem is akárhol: a legendás 101-es Airborne Division -ban kapott ejtőernyős kiképzést. Közben pedig egy katonai zenekarban már akkor megcsilogtatta gitártudását.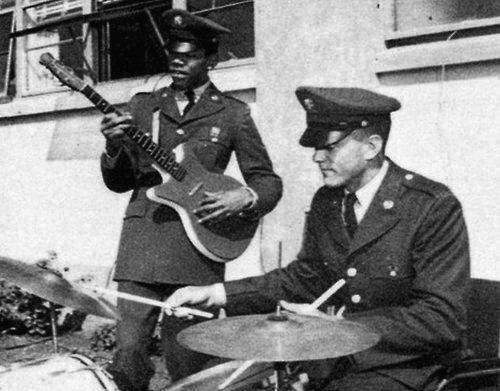 8.John Fogerthy (Creedance Clearwater Revival)
A vietnámi háború legnagyobb slágerének megalkotója sem hagyta ki a katonai éveket- bár a belföldi haderőnél (Nemzeti Gárda) szolgált.
9.Chris Cristopherson
A színészként és country zenészként egyaránt ismert híresség egy katonacsaládban született, az ősök nyomdokaiba lépve US Army-ban szolgált, mint helikopter pilóta, és kapitányi (!!!) rangig vitte. Később a híres West Point-i katonai akadémia tanára is volt (irodalom szakon). Ekkoriban fordította figyelmét a zene irányába, ami "megpecsételte sorsát".
10.Gene Autry
Az 1998-ban (91 évesen) elhunyt Autry a magyar olvasók számára talán nem annyira ismert, de Amerikában egy kultikus figura. A Pearl Harbor - ban történtek után önként lépett be a US Army légierejének kötelékébe, ahol aztán a háború végéig szolgált, nem is akárhogyan. Szolgálati ideje alatt kiérdemelte a "American Campaign Medal", a "Asiatic-Pacific Campaign Medal", és a "World War II Victory Medal" kitüntetéseket. Az aktív szolgálatot a háború után is folytatta, igaz, csak 1946-ig. Később a civil életben rádió-és TV játékokban szerepelt, de volt rodeólovas, és iparmágnásként is hivatkoznak rá több helyen. Ja és "mellékesen" egy dalszerzői-énekesi karriert is magáénak tudhat. Élménydús 91 évet élt az biztos...
11.Johnny Cash
1950-54 közt volt US Air Force tagja. Németországban szolgált, itt alapította meg első zenekarát, a Langsberg Barbarians-t is. (Nevüket a saját légitámaszpontjuk ihlette). Őrmesterként szerelt le, visszatért az államokba, és bolti eladóként dolgozott, mígnem a Sun Records nál be nem futott Cry Cry Cry című dalával.

12. Willie Nelson
A country legenda US Air Forcce-t támogatta a szárazföldről-igaz ezt nem egészen egy évig tette, mint kiderült a hadsereg nem az ő világa volt. A zenében viszont megtalálta magát.
13. Jason Everman
A Nirvana és a Soundgarden egykori tagja az egyetklen a listából, aki a US Special Forces (Különleges Erők) -ban teljesített szolgálatot (mesterlövész pozícióban). Everman a mai napig egy örökmozgó reneszánszember, az aktív katonai szolgálat után volt pizzafutár, de megmászta a Mount Everestet is. A Grungery oldalán egy hosszú cikkben emlékeztek meg a nem mindennapi élettörténetről, ITT olvashatjátok.
Az amerikai fegyveres erőkön belül a tengerészgyalogság (United States Marine Corps) tagjait övezi talán a legnagyobb elismerés, és hozzájuk kapcsolódik a legtöbb legenda. Ez persze nem véletlen, gyakorlatilag a Függetlenségi Háború óta léteznek (előképük a 1775-ben alakult Continental Marines nevű alakulat, amely gyakorlatilag néhány csónaknyi vadászokból, halászokból és csavargókból verbuvált bajkeverő osztag volt). A tengerészgyalogság mindig arról volt híres, hogy ők érkeznek meg legelőször a harctérre, és ők hagyják el azt a legkésőbb azt. Közben pedig rendszeresen végigviszik a lehetetlent. És bár a mondás szerint aki egyszer tengerészgyalogos volt az az is marad (Once a Marine, Always a Marine), azért voltak köztük néhányan, akik egész szép zenei karriert futottak be.
14. Artimus Pyle (Lynyrd Skynyrd)
Bob Burns, az eredeti dobos után érkezett a southern legenda kötelékébe 1974-ben. A Gimme Back My Bullets, a One More From The Roads (ezen a lemezen vannak a zenekar legismertebb számai, mint például a Sweet Home Alabama, vagy a Freebird) és a Street Survivors albumokon hallható a játéka. Egyike azoknak a tagoknak, akik túlélték a zenekar 1977-es repülőgépszerencsétlenségét (hiába, no, tegerészgyalogos). A tragédia azonban hosszú időre jegelte a zenekart, így 1977-től Artimus más zenei projektekben kamatoztatta tehetségét. Később 1987-1991 közt- a zenekar kevésbé sikeres korszakában- visszatért a dobos posztra. 2006-ban a Lynyrd Skynyrd tagjaként beiktatták a Rock And Roll Hall Of Fame tagjai közé.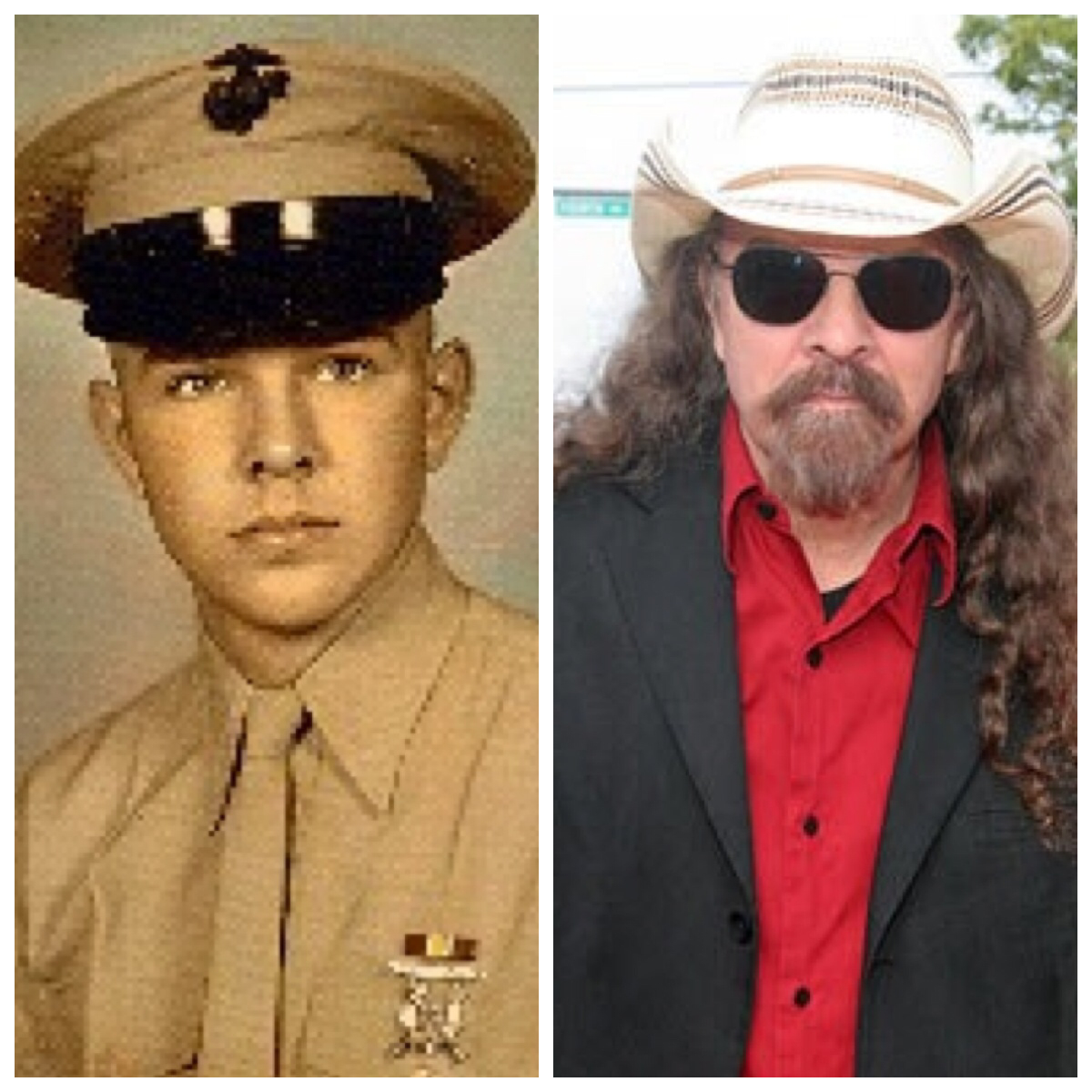 15.Buddy Rich
A jazzdobos olyan hírességekkel játszott együtt, mint Dizzy Gillespie, Charlie Parker, vagy Louis Armstrong. Munkásságával olyan embereket inspirált, mint Bonzo (Led Zeppelin), Ian Pierce (Deep Purple), Bill Ward (Black Sabbath), vagy épp Phil Collins. Mindezek előtt (és közben, mert 1937-ben már profi zenészként kereste kenyerét) azonban a második világháborúban 1942-44 közt a tengerészgyalogosként szolgált.
16.-17. The Everly Brothers (Don és Phil)
Amerika aranykorának legnagyobb szinte legnagyobb sztárjai, a country hagyományokra építkező testvérpár évtizedekig a rock/popzene trónján voltak. A Rock And Roll Hall Of Fame első beiktatott zenészei is ők voltak. 1961-ben együtt vonultak a seregben, ahol katonatársaikat is szívesen szórakoztatták műsoraikkal. Katonai szolgálatuk ideje alatt is benne voltak a TOP 10 -ben, a Crying in the Rain című dalukkal.
18.Freddy Fender
Nem, nem ő találta ki a híres gitárt. A mexikói származású amerikai zenész a lakossági típusát képviselte a délvidéki country/rock and roll-nak, dalai/klippjei kifejezetten viccesek. Első ránézésre nem mondaná meg, hogy a tengerészgyalogsághoz önként jelentkezett 17 évesen. Három év szolgálat után viszont még mindig nem léptették elő. Alkoholizmusra hivatkozva közlegényként szerelt le, majd visszatért Texasba, és belekezdett zenei karrierjébe.
19.George Jones
A texasi születésű énekes/dalszerző George Jones már 9 évesen elkezdett a gitárral ismerkedni, saját elmondása szerint a country első hallásra lenyűgözte. Igen korán, 19 évesen vette feleségül szerelmét, Dorothy-t, de alig egy évvel később el is váltak. Hősünk ekkor (épp a koreai háború idején) úgy gondolta, hogy bevonul a Marine Corps kötelékébe. Kimagasló eredményekkel töltött katonai szolgálata évei után visszatért az államokba, újraházasodott, négy gyermeke született, és 2013-ban bekövetkezett haláláig aktív muzsikus maradt. Olyan slágerek köthetőek a nevéhez, mint például ez:
20. Jamey Johnson
Az 1975-ben született alabamai srác nyolc évig szolgált aknavetősként a tengerészgyalogságnál, aktív zenei karrierjét 2000-ben kezdte el, de 2005-ig kellett várni az első hivatalos lemezfelvételre. Társszerzőként dolgozott Willie Nelsonnal is. 5 önálló albuma, és egy kislemeze jelent meg eddig, és munkásságában erősen jelen vannak a déli és a katonai hagyományok is.