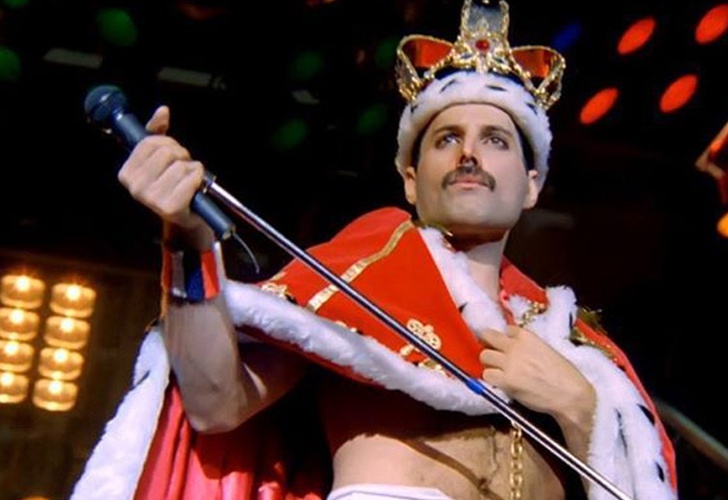 Számos valós, vagy fiktív rocksztár életét dolgozta már fel az Álomgyár. Freddie Mercury és a Queen pályálya pedig tényleg egy olyan történet, ami igazából viszonylag kevés kreativitást igényel, hiszen egy ilyen mozgalmas és egyedülálló sztori, hogy gyakorlatilag filmre kell vinni azt, ami történt, és kész is a mű...a kérdés, pusztán a hogyan...
A novemberben debütáló Bohemian Rhapsody-nak az elmúlt hetekben kijutott az egekbe magasztaló dícséretből, de a lehúzó kritikákból is- a film tehát éppen olyan megosztó, mint maga az ember, akiről szól: Freddie Mercury. 
Ugyan a Queen sztoriját hivatott feldolgozni az alkotás, de egyértelműen Mercury személyére lett kihegyezve az egész történet- vagy ha úgy tetszik, az ő emléke előtt tiszteleg. És a kulcsszó a tisztelet.
A fanyalgók sokat lovagolnak azon, hogy ez a film nem elég bevállalós- valószínűleg ennek köszönhető, hogy a mozi elkészülte sem volt zökkenőktől mentes. A munkálatok már 2010-ben elkezdődtek, az eredeti terv szerint Sasha Baron Cohen, alias Borat alakította volna a rocklegendát. A munka azonban megszakad, mivel a főszereplő, és a társproducerek (nevezetesen a Queen még két élő tagja, Brian May és Roger Taylor) közt "kreatív ellentétek" feszültek. Ez a semmitmondó és udvariaskodó mondat azt takarja, hogy míg "Borat" egy szexuális kicsapongásokkal és kokainos partikkal teli R-besorolású filmet akart csinálni, addig a Queen tagjai inkább a magánéletben identitászavarokkal küzdő,de  aszínpadon páratlant alkotó zenészt akarták bemutatni. Ugyanez lehetett a gond a film rendezőjével, Brian Syngerrel is, akit pár héttel a forgatás befejezése előtt kirúgtak, és végül Dexter Fletcher dirigálta le az "end credit"-et. 
A filmet illető negatív vélemények egyébként ugyanezt róják fel problémaként: miért nincs több drog, és több szex a filmben. A másik nagy "fekete lyuk" a film kronológiája: a Queen szakértők nem tudták lenyelni, hogy számos dolog nem akkor, és nem úgy történtek, ahogy ezt a mozi ábrázolja. 
A helyzet viszont az, hogy valóban, egyes kulcscselekmények felcserélődtek, vagy áthelyezpődtek, ennek pusztán annyi oka van, hogy -mivel ez nem egy dokumentumfilm- ezért dramaturgiailag egyszerűen jobban kijött a lépés. Ez a sztoriból semmit nem vesz el, viszont játékfilmként élvezhetőbb és gördülékenyebb az egész. A kulcsemberek (főleg Mary Austin, aki egyetlen női szerető, majd élethosszig tartó barát volt Freddie életében, és John Reid, a sokak szerint rosszakaró manager és homoszexuális szerető) habitusa, befolyásolása, szerepe elég szépen kidormborodik ebből a  filmből. 
Arról nem is beszélve, hogy Brian és Roger a kezdetektől jelen volt a filmben kreatív munkatársként, és minden ami a forgatókönyvben, vagy a "szalagon" van , az az ő kérésükre, vagy beleegyezésükkel van úgy. 
Így minden elmarasztaló hangnak üzenem: egy elhunyt ultimate rocksztár, és a még élő legenda kategóriába tartozó zenésztársaknak legyen már annyi alkotói szabadsága, hogy azt és úgy mutatják be a filmjükben , amit szeretnének. 
A magam részéről én sem akartam mást, mint egy felemelő és szerethető rock and roll filmet az egyik legnagyobb zenészlegendáról. 
És az a helyzet. hogy ezt megkaptam: Rami Malek olyan szinten hozta Mercury mimikáját, mozgását, manírjeit, hogy az egyszerre volt hátborzongató és hihetetlen. Bár az Emmy díjat már bezsebelte a Mr. Robotért, és  lassan 20 éve van a filmes szakmában, megkockáztatom, hogy ezzel lépett be az A-ligás színészek klubjába. Gwilym Lee már-már reinkarnikusan hozta a fiatal Brian May figuráját, de úgy általában elmondható, hogy a casting 100 százalékosan sikerült. Minden szereplő kiköpött mása volt a saját eredetijének. 
Ehhez nagyon sokat tett hozzá a díszlet és a jelmez: a 70-es évek frizurái, divatirányzatai korhű módon köszöntek vissza - ebből a  szempontból már-már dokumentarista a mozi- és az extravagáns, királynői színpadi megjelenés és show-k is tűpontosan reprodukálódtak a filmben. 
A zenéről nem beszélnék sokat: a Queen örökzöld slágereivel gyakorlatilag bármit el lehet adni, miért pont a saját történetüknek nem adnának megfelelő muzikális alapot. A film -számomra-legkedvesebb jelenetei egyébként azok, amelyek ezeknek az evergreeneknek a születését mutatják be. 
Összességében ez egy remek film, amelyből nekem csak az emberi konfliktusok és a figurák elmélyítése hiányzott kissé (egy-két jelenet lehetett volna hosszabb, és még lett volna mit bemutatni), de nyilván bő két órába nem fért bele minden, valamiből vágni kellett (azért remélem, lesz egy rendezői-bővített verzió). 
Aki még nem tette meg, nézze meg. Az 1985-ös Live Aid koncert képsorainak megidézésével zár a mozi, amelyet nem véletlenül emlegetnek a világ legnagyobb könnyűzenei eseményeként a mai napig-épp olyan monumentális volt , mint az epikus és bohém Rapszódia.