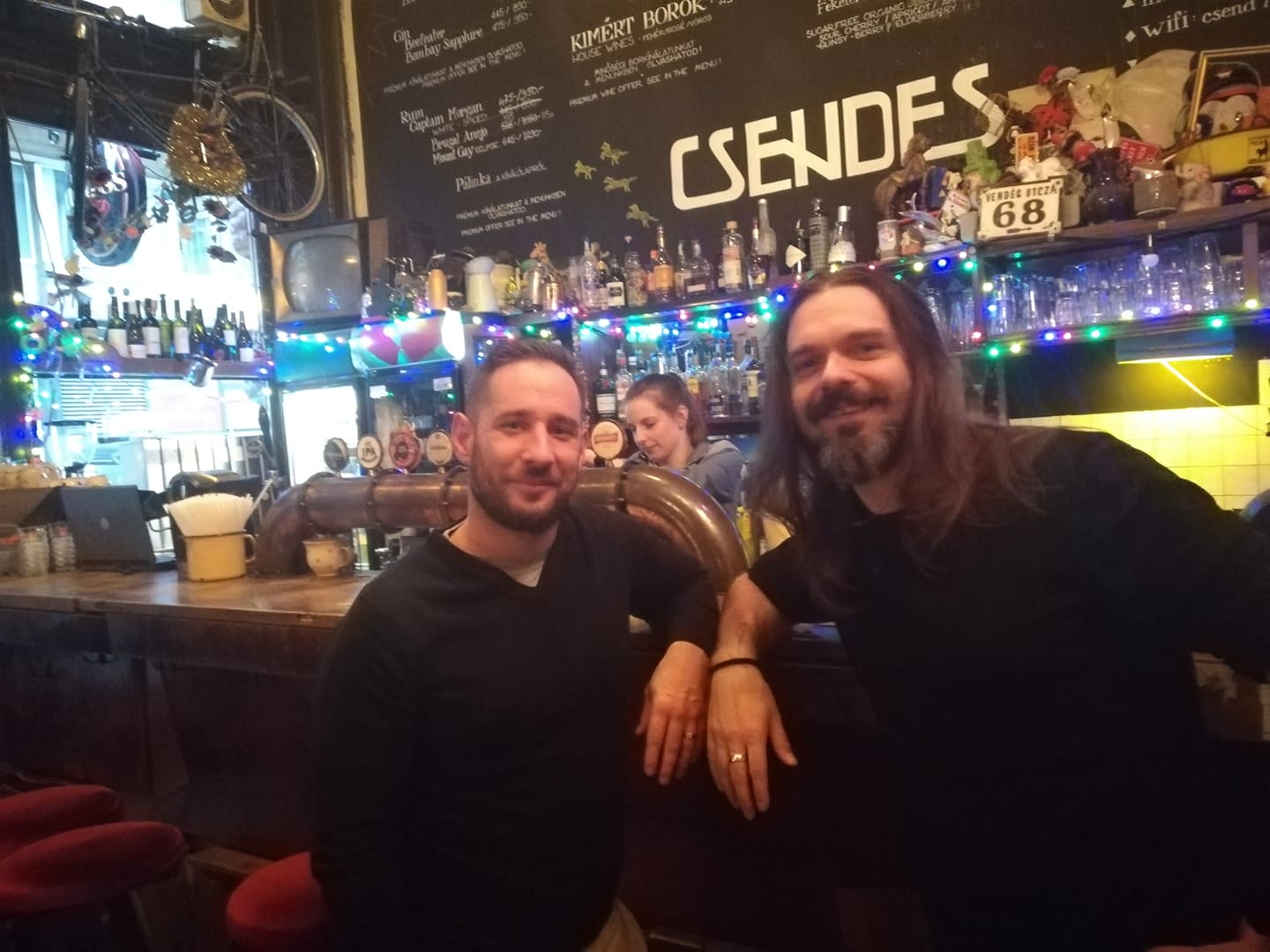 Az Ozone Mama a hazai rockbandák közül az egyik legaktívabb, ha külföldi megjelenésekről és fellépésekről van szó. De olyan hosszú turnét, mint a legutóbbi 10 állomásos spanyolországi menet, még ők sem csináltak. Az élményekről Gábor Andris, a banda gitárosa mesélt nekünk. (Aki pedig azt vallja, hogy egy kép többet mond ezer szónál, az ITT megtekintheti a zenekart út közben). Defekt, fogorvos, telházas bulik, Tarantino hangulat...

A nemzetközi kapcsolatépítés - ami miatt egyáltalán tudtok külföldön játszani - hogyan épül fel?
Kezdjük úgy, hogy a külföldön történő játszásnak több verziója van: az egyik az, hogy az ember beletesz pénzt, megkeres hasonszőrű bandákat, majd kimegy Berlinbe, Prágába, Brno-ba, vagy akárhova egy kisebb, vagy nagyobb Európa körre. Ez persze költséges, hiszen buszt kell bérelni, aludni kell valahol, satöbbi. Azután van az a fajta külföldi jelenlét, amikor támogatást kapsz, pl. az NKA-tól lehet ezekhez a forrásokhoz jutni. A pályázat mindig kétesélyes, vagy megítélik a kért összeg egy részét, vagy nem. Továbbá létezik a showcase- fesztiválok útja, ahol a zenekarokat elvileg szakmai szempontok alapján választják ki, de azért a végső döntés szerintem sok esetben inkább szubjektív.
Tavaly ősszel szerződtünk az amerikai Ripple Music kiadóval, január végén ki is jött náluk az új lemezünk. Ők ajánlottak be bennünket olyan booking agency-knek is, mint a A Black Moon Creep Agency, amely egy komplett októberi spanyol turnét kötött le nekünk. A booking agent egyeztetett a klubokkal, vagy a helyi promóterekkel időpont, gázsi, szállás ügyben. A promóciót a klubok, vagy a helyi promóterek végezték. Az egész turnéról kaptunk egy listát, mely tartalmazta a szállások címét, a megfelelő kontaktokat, az érkezés, a beállás, a kaja és a kezdés időpontját. A dayoff-ok (koncertmentes napok), illetve a Spanyolországon kívüli bulik minden mozzanatát a menedzserünk szervezte. Összegezve tehát a kiadónk közbenjárásának és a Nemzeti Kulturális Alap támogatásának köszönhetően tudtuk megvalósítani ezt a turnét. Egyébként ritka az olyan eset, amikor egy zenekar a turné teljes költségét nyeri meg egy pályázaton. A támogatás mellett nekünk is bőven be kellett szállni anyagilag a turné kiadásaiba.
Alapvetően mit is gondol a legtöbb feltörekvő, saját dalokat játszó zenekar a külföldi koncertezésről? Azt, hogy bemutatkozási lehetőség, jó buli, izgalmas kaland, gyors siker és pénzkereseti lehetőség. Ez azonban nem annyira egyszerű. Ahhoz, hogy kijusson valaki, többnyire muszáj pályázni, enélkül elvileg esélytelen a dolog, hacsak nincs egyéb támogatás (szülői, vagy más szponzoráció). Arra szeretnék rávilágítani, hogy a külföldi építkezés során eleinte nem nagyon lehet pénzt keresni, mivel a bevétel általában elmegy a kiadásokra. Tehát inkább belepakolni kell a zenekarnak, mintsem kivehetne belőle. A külföldi turnékon leginkább a merchandise (CD, póló, stb) jelent némi bevételt. Visszahívás esetén már jobb lehet a helyzet anyagilag is.
Ti elég régen csináljátok ezt azért, számtalan alkalommal voltatok már külföldön.
Igen, viszont ez volt az eddigi leghosszabb turnénk, amelynek során a legtöbb kilométert utaztuk. Az Ozone Mama az évek során megdolgozott azért, hogy saját zsebből egy ideje már nem kényszerül a turnékba, vagy az egyéb projektekbe fektetni, mert a zenekari bevételek fedezik a zenekari kiadásokat. Igazából anyagilag a klubozásnál jobban megéri a fesztiválozás, de ahhoz, hogy fesztiválokra is eljuthass, folyamatos klub jelenlét szükséges. A klubozás viszont intimebb hangulatú, és minél többen vannak egy ilyen bulin, a merch annál többet hozhat. Ez már nem a hetvenes évek, amikor egy kiadó nagyobb összeget vágott egy zenekarhoz, hogy lemezt készítsen és aztán turnéztassa. Abban az időben, szerencsés esetben gyorsan meg lehetett ebből gazdagodni, kifért a limuzin, a drogok, meg a groupie-k, és indulhatott is a világ körüli turné. Azóta annyira megváltozott a zeneipar, hogy a rock koncerteknek sokszor inkább nosztalgia értéke van, a rockzene ismét underground státuszba került. Bárhol jártunk, azt láttuk, hogy adott helyen még ismeretlen zenekarként érdemes összefogni helyi bandákkal annak érdekében, hogy a klubban legyen elég közönség. Viszont ha van elég pénze (értem ez alatt a több ezer eurót) egy zenekarnak, akkor becsatlakozhat egy ismertebb, nagyobb zenekar elé supportnak. Ez szintén nem olcsó mulatság, mert az ilyen turnékon a saját költségeit állnia kell, vagy még fizet is pluszban a főbandának a lehetőségért. Példa erre pl. a japán Church Of Misery, akik pár éve befizették magukat a Monster Magnet elé egy teljes európai körre (a budapesti állomáson az Ozone Mama nyitott nekik). A Monster Magnettel való közös balhé óta tudnak is önállóan turnézni.
Beszéljünk kicsit a mostani spanyol turnétok további részleteiről!
Spanyolország felé volt két svájci és egy francia koncertünk, hazafelé pedig egy szlovén bulink. Jártunk néhány necces helyen is, az embernek ilyenkor vannak rémálmai, hogy ellopják pl. a hangszereket, velünk ilyen nem történt hál istennek. A másik nagy félelem, hogy elromlik a busz, na mi most sajnos ebbe nyúltunk bele.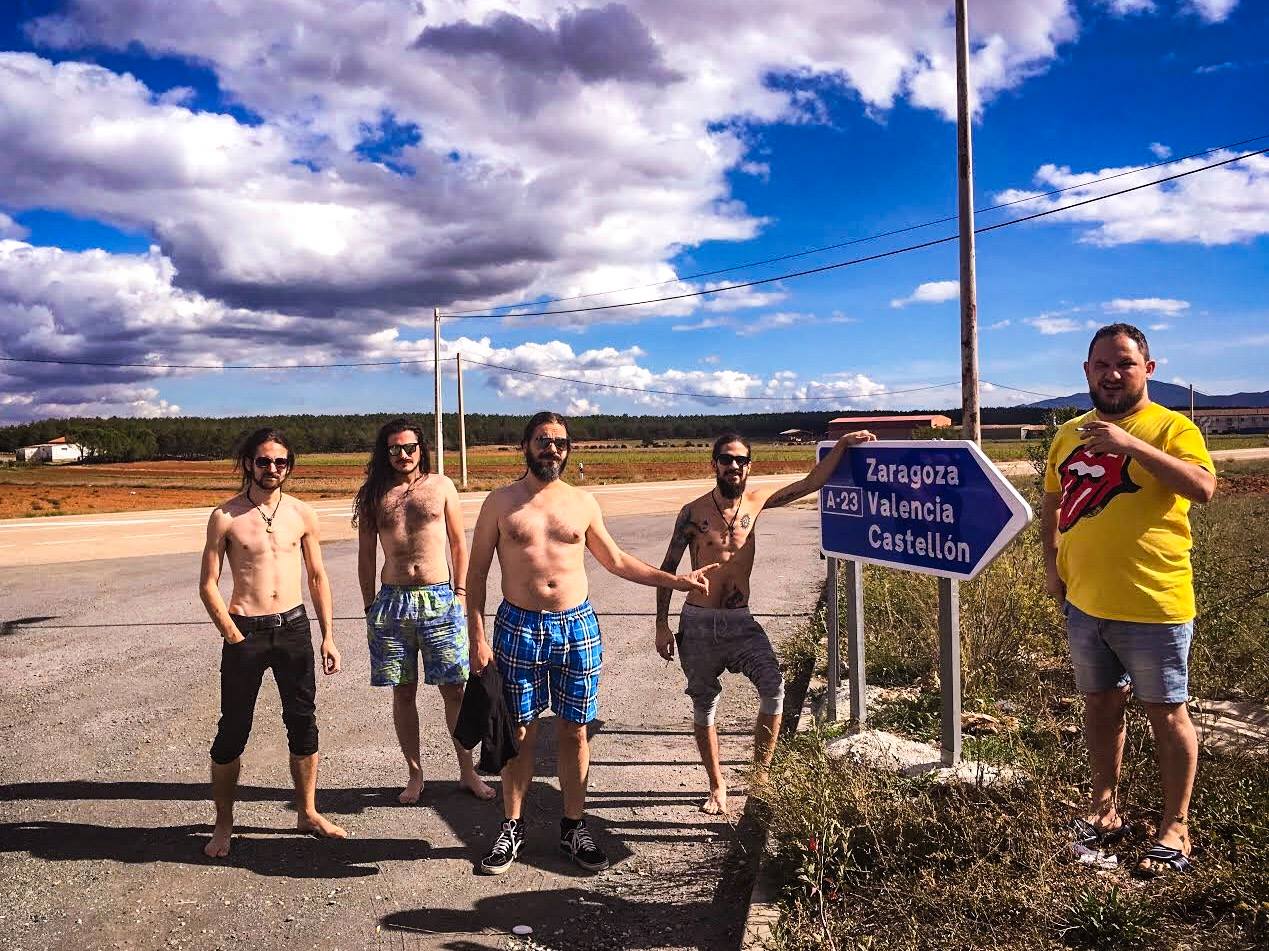 Spinal Tap faktor…
Már az első állomáson gondok voltak az aksival, majd Spanyolországban szálszakadás miatt kereket kellett cserélnünk, melyet a szerviz állítólag nem megfelelően rögzített, és így a kerék később ki is esett útközben alólunk. Sajnos a történtek miatt az utolsó spanyol bulinkat le is kellett mondanunk, mert nem tudtuk másnapra megoldani az odajutást, a szerelés pedig napokig tartott. Vitoria-ban rekedtünk négy napra, ahol a klub tulajdonosai nagyon kedvesek és segítőkészek voltak, szállást adtak és sokat segítettek a szerviz ügyintézésben is. A spanyolok egyébként általánosságban is jó fejek, és imádják ezt a fajta muzsikát. Nagyon jók a rock klubok, még a kisebb helyek is népszerűek és hangulatosak, többször is játszottunk majdnem teltház előtt. Spanyol turné esetén a nyelvtudás hasznos, mert a szervezők egy része nem beszél angolul. A spanyol tudásom jól jött akkor is, amikor Dávidnak (Szeleczki Dávid a zenekar énekese- a szerk.) fogorvosra volt szüksége. Ez persze megint egy olyan dolog, amit nem akarsz a turnén átélni. Pokoli fájdalomra ébredt, és ott voltunk egy idegen városban, ahol a többség nem nagyon beszélt angolul. Érdekesség, hogy a kezelés nem került annyiba, mintha itthon ment volna el egy magánrendelésre. Amíg Dávidot kínozták, addig én az asszisztensi székben ültem és az asszisztens helyett az angol nyelvű dokumentációt írtam a biztosítónak. Nagy sztori volt, ki is tettük a banda Insta oldalára. 
Összegezve egy ilyen turné rengeteg felkészülést igényel, sok kényelmetlenséggel jár, és néha útközben derül ki, hogy valójában nem is való mindenkinek. A buszban hosszú órákat, sőt egész napokat utazol, néha rossz kajákat eszel, nem mindig jók a klubok által biztosított szállások, illetve rengeteg emberhez kell folyamatosan alkalmazkodnod. Városnézésre nagyon kevés az idő, főként amikor az állomások egymástól igencsak távol vannak. A nehézségek ellenére azonban olyan életre szóló élményekkel jössz haza, amelyek többet érnek az anyagi haszonnál. Spanyolország inspiráló helyként marad meg az emlékeimben. Külön érdekesség, hogy a sziklás, kopár, sivatagos vidékeken átvezető utak gyakran Arizona-ra és az amerikai utazásaimra emlékeztettek.
Tarantino hangulatú lesz a következő OM lemez?...D
Még az is lehet. Budapesten december 14-én zárjuk az évet egy nagykoncerttel az Asphalt Horseman társaságában, az azt követő kreatív időszak majd ezt is megmondja.