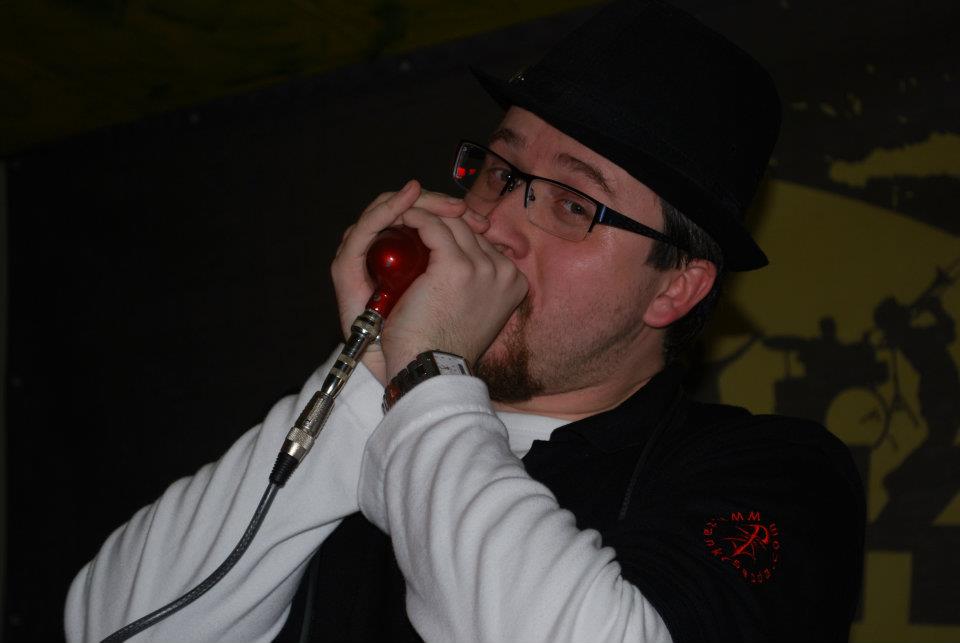 Fekete Csaba vagyok, legújabban a Youtube-on a #BluesTube néven futó csatornát működtetem és csinálok saját készítésű bluesrock videókat, magam által rögzített, saját ,és feldolgozás dalokból. Aktívan zenélni 1998 magasságában kezdtem el először, szájharmonikán.
Erre az elhatározásra Blues Brothers című film ihletett, ott is az a rész ahogy Dan Aykroyd fújja harmonikát a legendás green dullet mikrofonba. Persze előtte is érdeklődtem a zene (ez alapvetően leginkább rock zenét jelentett persze) iránt a 90-es években a legtöbb akkori fiatalhoz hasonlóan én is ott lógtam az MTV-n amikor még valódi zenéket játszott mint pl. GNR, Nirvana, ZZ top, Beastie Boys, Bon Jovi stb, szigorúan a teljesség igénye nélkül. Ezután a 2000-es évek elején elkezdtem aktívan zenélni először még mindenféle garázsokban, kisvállalkozói műhelyekben, romos házakban, régi szocreál bevásárló központok tetőterében, leginkább haverokkal. Ezekből később több zenei formáció kinőtt,  mint pl. Blues Traffic, Blues Rockets,  illetve mindenféle old time rock and roll-t és bluesrock-ot játszó hosszabb, rövidebb ideig élő banda. Több évnyi amatőr zenekarokban történő zenélés (ennek minden előnyével és hátrányával) után kb. 2014-ben elkezdtem gitározni tanulni, kb. 1-2 éve pedig elkezdtem azzal kacérkodni, hogy megpróbálom magam megcsinálni a saját zenei elképzeléseimet először még nagy blues klasszikusok feldolgozása szintjén aztán pedig a saját dalok irányába elmozdulva. Ennek eredménye lett a #BluesTube youtube csatorna ahol a korábbi zenei pályafutásomból származó felvételek mellett megjelentek a legújabb saját próbálkozásaim is.
De nem is untatnám a mélyen tisztelt olvasókat a továbbiakban a zenei előzményeimet ecsetelő, és lassan unalmassá váló részletekkel. Kezdjük is el az általam meghatározónak tekintett "sorsfordító korongok" lajstromba vételét.
Blues Brothers 2000: Original Motion Picture Soundtrack
Ahogy már írtam, a találkozás ezzel a muzsikával volt az első olyan meghatározó zenei élmény amely a "cselekvő zenélés" irányába lökött, és ennek nyomán elkezdtem a zenei tanulmányokat először még szájharmonikásként, valahol még a középiskolás éveim végén. Bár időben először az 1980-as Blues Brothers filmet láttam,de  abban az időben még az internet nem volt olyan elterjedt mint manapság, és a lemez boltban (mert a 90-es évek végén még olyan is volt) nem lehetett kapni az első film zenei albumát így "kénytelen voltam beérni" az akkoriban megjelenő Blues Brothers 2000 albummal. Viszont ahogy a lemez nyitó száma (Paul Butterfiled - I was born in Chicago) elkezdődik annak a hatása a mai napig libabőr. Ezen kívül a lemez elég sokféle olyan Blues és más műfajokból érkező zenészt vonultat fel meg mint pl. James Brown, Dr. John, Eric Clapton, B.B. King, Blues Traveller, Wilson Pickett, Johnny Lang, Erykah Badu stb. ami összességében elég széles kitekintést nyújt a műfaj akkori vertikumára.
The Blues Brothers: Original Soundtrack Recording
Bár ez a zene 1980-ban jelent meg és már egy "modernebb" megszólalása volt a Blues zenének de ennek ellenére jól visszaadta a Chicago Blues stílus legfőbb és legmeghatározóbb elemeit amik engem igazán megfogtak akkor. Ráadásul olyan zenészek játszottak rajta mint pl. Ray Charles, Aretha Franklin, John Lee Hooker, Cab Caloway stb. Jaaa és érdekességképpen a filmben szerepet kapott az a Carrie Fisher is aki pár évvel korábban a Star Wars filmekből vált ismertté mint Leia hercegnő. Viszont mivel akkoriban ezt az albumot a helyi lemez boltban még nem lehetett kapni, így ezt az albumot a maga valójában csak később tudtam "kiértékelni". 
Ez a lemez, amely 1977-ben jelent meg Johnny Winter producerkedése mellett ahol egy kicsit reunion jelleggel szedték újra csokorba az akkor még aktívan zenélő Muddy Waters legjelentősebb dalainak egy részét és öntötték az akkoriban modernnek számító hangzásba. Ennek eredményeképpen mint a lemez címe is mutatja egy olyan őserővel megszólaló zenei anyag állt össze ami első hallásra berúgja az ajtót azzal a súlyos sodrással amit csak ezek az öreg Blues zenészek tudtak nyújtani mind élőben, mind pedig a stúdióban.
Eric Clapton: From the Cradle
A helyzet az, hogy nekem ez volt ez első tudatos találkozásom Eric Claptonnal, aminek következtében beleszerettem a zenéjébe a játékába és hangzásába. A hozzáértő vájt fülű olvasó mondhatná, hogy kicsit erős kezdés, de nekem ez adatott, ami miatt hálás vagyok a végzetnek, mert ezután másként tudtam Clapton más irányultságú zenei tevékenységét is értékelni. Ehhez az albumhoz mindig úgy térek vissza, mint útját vesztett zenész a gyökerekhez ("A Blues zene a gyökér a többi zene pedig a gyümölcs" - Willie Dixon), mert az előzőkben taglaltakhoz hasonlóan ennek a lemeznek is olyan ereje és megszólalása és húzása van, hogy az a mai napig falhoz vág. Ennél a lemeznél Clapton bevallottan vissza akart térni a Blues gyökereihez, így olyan klasszikusoktól dolgoz fel mint pl. Muddy Waters, T-Bone Walker, Willie Dixon, Freddie King. Bármikor, ha előveszem ezt a lemezt meg kell állapítanom, hogy sikerült neki. 
Jimi Hendrix The Jimi Hendrix Experience
Azt hiszem ezt a lemezt nem kell különösebben túlmagyarázni. Generációkat nevelt ez az erősen Blues alapú rock zene szeretetére és művelésére. Azt gondolom, hogy ennek az albumnak a hangzása, elsősorban a rock zenére gyakorolt hatása megkérdőjelezhetetlen, így nem is szaporítanám tovább a szót egyszerűen csak ez is bele került nálam a listába.
Cadillac Records: Music From the Motion Picture
Nos, egy újabb film zenei album. Mégpedig azért mert a 2008-ban megjelent film, ami feldogozza a Chess Records történetét, amely az ilyen Blues rajongóknak mint én, érdekes betekintést nyújt az 50-es 60-asévek Amerikájának zenei kulisszái mögé. Ezen kívül megismerhet az ember olyan megtörtént eseményeket, amelyek szélesebb kitekintést jelentenek a kor show bussiness-beli történéseinek alakulására. Az említett Chess Records nevű (amerikai mércével mérve) kis és aztán majd közepes vállalkozásában olyan, a zenetörténetet a mai napig meghatározó, géniuszok csináltak lemezt mint pl. Muddy Waters, Little Walter, Howlin' Wolf, Willie Dixon, Etta James, Chuck Berry, Bo Diddley, Buddy Guy stb.
Ez az album egy évvel a korábban már említett Hard Again album után született 1978-ban. Ennél a korongnál is Johnny Winter volt a producer amellett persze játszott is a lemezen. A megszületését alapvetően a Hard Again sikere inspirálta amely már a megjelenés évében Grammy díjat kapott. Itt gyakorlatilag az öreg Muddy azon slágereit vitték lemezre amelyek nem kerültek fel a korábbi Hard Again albumra.
Még mielőtt a Bon Scott hívők keresztre feszítenének, a Bon Scott fémjelezte zenekart is pont úgy szeretem mint a Brian Johnson-osat és ezzel az a baj, hogy fel tudnám itt sorolni fél (ha nem az egész) AC/DC diszkográfiát, de ez a rovat most nem erről szól. Az a helyzet, hogy nagyon szeretem azt a tiszta egyszerű de mégis brutálisan ütős hard (blues)rock zenét amit az AC/DC talált fel és honosított meg, és játszik lényegében 40 éve. Ez a zene a tipikus esete a kevesebb néha többnek, illetve a se több se kevesebbnek. Azért ezt választottam, mert legelőször azokkal slágerekkel találkoztam amik ezen az albumon lelhetők fel, nem csoda hiszen ez a világon eladott legnagyobb példányszámú hard rock albuma.
Lynyrd Skynyrd: God and Guns
A 2009-ben megjelenő album a rocktörténet legtragikusabb sorsú zenekarának egy nagy visszatérő albuma volt amely a méltó, a nagy elődök által lerakott kő kemény és masszív alapok, tovább építésére (úgyis mint a Sweet Home Alabama, Tuesday's Gone, Simple Man, Call me the Breeze). A lemez a mai napig meghatározó a modern southern rock érában és visszahelyezte, az esetlegesen megkopott népszerűségű régi nagy zenekart, arra piedesztálra ami, egyesek szerint southern rock feltalálójának számító zenekart megillet.
Little Walter: The Essential Little Walter
Nos harmonikásként nem hagyhatom ki a modern Blues harmonika feltalálóját aki olyan erővel átéléssel és tehetséggel bűvölte a harmonikát ezzel pedig feltalálva azt a jellegzetes torzított hangzást, amit azóta majd minden Blues harmonikás próbál utána csinálni és leutánozni. Nos ő nem egy annyira széleskörűen ismert tagja a zenei világnak mint a korábban felsorolt zenészek/zenekarok. Azonban ő a kezdeti éveiben Muddy Waters-szel zenélt majd pedig szóló pályafutásba kezdett, állítólag amikor Muddy-val szétváltak az útjaik Muddy azt mondta, hogy az olyan volt mintha az oxigént vették volna el tőle. Az egyik legnagyobbnak számító slágerét a My Babe című tételt még Elvis Presley is feldolgozta. Azonban viszonylag fiatalon az alkohol és a drogok vonzáskörébe került így az ő pályája kicsit félresiklottnak tekinthető. Mi sem bizonyítja ezt jobban, mint hogy az 1968-ban bekövetkezett halált követően csak 90-es években kezdték újra felfedezni nem kis részben Eric Clapton munkásságának köszönhetően, ami 2008 után egy újabb lökést kapott a Cadillac Records című film megjelenésével.