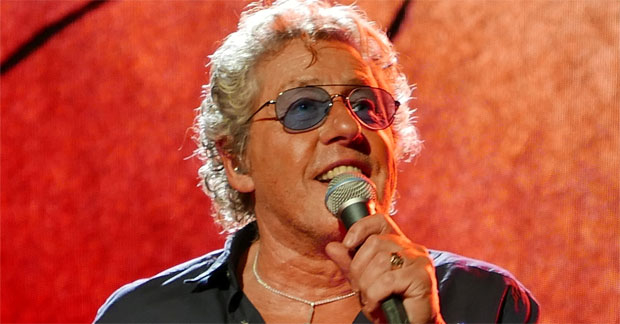 A napokban jelentették be, hogy a több mint fél évszázada a pályán lévő sikeres angol rockegyüttes, a The Who nyáron amerikai koncertkörútra indul. Ezek mellett a nagyszabású hazai (London - Wembley) koncert sem maradhat el 2019-ben, július 6-án lépnek színpadra a Futbal Otthonában. Az aktuális hírek kapcsán a Classic Rock Magazin készített interjút Roger Dalytreyval, melyből kiderül, mi is a titka egy hosszan tartó sikeres rock and roll házasságnak, mennyire érintette meg társa, Pete Townshend letartóztatása, és hogyan is próbálta egyben tartani a balhéiról is legendássá vált zenekart. 
Hisz, vagy hitt valaha Istenben?
Templomba járni és kórusban énekelni része volt az életemnek. Egykoron hinnem kellett benne, de most.... nem tudom...
Milyen hatással voltak életére a gimnáziumi évek?
Azt mondanám, hogy katasztrofálisan jól (nevet). Formálódott az életem, de minden percét gyűlöltem. Nem találtam semmi közöst a társaimban, nem jöttem ki senkivel. Az iskolarendszer pedig egyszerre baszott fejbe és rúgott seggbe.
Mit gondol, mi a legnagyobb tévhit önnel kapcsolatban?
Nem is tudom... Különösebben nem is érdekel. Mindenkinek megvan a saját véleménye és ehhez minden joga is megvan.
Hogy érezte magát, amikor 1965-ben kirúgták a The Who-ból?
A zenekar kémiája nagyon jó volt, azon a ponton pedig az egész ment a levesbe, mert előkerültek a "véres tabletták". Azt éreztem, hogy egyben kell tartanom a zenekart, s jönnöm kell azzal a szöveggel, amit ilyenkor mindenki minduntalan fecseg. Tudod, azzal, hogy – álljatok le a cuccokkal, mert rámegy a zenekar! Próbáltam egy kicsit próféta szerepbe bújni, de a vége az lett, hogy megromlott a kapcsolatunk. Az utazások borzalmasan teltek. Halálos csend uralkodott a buszban, senki nem szólt hozzám. Később kaptam egy üzenetet az irodától, amiben annyi állt. "Többé nem akarunk veled együtt dolgozni Roger. Ki vagy rúgva!" Két napig úgy éreztem, hogy én tettem tönkre az egészet. Aztán azt gondoltam, BASSZA MEG! Csinálok egy új zenekart.  
Mi olyat tud, amire más nem képes?
Bele tudok nézni a tükörbe és látom magam, amint felidézem a múltam.
Igaz, hogy a zenekar valósággal szenvedett Kit Lambert és Chris Stamp menedzsmentje alatt?
Azt gondolom, hogy nélkülük nem ment volna. Zsenik voltak tele kreatív ötletekkel. Hatalmas fájdalom volt, hogy elváltak az útjaink Kittel és Chrisszel. Én csak azt akartam, hogy kreatív ötleteikkel segítsenek bennünket. Ők ezt máshogy gondolták, és üzletként tekintettek mindenre, aminek az lett a vége, hogy mindenki ment a maga útjára.
Van, amit megbánt az évek alatt?
Nincs! Nem bánok semmit. Óriási hibákat követtem az életemben, de nem bánom, mert ott vagyok ahol, és az vagyok, aki.
Mi volt karrierje legmélyebb pontja?
Amikor 2003-ban letartóztatták Pete-et. Úgy éreztem, hogy ez mindenkire hatással van. A zenekarra, a családomra, az ő családjára. Sokat gondoltam rájuk. Nagyon fájdalmas időszak volt ez mindenki számára.
Ken Russell filmrendezővel készítették a Tommy-t. Mi volt a legrosszabb élmény a forgatásról? 
Fellógatott egy sziklára! (nevet) Egy farmer volt rajtam, semmi más, mezítláb voltam. Csak remegtem, ő pedig csak felordított nekem: Tarts ki Roger...várjuk a fényt!
Mi volt a legnagyobb pénzkidobása?
Autók. Ezek ónból készült csomók. Mindannyian ugyanabban a dugóban ülünk, kit érdekel, hogy mit vezetünk? Amikor azonban előtör belőled a fiatal egód, Ferrarikat akarsz...
Mi a titka egy sikeres rock and roll házasságnak?
Ez egyszerű! Egy jó feleség, aki érti a dörgést. Az én feleségem értette és már 50 éve együtt vagyunk. Sosem hazudtam neki. Kezdetben azt mondtam, nem leszek az a szokványos férj, és ő ezt elfogadta. És mivel elfogadta, néha nem voltam annyira rossz, mint lehettem volna.
Egykoron ezeket mondta a zenésztársairól: Keith Moon, aki mindig tudta, melyik gombot kell nyomni... Pete Townshend olyan, mint egy bohócruhás alak egy bánya közepén, John Entwistle pedig sokszor volt elég tapló. Akkor mégis miért szerette ezeket az embereket?
Mert ők voltak a társaim és felismertem és tiszteltem a tehetségüket. Briliáns emberek voltak. A legszebb dolog, ami valahol ironikus is, hogy régen volt, amikor felgyújtottuk egymást. 
Mi az, amire a legbüszkébb az életében?
Ez megint egyszerű. A családomra, a The Who-ra, és a Teenage Cancer Trust nevű alapítvány munkájára. Ezek a dolgok vezetnek most... úgy, ahogy egykor a The Who vezetett.
Végül egy utolsó. Mi lesz a sírkövére írva?
- Meghalt és soha nem ment a Harrod's-ba (nevet).
John Entwistle folyton a Harrod's-ban lógott. Mindent megvett vagy megrendelt, a furgont pedig mindig a szomszédokhoz küldte.
info: A Harrod's London egyik legnagyobb bevásárlóközpontja, mely közel 20.000 m2-en terül el a Brompton Roadon.
forrás: Classic Rock Magazine
fordította: Sebők Tamás