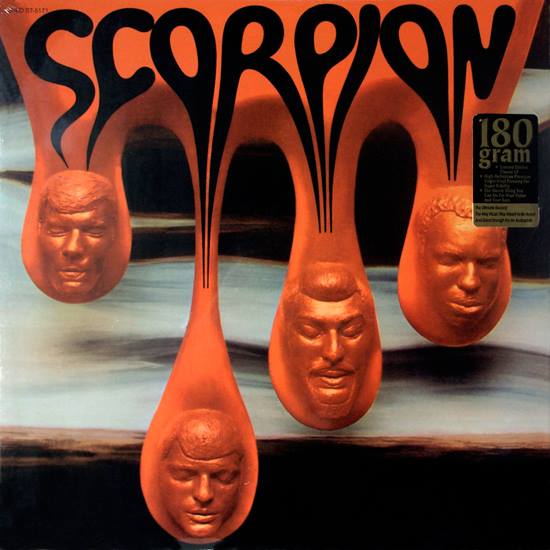 A hazai rockrajongók két olyan magyar vonatkozású együttest biztos tudnak mondani, amely a mérges potrohú ízeltlábúról kapta a nevét. A világhírű német Scorpions-t, amelynek tagjait jó barátság fűzi az Omegához, sőt még a Gyöngyhajú lányt is feldolgozták az utóbbiaktól White Dove címmel, valamint a '70-es évek népszerű magyar rockbandáját, a Skorpiót. Ám akad egy harmadik is, ami ráadásul a maga módján igazi supergroup, de sajnos nem túl ismert nálunk. Épp ideje változtatni a helyzeten!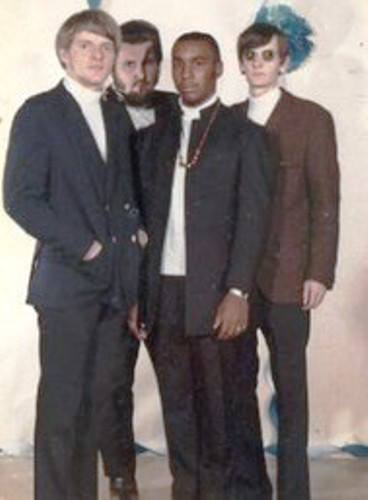 1969-ben a Capitol Records leányvállalatainak egyike, a Tower adta ki a cikk témáját képező albumot. A detroiti Scorpion tagjainak egyike ekkor már három éve élvonalbeli session zenész volt, a többiek pedig e csapatban kezdték meg felfelé ívelő pályafutásukat. Az alább hallható lemezt egy erőteljes, a stoner rock előfutárának nevezhető dal, a dzsungelből szalajtott intróval indító Running From Myself nyitja, amelyben az énekes azonnal megmutatja, hogy a jeti hátánál is szőrösebb a torka, igazi őserejű himnusz ez… A másodikként felcsendülő Make Love Not War a banális cím ellenére távolról sem egy nyálas lírai, hanem egy kellemesen hullámzó, parádés gitározást felvonultató kommunális nóta, amilyet akár a Black Crowes is összehozhatott volna fénykorában. Harmadikként a Great Day kerül terítékre, egy vidám hangulatú és könnyed soul-funk, amelytől garantáltan jó lesz a napunk. Ezt követi a Standing In My Mind igényes és szívmelengető folk rockja, majd a Wildflower-rel ismét keményebb vizekre evezünk, nehéz megállni, hogy ne kopácsoljuk a számmal együtt a ritmust, bárhol is tartózkodunk. A Take A Look At Yourself emelkedett pszichedelikus mű, az ének a Uriah Heep klasszikus korszakának David Byronját idézi. A Happy Blues Time esetében a cím mindent elárul, manapság ritkán hallani ennyire energikusan megfunkolt alaprockot, az énekes rekedtre üvölti magát benne. Drasztikus váltást hoz a Touched By An Angel, amely az évjáratnak megfelelő lágy pszichedelia, ennek ellenére még a Black Sabbath-ot idéző zenei motívum is található benne. Az albumot a Please Make My Mind Right lendületes laza rockja zárja. Üresjárat sehol; sokszínű, mégis egységes arculatot mutató, tökéletes produkció a végeredmény.
Húzós tempók, funk, soul, blues és rock… A Scorpion albumát mindenkinek bátran merem ajánlani, aki elsőrangú retro zenei élvezetekre vágyik. De kik azok, akiknek mindezt köszönhetjük? Lássuk!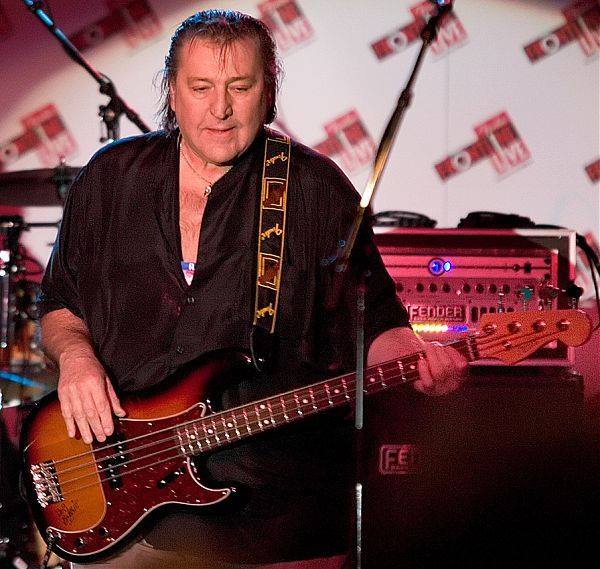 Basszusgitár: Bob Babbitt (1937−2012) emigráns magyar szülők gyermeke volt, Kreinár Róbertként jött a világra. 1966 és 1972 között a legendás Funk Brothers-ben basszusozott, amely nem más volt, mint a detroiti Motown Records legkiválóbb stúdiózenészeiből verbuvált, mindig bevetésre készen álló vérprofi kísérőcsapat. Babbitt a soul és a funk műfaj doyenjének számító James Jamersonnal osztozott a fő basszusgitáros szerepén, majd ahogy Jamersonon egyre jobban elhatalmasodott az alkoholizmus, fokozatosan előlépett első számú basszusfelelőssé. A Motown-on kívül is munkák tucatjait vállalta el, többek közt Frank Sinatra, Alice Cooper, Gloria Gaynor és Robert Palmer lemezein játszott, valamint az ő basszusgitározása hallható Stevie Wonder egyik leghíresebb dalában, a Signed, Sealed And Delivered I'm Yours-ban is. Babbitt úgynevezett "árnyjátékosként" szintén számos albumon működött közre: ez azt jelentette, hogy amennyiben a producer a finisben elfogadhatatlannak ítélte az adott zenekar valamelyik tagjának a játékát, titokban elhívott a stúdióba egy profi session muzsikust, és az érintett tudomása nélkül újrajátszatta a beugróval annak sávjait. Babbitt ilyen meló keretében rögzítette például az első Talking Heads album összes basszustémáját. Bobunk pályafutásának szempontjából a skorpió kétszer is meghatározónak bizonyult: két évvel a Scorpion albumának boltokba kerülése után játszott Dennis Coffey funk gitáros leghíresebb dalában, a Scorpio-ban, amely lehetőséget adott neki arra, hogy egy fantasztikus basszusszóló révén is megcsillogtassa tehetségét.
Gitár: Ray Monette neve fogalom a gitáros szakmában, egy rövid 1977-es szünetet leszámítva, 1971 és 2004 között ő töltötte be a gitárosi pozíciót a Motown Records egyik nagyágyújának nevezhető soul-funk-rock zenekarban, a Rare Earth-ben, amelynek I Just Want To Celebrate című 1971-es slágerét a magyar vájtfülűek is jól ismerik. Monette szintén számos session részese volt, játszott a Funkadelic és Phil Collins anyagain is.
Ének: Michael Campbell Monette első komolyabb csapatának, az Abstract Reality-nek az énekese volt, innen került a gitárossal együtt a Scorpion-ba. 1971-ben a Funk Brothers és összes Scorpion-os zenésztársa társaságában közreműködött Meat Loaf és a Little Feat leendő énekesnője (az ekkoriban még Stoney művésznéven ügyködő Shaun Murphy) albumán, amelyet a Motown Records adott ki és minőségi soul-t tartalmazott, továbbá hat dalt írtak rá Monette-tel. Campbell 1974-ben egykori Scorpion-os társaival készítette első és egyetlen szólóalbumát (Michael Edward Campbell néven), majd Michael Champion néven színészi karrierre váltott. Nem éppen bizalomgerjesztő fizimiskája miatt elsősorban "a főgonosz jobbkeze" típusú figurák jutottak neki: feltűnt a Schwarzenegger-féle Az emlékmásban és a Beverly Hills-i zsaru első részében is. Legnagyobb szerepét A terror iskolája című B-kategóriás akciófilmben kapta, amelyet néhány éve heti rendszerességgel tűzött műsorára egy változatosságra való törekvéssel egyáltalán nem vádolható hazai kábeltévés csatorna.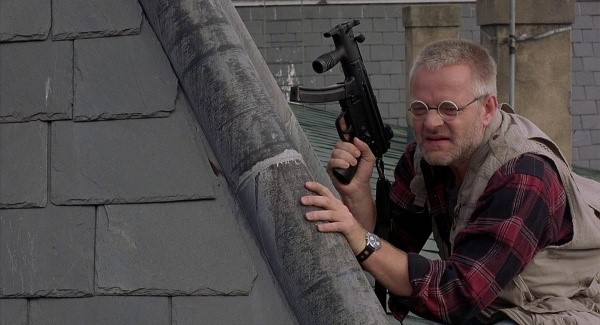 Dob: A 2000-ben elhunyt Andrew Smith 16 éves korától kezdve a Motown Records egyik legtöbbet foglalkozott dobosa volt, ezért a cég vezérei nem repestek az örömtől, amikor az egyébként remek hangú bőrcsépelő bejelentette, hogy énekesi szólókarrierre vágyik. Bár kiadhatott pár kitűnő kislemezt, a fejesek tettek róla, hogy egyikből se legyen sláger, így Smith kénytelen volt megmaradni a kaptafánál, és tovább dobolni olyan előadók számaiban, mint Marvin Gaye, Smokey Robinson, Gladys Knight vagy a Temptations.