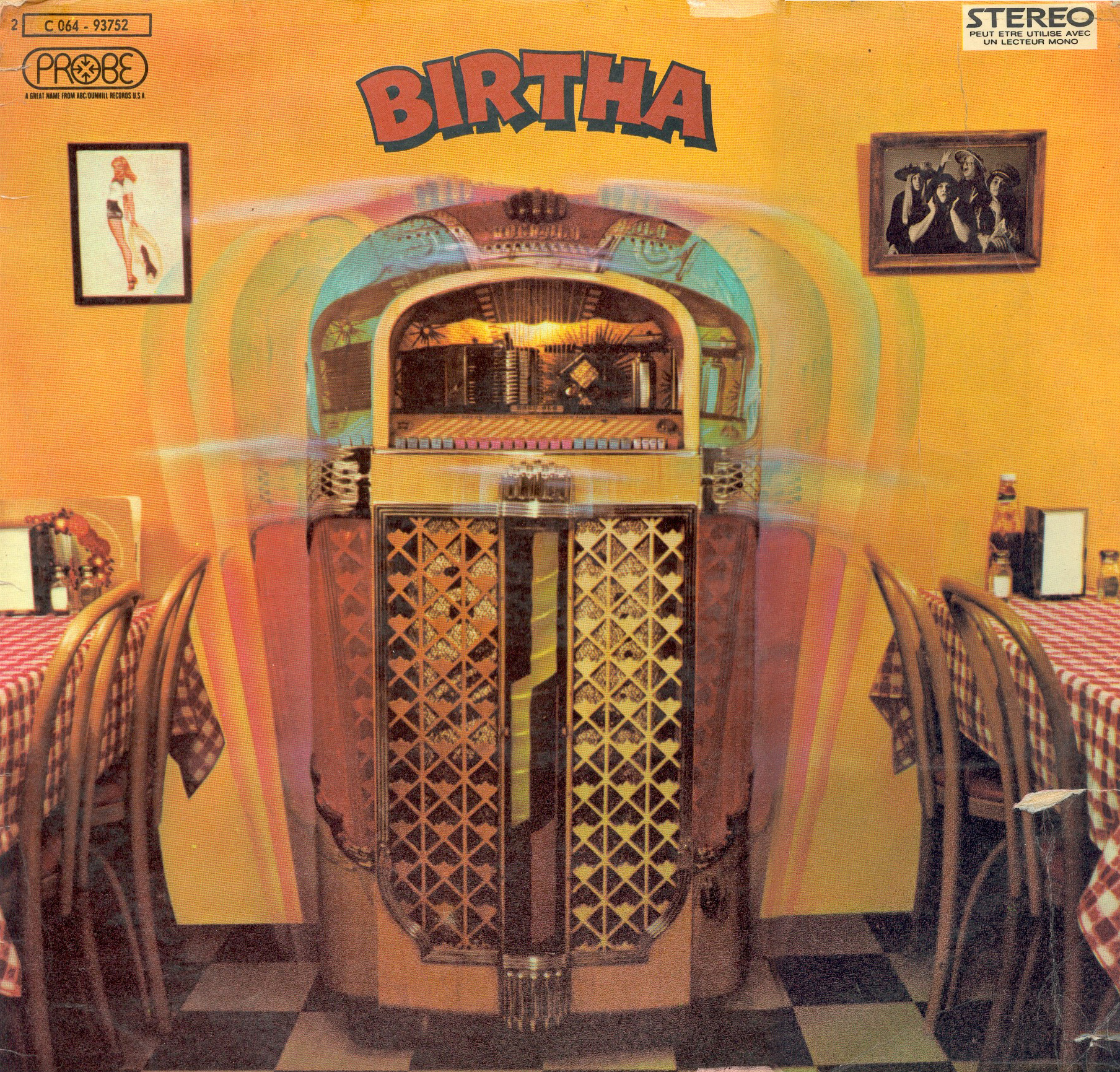 Egy csapat, amelyben megvolt a Steppenwolf hitelessége, a Grand Funk Railroad groove-ossága és a Uriah Heep dallamossága…  Egy csapat, amelyet csupa kiváló és kirobbanó energiával játszó rockzenész alkotott, akiket csak a legnagyobbakhoz lehet hasonlítani… Egy csapat, amelyben kizárólag nők játszottak, és sajnos épp ezért ütközött leküzdhetetlen akadályokba.

Ha nőkből álló rockzenekarról van szó, akkor a zenehallgatók többségének valószínűleg az 1975 és 1979 között létezett Runaways jut eszébe, amely kifejezetten nagy sikereket ért el, ráadásul két tagja – Lita Ford és Joan Jett – szólóban még rá is tett jó pár lapáttal, és igazi világsztárrá vált. Természetesen a Runaways-nek meg kellett küzdenie a zeneipar hímsovinisztáival, és most nem a kollégákra gondolunk, hanem a kiadói fejesekre, akik szinte felháborítónak és elfogadhatatlannak tartották, hogy egyes nők nem csupán nekik írt popslágereket akarnak énekelni, hanem hangszert fognak, zenekart alapítanak, és még a számaikat is maguk hozzák össze. A Runaways előtt több ígéretes, csak nőkből álló rockcsapat adta fel a harcot, pedig mindegyik lenyűgöző karriert érdemelt volna: az Isis (jazz rock), a Fanny (blues rock), a Mother Superior (progresszív rock), a Mother Trucker (glam rock) és a Birtha (hard rock) egytől egyig fantasztikus teljesítményt nyújtottak, mesterei voltak hangszerüknek, általában több remek vokalistával is rendelkeztek, és képesek voltak akkora dalokat írni, mint híres férfi bajtársaik. Az, hogy egyikük sem arathatta le a neki járó babérokat, pusztán a lemezkiadók lustaságának, közönyének vagy egyszerűen rosszindulatának köszönhető.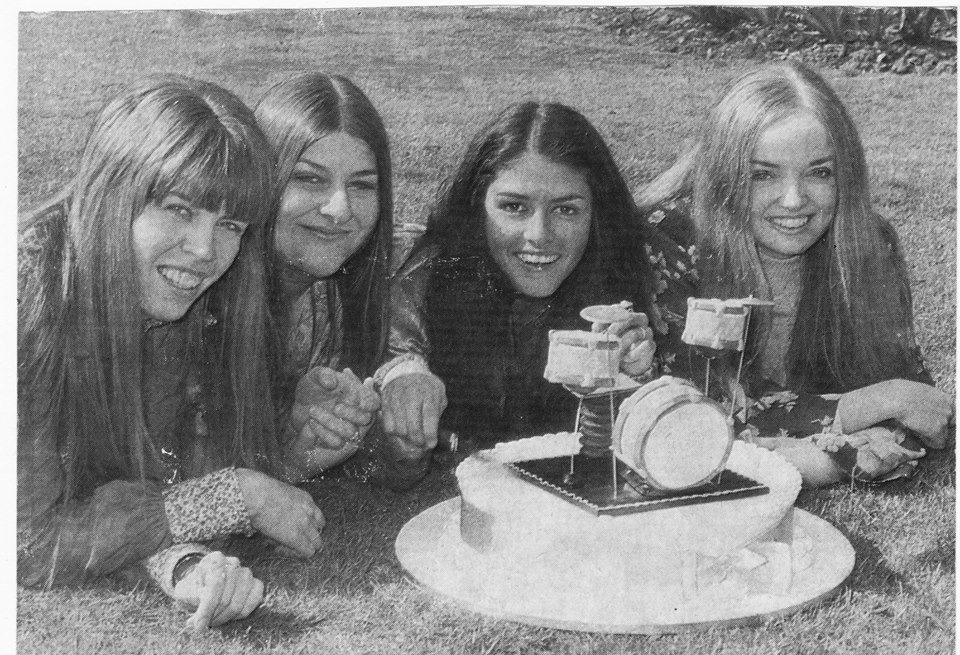 A Los Angeles-i Birtha tagjai még a 60-as években találtak egymásra. Rosemary Butler basszusgitáros és Shele Pinizzotto gitáros egy középiskolába jártak, és itt alakították meg The Rapunzels nevű zenekarukat. Rosemary később a szintén csak nőkből álló Ladybirds-höz csatlakozott, akik 1965-ben a Rolling Stones előtt is felléptek, Shele pedig egy zenei stúdióban kapott munkát. 1967-ben Rosemary és Shele ismét együtt zenélt egy all-female zenekarban, ezúttal The Daisy Chain néven, és felvettek egy garázs beat lemezt is. Ugyanebben az évben ismerkedtek meg Sherry Hagler billentyűssel, majd az elképesztő hangú dobossal, Olivia "Liver" Favelával. Birtha néven zenekart alapítottak, és négy éven át keményen koncerteztek szerte Kaliforniában, mire végre lemezszerződéshez jutottak. Saját számaik mellett elsősorban a korszak rock- és Motown slágereit játszották élőben.
1971 novemberében a David Bowie rokonszenvét élvező Fanny Charity Ball című dalát viszonylag sokat játszották a rádiók, így az ABC Dunhill-nél vonakodva úgy döntöttek, felvesznek ők is egy női rockzenekart az olyan jól ismert macsó előadóik mellé, mint a Three Dog Night vagy a Steppenwolf. Bár a Fanny sem finomkodó rockzenét játszott, a Birtha igazi heavy rockban utazott, ezért nehezebben lehetett őket eladni, vagy legalábbis ezt hitték a lusta és előítéletes promóterek… Két album után ejtette őket a kiadó, és jó időre feledésbe merültek. A 90-es években azonban lassan híre kelt, hogy létezik két lemez, amelyek ugyan a maguk idejében nem arattak világraszóló sikert, mégis ott a helyük a polcon a Led Zeppelin és egyéb ikonok csúcsalbumai mellett.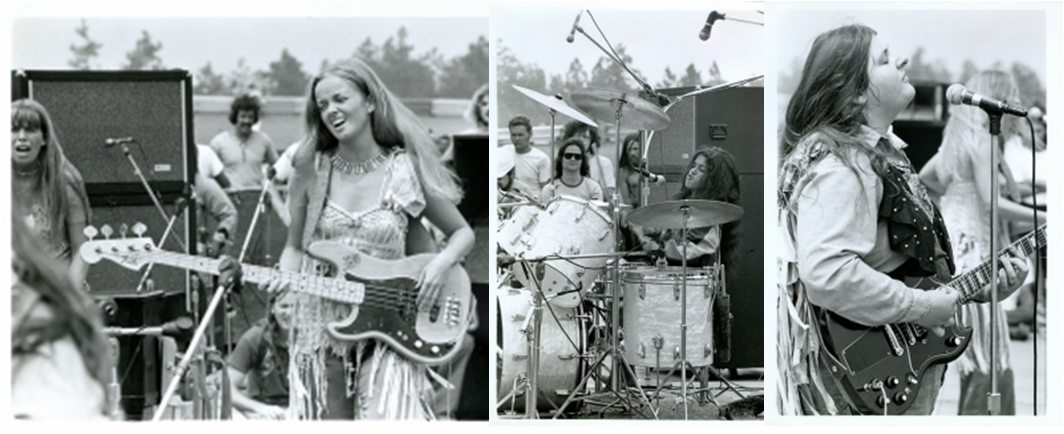 A Fanny kiadója, a Reprise, amely nem igazán tudott mit kezdeni egy női rockzenekarral, úgy vélte, egy provokatívan szexi szlogennel lehet a csapatot beleégetni a köztudatba, ezért a reklámanyagaikra minden alkalommal rányomtatták a Get Behind Fanny – Támogassátok a Fannyt! / Álljatok be (a) Fanny mögé! – kétértelmű jelmondatot. A Dunhill ötletgyártói úgy gondolták, ezt csak egy sokkal durvább megjegyzéssel lehet felülmúlni, úgyhogy az ő lányaiknak a Birtha Has Balls – A Birtha tökös (vagy "csöcsös") – kínos kétértelműsége jutott. A szlogen pólókon is felbukkant, amelyeket a csapatért lelkesedő férfi kollégák – Alice Cooper és bandája, a Fleetwood Mac és a James Gang tagsága – mind felvettek az 1972-es Rockinghami Fesztiválra, ám az inkább erőltetettnek tűnő, mint jópofa mondat az újságírók körében gúnyolódás céltáblájává tette az együttest. Egyes sajtóorgánumok arról kezdtek cikkezni, hogy leszbikusok kompániája a Birtha, a Playboy pedig nem volt hajlandó az ekkoriban az egyik leghatékonyabb reklámfelületnek számító gyufásdobozaira nyomtatni a jelmondatot, mondván: túl ízléstelen. A Dunhill ezek után kétségbeesett kísérletet arra, hogy eloszlassa a leszbikusság látszatát: A Kinks előzenekaraként turnézó együttes tagjai hiányos öltözékben pózoltak a brit Titbits magazin címlapján, kijelentve, hogy férfi groupie-kra vágynak. Sajnos a megtépázott hírnév helyreállításához ez kevésnek bizonyult. Ami azért is szomorú, mert a Birtha tényleg tökös zenét játszott, sőt annyira tököset, hogy a legtökösebb férfi csapatoknak is alaposan feladták vele a leckét.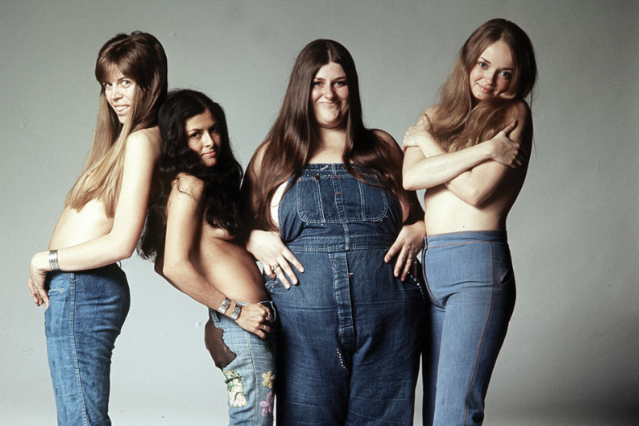 A Steppenwolf produceri teendőit is ellátó Gabriel Mekler bevonásával készített 1972-es bemutatkozó albumukat nyitó Free Spirit egyértelműen a zenekar saját Born To Be Wild-ja, igazi méregerős rockhimnusz, ami azonnal megteremti az alaphangulatot: a következő csaknem háromnegyed órában ne ártalmatlan altatódalokra, hanem nagybetűs ROCKra tessék számítani. A dalszöveg üzenet egy birtoklási vágytól szenvedő pasasnak szabad szellemű barátnőjétől: Szeretlek, drágám, de nem vagyok a tulajdonod! A számot Olivia Favela dobos énekli, és már néhány másodperc elteltével nyilvánvaló, hogy Janis Joplin-i képességű énekesnővel van dolgunk. A másodikként felcsendülő Fine Talking Man-t Rosemary Butler basszusgitáros adja elő, akinek igazi dögös Motown soul hangja van, ráadásul azt is megmutatja, hogy nagyon, de nagyon ért a hangszeréhez, hatalmas összhangban játszik Shele Pinizzotto gitárossal, akinek úgy harap a sound-ja, ahogy azt a rock istenei az Olimposzon előírták. Ezt követi a Tuesday mocskos boogie-ja (ismét Rosemaryé a szólóénekes szerepe), amelyben csak úgy karcol a gitár és a lányok parádés többszólamú vokállal örvendeztetik meg a hallgatót. A blues-soul Feeling Lonely-ban megint Rosemary szólóvokálozik, a többiek pedig megragadják az alkalmat, hogy alaposan megdolgozzák a hangszereiket: harsog Sherry Hagler billentyűs Hammondja, dübörög a dob, repednek a cinek, Shele pedig olyan ízes szólót nyom, hogy Eric Clapton fénykorában is irigyelte volna tőle.
A She Was Good To Me egy érzelmes, vonósokat felvonultató akusztikus lírai, amelyet Shele, a nagydarab és érett hangú gitáros lány írt és énekel. A megható szöveg édesanyjáról szól, aki ekkor már valószínűleg nem élt. A Work On A Dream-et Rosemary süvölti, sodró funk rock ez, a többiek kiváló Motown kórust személyesítenek meg benne, Olivia szó szerint szétveri a szerelését, Sherry pedig kikészíti szegény Hammondját. Az utolsó három tételt mind Olivia énekli, és közben úgy dobol, hogy attól egyszerűen könnyekig meg kell hatódni… A Too Much Woman (For A Henpecked Man) egy Ike & Tina Turner-feldolgozás, és úgy tombol, akár egy tornádó, kő kövön nem marad utána, a szöveg pedig nem csinál titkot abból, hogy aki előadja, az kemény nő, aki kemény férfit akar. A Judgement Day klasszikus rockorgia − ha a végítélet napján ilyesmi szól majd, lesz ám öröm és headbangelés −, nyersen dübörgő gitár, odapörkölős dob, gurgulázó Hammond és pattogós basszus jellemzi. Az utolsóként elhangzó Forgotten Soul vérbeli blues-soul az egekig szárnyaló vokállal és Duane Allmanhez méltó heroikus gitárszólóval. Kedves hallgatóink, egy tökéletes albumot mutattunk be önöknek…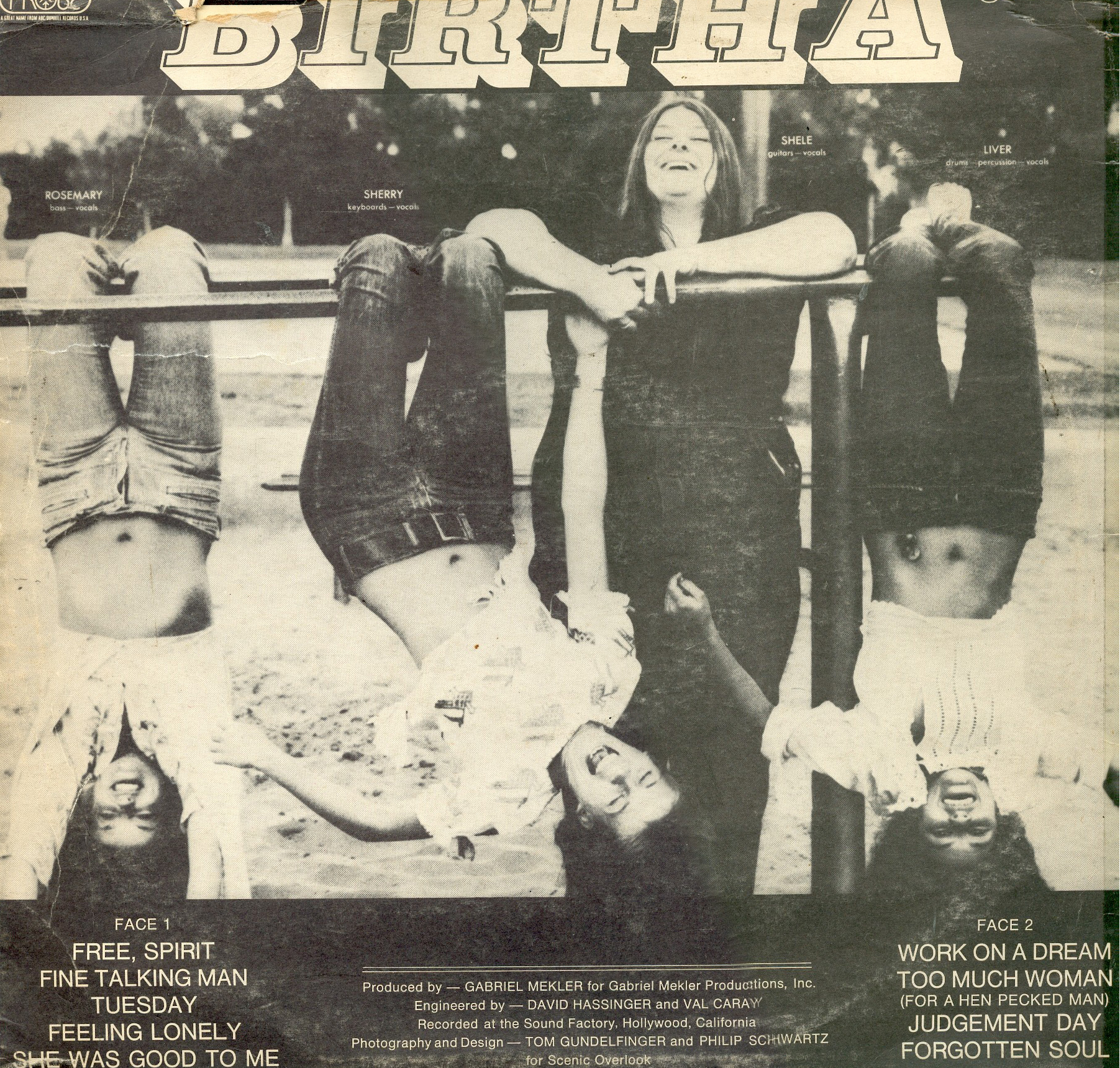 A Birtha egy évvel később kiadói nyomásra egy lényegesen szelídebb, de rendkívül igényes és továbbra is rockos albummal jelentkezett (Can't Stop The Madness), majd befejezte pályafutását. Belefáradtak a lemezipar packázásaiba? Nem volt kedvük egyre jobban felhígítani a zenéjüket? Valószínűleg sohasem tudjuk meg… Szégyelljék magukat, akik nem futatták be ezt a zenekart, noha minden eszköz a rendelkezésükre állt hozzá.