Bár a Mötley Crüe 2015 szilveszterének éjszakáján végleg elbúcsúzott a közönségétől a stílszerűen The End névre keresztel búcsúturné utolsó koncertjében, de mégis megoldották, hogy az elmúlt hetekben körülöttük forogjon a rocksajtó nagy része - hiába, a 'Crüe mindig is zseniális volt marketingben (is). A figyelmet nem mással érdemelték ki, mint a saját életrajzi filmjükkel.
A 2001-ben megjelent Mötley Crüe könyv, a The Dirt a várakozásokat felülmúlóan sikeres lett, és már akkor felvetődött a filmadaptáció ötlete. 
A produkció aztán majdnem két évtizedik vergődött a filmstudiók, félbehagyott castingok és folyamatosan átdolgozott forgatókönyvek tengerében, míg végül tavaly év végén jött egy hír: 2019 március 22.-én jön a kész The Dirt film a Netflix-re. 
A zenekar szokásához híven egy nagyon profin felépített kampányt nyomott ezzel kapcsolatban a social mediában, amit megfejeltek azzal, hogy- bár továbbra is inaktív zenekarnak vallják magukat- összedobtak négy új nótát.  A film főcímdalaként funkcionáló The Dirt-öt, Madonna Like  Virgin feldolgozását, a a Crash And Burn-t és a Ride with the devilt. 
A 4-esből a The Dirt jelent meg először (Machine Gun Kelly vendégrappelésével, ő alakítja egyébként Tommy Lee-t a moziban). Már ekkor lejött, hogy ha  Mötley Crüe tagjai összeülnek Mick Mars nappalijában jammelni,akkor is jobb dalt írnak poénból, mint manapság számos banda. 
Egyszóval, a zenekar komolyan felkeltette az érdeklődést a saját önéletrajzi ihletésű filmje iránt. Majd március 22.-én egy rövid Facebook posztban tudatták a közönséggel: It's here, fuckers!
És hogy sikerült az agyonhypolt mozi? Hát, sajnos felemásan. 
A film-ahogyan az alapjául szolgáló könyv is- betekintést nyújt a tagok gyerekorában, zenei előéletébe, majd az 1981-es alakulástól nagyjából 2000-ig viszi a fonalat. (a mozi utolsó képsorai tippem szerint az 1997-es turnét jelenítik meg). 
Egy szóval, közel húsz évnyi történést kellett belezsúfolni 1 óra 47 percbe. E miatt a film sokszor rohan. Bár a Crüe történetének szinte minden jelentősebb történése benne van, és hűen követi a könyvben leírtakat (tényleg csak pár dolog hiányolható), de ezek sok esetben le vannak tudva néhány mondatos jelenetekkel. Azok számára, akik rajongóként nem ásták be magukat a sztoriba, nem olvasták a regényt, vagy esetleg a Heroin Naplókat, sokszor nem lesz elég hangsúlyos, hogy mi miért történik, mi miből következik. 
Pedig a Mötley Crüe története nagyon tanulságos. Nem csak zenei értelemben...
Természetesen nagy jelentősége van a "drog, szex, és rock and roll" szentháromságának, és a 80-as évek glam rock feelingjének. (ezt a mozi egyébként remekül adja át, néha eldönthetetlen, hogy ez most egy felületes TV film, vagy direkt ennyire "celebes" hangulatú.). A szex, és drogos jelenetek viszont sokszor meghökkentően naturalisztikusak- mondjuk ezektől a srácoktól nem is vártunk mást....nem véletlen, hogy egy másik "fullkretén" társaságról, a JackAss-ről is filmet készítő Jeff Treamint kérték fel rendezőnek.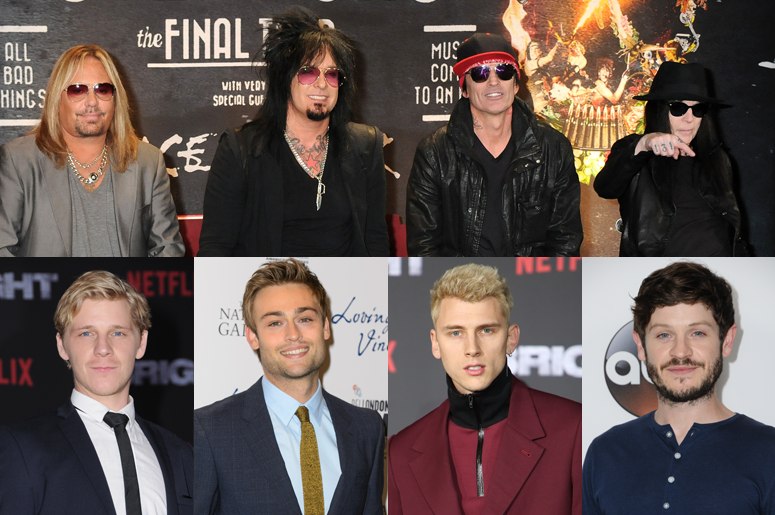 Ehhez a magával ragadó érzéshez egyébként rengeteget hozzátesznek a jelmezek és a díszletek. Az alkotók nagyon komolyan,  korhűen levették a 80-as évek outfitet, bútorokat, autókat, sőt még arra is figyeltek, hogy a tagokat játszó színészekre is a megfelelő időrendben kerültek fel a tetoválások, úgy, ahogy a való életben. 
A Mötley történetét alapjaiban befolyásoló emberi drámák - Nikki heroinfüggése, Tommy szerelmi válságai, Mick betegsége, és Vince gyermekének elvesztése- és a nagyon kemény üzleti döntések, szerzői jogi csaták viszont kevesebb figyelmet kaptak.
Összességében, ez egy nagyon feelinges mozi, lejön belőle a "win it all, or lose it all, we are The Mötley Crüe" életérzés. Megelevenedik előttünk a legveszélyesebb rockbanda, ami egyemberként és zenekarként többször volt a csúcson, és a gödör legalján is, de mindig visszataláltak egymáshoz, és közönséghez, és a zenéhez. 
A rohanós és sűrű vágta miatt azonban továbbra is ajánlom a világ legveszélyesebb zenekarának legőszintébb életrajzi írását, a The Dirt-öt elolvasásra. Akár a film megtekintése előtt, akár utána...