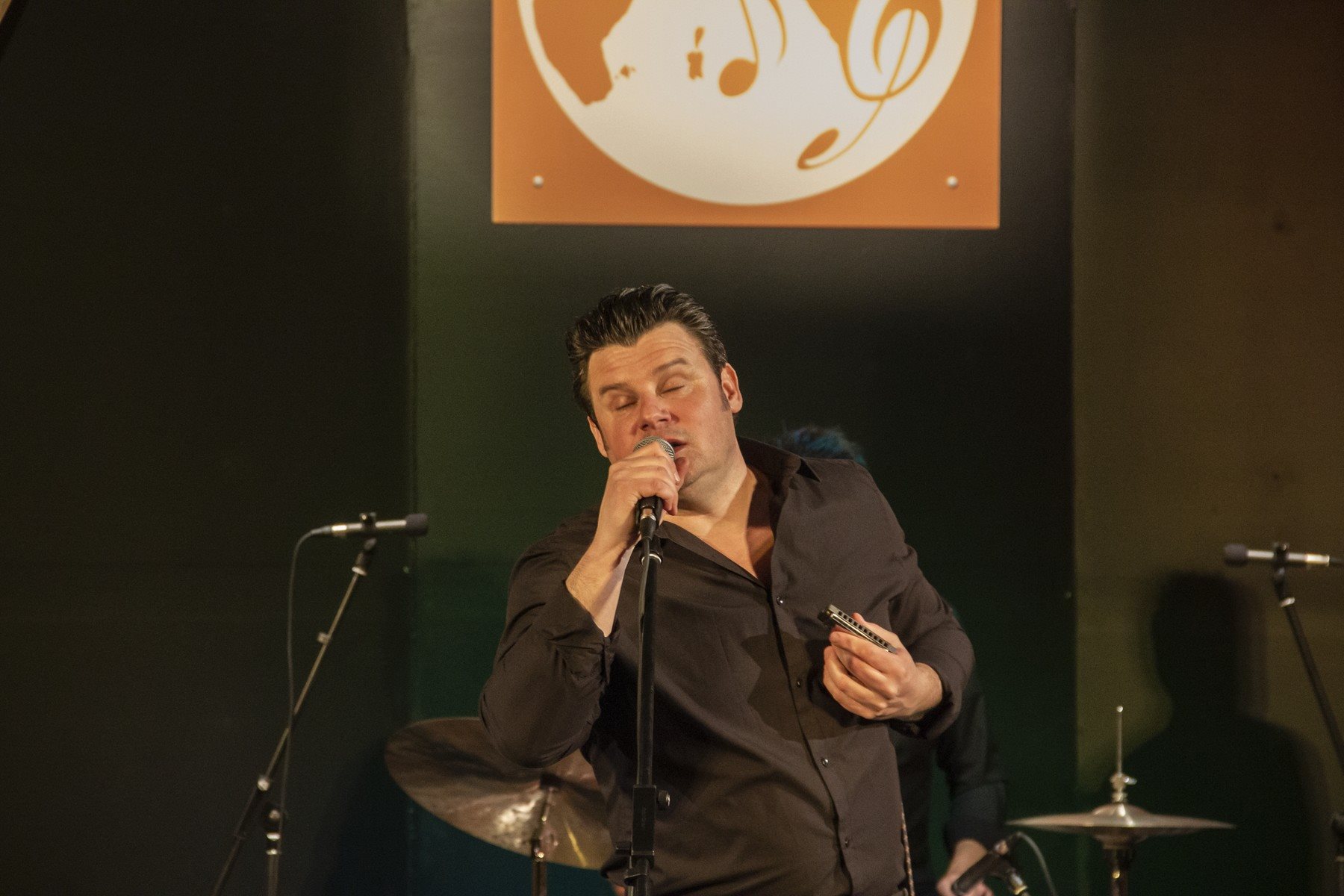 Március 22-én Szentesen a Zene-Világ-Zene sorozat keretein belül adott koncertet Magyarország és egyben Európa egyik kiváló szájharmonikása, Pribojszki Mátyás és zenekara, azaz a Jumping Matt and His Combo. Az előadás előtt beszélgettünk a nem csak a zenében brillírozó Pribojszkival.
OTRNR: – Dressed Up címmel megjelent a Jumping Matt and His Combo debütáló anyaga. Ugyan a dalok korábbról ismertek, mégis új köntösben kerültek fel a lemezre. Hogy mutatnád be az albumot?
– Évek óta jó kapcsolatot ápolunk a Custom Big Banddel (fúvószenekar) és arra gondoltunk, hogy készítünk egy közös lemezt. Azért ezeket a dalokat választottuk, mert ezeket tudjuk eljátszani (nevet). Komolyra fordítva a szót, ezek olyan darabok, amiket nagyon szeretünk ám még nem rögzítettük őket fúvósszekcióval. Alapvetően mondhatjuk azt is, hogy ez egy 3-4 lemezről összeállított válogatás, de mégis az egész új és friss.
OTRNR: – Mennyire volt nehéz átalakítani a dalokat?
– Részünkről nem volt melós a dolog, a fúvósok részéről pedig azt gondolom, hogy a Custom Big Band, azaz a Pénzügyőr Zenekar fúvósszekciója olyasfajta profizmust mutat, hogy nem jelentett kihívást számukra ez a feladat. Inkább az volt a kérdés, hogy kedvelik-e az efféle zenét.
OTRNR: – Ami, ahogy mondtad: West Coast Jumpként aposztrofálható. Mit lehet tudni erről a stílusról?
– Ez egy jó néhány évtizedes zenei műfaj, mely Amerika nyugati partjáról indult és melynek jellemzője, hogy magába foglalja a napfényt, a kellemes hangulatot, az ugrálást, és egy olyasfajta zenét, ami kicsit kontrás.
OTRNR: – Valahol furcsa is lehet a dolog, hogy napsütésről és vidámságról beszélünk, és egyben egy blues műfajról, ami maga a megtestesült fájdalom és a szomorúság.
– Alapvetően vidám emberek vagyunk. Úgy szoktuk mondani, hogy mi blues alapú zenét játszunk, de nem csak blues-t, hanem ehhez társulnak olyan műfajok, mint a funky, a rock and roll vagy a soul.
OTRNR: – Mit gondolsz, mennyire lesz időtálló ez a stílus?
– Én nagyon szeretném folytatni ezt a West Coast dolgot, mert ugrálós, ritmusos, boogie-s rock and rollról, már-már rockabillyről beszélünk, amihez társul a soul és a funky és a saját magunk egyénisége. Nem törekszünk erre, hanem egyszerűen ez van bennünk.
OTRNR: – Van egy duótok is, a Grunting Pigs (Röfögő disznók), ami inkább a tradicionális blues vonalát erősíti.
– Igen, itt van kedves disznótársam, Szász Feri, így megvan az egész ól. (nevet) Ebben a formációban nem feltétlenül a saját dalok dominálnak, hanem a kedvenc előadóink azon alkotásai, amiket mi nagyon szeretünk. Itt szabadabb a pálya abból a szempontból, hogy ketten vagyunk, és úgy érzem, hogy még így is élvezetes a műsor. A Benelux államokban nagyon szeretnek minket, hamarosan ismét arra koncertezünk, a tavasz folyamán pedig új lemezzel is jelentkezünk.
OTRNR: – Harminchat országban léptél fel ezidáig, van viszonyítási alapod. Milyen a hazai blues élet 2019-ben?
– Rengeteg jó zenekar és nagy bluesélet van itthon. A törekvések azt gondolom, meglennének, de nyilván megélhetést nem tud nyújtani ebben a kis országban. Annak ellenére, hogy sok a tehetség, mégis nehezen jut el ez a műfaj az emberekhez. Úgy érzem, hogy az egész olyan, hogy egyszer fent van, másszor pedig lent. Ha valami miatt bekerül a tévébe a műfaj, akkor egy időre népszerű lesz, de a szürke hétköznapokban nem mondhatni, hogy felkapott.
OTRNR: – Nem is volt itthon igazán meghatározó. Úgy értem, hogy a Hobo és Deák Bill Blues Band, alapvetően bluesból táplálkozik, de esetükben hangos rockzenéről beszélünk.
– Talán a Palermo Boogie Ganget említeném. Rám nagy hatással voltak, úgy érzem, hogy ők voltak az igazi hazai blues zenekar. Ott van a Fekete Jenő vezette Muddy Shoes is, ami hasonló kvalitású.
OTRNR: – … és napjainkban olyan zenésztársak, mint Szűts Gábor, azaz Little G. Weevil, vagy Ripoff Raskolnikov…
– Abszolút. Ripoffal közös lemezt is készítettünk, ami idén lesz 10 éves. Ennek apropóján újból kiadjuk. Vannak terveink a jövőre nézve, mindig újabb és újabb célokat állítok fel, nem adtam alább a zenélésből.
OTRNR: – Azért a gasztonómiát sem veted meg, békéscsabaihoz méltón kolbászokat készítesz…
– Igen. Imádom a csabai házi kolbászt, ami eredendően vastagabb kolbász a megszokottnál, és megsértődünk ám, ha szaláminak nevezik! A kolbászkészítés gyermekkorom óta jelen van az életemben. A legtöbb békéscsabai család, köztünk az én családom is tradicionálisan készíti ezeket és szép számmal fogynak.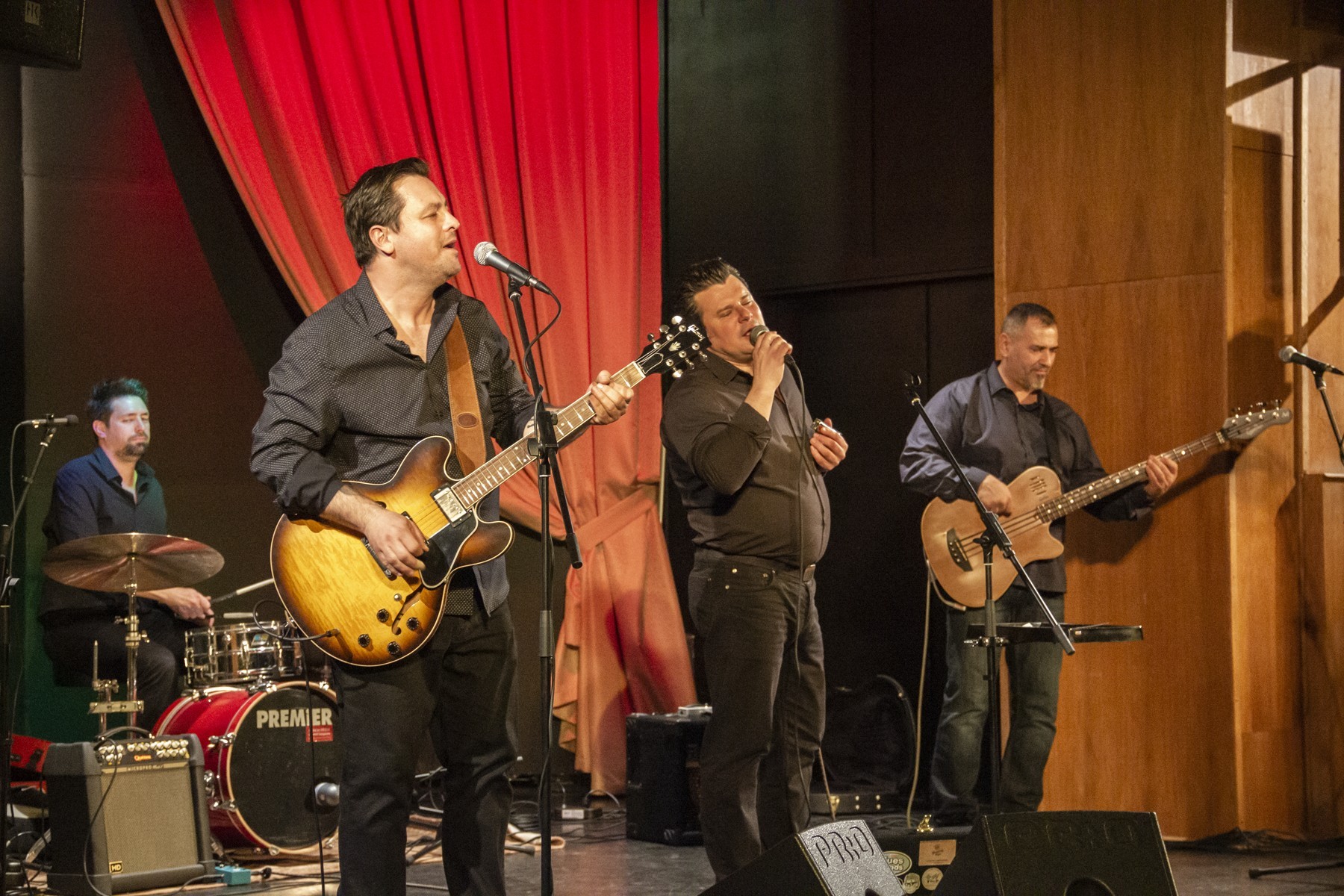 A műfaj múltja és jelene volt terítéken
A blues zene iránti rajongásomból fakadóan a Hangversenyközpont idei sorozatának az általam egyik legjobban várt koncertje volt a pénteki. Ezt tovább tetőzte, hogy az első hangok felcsendülése után fülig érő vigyorral konstatáltam, a zenetörténelem egyik legnagyobb blues Himnuszával, Little Walter My Babe-jével kezdte műsorát a békéscsabai együttes. A továbbiakban a Dressed Up album, azaz a zenekar pályafutásának legjobb szerzeményei kaptak szerepet. Olyan boogie-s, táncra perdítő, néhol rockabilly korszakát idéző dalok, mint a Balaton Boogie, a Full Time Baby, vagy a Love is Fake. A Real Good Man, vagy az I Heard The News már a funky és a soul világába kalauzolta a hallgatóságot, ám a múltidézés sem maradhatott el, a fent említett szájharmonikás ikon mellett a blues talán legnagyobb alakjának, Muddy Waters klasszikusa, a She's 19 years old, és Etta James előadásában híressé vált, ám eredetileg Sister Rosetta Tharpe szerzemény, a Strange Things Happening (Every Day) is felcsendült. Másfél óra zenei kalandozás számtalan stílusban és néhány feledhetetlen előadót megidézve. A Jumping Matt & His Combo jött és kápráztatott.
Fotók: Vecseri Ferenc