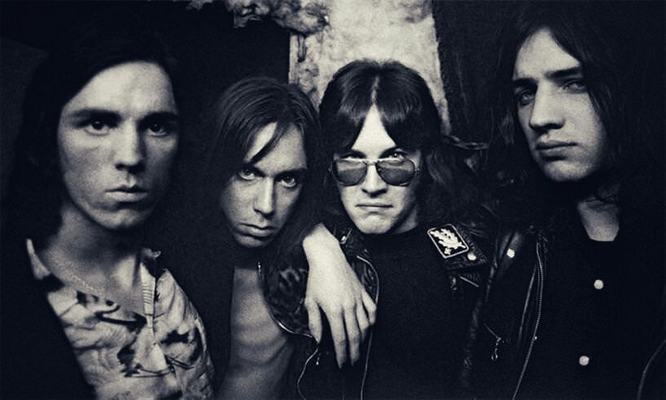 A The Stooges 1969-es saját magáról elnevezett albumával kinyitotta a hangos, kemény, rockzenei világ kapuját. Négy detroiti srác, akik zenéjükkel modortalanság és a deviáns viselkedés határait feszegették. Mi lett az eredmény? A rocktörténelem egyik kultikus albuma, mely idén áprilisban ünnepli 50. jubileumát.
Iggy Pop, az akkoriban Iggy Stooge-ként ismert énekes, Dave Alexander basszusgitáros, valamint az Ashton testvérpár, Scott és Ron alkotta a csapatot, melyet az MC5 kistestvéreként aposztrofáltak, és amely eredetileg a Psychedelic Stooges nevet viselte. Persze nem véletlen az MC5-hoz való kötődés, hiszen legendás detroiti csapat gitárosa, Wayne Kramer egy közös koncertezés alkalmával hívta fel az Elektra Records figyelmét Iggy Popékra, amiből - mint azt már tudjuk -  a lemezszerződés is összejött a Stoogesnak.
A lemez producere a Velvet Underground korábbi tagja, John Cale lett, aki, el is mondta, hogy a zenekar által sugárzott vadságot és energiát szeretné közvetíteni a debütáló lemezen is. Azonban jött egy aprócska bökkenő. Amikor a zenekar bevonult a stúdióba, kiderült, hogy csupán néhány közös szerzeményük van. Egyes források szerint egészen pontosan 5 dal volt, méghozzá az I Wanna Be Your Dog, a No Fun, a 1969, az Ann és a We Will Fall. Ez azonban nem volt elég a kiadónak. Iggy Pop így emlékszik vissza az esetre.
Egy öt dalt tartalmazó anyagot adtunk át a kiadónak, de ők ezt elutasították, azt mondták, hogy ez egyszerűen nem elég. Hazudnunk kellett, és azt mondtuk, hogy "Persze, nincs semmi probléma, van még pár saját dalunk!". Persze nem volt, de villámgyorsan összehoztunk még hármat, amit a stúdióban játszottunk fel először.
Kevesebb, mint 24 óra utána lemez elkészült és április 5-én került a boltok polcaira. Sokan úgy vélik, a 60-as évek legeredetibb és leglazább albumnyitóját produkálta a Stooges a 1969-nal. A wah effekttel induló, jungle dobos, és nyers torzított gitáros dallal, és Iggy tinédzserkori frustrációját leíró dalszövegével egyszerűen megvették az embereket. Ezek az érzések később a punk stílus meghatározó alapjául szolgáltak. Nem véletlenül aposztrofálják protopunk jelzővel az együttest.
A 1969 mellett az I Wanna Be Your Dog jelent meg single-ként az albumról. A dal magában hordozta az akkori fiatalság identitását. A Sid és Nancy, A Ravasz az Agy és két füstölgő puskacső, a Szállító 3, a Rocker csajok, és A Holló 2: az Angyalok Városa című filmekben is felcsendül, utóbbiban maga Iggy Pop is játszik. 
Miért is vált a rockzene történelmének egyik meghatározó ikonjává ez az album? Egyrészt, mert brutálisan egyszerű. Gondoljunk csak a kortársakra: Jimi Hendrix, Led Zeppelin, Cream. Nem mintha őrületesen bonyolult zenéket kaptunk volna tőlük, de mellettük végletekig leegyszerűsített, amit a Stooges csinált. Neandervölgyi rockzene, modern filozófiával.
A Rolling Stone Magazin az ízetlen, hangos, ötlettelen és unalmas jelzőkkel illette a lemezt, majd egy aprócska mondattal feltették az i-re azt a bizonyos pontot. "...Tulajdonképpen ez így van jól" – írták zárásként. És valóban, elég nagyot hazudnánk, ha csak egy kicsit is komplexnek hívnánk ezt a lemezt. Úttörőnek azonban már inkább nevezném, és belegondolva a The Stooges későbbi punk mozgalomra irányuló hatásaiba, vitathatatlan, hogy a lemeznek helye van a rockzenében amúgy is igen termékeny 69'-es év legjobb kiadványai között.