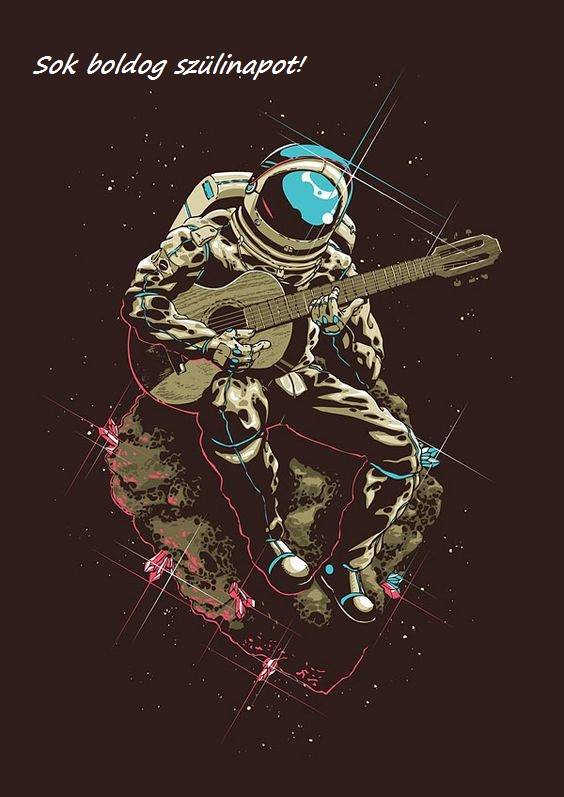 Ma van az Űrhajózás Szüli- Világnapja. 1961-ben Gagarin ugyanis ezen a napon indult el első emberként az űrbe.
És mi köze mindehhez az old time rock and roll muzsikákhoz? Nos, a rockzene evergreenjei akarva-akaratlanul ott keringenek a végtelenben, és "háttérzenét" szolgáltatnak az emberiség mai napig tartó legnagyobb kalandjához. A zene egyébként nagyon fontos az űrben, alapvetően befolyásolja az ember pszichés állapotát, jelenleg is zajlik egy olyan nemzetközi kutatás Music For Space néven a győri Széchenyi István Egyetemen, amely azt vizsgálja, hogy milyen zenét kellene hallgatniuk hosszú távon az asztronautáknak (a végeredményt a Mars-expedícióban kívánják hasznosítani).
5. Chuck Berry: Johnny B. Goode
A NASA szakértői úgy gondolták, hogy a matematika mellett a zene egy olyan egységes nyelvezet, amely a tér-idő kontinuum bármely pontján értelmezhető. Az 1977-ben fellőtt Voyager-1 űrszonda fedélzetén található az emberiség zenei hagyatékának abszolút Best Of-ja, a "Voyager Golden Records". Az azeri, afrikai népzenéktől a navahó indiánok sámánénekén át Bachig és Beethovenig minden megtalálható rajta. A "válogatáslemez" összeállítói meg voltak győződve arról, hogy minden idegen civilizációnak szüksége van egy kis rock and rollra (is), így elképzelhető, hogy az első dal, amit egy idegen civilizáció hallani fog tőlünk, az a Johnny B. Goode lesz. Érdekesség, hogy a The Beatles Here Comes The Sun-ja is szerepelt volna a rendhagyó bakeliten, de végül törölték a listáról.
4. Norman Greenbaum: Spirit In The Sky
Az 1969-nen megjelent dal 1970-ben még bőven uralta a slágerlistákat, így van valóságalapja annak a városi legendának, hogy az Apollo 13 fedélzetén Jim Lovell-ék a sikeres orbitális pályára állás után ezt a dalt küldték a földi személyzetnek. Hivatalos feljegyzés nincs róla, de több helyen is felbukkan a momentum (pl. a Tom Hanks főszereplésével készült filmben). Nem tudjuk 100%-osan állítani, hogy így történt, mindenesetre stílszerű választás, akár a valóságban, akár fiktív szinten nézzük. (és ha már az űrnél tartunk, akkor válasszuk a dalnak a külön a Galaxis Őrzőire készült remaster verzióját, amely az eredetinél is pszichedelikusabb, visszhangosabb, vagy ha úgy tetszik, space rockosabb).
3. Wilson Picket: Mustang Sally
A "Ride Sally Ride" rigmusról sokan hitték, hogy az első amerikai női űrhajós, Sally Ride ihlette. Ez természetesen nem igaz (időben nagy az eltolódás, a dal születésekor Sally még csak egy nagyon kis gyerek volt), de ha már így alakult, az űrhajósok "morning protokollja" során Sally ezzel a dallal ébresztette magát reggelente. Ja igen, tehát van egy ún. "morning protokoll", ahol kötelező jelleggel kell jó zenéket hallgatni az űrhajósoknak. Így a fent említett Music For Space kutatás nem annyira "Földtől elrugaszkodott".
2. Louis Armstrong: What A Wonderful World
Ha már morning protokoll: a Gemini program kezdete óta van egy szokás az űrhajósok közt, a kabin személyzete zenés ébresztőt kap. A "capsule DJ" tisztségét jellemzően a Capsuel Commander (CAPCOM) tölti be. Az első, erre a célra használt dal Louis Armstrong klasszikusa volt, de az évek során ezt a "funkciót" betöltötte Elton John Rocket Man-je, Bowie Space Oditty-je, sőt 2001-ben Baha Man-től a Who Let The Dogs Out is.
1. David Bowie: Starman
Elon Musk és a SpaceX csapata a Holdra szállással vetekedő figyelem kereszttüzében 2018 februárjában fellőtte a Falcon Heavy-t, fedélzetén egy Tesla-val és a Starman nevű próbabábuval. A Tesla és a Starman azóta is fent kering, és végtelenítve szól David Bowie alias Ziggy Stardust dala.