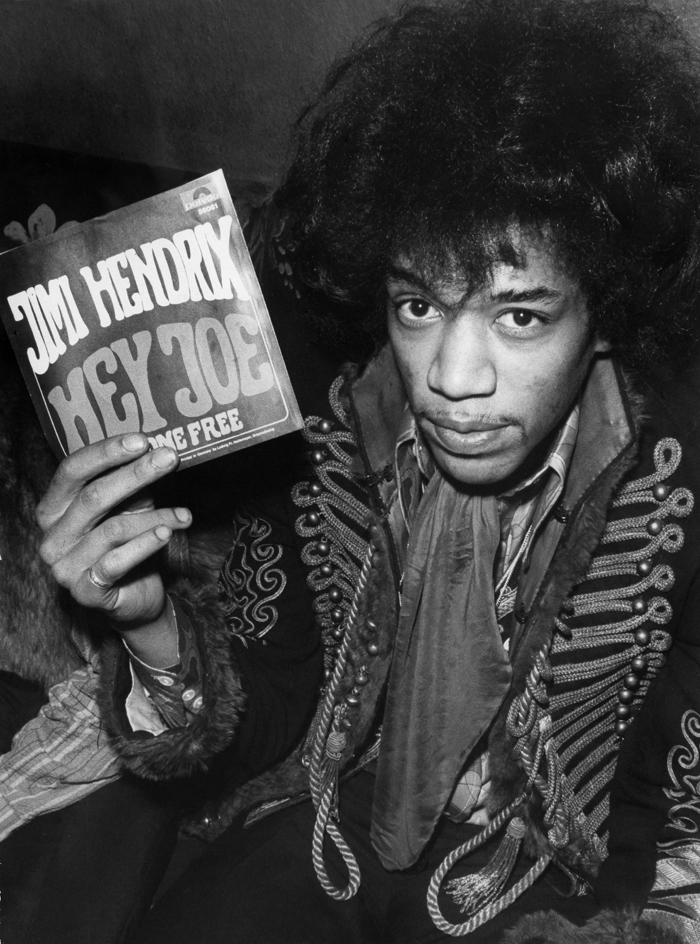 A világ egyik legismertebb dala Jimi Hendrixnek köszönhetően folyik a csapból is. Rocktörténelmi mérföldkőről van szó, amelyet azóta előadók ezrei dolgoztak fel, általában ragaszkodva a Hendrix-féle verzió hangszereléséhez és tempójához. A Hey Joe az eltelt évtizedek során zenei közhellyé vált, ipari mennyiségű bőrt húztak le róla, így aztán sokan meg is untuk ezt a pofonegyszerű, meglehetősen monoton klasszikust. Meg tud-e még vajon hökkenteni minket a féltékenységében fegyvert ragadó egyszeri ember balladája? Ha izgalmasan tálalják, akkor igen!
Jelen cikkünk időutazásra invitálja olvasóit: a pszichedelikus muzsika tarka szárnyain visszarepülünk egy olyan korszakba, amikor az összeállításunk témáját képező dal még frissnek és üdének számított. Útközben egy rakás Hey Joe-val fogunk találkozni, amelyekhez viszont az általunk is nagyra tartott gitármágusnak semmi köze sincs, jó néhány ráadásul az ő ikonikus verziója előtt készült. Gábor András barátommal (a régiesen nyers rock egyik hazai zászlóvivőjének számító, háromszoros Fonogram-díjas Ozone Mama gitárosa) összeszedtük az örökzöld sláger legérdekesebb Hendrix-mentes 60-as évekbeli változatait, majd megszültem az alábbi ismertetőt. Lássuk hát a Hey Joe univerzum egzotikusabb tájékait!
The Leaves – Hey Joe (1966)
A Hey Joe-t Billy Roberts folk énekes írta 1962-ben, ő azonban csak azt követően vette fel, hogy 1966 decemberében Hendrix előadásában világsikerré vált, ráadásul több mint egy évtizedet várt vele. A dalt barátja, Chet Powers (alias Dino Valenti, a Quicksilver Messenger Service tagja, a Nirvana Territorial Pissings című 1991-es számának társszerzője) közben szépen bejegyeztette a saját nevére, majd áruba bocsátotta. Így eshetett meg, hogy a San Fernando-völgyi Leaves felpakolhatta első lemezére, sőt el is nevezte azt róla. Energikus, fuzz gitárral megbolondított változatukat a táncparketten megizzadni vágyóknak szánták, és nem vallottak vele szégyent.
The Byrds – Hey Joe (1966)
Az amerikai pszichedelikus folk rock egyik legfontosabb csapatának oroszlánrésze van abban, hogy a Hey Joe óriási népszerűségre tett szert, szó szerint agyonjátszották koncertjeiken a Nyugati Parton. Finom lendülettel elővezetett, egyszerre vérprofi és ösztönösen érzelmes feldolgozásukat David Crosby, a kitűnő Crosby, Stills, Nash & Young formáció későbbi tagja énekli. Érdemes megjegyezni, hogy Crosbynak sokáig kellett győzködnie zenésztársait, hogy megtanulják Billy Roberts dalát, a többiek ugyanis egyáltalán nem látták meg benne a potenciált.
The Music Machine – Hey Joe (1966)
Sean Bonniwell, a Los Angeles-i Music Machine (későbbi nevén The Bonniwell Music Machine) énekes-ritmusgitárosa és dalszerzőként egyeduralkodó főnöke egy igazi underground zseni, akinek a jelenkori pszichedelikus rockszakma krémje szinte oltárt emelt, élükön Dave Wyndorffal, a Monster Magnet Bonniwellhez hasonlóan öntörvényű vezérével. A teljesen egyedi, a 70-es évek progresszív rockját megelőlegező, pezsdítően intellektuális szövegvilágú és muzsikájú zenekar csupán néhány feldolgozást készített, a Hey Joe az egyik. Sötét tónusú, drámai erővel átitatott változatuk tökéletes lenne egy felkavaró neo-noir film betétdalának.
Love – Hey Joe (1966)
A Los Angeles-i Love rock, folk, blues, jazz és szimfonikus pop elemeket tartalmazó zenéjével igazi hippi favorittá vált a 60-as évek második felében és egy Robert Plant nevű fiatalember egyik kedvencévé, aki később egy bizonyos Led Zeppelin frontembereként alkotott maradandót. A különc, ám zseniális Arthur Lee énekes-gitáros által irányított csapat első albumán sütötte el a maga a Hey Joe-ját, amelyben Lee hangja mellett a basszusgitárosnak jut a főszerep, aki ki is tesz magáért rendesen. Abszolút mértékben felvillanyozó feldolgozás!
The Standells – Hey Joe (1966)
A Los Angeles-i garázs rock pionírok gyülekezete olyan kollégákra gyakorolt jelentős hatást, mint a Sex Pistols és a Ramones. Felpörgetett Hey Joe-juk is úgy szól, mint egy pimasz korai punk talpalávaló. Megkapóan flegma vokál, hanyag lazasággal odavetett hangszeres játék. Énekes-billentyűsük, Larry Tamblyn mellesleg a 10 Oscar-díjat nyert 1961-es West Side Story Riff nevű bandavezérét és a Twin Peaks Dr. Lawrence Jacoby-ját alakító táncos lábú színész, Russ Tamblyn testvére.
Cher – Hey Joe (1967)
A sokféle műfajt megjárt, diszkót és arénarockot egyaránt magabiztosan éneklő, ezer közül is felismerhető orgánumú díva 1967-ben jelentkezett saját Hey Joe-jával. Cher vonósokkal megspékelt, a hippi éra pszichedelikus ízlésvilágát tükröző gitározással ellátott verziója ékesen példázza, hogy akárhány rémes popnóta fűződik is a nevéhez, az örmény származású sztár könnyedén el tudja érni, hogy az összes ballépését megbocsássuk neki.
Johnny Hallyday – Hey Joe (1967)
Elvis Presley feldolgozta a Hey Jude-ot, a Hey Joe viszont valószínűleg nem érezte elég nagy kihívásnak énekesként, ezért inkább nem bajlódott vele. Francia megfelelője, Johnny Hallyday (akinek egyik kultikus albumát tavaly mutattuk be nektek) nem volt ilyen finnyás, és apai-anyait beleadott a saját Hey Joe-jába − húzós rock sanzon lett a végeredmény, az ínyencek őszinte örömére.
Deep Purple – Hey Joe (1968)
A hard rock istenség Deep Purple Hey Joe-ja a zenekar 1968-as bemutatkozó albumára került fel, amely akkor készült, amikor még a később a Captain Beyond-ban felbukkanó Rod Evans énekelt náluk és Ritchie Blackmore még a saját haját hordta paróka helyett. Lendületes, progresszív rockba hajló verzió a briteké, perzselő gitárszólóval és Jon Lord jellegzetes Hammond-futamaival. Igen jól tud esni.
Wilson Pickett – Hey Joe (1969)
Wilson Pickett a soul mestere (Jimi Hendrix egy ideig a kísérőzenekarában játszott), egy hatalmasat robbanó energiabomba, aki a Hey Joe-t is úgy prezentálta (immár Hendrix nélkül), mintha rakétát akart volna a Marsig lőni pusztán a hangjával. Amikor Wilson Pickett üvölt, minden egészséges lelkületű ember vele együtt akar üvölteni… Azt hiszem, ezt hívják a nagyság egyértelmű bizonyítékának.
Fever Tree – Hey Joe (1970)
1970 az majdnem 1969, úgyhogy e dalnak szintén a listán a helye, annál is inkább, mivel a valaha készült egyik legjobb Hey Joe: epikus, a 10 perces játékidőt túllépő zenemű a legnemesebb fajtából, pazar és férfias vokállal, remek hangszeres szólamokkal, mennyei kórussal. A texasi Fever Tree a 60-as évek végén a kaliforniai hippi körök egyik legfőbb kedvencévé vált, San Francisco Girls című slágerük (melynek dallamvilága e feldolgozásuk középrészében is visszaköszön) az USA-ban majdnem annyira népszerű, mint Scott McKenzie emblematikus száma, a San Francisco (Be Sure To Wear Flowers In Your Hair). Énekesük − a manapság sajnos csak ritkán koncertező biológiai csoda, Dennis Keller − érzékien macsó hangja pedig egy órányit sem öregedett a dal rögzítése óta.