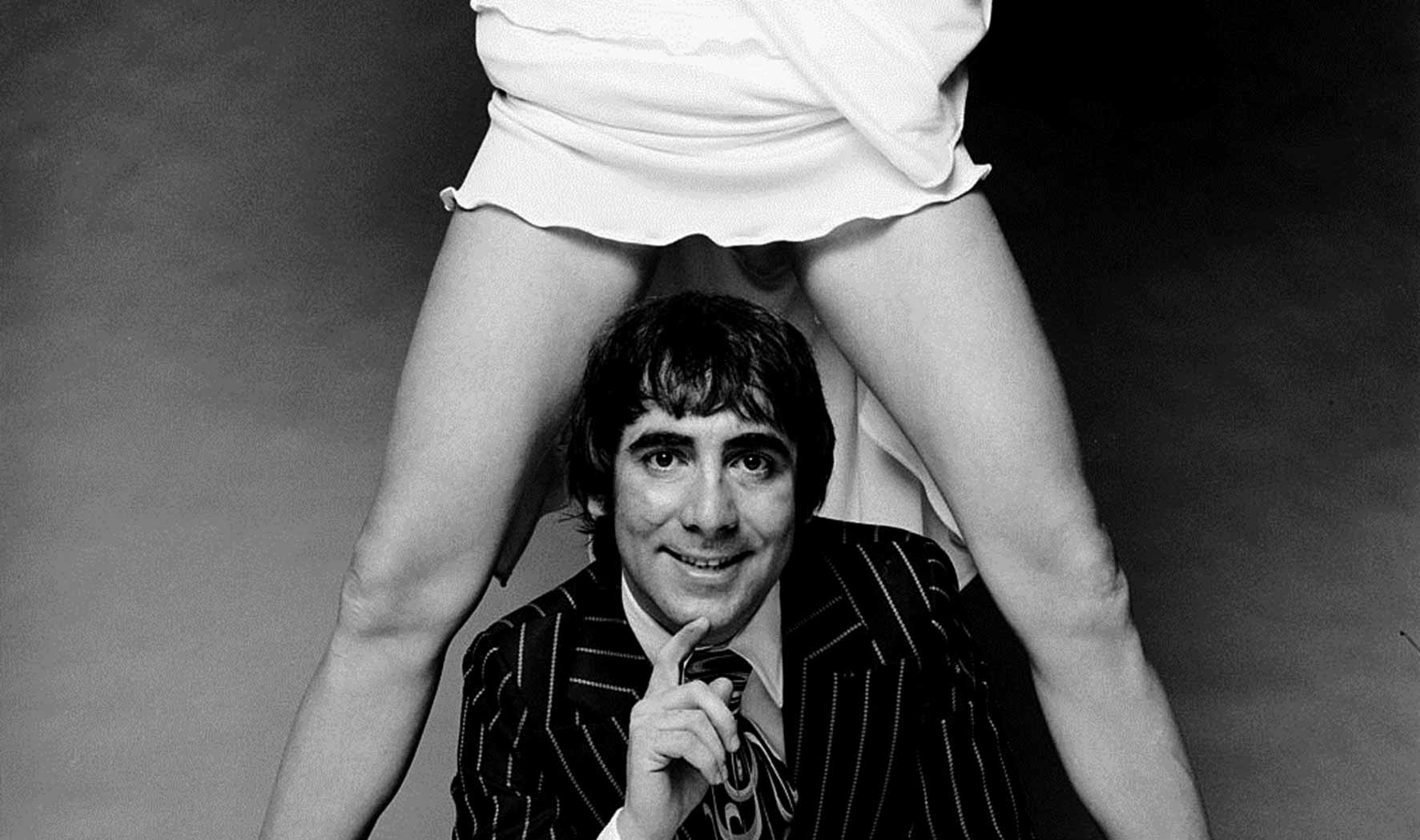 Keith Moon, a Who legendásan elmebeteg dobosa, ha épp nem turnézott vagy a stúdióban püfölte a bőröket, két dologgal foglalta el magát leginkább: roppant kínos csínyeket valósított meg (úszómedencébe vezetett autó, felrobbantott szállodai vécécsészék, stb.), vagy filmes karrierjét építgette, mivel szentül meg volt győződve róla, hogy egy sztárkomikus veszett el benne.
Moon szerepei arról árulkodnak, hogy nem tévedett a képességeit illetően, a tartós mozis pályafutáshoz szükséges önfegyelemmel azonban nem rendelkezett, így csupán néhány filmben élvezhetjük a játékát. Ismerkedjünk meg velük időrendi sorrendben!
200 Motels (1971)
Frank Zappa és Tony Palmer közös rendezése afféle pszichedelikus és szürrealista road movie, amely Zappa zenekarát, a Mothers Of Invention-t helyezi a középpontba, és azt mutatja be, mennyire viszontagságos és fárasztó a rockzenészek turnéélete – például a legváratlanabb pillanatban tángálhatja el őket egy csapatnyi redneck. Moon drogfüggő apácaként tűnik fel benne, aki attól retteg, hogy túladagolásban fog elhunyni. A dobost a stáblistán "a szexi apáca"-ként tüntették fel, a Mothers Of Invention basszusgitárosa, Jeff Simmons pedig egyáltalán nem szerepel a filmben, mivel pont a forgatás előtt kiállt a zenekarból… Így aztán egy Martin Lickert nevű színész alakítja Jeffet, aki épp ki akar állni a zenekarból.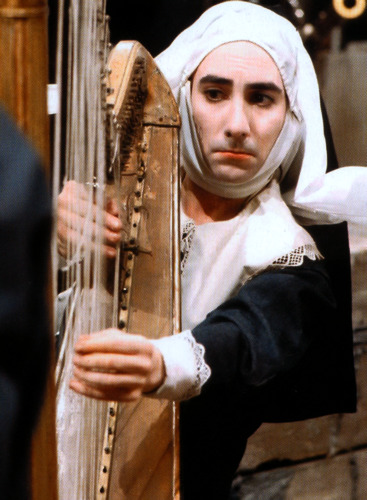 That'll Be The Day (1973) és Stardust (1974)
A That'll Be The Day című zenés film az 1950-es évek végén és az 1960-as évek elején játszódik, ráadásul részben azon a Wight-szigeten forgatták, ahol a Who karrierje egyik legemlékezetesebb koncertjét adta 1970-ben. A mozgóképes mű egy tengő-lengő fiatalemberről szól, aki eleinte nem tud mit kezdeni magával, majd elhatározza, hogy rocksztár lesz. Moon a főhős kitalált zenekarának, a Stray Cats-nek (elég valószínű, hogy a néhány évvel később világsztárrá váló rockabilly csapat, a Stray Cats innen vette a nevét) a dobosát játssza, és egyik legkitartóbb ivócimborája, Ringo Starr is felbukkan a filmben. A That'll Be The Day hatalmas sikert aratott Nagy-Britanniában, így 1974-ben elkészült a folytatása Stardust címmel, amelyben Moon fiktív dobosa is visszatért. A második rész érdekessége, hogy a Dallas leendő Jockey-ja, Larry Hagman is szerepel benne, aki ekkoriban kifejezetten sokat lógott züllött rockzenészekkel, a 60-as években pedig gyakran mutatkozott hippis ruhákban.
Son Of Dracula (1974)
A kétszeres Oscar-díjas operatőr, Freddie Francis rendezésében készült zenés horror-vígjátékra a Beatles Apple nevű cége dobta össze a pénzt, és valójában nem más volt, mint két megrögzött alkoholista kebelbarát, Harry Nilsson (korának egyik legtehetségesebb énekese, a Without You című, többször feldolgozott megasláger legjobb előadója) és Ringo Starr furcsa kísérlete arra, hogy filmsztárokká váljanak. Harry egy Drakula-szerű karaktert alakít, aki szeretne végre felhagyni a vámpírsággal és rendes emberként élni mindennapjait, Ringo pedig Merlint, a nagy varázslót, aki tanácsokkal látja el. A megjavulni vágyó vérszívó mellesleg egy rockbandában játszik, amelynek két dobosa is van Keith Moon és a Led Zeppelin szintén erőteljesen vedelő John Bonhamjének személyében. Noha benne rejlett egy kiváló szatíra lehetősége, a film nem sikerült fényesen: olyannyira nem, hogy maguk az alkotók is borzalmasnak találták, és felkérték a Monty Python társulat ugyancsak folyton a pohár fenekére néző Graham Chapmanjét, hogy írjon az elkészült műhöz új és tényleg vicces, a szereplők szájmozgásához igazodó dialógusokat. Végül mégsem jött össze az utószinkron, a film pedig forgalmazó hiányában feledésbe merült.
Harry And Ringo's Night Out (1974)
A Son Of Dracula munkálatainak idején a három szesztestvér – Harry, Ringo és Keith – egy közös dokumentumfilmet is tervezgetett, amely animációs részekkel tarkítva mutatta volna be, hogyan dorbézol a trió temérdek szabadidejében a Los Angeles-i klubok mélyén. Másfél millió dolláros költségvetéssel számoltak, valamint egy soundtrack albumot is fel szándékoztak venni, ám a befektetők meggyőzése végett rögzített pár percnyi filmanyag minden érdeklődőt elriasztott attól, hogy kockára tegye a pénzét, így a mű sosem készült el.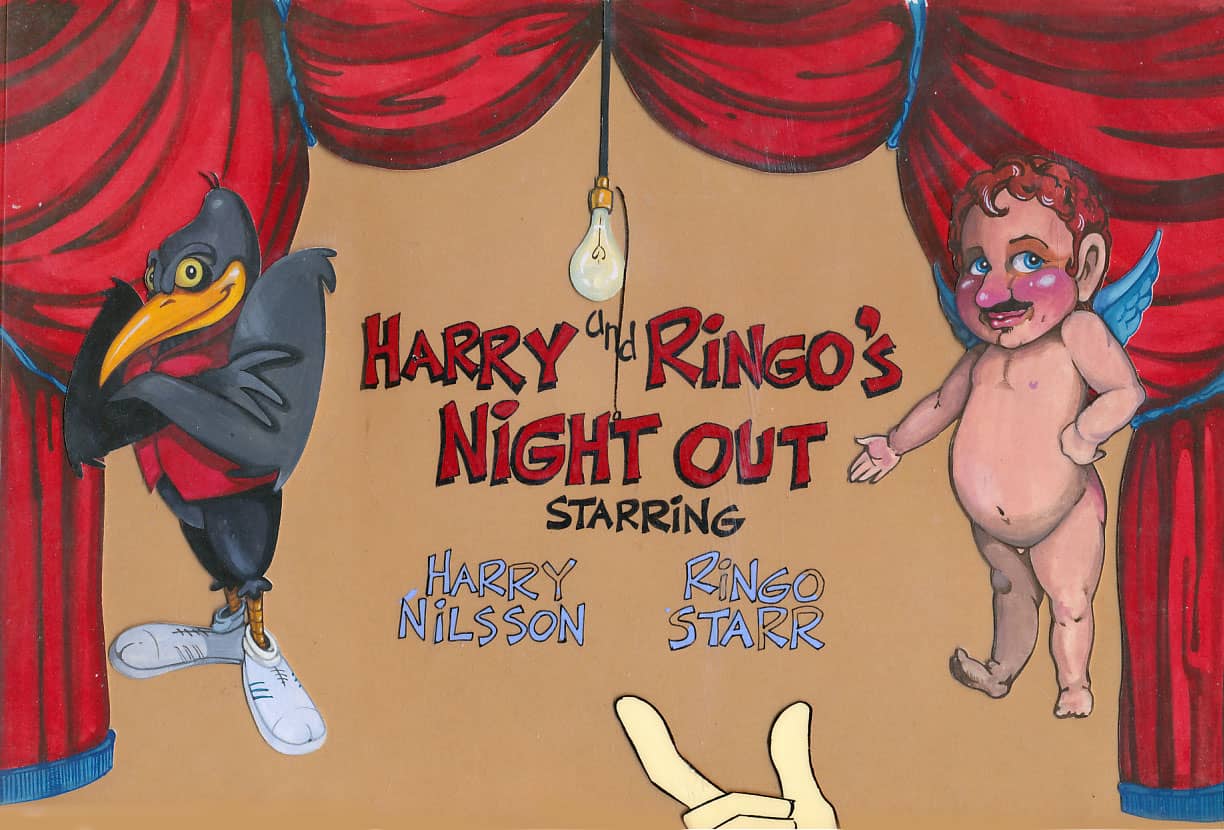 Sonic Boom (1974)
A Kaliforniai Egyetem diákjai által forgatott rövidfilm két viszonylag nagy mozisztár (az Oscar-díjas George Kennedy a Csupasz pisztoly filmekből és a kétszer is Oscar-díjra jelölt Sal Mineo a Haragban a világgal-ból) hosszabb-rövidebb és Keith Moon pár másodperces részvételével, amely arról szól, hogyan tör ki tömeghisztéria a hangrobbanástól rettegők körében egy álmos amerikai kisvárosban, amikor kiderül, hogy szuperszonikus repülőgép fog landolni náluk. A dobos egy járókeretes és meglehetősen zakkantnak tűnő professzort alakít alaposan elmaszkírozva, aki a hangrobbanás várható káros hatásaira figyelmezteti a jónépet (az alábbi videóban 5:21-nél kezdődik a jelenete). Eric Louzil társproducer azt nyilatkozta, Moon 1400 dollárnyi kokainért és egy televízióért cserébe vállalta a szerepet. A dobos előszeretettel hajigált ki tévéket hotelszobák ablakán, úgyhogy valószínűleg e készülék elé sem cövekelt le soha, inkább csúnyán elbánt vele. A készítők egy ideig vacilláltak Elton John és Keith Moon között, de végül Moonra esett a választásuk, mert ő abban az időben nagyobb sztárnak számított a feltörekvő énekes-zongoristánál. A filmben feltűnik Ricky Nelson is, aki az 50-es és 60-as évek rockabilly csillaga volt (zenészgenerációkra gyakorolt hatását ékesen bizonyítja, hogy a Red Hot Chili Peppers gitárosa, John Fruscinante dalt írt róla Ricky címmel).
Tommy (1975)
A Who rockoperájából (amely egy traumatizált, vak, néma és süket fiatalember sztárflipperezővé válásáról szól) a brit mozi fenegyereke, Ken Russell készített parádésan elvetemült filmet, amely egyike minden idők legjobbjainak. Az egy négyzetméterre jutó alkoholisták száma ezúttal is meglepően nagynak bizonyult: Keith Moon a forgatást is veszélybe sodróan szoros barátságot kötött a filmtörténet legnagyobb ivójával, a Tommy mostohaapját életre keltő Oliver Reeddel, a gitáros szektatagot alakító Eric Clapton pedig olyan állapotba került, hogy az egyik jelenetéhez szó szerint ki kellett támasztani. Mindenesetre Keith-nek megadatott a lehetőség, hogy molesztálhassa saját zenekara címszereplő énekesét a mindenféle hátborzongató segédeszközzel felszerelt, velejéig perverz Ernie nagybácsi bőrébe bújva. Ezt valószínűleg a földkerekség egyetlen másik dobosa sem fogja soha utánacsinálni…
Sextette (1978)
A komédiási karrierről ábrándozó, ekkor már megroggyant egészségű dobos utolsó filmes felbukkanására egy rettenetes 1978-as vígjátékban került sor. A Sextette a pikáns aranyköpéseiről elhíresült (például: "Az ott egy pisztoly a zsebében, vagy csak örül, hogy láthat?"), ám a 70-es évekre már igencsak kiöregedett díva, Mae West utolsó nagy dobásának szánt vígjáték, amely sajnos nézhetetlenül borzalmas (West meg sem tudta jegyezni a szövegét, a kamera mögül mondták elő neki soronként), két zseniális és nézhetően borzalmas jelenet kivételével. Az egyikben Alice Cooper egy falrengető diszkódalt ad elő nótás kedvű szobapincérként, a másikban pedig Keith Moon bekokainozott divattervezőként udvarolja körbe és árasztja el portékáival Mae-t: "Ez a ruha egyszerűen fantasztikus! Még én is felvenném! Sőt valójában már hordtam is…"
Ráadás: A Steve McQueen-affér (1974)
Keith Moon közeli barátai szerint két dologért rajongott fanatikusan: a Beach Boys muzsikájáért és Steve McQueen (a Pillangó és az eredeti A Thomas Crown-ügy sztárja) színészetéért. Amikor 1974-ben végre megengedhette magának, hogy az USA-ba költözzön, direkt McQueen malibui villájának szomszédságában vett házat. Moon közeledési kísérletei döcögősen indultak, majd teljesen kudarcba fulladtak, amikor a színész távollétében toppant a villába, ahol először inzultálta McQueen fiát, majd megharapta bálványa kutyáját. A kínos incidens után hatalmas per körvonalazódott, de az ügyvédeknek sikerült tető alá hozniuk egy békéltető találkozót. Moon viszont ezt is széttrollkodta, amikor Rommelnek öltözve jelent meg az egyébként egy rendőrőrsön zajló eseményen. A jogi képviselője a nem épp az alkalomhoz illő ruhaköltemény láttán úgy próbálta menteni a helyzetet, hogy kijelentette: kliense egy reklámfilm forgatásáról érkezett. McQueen végül elnézőnek bizonyult, és megelégedett azzal, hogy az őrült dobos ígéretet tett arra, hogy többé a közelébe sem megy a birtokának.