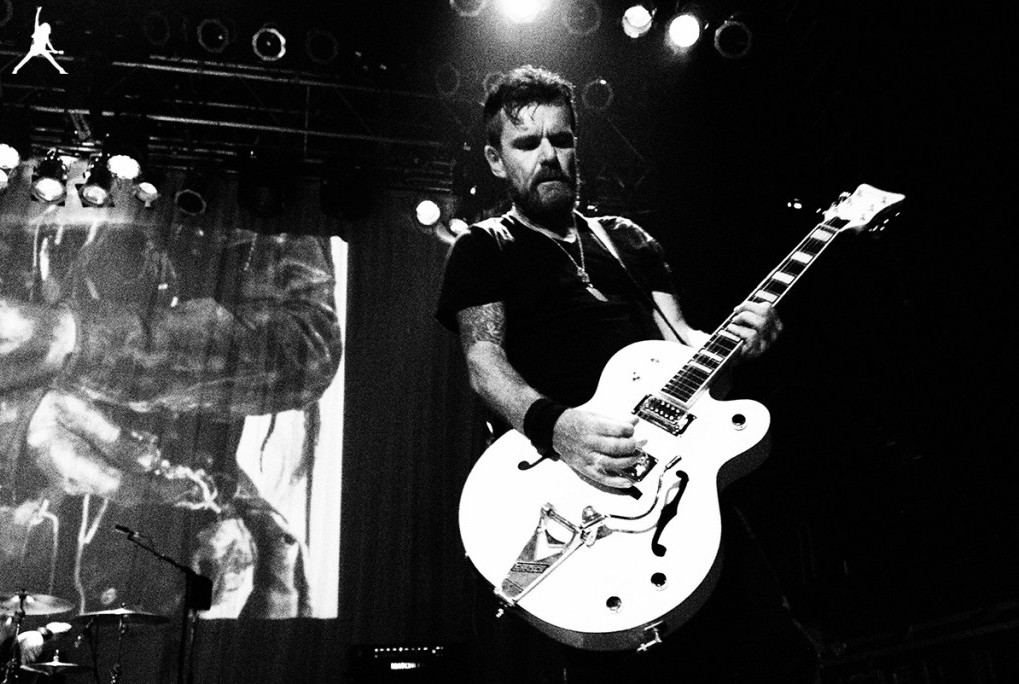 A Cult gitárosa, Billy Duffy napjaink rockzenéjének kultikus figurája. Hatalmas testű Gretsch gitárok nyűvője, akire számtalan zenekar, megannyi zenei stílus volt hatással. A mai napon születésnapját ünneplő Duffy-t a késői 60-as évek világától indulva a punk korszakon át a 80-as évek rockzenéi is beszippantották. Ezeket egybegyúrva alkotta meg sajátos játékstílusát. Egy interjúban sok mindenről lerántotta a leplet.
Manchesterben születtél. Mesélnél egy kicsit fiatalkorod zenei hatásairól?
Persze! A suliban minden a zene körül forgott. Az első emlékeim talán a glam rockhoz kötődnek. Olyan zenekarokhoz, mint a Slade, vagy a Mott The Hoople. Csíptem őket. Nem sokkal később jött egy globális Thin Lizzy és Bowie őrület a szó legnemesebb értelmében. Óriási hatást gyakoroltak rám. Nagy kedvencem lett a New York Dolls is. Az idősebbek a Pink Floyd, Led Zeppelin, Black Sabbath triumvirátust hallgatták. Én inkább a Free felé vettem az irányt. Imádtam a Free-t és persze a Bad Company-t is. És persze a punkot.
Tehát ők tereltek a gitározás útjára..
Pontosan. Hangzásban viszont inkább a Queen volt az etalon. Egyszer láttam Brian May-t élőben amikor a Brighton Rockot játszotta. Az valami olyasmi érzés lehetett, mint élőben látni Jimi Hendrixet. Kétezer emberrel megtöltött teremben a Brighton Rock, az AC30-asok... Haver! Óriási volt.
Aztán jött a punk. Voltam Sex Pistols, és Buzzcocks koncerten is. Utóbbi volt az első punk banda, akiket élőben láttam. A második a Slaughter & The Dogs volt, akik a környékünkön laktak, a harmadik pedig a Pistols. Ahogy megvoltak az alapok, jöhetett a tengerentúli punk szcéna. Így ismertem meg a Ramonest, a New York Dolls-t, és a The Stoogest is.
Szóval szumma-szummárum: keverd össze a New York Dolls-t, Patti Smith-t, a Ramonest, adj hozzá némi angol rockot, mint a Mott the Hoople és a Free, fűszerezd meg az egészet egy kis David Bowie-val és kész Billy Duffy receptje.
Te és Ian (Astbury, a Cult énekese) kiváló író-páros vagytok. Mesélnél arról, hogyan írtok közösen?
Persze! Igazából egy jól bevált módszert követünk. Amikor megalakult a Cult, kitaláltam, hogy ha Iannek van bármilyen ötlete, akkor azt mutassa meg egy basszusgitáron. Sosem készített teljes dalt, de nagyon jó ötletei voltak. Egyszer hozott valamit én pedig: Váó!! Mi volt ez!? Csak néhány hang, de óriási ötlet volt. Ez lett a Spiritwalker, az első igazán ütős nótánk, amit Iannek köszönhetünk. Három hangos kis valami, de már akkor tudtam, hogy egy egész dalt építünk köré, és ez káprázatos lesz. Ez az igazi csapatmunka. Akkor megfogadtuk, hogy a jövőben is így csinálunk mindent.
Van olyan banda, akit a közös turnétok során szerettél meg?
Ó haver! Millió meg egy! Sok felejthetetlen turnét nyomtunk. A '80-as években sokat tanultam például az Aerosmith-től. Nagy rajongójuk voltam gyerekként. Idősebbek voltak valamivel nálunk. Olyan jól sikerült a dolog, hogy 2001-ben megismételtük. Velük turnézni, látni azt, hogy mit, és hogy csinálnak, jó hatással volt rám és Ianre. Én például az üzleti dolgokról is sokat tanultam tőlük.
Imádtam a The Who-val közös koncerteket is. Pete Townshenddel mai napig tartjuk a kapcsolatot. Még mindig él az emlékezetemben a klasszikus fehér szerelése, Les Paul, Hiwatt cuccok és Roger Daltrey hatalmas loboncát rázva. Nekem ezt jelenti a The Who, és szerintem ez jelenti a sikert is. Az, amikor ilyen emlékek maradnak az emberben. A Cult is azért jött létre, hogy zenéljünk. Mi nem álmodozunk rólunk szóló könyvekről, filmekről vagy arról, hogy világhírnévre törjünk. Csak zenélni szeretnénk, addig, amíg bírjuk.
Számos albumotokat – köztük az utolsó Hidden City-t is - Bob Rock producelte. Milyen a közös munka?
Én rendkívül élvezem a Bobbal való közös munkákat, mert ő is gitáros. Megrögzött gyűjtő és szenvedélyes rajongó. Mindig elveszünk a gitározás tengerében. Mesélek egy sztorit. A Hidden City felvételénél feljátszottam egy riffet majd pihentem egy kicsit. Nem sokkal később hallottam, hogy Bob az előző riffem játsza, de sokkal gyorsabban. Mint egy igazi kanadai. Amikor bementem, elnézést kért, hogy elbaszta a riffem, én pedig mondtam, hogy haver ne szórakozz ez kurvajó! A közös munka leírhatatlanul gördülékeny. Vágod?! Csak semmi előjáték, azonnal a közepébe vágunk.
Hosszú ideje játszotok együtt, számtalan turné és koncert van mögöttetek. Még mindig ég a tűz bennetek? Megvan még a szenvedély?
Ahogy idősödik az ember, egyre nagyobb kihívássá válik a dolog. Ez olyan, mint amikor idősödő fejjel elmégy edzeni. Nem megy már úgy, mint fiatal korodban. Ettől függetlenül én a mai napig nagyon élvezem. Gitározni, ott lenni és tapasztalni. Aztán lemezt készíteni, majd kezdeni az egészet elölről.
Voltak olyan koncept-albumok, mint mondjuk a Dark Side Of The Moon, amik mondjuk 3 vagy több évig készültek. Nekem ez a halálom. Imádok stúdióban lenni, de számomra a koncertezés jelenti az egészet. Mondom mindezt annak ellenére, hogy sok a követelmény. Úgy értem, hogy rajongók tömege, szelfik és az ehhez hasonló dolgok. Ez sosem fog változni, de ez is hozzá tartozik a dologhoz.
Ian annyira nem turné párti. Szeret koncertezni, de ő sokkal kevesebbet vállalna, mint én. Ilyenkor kompromisszumokat kell kötnünk.
Az éneklés miatt?
Ja! Mindig azt mondja nekem: "Billy, én egy hangszer vagyok! Neked gitárod van, én a saját hangszerem vagyok." Én pedig: "Persze haver, persze! Vettem a lapot."
Én nem tudok jól énekelni, de amikor megpróbáltam, és megtaláltam a jó hangot, piszok nehéz volt tartani. Minden tiszteletem az övé.

Egy kicsit klisés kérdés, de szerinted kihal valaha a Rock and Roll?
Nem hiszem! Egyrészről nézd meg Elvist, Bill Haleyt vagy Little Richard-ot. Még mindig hallgatják őket. Még mindig vannak rajongóik. Rock and Roll addig fog élni, ameddig az emberiség. Másrészről haladni kell a korral. Hibának érzem, ha a régi időket összehasonlítják a jelenkorral. Ha valaki azt mondja, hogy ez már nem a régi. A zene összeköti az embereket. A R'N'R teljes egésze a fiatal generáció kezében van. Új dolgok, új technikák. Ma például már bármit rögzíthetsz egy laptopra. Sokat változott a rockipar, de szerintem ez így teljesen rendben van.
 forrás: Spillmagazine