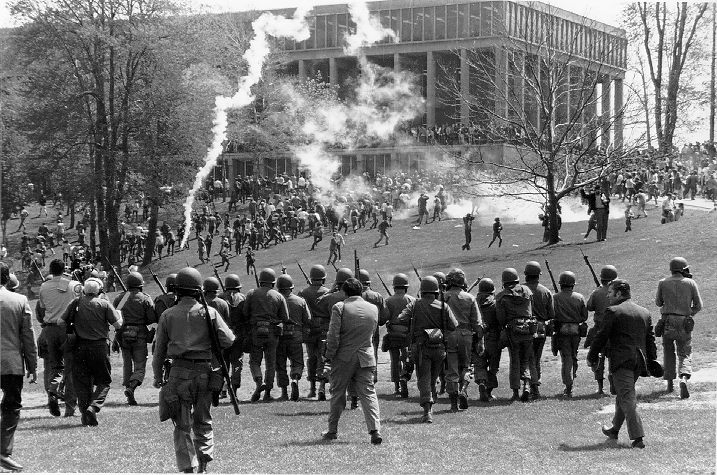 Akár napjaink szalagcíme is lehetne, ám tartva magunkat az old time vonalhoz, 1970 júniusába utazunk vissza, ugyanis ekkor jelent meg minden idők egyik leginkább rendszert kritizáló műve, az Ohio a Crosby, Stills, Nash and Young előadásában. Ennek az ikonikus darabnak a történetét járjuk most végig. Azt, hogyan is ihlették meg a dal szerzőjét, Neil Youngot a Kent State Egyetemen történtek.
Történelmi háttér
Az Ohio, bár 1970 júniusában jelent meg, a május 4-i Kent State-i mészárlás volt az a sajnálatos esemény, mely után Neil Young tollat és gitárt ragadott, és néhány óra alatt elkészítette a mesterművet. Az ohiói Kent állami egyetemen 1970. május 4-re diáktüntetést szerveztek, a vietnámi háború, valamint  a kambodzsai invázió ellen. A helyszínre az Ohiói Nemzeti Gárda is megérkezett és tömegoszlatás címén belelőttek a diákseregbe. Négy hallgató: Allison Krause, Jeffrey Miller, Sandra Scheuer és William Schroeder az incidens során elhunyt, további 9 diákot szállítottak kórházba, egy közülük örökre lebénult. Több szemtanú és John Filo, Pulitzer-díjas fotós is úgy nyilatkozott a történtek után, hogy nem gondolták, hogy a Nemzeti Gárda fegyvereiben éles töltény van.
A dal születése
John Filo ikonikus fotója bejárta az országos sajtót, Neil Young a Life Magazin címlapján találkozott a megrendítő fényképpel, mely arra ösztönözte, hogy megírja a Crosby, Stills, Nash and Young legújabb szerzeményét. A dalt a Los Angeles-i Record Plant Studio-ban rögzítették, nem sokkal a történteket követően. Néhány percnyi közös próba után pár órán belül el is készült az Ohio, valamint a B-side dal is, a hasonló hangulatú Find the Cost of Freedom, melyet Stephen Stills jegyez, és melyet a háború áldozatainak ódájaként aposztrofálnak. Az Ohio az utómunkálatokat követően 1970 júniusában szólalt meg a rádiókban.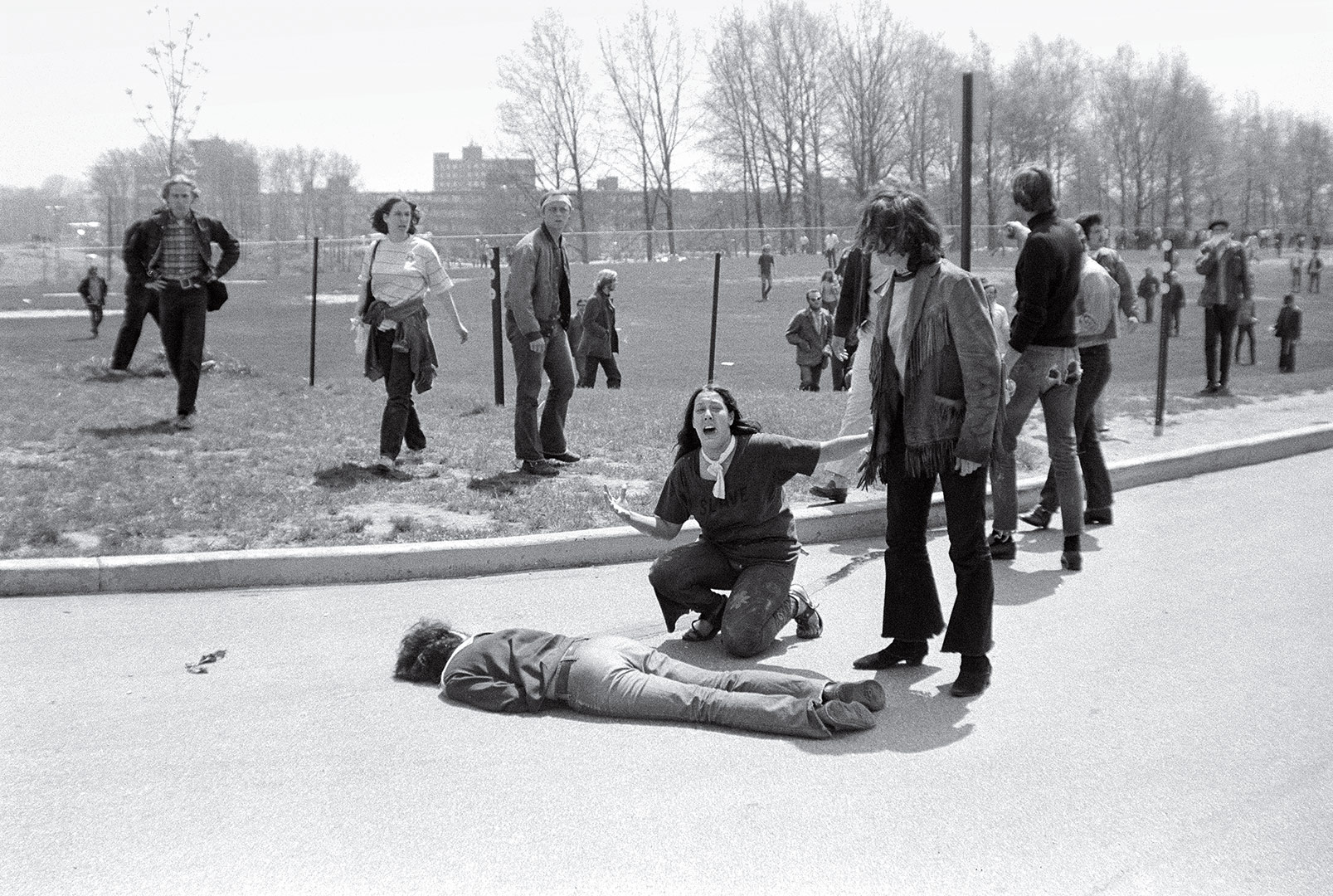 John Filo Pulitzer-díjas fotója: Mary Ann Vecchio térdel az egyik áldozat, Jeffrey Miller holtteste mellett.
A dalszöveg
Neil Young a dalszöveggel szerette volna visszaadni azt a horrorisztikus hangulatot, amit a Kent State-i egyetemisták éltek át a lövöldözés perceiben. Erre utal a többször visszatérő 'four dead in Ohio' sor. Young nem finomkodott, a szöveg megírásánál a regnáló elnök, Richard Nixon nevét sem hagyta ki a sorokból, sőt egyenesen az államfőt és katonáit hibáztatja 4 ember haláláért. 'Tin soldiers and Nixon's coming'. David Crosby szerint a valaha volt legbátrabb tett volt ez a dalszerzőtől. Crosby ötletéből a dal levezetése is nyomatékos jelleggel bír, a 'How many more?' és a 'Why?' kérdéseket ismétli a lekeverésig.  
Az Ohio-t a megjelenés után nem sokkal betiltották a nagyobb rádióállomások, de néhány kalóz- és rendszerellenes állomás sávjain sokszor felcsendült. A dal élő verziója a zenekar 1971-es dupla lemezes albumán, a 4 Way Streeten kapott helyet, a stúdió verzió végül csak az 1974-es válogatáslemezre került fel. Az Ohio Neil Young  1977-es Decade című válogatás (1977) és Greatest Hits (2004) lemezén is hallható, emellett a Live at Massey Hall című élő albumon is felcsendül, melyet 1971-ben rögzítettek, ám csupán 2007-ben adtak ki.