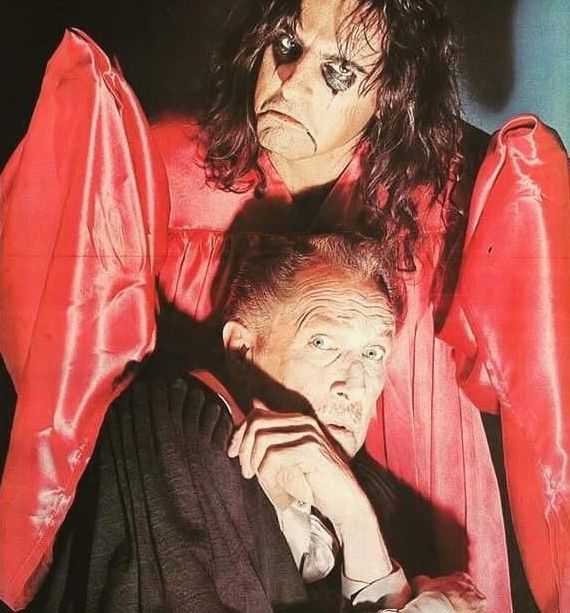 Utánozhatatlan, gyönyörűen zengő beszédhangok, hibátlan artikuláció… és nem feltétlenül gyönyörű vagy hibátlan, viszont utánozhatatlan és elsőrangú rock. Többször is sor került arra a kemény zene történelme során, hogy egy-egy album sikeréhez világhírű színészek közreműködése is hozzájárult, akik narrátorként tűntek fel az adott lemezeken. Jelen összeállításunk a legszokatlanabb rocksztár-filmsztár párosításokat mutatja be.
Rick Wakeman + David Hemmings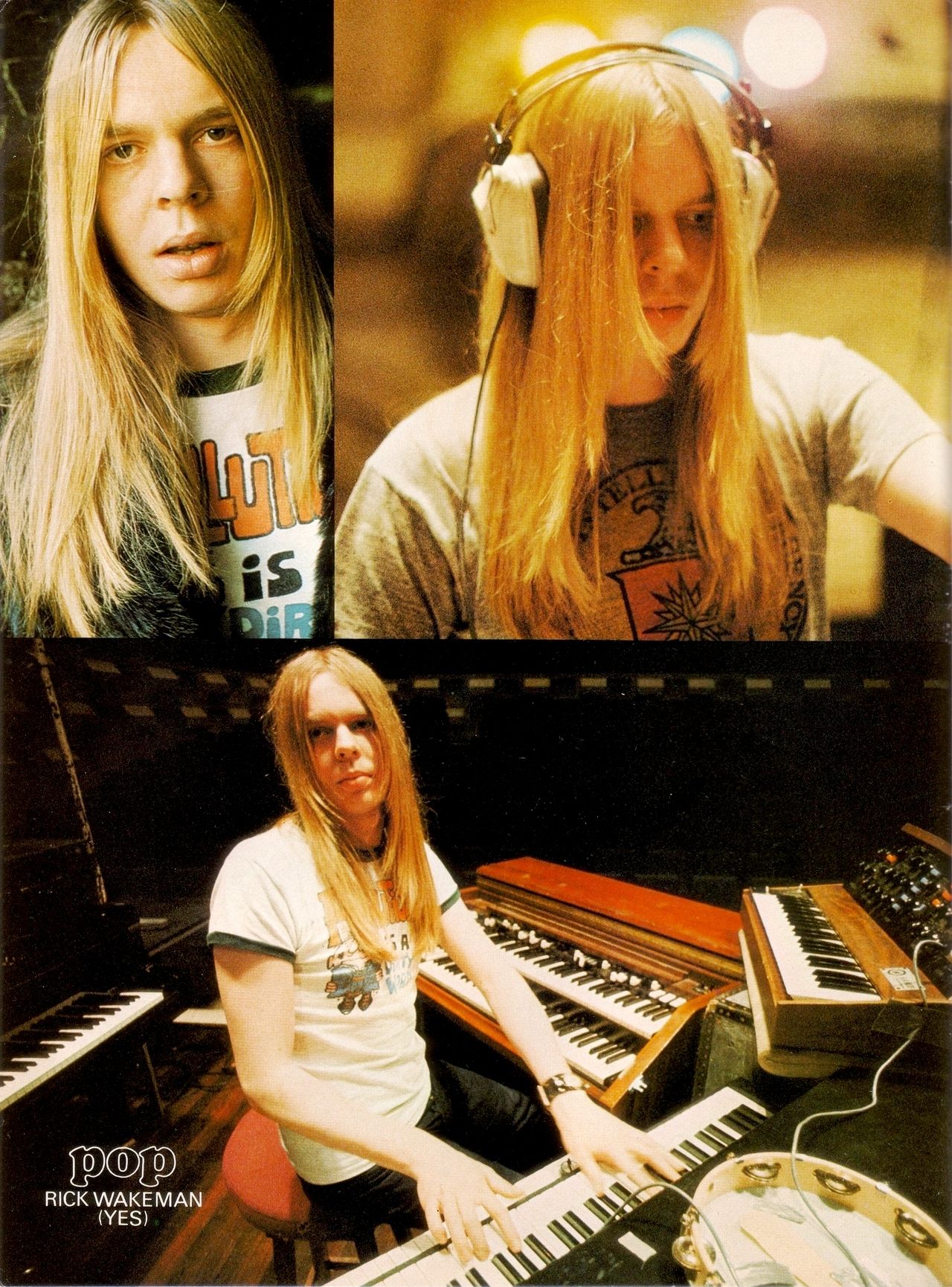 Rick Wakeman, a Yes billentyűse 1974. január 18-án a londoni Royal Festival Hallban adott koncertje keretében rögzítette második szólóalbumát, a Jules Verne azonos című regényén alapuló Journey To The Centre Of The Earth-t (Utazás a Föld középpontja felé). A klaviatúraaprítót rock- és szimfonikus zenekar kísérte, ráadásul mindkét kompánia a korszak legprofibb masszív alkoholistáiból állt. Elég valószínű, hogy a narrátori feladatot ellátó színész esetében is legalább olyan fontos lehetett, hogy mennyire lesz megbízható partner a koncert utáni sör- és borkóstolás során, mint az, hogy milyen érces az orgánuma. Erre utal ama tény is, hogy a szeszt cseppet sem megvető David Hemmings előtt a szintén nem absztinens (mellesleg Oscarra jelölt) Richard Harrist kérték fel, de ő végül nem ért rá… Ami talán jobb is, mivel Harris a nedűfogyasztást követően általában – igazi forrófejű ír módjára − elkezdett gondoskodni arról, hogy az asztalokon a borfoltok mellett vérfoltok is éktelenkedjenek.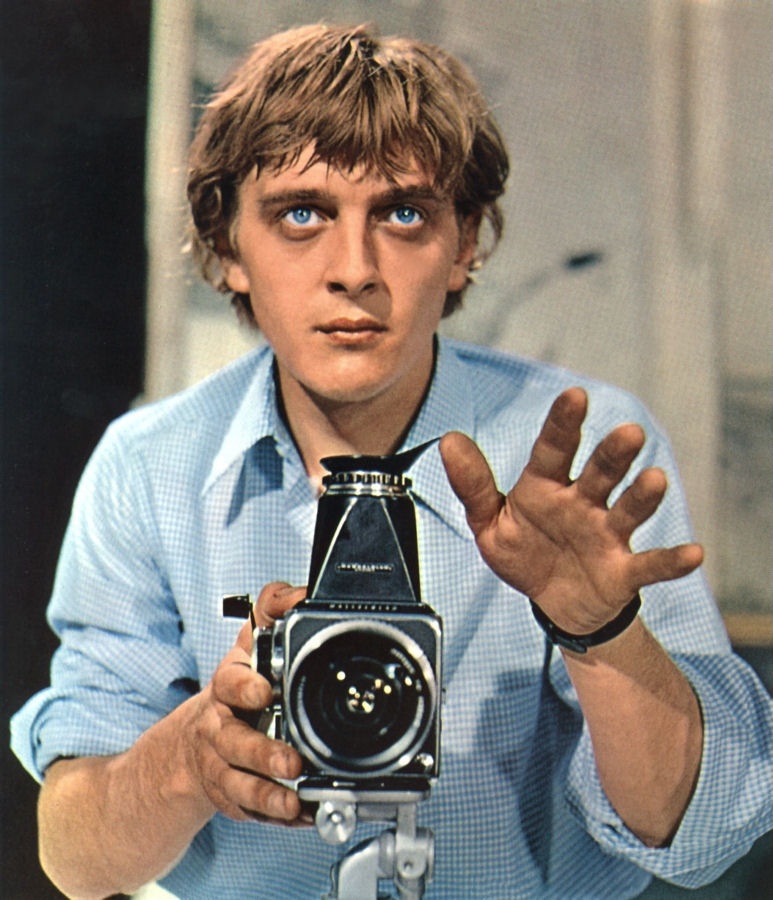 A jellegzetes és fokozatosan egyre ízesebbé érő hangú David Hemmings a Nagyítás című 1966-os kultfilm fotós főszereplőjeként vált világsztárrá. (Michelangelo Antonioni remekművének egyik jelenetében a Yardbirds koncertezik, Jeff Beck pedig mérgében összetöri a gitárját.) Ezt követően sorra kapta a remek szerepeket, ám idővel kiitta magát a szívtiprók ligájából. 1967-ben a Byrds tagjaival készített szólóalbumot, amelyről előbb-utóbb szó lesz még e blogon.
Wakeman prog rockos Verne-adaptációja nagyot durrant, a lemez listavezető lett Nagy-Britanniában, az USA-ban pedig a harmadik helyig kúszott fel. Ilyesmi is csak a punk rock térhódítása előtti boldog időkben történhetett meg… Apropó, punk attitűd: A proggereket gyakran vádolják azzal, hogy túl komolyan veszik magukat, Wakemant és kísérőzenészeit azonban nem lehet ilyesmivel meggyanúsítani. Van-e punkabb cselekedet például annál, amikor egy csapatnyi prog rocker úgy rögzít egy misztikus, csaknem 30 perces dal közepén hallható vízesés-hangeffektust, hogy illumináltan telepisil egy kádat? (Rick Wakeman No Earthly Connection című 1976-os szólóalbumán található a The Spaceman című tétel, ennek a felvételekor került sor a formabontó eseményre.)
David Hemmings-film, amelyet minden olvasónknak szívből ajánlunk: Az olasz horrorkirály Dario Argento rendezte hátborzongató thriller, a Deep Red (alias Profondo rosso, alias Mélyvörös), amely hitchcocki csavarosságból és a Nagyítás stílusjegyeiből kever ellenállhatatlan koktélt.
Alice Cooper + Vincent Price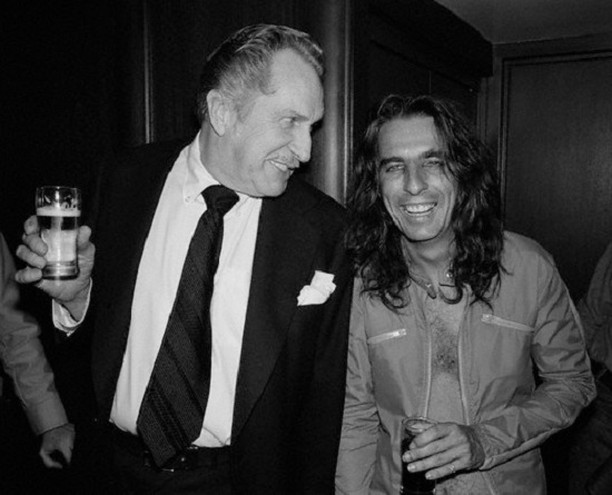 Alice Cooper a shock rock egyik kitalálója, a retro horrorfilmek nagy rajongója, aki fénykorában elszeretettel fejezte le és kötötte fel magát a színpadon különféle bűvésztrükkök segítségével. Szó szerint Vincent Price filmjein nőtt fel, aki az USA-ban nemzeti ikon: Edgar Allan Poe vérfagyasztó történeteinek legfőbb interpretálója, műgyűjtő és életművész, a szép angol beszéd és kiejtés mestere, pop-, vagy inkább rockkulturális jelentőségét pár éve a Deep Purple egy róla írt dallal ismerte el. Coopernek gyerekkori álma vált valóra, amikor megnyerte Price-t 1975-es konceptalbuma, a Welcome To My Nightmare narrátorának. A zenekar kissé meglepődött, amikor a horrorsztár nem lánccsörgés és bagolyhuhogás kíséretében jelent meg a stúdióban, hanem csíkos gatyában és hawaii ingben… Ám amint megkaparintotta a mikrofont, rögtön megteremtette a vészjósló hangulatot. A két Vincent (Alice Cooper igazi neve Vincent Damon Furnier) összebarátkozott a felvételek során, a fenti fotón például igencsak bulihangulatban leledzenek.
Vincent Price-film, amelyet minden olvasónknak szívből ajánlunk: A Theatre Of Blood 1973-ból, amelyben a sokszor teátráliskodó ripacsnak titulált Price egy sokszor teátráliskodó ripacsnak titulált színészt alakít, aki sorra teszi el láb alól fennhéjázó és kiállhatatlan kritikusait.
Jeff Wayne, Chris Thompson, Justin Hayward, Phil Lynott + Richard Burton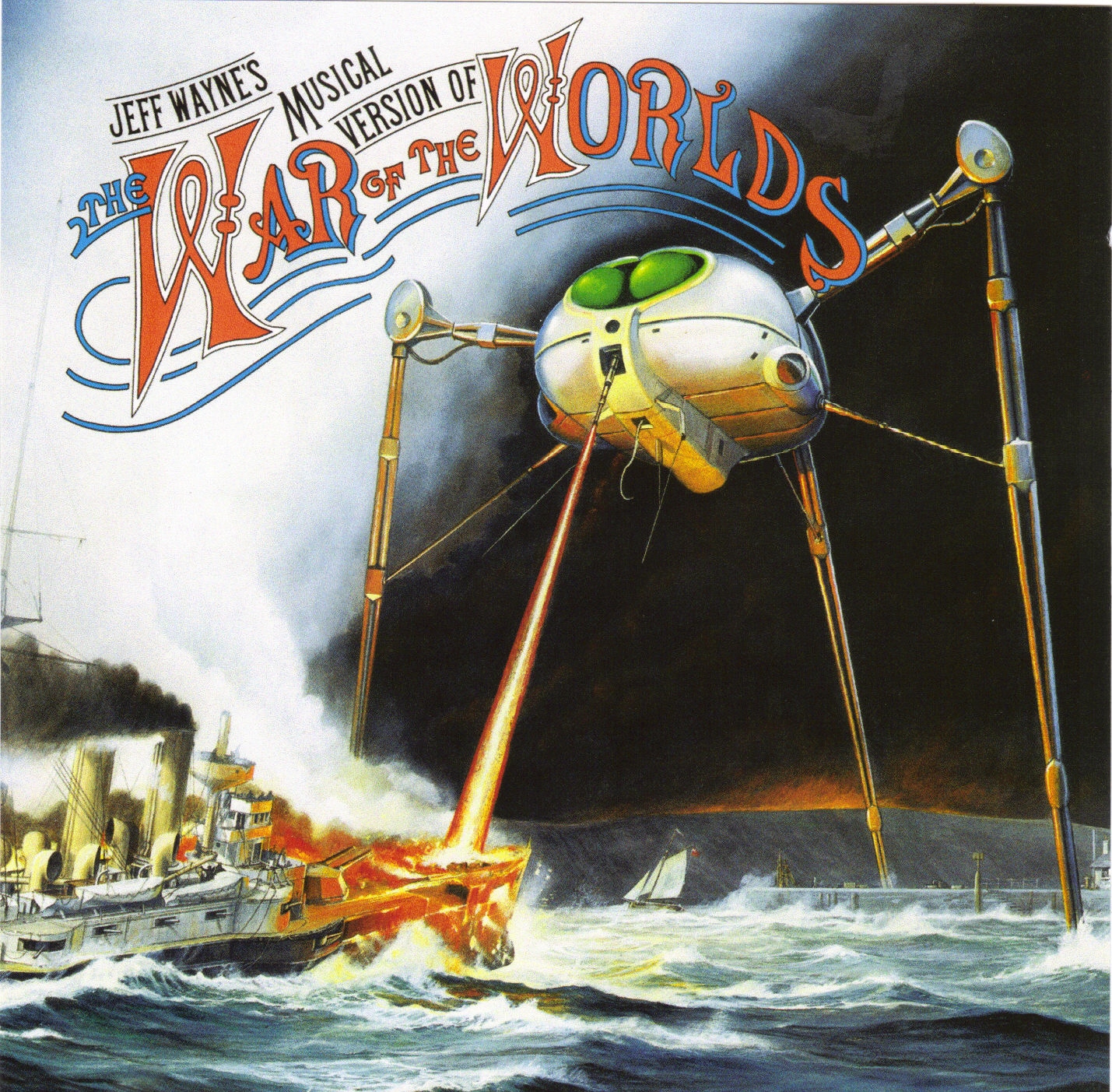 Jeff Wayne komponista és karmester 1978-ban bankot robbantott H. G. Wells klasszikus sci-fi regényének, a Világok harcának dupla lemezes prog rock adaptációjával. Az anyagból eddig 15 millió példány talál gazdára, és 32. a minden idők legkelendőbb brit lemezeit összesítő listán. A közreműködők névsorában olyan énekeseket találunk, mint Chris Thompson a Manfred Mann's Earth Band-ből, Justin Hayward a Moody Blues-ból, vagy Phil Lynott a Thin Lizzy-ből (a csapat dalaiból készült összeállításunkat ide klikkelve olvashatjátok).  A fő narrátor nem más volt, mint Wales büszkesége, a shakespeare-i monológok dójenje és a Laurence Olivier mellett a legjobb Hamletnek tartott Richard Burton, aki legalább annyira ismert legendás filmszerepeiről (Dühöngő ifjúság, Az iguána éjszakája, Nem félünk a farkastól, Wagner, 1984), mint az örök dívával, Elizabeth Taylorral kötött viharos házasságai miatt. (1972-ben egy magyarországi forgatás alkalmával is elkezdték csépelni egymást a nyílt utcán.) Jeff Wayne művét rockoperaként többször is színpadra állították, Richard Burton narrátori szerepét 2012-ben, 2014-ben és 2016-ban Liam Neeson vette át.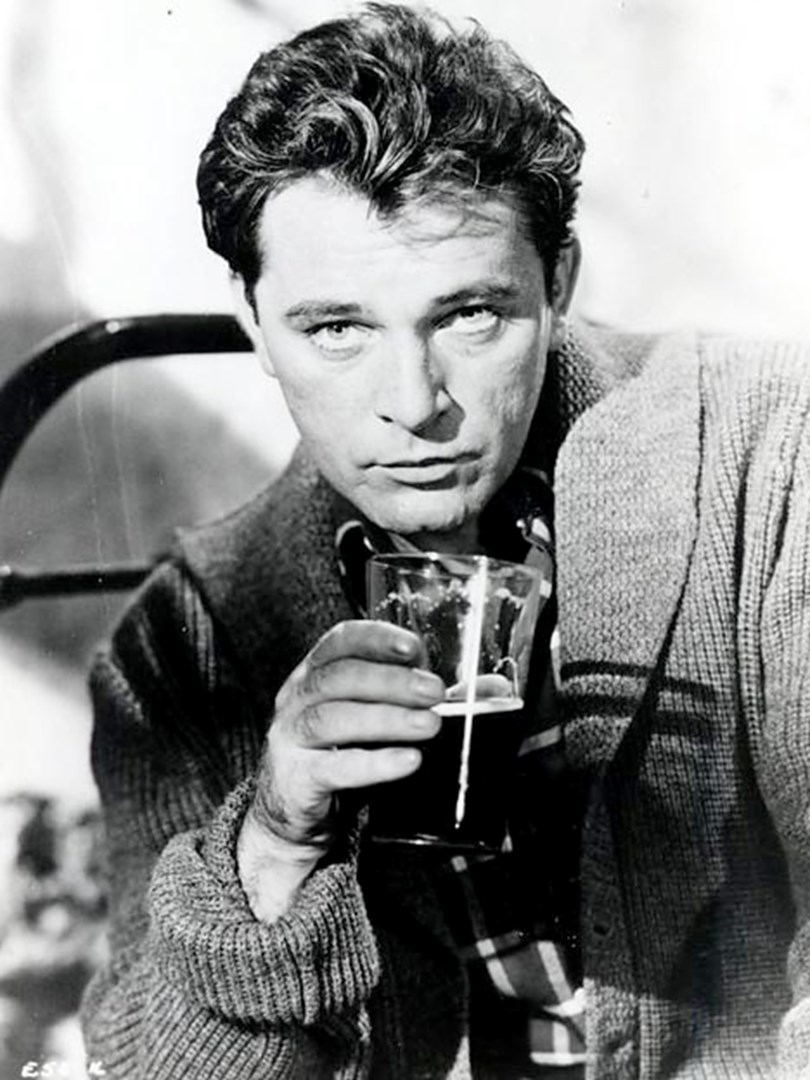 Richard Burton-film, amelyet minden olvasónknak szívből ajánlunk: Az 1972-es, Magyarországon forgatott Bluebeard, amelyben Burton kék szakállal hajkurássza a 60-as és 70-es évek legjobb nőit, Virna Lisitől Raquel Welchig. Külön érdekesség, hogy a kádári állam állítólag nem adott engedélyt a horogkereszt használatára a többek közt a II. világháború idején játszódó történetben, így az alkotók kénytelenek voltak előállni helyette egy fiktív szimbólummal. (Vincent Price másodszor: Burton azt nyilatkozta, hogy úgy igyekezett eljátszani a kékszakállú modernizált figuráját, ahogy Vincent Price tette volna.)
Manowar + Orson Welles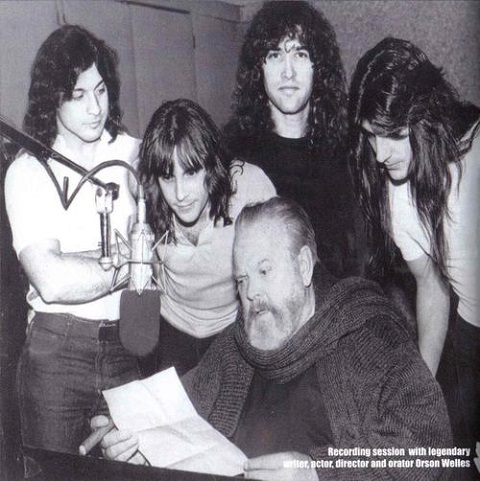 Az amerikaiak legfőbb true metal csapatának igen szélsőséges a megítélése: vagy Valhallában lakozó isteneknek kijáró vak tiszteletet éreznek tagjai iránt a rockerek, vagy halálra röhögik magukat a Conan, a barbárból vett öltözékeiken, a kigyúrt felsőtesteket villantó borítóikon és a holt komolynak szánt, ám mégis önparodisztikus nyilatkozataikon. A Manowar 1982-ben még egyáltalán nem számított nagy névnek – az együttes az első lemezén dolgozott éppen −, amikor kapcsolatba lépett minden idők egyik leglegendásabb színészével, az Aranypolgárral filmtörténelmet író Orson Wellesszel, hogy ugyan mondjon már fel egy monológot a készülő anyagukra. Wellesnek imponált az ambiciózus ismeretlenek pimaszsága, ezért elvállalta a munkát, sőt a betervezett Dark Avenger-é mellett egy másik monológot is rögzített a banda számára, amely végül az 1987-es Defender című számukban kapott helyet.
Gondoljon bárki bármit a zenekarról, az tagadhatatlan tény, hogy Welles orgánumáért még a legsikeresebb szónokok is ölni tudnának, a hangjától pedig  akár egy hippi kommuna virággyermekei is garantáltan csatába indulnának, ha arra szólítja fel őket. Ross The Boss, a Manowar magyar származású akkori gitárosa szerint "Orson egy limuzinnal érkezett a stúdióhoz. Kinyílt az autó ajtaja, és az élő legenda kipréselte több száz kilóját a hátsó ülésről. Elég kemény környéknek számított Manhattan 57. utcája akkoriban. Stricik, kurvák és egyéb sötét alakok lebzseltek körülöttünk. Azonban ahogy megpillantották Orsont, a jellegzetes szőrmekabátot viselő lányok azonnal a lába elé vetették magukat, úgy hódoltak neki. Sosem láttam korábban hasonlót." Reméljük, Manowarék soha nem fogadták el Orson vacsorameghívását: a nagyétkű zseni ugyanis híres volt arról, hogy drága éttermekbe hívta vendégül ismerőseit, majd amikor jóllakott, kijelentette, hogy pár percre kimegy a mosdóba, ám valójában kereket oldott, csinos kis számlákat hagyva hátra hiszékeny evőcimboráinak. (Vincent Price harmadszor: A zenekar először Price-t akarta narrátornak, ám végül Welles mellett döntöttek, mivel nem horroros, inkább haduras hangra volt szükségük.)
Orson Welles-fim, amelyet minden olvasónknak szívből ajánlunk: A per kafkai rémálma, Anthony Perkinsszel és Romy Schneiderrel, no meg persze magával a Mesterrel. A PSZICHOpata Norman Bates egykori alakítójának ezúttal áldozatszerep jutott.