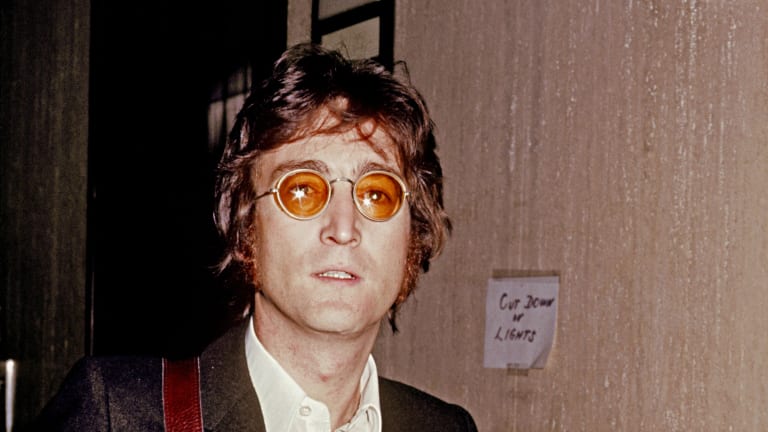 Bár általában a bebalzsamozott Lenin kapcsán szoktuk elsütni a fenti mondás reá alkalmazott verzióját, az Old Time Rock And Roll Magazine szerkesztői brigádja úgy véli, John Lennon sokkal inkább megérdemli, hogy efféle túlzásba esve beszéljünk róla. Milliók bálványáról van szó, aki következetesen pozitív üzenetet közvetített − még ha saját maga nem is viselkedett mindig az általa hirdetett eszményeknek megfelelő módon −, és akinek zenei és szellemi öröksége kétségtelenül él és élni fog évtizedek, sőt talán évszázadok múlva is. Alábbi összeállításunkban a zenésztársai és híres pályatársai által írt olyan dalokat gyűjtöttünk csokorba, amelyekkel az ő emlékének adóztak. 
A dalt George eredetileg Ringónak szánta, és fel is vették együtt, a dobos azonban sem a szöveggel, sem a saját vokáljával nem volt elégedett. Lennon halála után Harrison törölte Ringo éneksávját (a dobsávot viszont megtartotta), új szöveget írt a számhoz, amely immár Johnról szólt, majd meghívta Pault háttérvokálozni, így ez a keserű élmény alapján befejezett szerzemény − amely a gitáros 1981-es, Somewhere In England című albumára került fel − lett az első felvétel 1970 óta, amin a három Beatles-tag együtt hallható. Az All Those Years Ago a második helyig jutott az amerikai slágerlistán.
Stevie Nicks – Edge Of Seventeen (1981)
A Fleetwood Mac énekesnőjének 1981-ben kiadott szólóalbumán kapott helyett ez a dal, amelynek a címe Tom Petty első feleségétől, Jane-től származott. Nicks, a házaspár jó barátja eredetileg róluk írta volna a számot, ám időközben egy héten belül meghalt szeretett nagybátyja és példaképe, John Lennon is, így az Edge Of Seventeen a rájuk való emlékezés jegyében született meg, és a megjelenési évének egyik nagy slágere lett.
Elton John – Empty Garden (Hey Hey Johnny) (1982)
Elton John és John Lennon jó barátok voltak, közös daluk, az 1974-es Whatever Gets You Thru The Night számos országban lett listavezető. A két sztár gyakran bulizott együtt, és Elton Lennon Sean nevű, Yoko Onótól született fiának keresztapja. Bár az énekes-zongorista eleinte hatásvadásznak érezte dalt írni elhunyt barátjáról, végül mégis kikívánkozott belőle az Empty Garden (Hey Hey Johnny), amelynek címe a New York-i Dakota-ház előtt felhalmozott virágcsokrokra utal, amelyeket Lennon meggyilkolása után helyeztek el otthonánál a rajongói.
Paul McCartney – Here Today (1982)
Bár a Beatles két nagyágyúja nem leledzett különösebben jó viszonyban Lennon halálának évében − többek közt az Imagine albumon szereplő How Do You Sleep? miatt, amelynek szövege nyílt támadás volt Paul ellen −, az egyébként a brit visszafogottság mintapéldányának tekinthető Macca 1982-es, Tug Of War című albumán teret engedett érzéseinek, és megírta barátjáról Here Today című, a Yesterday hangulatát idéző dalát. "A legemocionálisabb szerzeményeim egyike, már a megírása közben is a szívembe markolt, a felvételekor pedig többször neki kellett futnom annak a résznek, ahol azt éneklem, hogy I really loved you, mert nem bírtam a könnyeimmel" – nyilatkozta később McCartney.
Paul Simon – The Late Great Johnny Ace (1983)
A zenés történetmesélés mestere 1983-ban jelentkezett Lennon-emlékdalával, amely nem csupán a legendás Beatles-tagról szól, hanem két másik Johnról is: a magát 1954-ben orosz rulettezés közben agyonlövő blues énekesről, Johnny Ace-ről és az 1963-ban merénylet áldozatául esett USA-elnökről, John Fitzgerald Kennedyről. Simon többször utalt rá, hogy számára mindhárom dalbéli John igazi Ász (azaz Ace), ezért a cím is mindhármukra vonatkozik.
Queen – Life Is Real (Song For Lennon) (1982)
A brit stadionbanda 1982-es, Hot Space című albuma a csapat kevésbé sikerült produkciói közé tartozik, ugyanis a rockot háttérbe szorítva – a Freddie Mercuryt ekkoriban teljesen befolyása alatt tartó menedzser, Paul Prenter mesterkedései miatt − afféle diszkózenével kezdtek kísérletezni, amilyen a korszak frekventált meleg klubjaiban szólt. Sem Roger Taylornak, sem Brian Maynek nem nyerte el a tetszését az irányvonal és a végeredmény, ráadásul a David Bowie-val előadott Under Pressure-ön kívül a lemez nem szült nagy slágereket. Kuriózumnak számít az anyagról kilógó, de mégis míves darab, a Life Is Real (Song For Lennon), amellyel a dalt szerzőként jegyző Freddie a két évvel korábban meggyilkolt kollégája és kedvence előtt tiszteleg.
Barclay James Harvest – John Lennon's Guitar (1990)
A brit progresszív rock mezőny egyik legjelentősebb csapatának számító zenekar mindig is nagy hangsúlyt fektetett a kimunkált énekdallamokra, amelyek karrierjük kezdetétől a Beatles egyértelmű hatását mutatták. 1971 februárjában megjelent, Once Again című albumukat az Abbey Road stúdióban készítették, ahol John Lees gitáros-énekesnek alkalma nyílt használni Lennon Epiphone Casino típusú hangszerét a Galadriel című daluk felvételekor. Erről a kellemes, ám a Lennon halála miatt keserédessé vált emlékről szól a zenekar alábbi 1990-es száma.
Ringo Starr – Imagine Me There (2003)
Bár a szöveg nem tartalmaz konkrét utalást az elhunyt zenésztársra − a szám címe viszont igen −, Ringo ezzel a szeretethimnusszal tisztelgett John emléke előtt, akinek szólóelőadóként is sokat köszönhet. Lennon írta ugyanis a kedélyes dobos I Am The Greatest című, 1973-ban megjelent slágerét. (A dalt John eredetileg saját magának szánta, de végül úgy vélte, mindenki beképzelt bunkónak könyvelné el, ha még csak önironikusan is, de azt énekelné, hogy ő a legnagyobb sztár, a Beatlesben örök háttérember Ringót viszont jópofának tartják majd érte.)
Bob Dylan – Roll On, John (2012)
A Nobel-díjas költő-énekes Tempest című 2012-es albumával visszatért az eladási listák élére, a kritikusok agyba-főbe dicsérték az anyagot, amelyen Dylan megint tradicionális folk rock megközelítést alkalmazott. Az album utolsó tétele, a Roll On, John részben önéletrajzi ihletésű, részben Lennon előtti főhajtás, amely különösen szokatlan gesztus a többnyire befelé forduló, saját magával foglalkozó szövegíró zseni részéről, aki még pár Beatles-idézetet is beleszőtt a dalba.
Jon Oliva – Can't Get Away (2013)
A Savatage a progresszív power metál éllovasának számító, nálunk is népszerű alakulat, 1997-ben lehengerlő teltházas koncertet adtak Budapesten. A csapatot vezető énekes-billentyűs, Jon Oliva 2013-as, Raise The Curtain című szólóalbumát (amelyen szinte minden hangszeren ő játszik) egyrészt tragikusan fiatalon autóbalesetben elhunyt öccse, a gitárfenomén Criss Oliva szellemisége hatja át, másrészt ezen található az új évezred eddigi legjobb Lennon-ihlette dala, a Can't Get Away. A szövegben Oliva a saját démonaival (alkoholizmus, depresszió) való küzdelmét festi le, zeneileg és énekével viszont John Lennon emléke előtt tiszteleg, akinek a munkássága a legnagyobb hatás gyakorolta rá a Black Sabbath, a Queen és a UFO mellett. Rajongói dalszerzői képessége okán megérdemelten nevezik a metál színtér John Lennonjának.