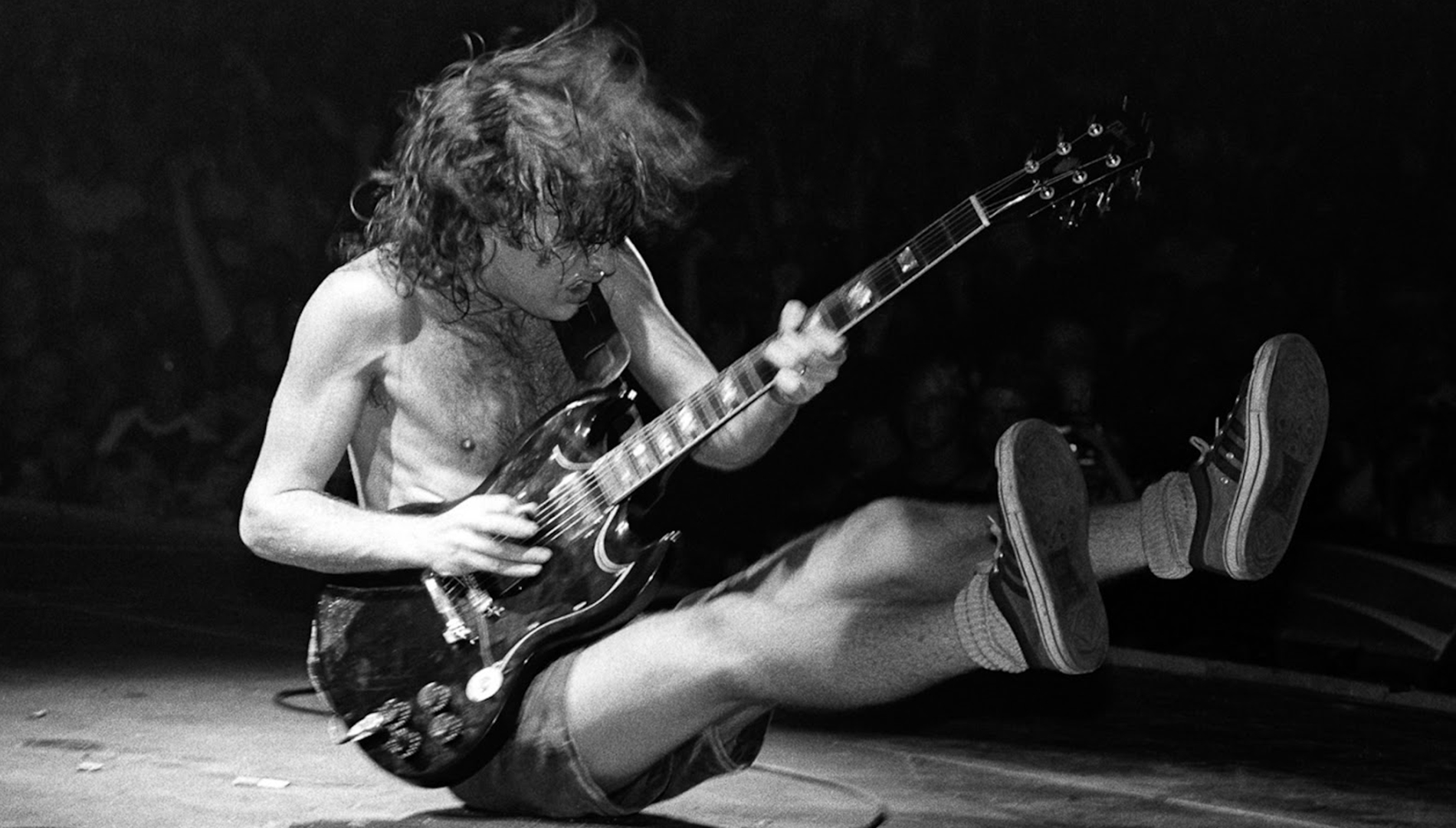 Legendás gitárokat, legendás gitárosokat bemutató rovatunk újabb állomásában egy igazi nyers energiát magában hordozó hangszerre esett választásunk. A kezdetben Les Paul néven teret hódító 'solid guitar' mára a Gibson cég történetének legtöbb eladott példányszámával büszkélkedhet, nem csoda, hogy számos közkedvelt rocksztár is elsőszámú hangszernek választotta. Az SG azonban nem csak nyugaton örvend töretlen népszerűségnek, hazai viszonylatban is közkedvelté vált...
A Gibson SG története

1960-ra a Les Paul gitár népszerűsége jelentős hanyatlást mutatott, így a Gibson egy új, könnyebb és merőben más gitárt vezetett be a piacra. Az új hangszer jellemzői  - egyszerűbb testfelépítése, vékonyabb nyakprofilja és dupla kivágású (double cutaway) teste -  miatt szignifikánsan csökkentek előállítási költségei, ehhez társult egy új, kényelmesebb játékmód is. A cég a "leggyorsabb nyakú gitár"-ként reklámozta az új Les Pault, mely 1961-től került a hangszerboltokba.
Les Paul-ból SG
Volt azonban egyvalaki, akinek nem esett le az álla az új gitártól. A gond csak az volt, hogy ez az ember maga a gitár névadója, Les Paul volt, aki a testet és a nyakat is kényelmetlennek érezte, szóval később megkérte a Gibson elnökét, Ted McCarty-t, hogy inkább lemond a gitáronkénti 1 dolláros jogdíjáról, de vegye le a nevét erről a hangszerről. A Gibson tiszteletben tartotta a kérést és ezt követően 1963-tól az SG, azaz Solid Guitar névvel gyártották tovább a hangszert.
Rocksztárok SG-vel
Angus Young
Az AC/DC szólógitárosa, ahogy egy interjúban említette, mindig is az SG-ket részesítette előnyben. Érdeklődését a gitárok súlya, testfelépítése és játékélménye keltette fel, egy 70-es vagy 71-es modell volt az első SG-je. Angus rámutatott, standard és custom modelleket is használ kedvencei mégis a 60-as évek végének gitárjai. Nevével ellátott Signature Standard modell ('68-as gyártás alapján készült) bundjai villámcsapás berakásokkal és Angus által szintén preferált .009-es húrokkal érhető el.
- Fiatalon próbáltam egy Les Paul-t de majdnem kettétörte a derekam. Ha egy 5 láb 2 hüvelyk (158 cm) magas gyerek vagy, az SG lesz a hangszered! Mindig is szerettem a double cutaway testeket. Olyan mintha két szarv lenne. Az egész gitár olyan, mint egy ördög - mondta.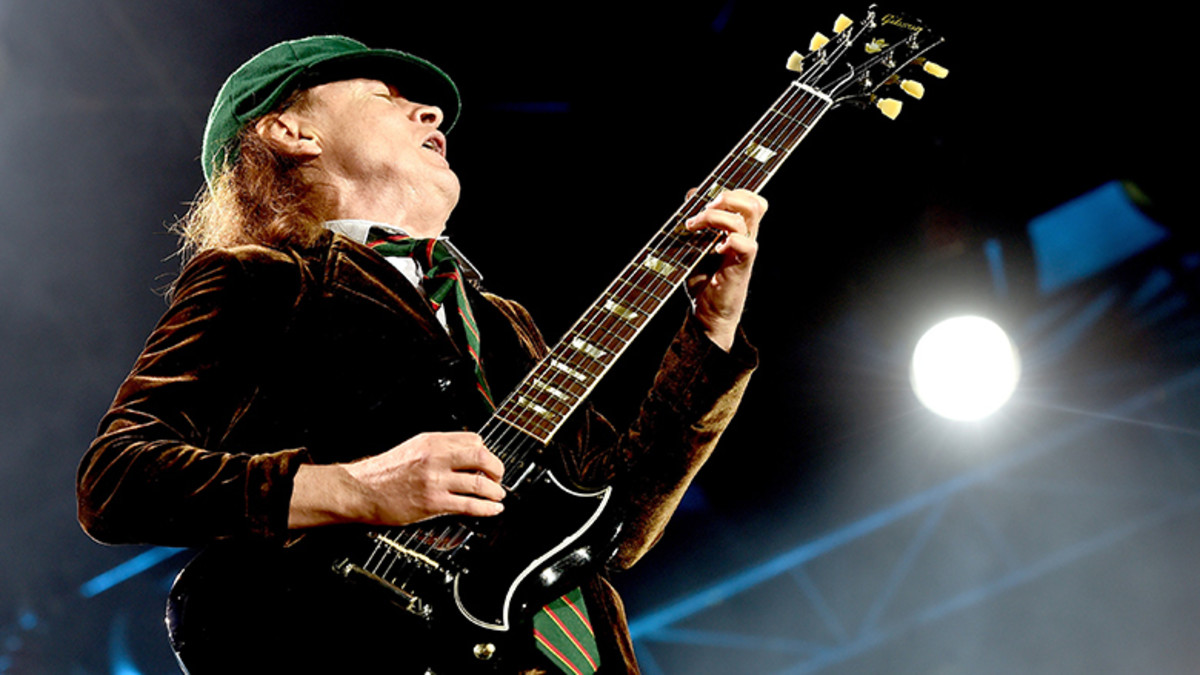 Tony Iommi
A Black Sabbath gitárosa is azok közé tartozik, akik világhírűvé tették az SG gitárokat. Egy interjúban rámutatott, balesete miatt sosem talált megfelelően puha húrokat hangszereire, így bendzsó húrokat használ. Ezen felül gitárja is különleges, ugyanis 24 bundos egyedi készítésű SG-n játszik, melyből a Gibson készített Signature változatot.
- Az eredeti custom SG gitáromat John Birch-csel John Diggins-szel közösen készítettük. Ebből készített a Gibson egy Iommi modellt. A 24 bund mellett a különlegessége a hangszedőkben rejlik, melyet leginkább a jazzgitárjaiba készít a cég.
Mindig is SG-s gitáros voltam, a második Sabbath albumra sikerült szereznem egy balkezes SG-t, ami akkor nagy szó volt Angliában. Mellettük imádtam a stratokat és összeraktam egyet, viszont, amikor elkészült, és meghallgattam, azt mondtam, "Jó, ez a hangzás szar, maradunk az SG-nél!"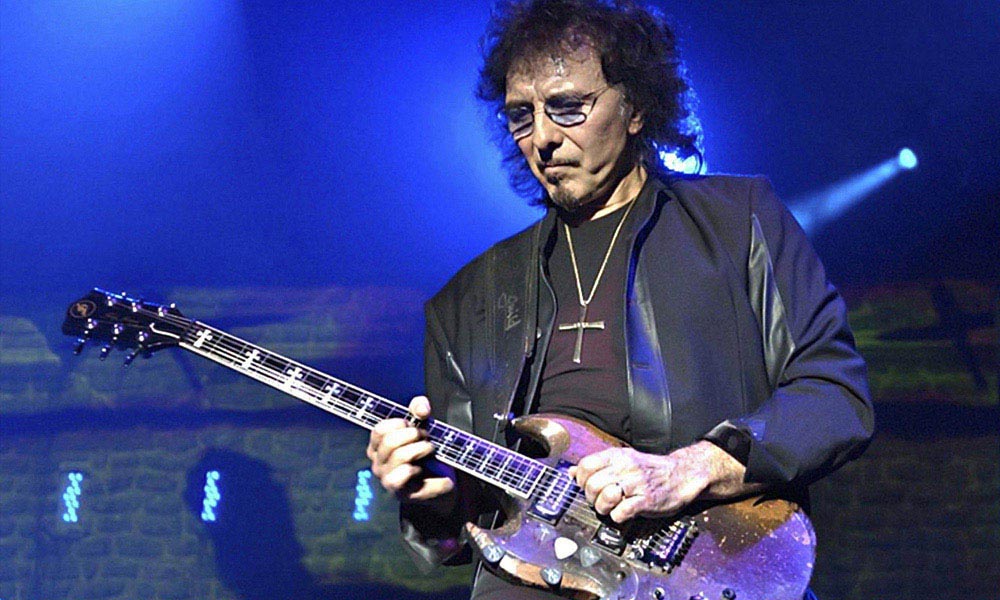 Frank Zappa
A gitármágus Frank Zappa is SG-iről vált híressé, pályafutása alatt számos típust vitt színpadra. 2013-ban a Gibson szintén egy Signature modellel tisztelgett a híres zenész előtt. Ez a gitár azonban eltért Zappa eredeti hangszerétől. A baltimore-i zenész egy 60-as években gyártott Special SG-n játszott P90-es hangszedőkkel Slim-fast nyakprofillal. A Gibson már fedél nélküli humbuckerekre cserélte a pickupokat, valamint egy vibrolával is felszerelte a Zappa gitárt.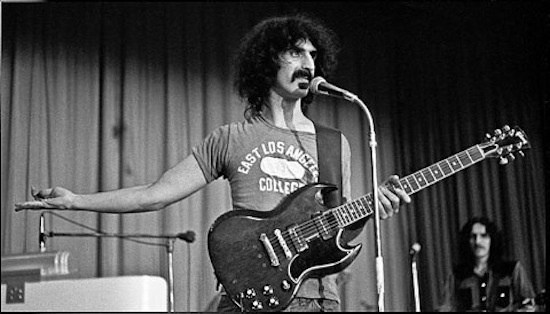 Frank Marino
Frank után egy újabb Frank, a fehér Hendrix, Frank Marino mellett sem mehetünk el ha SG-kről van szó. Arzenálja két 60-as évekbeli Gibson SG Special-ből, két korai hatvanas évekbeli Gibson SG/Les Paul Standardből, valamint két egyedi Glynn SG-ből áll.
- Minden SG-m lakkozott és módosított nyakkal rendelkezik. A nyaki specifikációkat úgy alakítottuk ki, hogy a standard-nél vékonyabbak legyenek. Mind a 4 Gibsonon van egy vibrola is. Ha az elsőszámú gitáromat kéne meghatározni, azt mondanám, hogy a 65-ös SG Special lenne, ami bár 65-ös Specialként kezdte életét, ma 3 DiMarzio Virtual Vintage pickup van benne H-S-S rendszerben, és a nyaki hangszedő majdnem a nyak végéhez ér. 
Tekintsétek meg az SG-ket használó zenészekről készült galériánkat!
A Gibson SG Magyarországon
Radics Béla – Tűzkerék, Taurus
Ha már SG és Magyarország, néhány hónapja előkerült Radics Béla, azaz a Kapitány 61-es bíbor hangszere. Bár a gitár eredetéről sokat nem tudni, akkoriban nagyjából 20 ezer forint volt az ára, ami abban az időben egy lakás árával vetekedett. A legendás gitáros, hangszere március óta a újra a magyar zenei életbe került, emlékkoncerteken újra hallhatja majd a magyar közönség.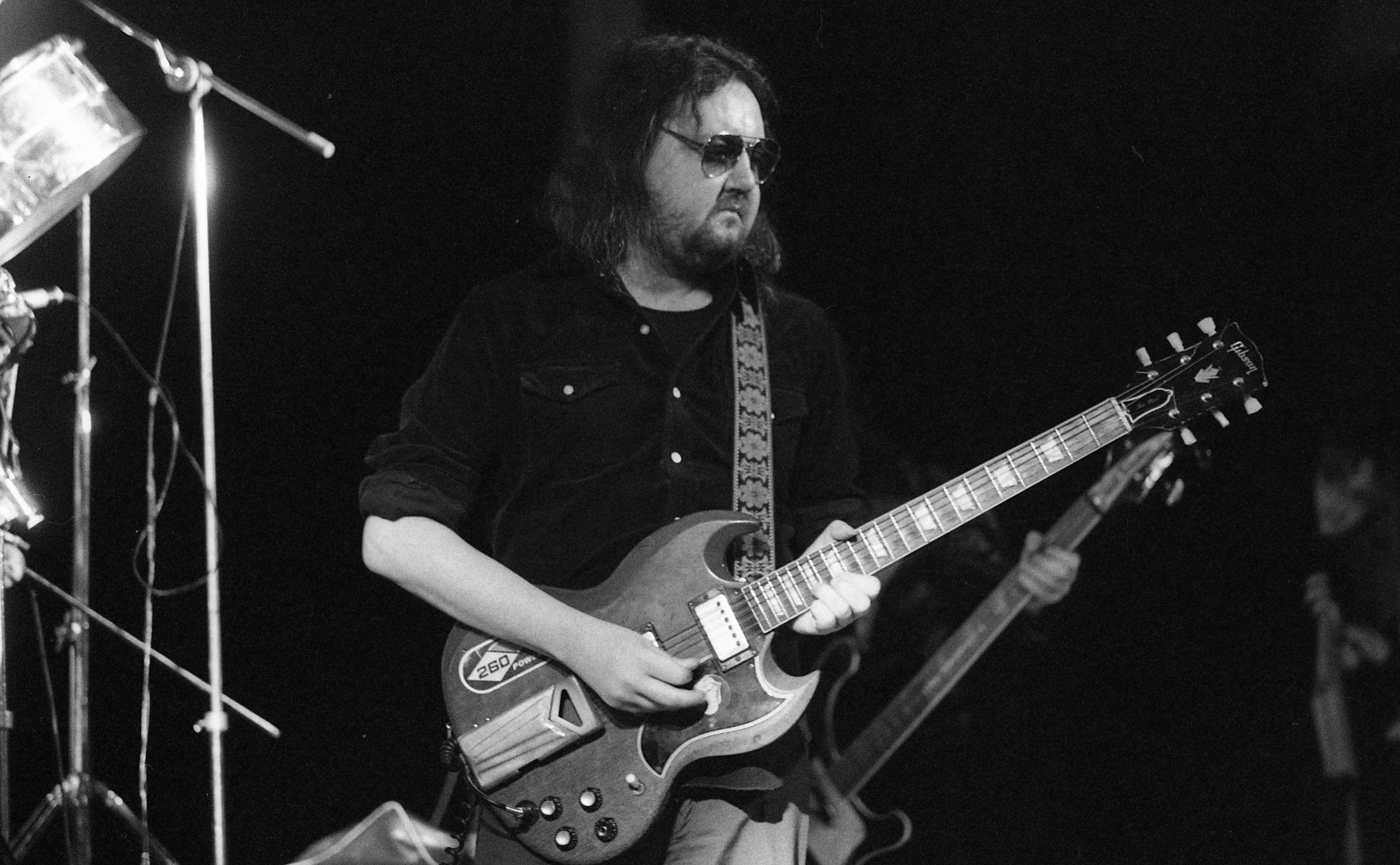 A továbbiakban a hazai SG nagyköveteket kérdeztük meg, miért is esett választásuk erre a különleges hangszerre. 
Nagy Dénes – Deák Bill Blues Band, Vicodin
"Gibson SG hanggal életemben először a Black Sabbath révén találkoztam. Mindig is nagy vágyam volt birtokolni és használni egy ilyen hangszert. 4 évvel ezelőtt volt szerencsém és lehetőségem megvásárolni a jelenleg is használt Gibson SG-met. Életem legjobb döntése volt úgy gondolom!  Hihetetlenül inspiráló hangszer, a hangját és a játékérzetet nem tudom megunni. Ez számomra egy örök darab!"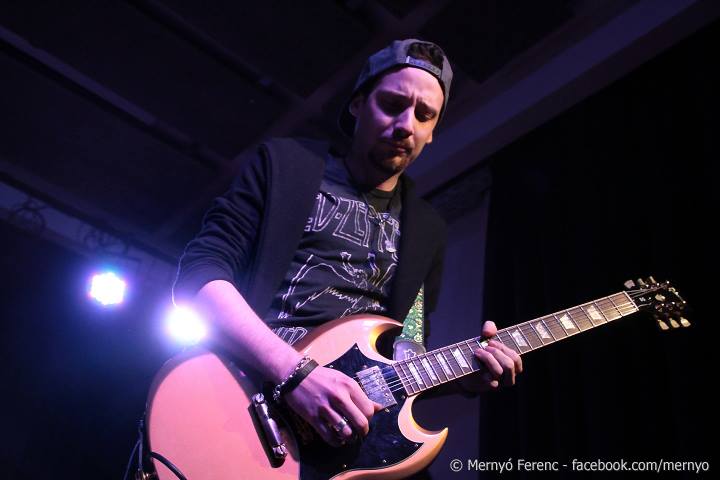 (Dénes hangszerei: Gibson Standard SG Bullion Gold 2011 és egy 1975-ös Gibson SG Special)
Kőváry Péter – Peter Kovary and the Royal Rebels
Én abszolút Gibson-párti vagyok, az elmúlt 30 évben volt kb. 20 gitárom, kísérletezgettem más márkákkal is ( pl. Gretsch), de nekem "a gitár" már jópár éve a Gibson (természetesen a Fender a 2. helyezett, a többi gyártó egyáltalán nem érdekel). Nyilván a Les Paul az alap, de sosem tudom eldönteni, hogy az SG-t, vagy az LP-t szeretem jobban. A SG jelképezi számomra a legjobban azt a fajta vintage amerikai zenét , amit a legjobban szeretek. Itthon mindenki Angus Younggal azonosítja ezt a hangszert, pedig SG-t használt rajta kívül egy rakás más kiváló muzsikus, akikhez ugyanúgy köthető ez a Gibson modell, pl. Mick Taylor, Duane Allman, Tony Iommi, Robby Krieger (a piros SG-m az ő modellje), Frank Zappa, Sister Rosetta Tharpe vagy éppen George Harrison.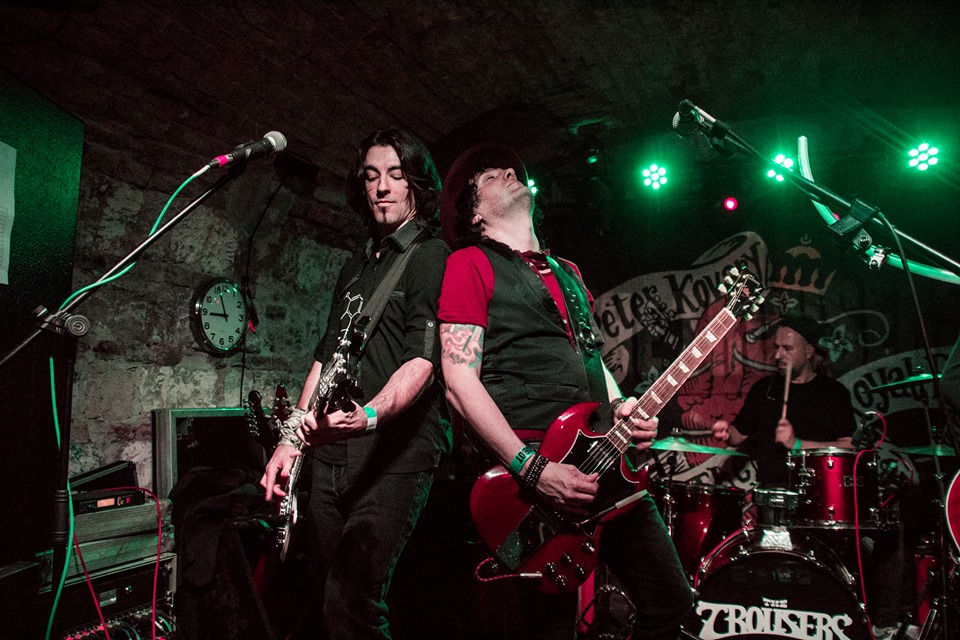 (Peti hangszere: Gibson Custom Robby Krieger SG) 
Mundi Csaba – Muddy Roots, ex-Burning Full Throttle 
A kezdetekkor én is végigmentem az összes klasszikus gitárformán, volt a kezemben Stratocaster, Les Paul, de amikor az első Epiphone SG Specialt megvettem, eldőlt minden. Ez az epi-spec anno még teljes mahagóniból készült, a hangszín egyben Killpot-gomb is volt, és a hangszedője, egy Epiphone G400-ból kimentett, zárt humbucker-re lett lecserélve. Kissé fej nehéz volt, de imádtam rajta játszani, és csöves erősítőn maga volt a mámor, ahogy megszólalt. Persze a kíváncsiság tovább hajtott, és sajnos el is adtam, amit azóta is bánok. Miután a pénztárcám sosem engedte meg, hogy egy igazi Gibson-t vegyek, így egy Epiphone SG G400 büszke tulajdonosa voltam sokáig, natúr, antik barna színben, abból a szériából, amit maximum egy évig gyártottak, mert állítólag annyira leszólta a "dzsipzonokat". Zseniális volt! Később kipróbáltam egy Vintage VS6-ot, amit az árérzékenyebb zenélőknek, mint amilyen én is vagyok, tiszta szívvel tudok ajánlani. A Wilkinson hangszedők nem a legerősebbek benne, de ettől függetlenül egy remek hangszer. Én egy Schecter hangszedő-szettel használtam, és ez is maradt a kedvenc koncertgitárom.
A Muddy Roots-ban most basszusgitáros poszton vagyok, és egy Epiphone EB-3-at használok, ami valami iszonyat kényelmes, és egy veszélyes dög is egyben! Köszönöm, Jack Bruce!