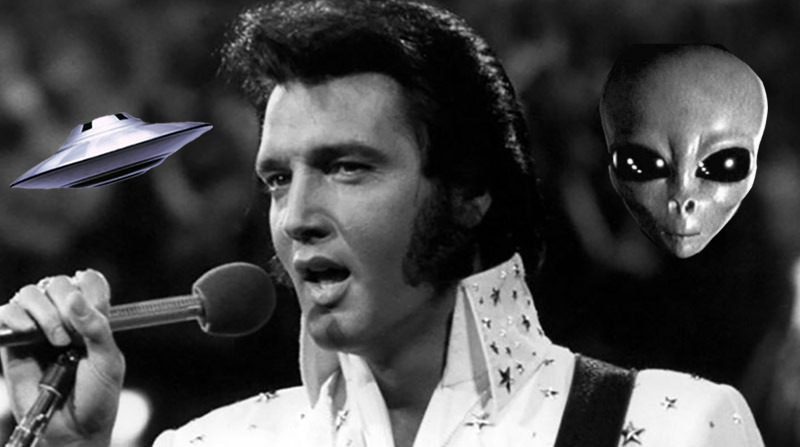 Az űr meghódítása és a rockzene diadalmenete ugyanabban az időszakban zajlott, a rocksztárok pedig igen hamar felfedezték, hogy a holdutazás és a sci-fi filmek kimeríthetetlen szövegtéma-forrást jelentenek. A földi UFO-észlelések elszaporodása főképp a 60-as évektől kezdve hatott a rockra: Olyan nagyságok számoltak be arról, hogy szokatlan égi jelenségekre lettek figyelmesek, mint Elvis Presley, Jimi Hendrix és John Lennon. Egyeseket pedig annyira lenyűgöztek a repülő csészealjak, hogy dalt írtak róluk, meg a legénységükről. Következzék hát 10 olyan szerzemény, amely talán még a felettünk szálldosó idegen lények tetszését is elnyerte!
The Byrds – Mr. Spaceman (1966)
A rocksajtóban e dal kapcsán használták először a space rock elnevezést, noha a Byrds kétperces laza country nótája köszönőviszonyban sincs azzal a bódítóan pszichedelikus és többnyire hosszabb lélegzetű zenei megközelítéssel, amely a 70-es évektől a műfaj védjegyévé vált. A gitáros-énekes Roger McGuinn szerzeménye egy olyan fickóról szól, akit éjszakánként rendszeresen felkeresnek a földönkívüli látogatók, de sajnos nem akarják elvinni egy körre az UFO-jukon, bármennyire is kérleli őket. McGuinn a dal megjelenésekor azt nyilatkozta, hogy reményei szerint a szám hallatán a bolygónk körül ólálkodó ufonauták fel fogják venni velünk a kapcsolatot.
A holdséta évében született dal szövegében John Fogerty gitáros-énekes egy igazi B-kategóriás sci-fi forgatókönyvét vázolja fel: valami landol az Illinois állambéli Moline-tól délre, elképedt szemtanú is akad egy farmer személyében, de nem tudjuk meg, pontosan miről van szó. A tudósok szerint mocsárgáz tévesztette meg az UFO-t észlelőket, a Vatikán Jézus visszatérését vizionálja, Hollywood rögtön a megfilmesítés jogait követeli, Ronald Reagan (aki ekkoriban Kalifornia kormányzójaként politizált) pedig a komcsikra gyanakszik. Mindezt kellemes country rock formába öntve tálalják nekünk, a dal a csapat legnépszerűbb tételei közé tartozik.
Sammy Hagar – Silver Lights (1976)
A Montrose és a Van Halen egykori énekese még a Montrose-hoz való 1973-as csatlakozása előtt élt át egy földönkívüliekkel kapcsolatos döbbenetes élményt, és ennek tulajdonítja azt is, hogy sztárrá vált. Állítása szerint az ágyában heverészett San Bernardinó-i otthonában, amikor egyszer csak azt érezte, hogy a lakásával szemközti dombon álló két fura pasas "besugarazza" az agyát, ezzel teljesen átalakítva azt. Az énekes-gitáros úgy véli, ez a bolygónkon titokban tevékenykedő idegen lények akciója volt, akik kísérleteztek rajta. Sammy mára akkora UFO-fanatikussá érett, mint a mi Pataky Attisunk, és egyformán merészeket nyilatkoznak a témában − azzal a különbséggel, hogy Sammy gyermekded lelkesedéssel és bájjal adja elő azt, amit magyar kollégája egészen máshogy. Hagar 1976-os Silver Lights című szólódalában a hozzánk látogatóba érkező UFO-k egy halom embert a fedélzetükre véve távoznak, a Földön maradók pedig folytatják marakodással terhelt életüket.
Styx – Come Sail Away (1977)
A progresszív rockot mindig Beatles-szintű dallamossággal keverő csapat 1977-ben, a The Grand Illusion című albumán állt elő a két eltérő részből felépülő Come Sail Away-jel: a lágy zongorás felvezető alatt Dennis DeYoung egy, a nyílt tengeren szomorúan sodródó kapitányról énekel, majd berobban az epikus második rész, amelyben felbukkan egy UFO, amelynek utasait a tengerészek először angyaloknak hiszik. Aztán átszállnak a hajójukból a földönkívüliek űrhajójába, és elszállnak velük egy barátságosabb helyre. Sokan úgy gondolták a lemez megjelenését követően, hogy DeYoung UFO-hívő, ő azonban alaposan kiábrándította az ebben reménykedőket, amikor kijelentette, hogy csupán az motiválta a dal megírásakor, hogy végre összehozzon egy akkora slágert, ami az élvonalba juttatja a zenekarát. Sikerült neki, ugyanis a Come Sail Away lett az egyik legkedveltebb számuk, a The Grand Illusion pedig a legnépszerűbb albumuk (igen hamar elkelt belőle 5 millió).
Yes – Arriving UFO (1978)
A prog rock brit királyai sohasem idegenkedtek a furcsa témáktól, sőt a miszticizmustól és az ezotériától sem, így aztán nem meglepő, hogy ők is megírták a maguk UFO-s számát. A Tormato című 1978-as albumukon helyet kapó, éjszakai csészealj-észlelésről szóló Arriving UFO olyan, akár egy őrült sci-fi vígjáték betétdala, a hangzás és az effektek egyaránt azt sugallják, hogy a zenekar nem veszi véresen komolyan magát (noha a proggereket gyakran vádolják ezzel). Játékosan vidám hangulatú dal ez, természetesen az elmaradhatatlan komplexitással és a csapatra jellemző fülbemászó dallamokkal. Ha elkészül valaha a Spielberg-féle Harmadik típusú találkozások pszichedelikus verziója, eme nóta tökéletesen megfelel majd főcímzenének.
Merrell Fankhauser – Calling From A Star (1978)  
Az alábbi dal szerzője és előadója a kaliforniai pszichedelikus rockmozgalom egyik főkolomposa, valamint Dick Dale mellett a szörfös rock műfajának élgitárosa. Ha épp nem zenél, amatőr archeológusként Mu elveszett kontinensének tárgyi emlékei után kutat, vagy UFO-jelenségekről olvas. 1978-ban jelent meg az UFO-hitet büszkén felvállaló, Calling From A Star című dala, amely több évtizedes karrierjének egyik legnagyobb sikerszáma lett. A fülbemászó nóta 2003-ban ismét rengetegszer hangzott el a kaliforniai rádiókban, ugyanis ezt játszották legtöbbször a Columbia űrrepülőgép katasztrófájában elhunytak emlékére. Fankhauser később a NASA-tól és a Fehér Háztól is köszönőlevelet kapott a dalért. (Az énekes-gitáros Maui című 1976-os lemezéről itt olvashatjátok kritikánkat, ide kattintva pedig vele készült angol nyelvű interjúnkat nyithatjátok meg.)
Billy Thorpe – Children Of The Sun (1979)
Ha egy ausztrál ősrockernek felteszik azt a kérdést, hogy melyik a legjelentősebb ausztrál rockzenekar, nagy valószínűséggel az AC/DC-t nevezi meg. Ha pedig azt kérdezik tőle, hogy ki a legjelentősebb ausztrál énekes és gitáros, akkor ugyanekkora valószínűséggel azt feleli majd, hogy Billy Thorpe (és Angus Young egyet fog érteni vele). Billy nem más ugyanis, mint az ausztrálok John Lennonja és Jimi Hendrixe egy személyben. Aztecs nevű zenekara a 60-as évek elején elsőként játszott beat-et a kenguruk földjén, és a Beatleshez hasonló módon kavarták fel az állóvizet: telt házas stadionbulijaikon révülten ordító tinilányok hada vett részt, akik után eldobált bugyik ezrei maradtak hátra a széksorok között. A 70-es évek elején Billy megnövesztette a haját és a szakállát, a zenekar kemény blues rockra váltott, és ennek a műfajnak is ők lettek a helyi istenségei. A 70-es évek közepétől kezdve az énekes-gitáros szólóban folytatta, egyik legambiciózusabb anyaga pedig az 1979-es Children Of The Sun volt, amelynek címadó tétele egy UFO-invázióról szól, amelynek során a nálunk jóval fejlettebb földönkívüliek elhozzák nekünk a nagybetűs TUDÁST. Hatalmas riffek és Billy utánozhatatlan, karcos macsó hangja gondoskodik róla, hogy felejthetetlen élményben legyen részünk.
Megadeth – Hangar 18 (1990)
Egyetlen UFO-s dallista sem lehet teljes a thrash metál alapbanda 1990-es remeklése nélkül, amelyhez hatásos videoklip is készült. A 18-as hangár az ohiói Wright-Patterson Légibázis területén található, és állítólag itt rejtegeti az amerikai kormány a lezuhant UFO-k roncsait és életben maradt "sofőrjeit", akikkel gyakran koncentrációs táborokba illő módon kísérleteznek. A szöveget Nick Menza dobos írta, akire a bázisról szóló könyvek és cikkek mellett a Hangar 18 című 1980-as (mellesleg kitűnő) játékfilm is hatott. 1992-ben a Rust In Peace című albumon szereplő dalt Grammy-díjra jelölték metál kategóriában, de vesztett a Metallicával szemben, ami Dave Mustaine gitáros-énekesnek különösen keserű pirula lehetett. A számnak a banda 2001-es The World Needs A Hero című lemezén jelent meg a folytatása: a Return To Hangar-ban az űrlények kitörnek a fogságból, és leszámolnak kínzóikkal.
Hawkwind – Alien I Am (1995)
A space rock műfajának koronázatlan brit királyai sem maradhatnak ki, bár ők inkább a filozofikus megközelítést kedvelik a szövegeikben, ritkán említik konkrétan az UFO-kat. 1995-ben jelent meg Alien 4 című albumuk, amelyet viszont végig a földönkívüliek ihlettek, és a turnéján mozgalmas színpadi show-val kápráztatták el a közönséget, amelynek keretében pantomimesek, táncosok és űrlényeknek öltözött delikvensek segítették elő a vizuális úton történő tudattágítást. Az Alien I Am szövege az idegen lényeket kíváncsi, de érzelemmentes, "túlfejlett" egyedeknek ábrázolja: a technikai tudásuk elképesztő, lelkileg viszont elsatnyultak.
David Bowie – Born In A UFO (2013)
A rocktörténelem egyik legnagyobb UFO-mániákusa kétségkívül David Bowie, a nagy átváltozóművész. Hatalmas slágerei közül több is "idegen" ihletésű (például a Loving The Alien), 1972-es, The Rise And Fall Of Ziggy Stardust And The Spiders From Mars című kultikus albuma szintén (rajta a megasiker Starman című dallal). 1976-ban ő alakította a Nicolas Roeg rendezte The Man Who Fell To Earth (A Földre pottyant férfi) című művészfilm főszerepét, a bolygónkon tanácstalanul tévelygő, emberi alakot öltött földönkívülit, akinek látásmódjával könnyen tudott azonosulni. Bowie megszállottan rajongott az összeesküvés-elméletekért, és saját bevallása szerint összesen hét alkalommal látott azonosítatlan repülő tárgyat. Mivel szerettem volna az UFO-s Bowie-témában valami újat mondani, direkt nem közismert "földönkívüli" nótáinak egyikére esett a választásom, hanem a 2013-as The Next Day című albumának remek bónuszdalára, amelynek címe önmagáért beszél.