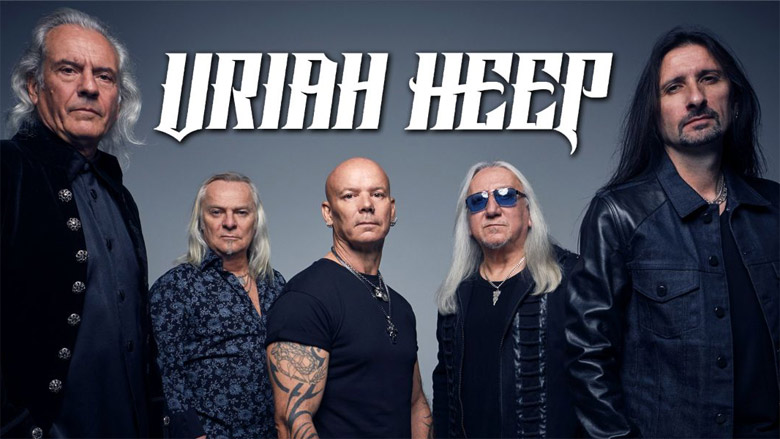 Noha a Whitesnake nemrég látogatott el ismét Magyarországra, a klasszikus hard rock ízek kedvelőit nem kényeztetik el különösebben manapság a hazai koncertszervezők, ezért is töltött el hatalmas lelkesedéssel a hír, hogy júliusban Mezőkövesden lép fel kamaszkorom (amely nem a 70-es, hanem a 90-es évekre esett!) egyik kedvenc zenekara, a Uriah Heep, ráadásul a belépés díjtalan. Elsőrangú hard rock performanszra vágytam, amit a helyszínen meg is kaptam.
Immár második alkalommal került sor Mezőkövesden arra, hogy egy igazi rocklegenda adott ingyenes koncertet az egybegyűlteknek: tavaly a skót rock éllovasának számító Nazareth tette tiszteletét a városban, 2019. július 21-én pedig a 70-es évek egyik legfontosabb hard rock alakulata, az idén 50 éves Uriah Heep. Az esemény sajnos nem indult zökkenőmentesen, ugyanis egy felhőszakadás következtében még délután eláztak a zenekar színpadra helyezett hangszerei, így a beígért este kilenc órás kezdésből nem lett semmi: egy órát csúszott a riff-hangverseny, eddigre ért ugyanis a helyszínre egy "beugró" Hammond-orgona. Ekkorra már szépen megtelt érdeklődőkkel a Kavicsos-tó Szabadidőpark, és kíváncsian vártuk a bulit, amelyről – a 2013-as Pecsa-béli Heep-koncertélményemből kiindulva – sejtettem, hogy igazi energiabomba lesz. Nem csalódtam ezúttal sem…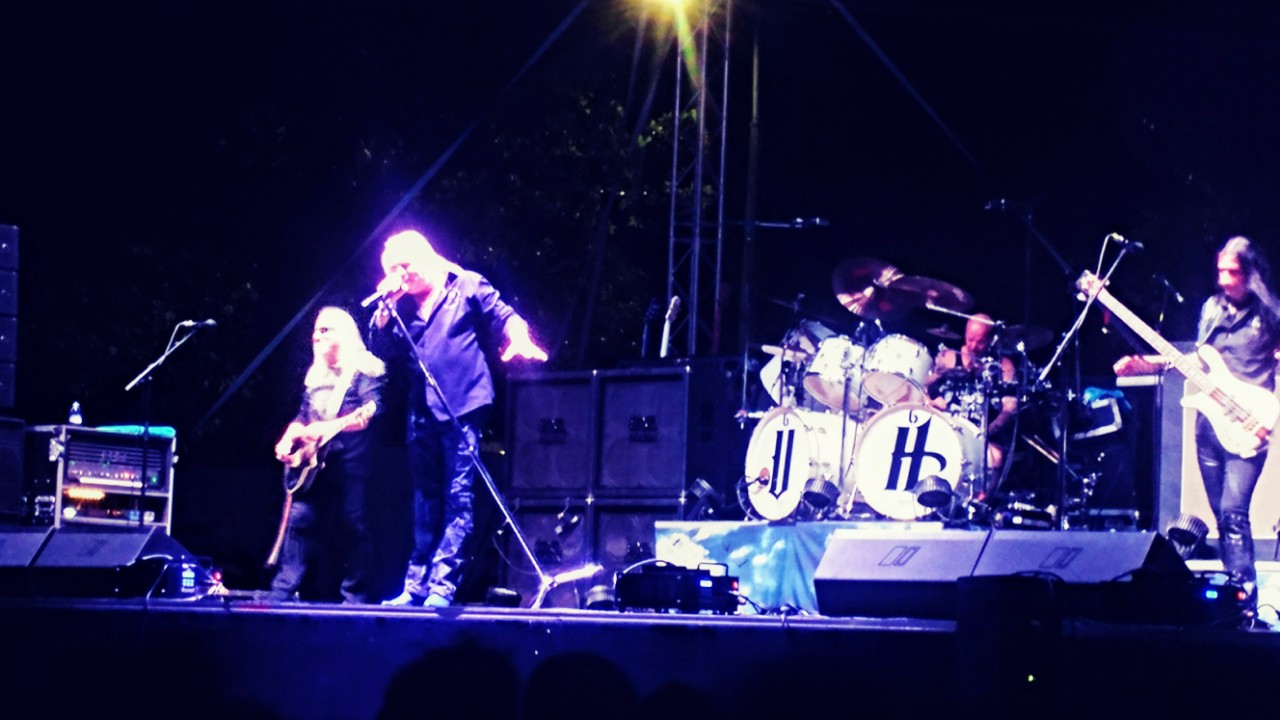 A zenekar a legutóbbi, 2018-ban kiadott stúdióalbumát (Living The Dream) nyitó Grazed By Heaven-nel robbant elénk, és azonnal feszes tempót diktált, ráadásul kitűnő hangzással. Ezt az 1982-es Abominog lemez közönségkedvence, a Too Scared To Run követte, majd jött még két dal az új lemezről (a Black Sabbath-súlyosságú címadó tétel és a lendületes Take Away My Soul), aztán a koncert végéig a kötelező régi slágerek váltották egymást. Nem tudom, hogy a csúszás miatt, vagy azért, mert a szokásosnál rövidebb fellépésre szerződtek, de másfél óráig sem tartott az öröm: a banda úgy 80-85 perc után megdicsőülten elhagyta a színpadot.
Gyakran hangoztatott közhely, hogy a Uriah Heep egy örök másodvonalas brigád, amely nem tudta felküzdeni magát az élbolyba a 70-es években, mivel olyan csapatokkal kellett versenyeznie a hallgatók kegyeiért, mint a Led Zeppelin, a Deep Purple vagy a Black Sabbath, és ezek színvonalát nem ütötte meg. Nos, az a helyzet, hogy bár a Heep jóval kevesebb embernek vált kedvencévé, mint a fent említett kollégák, ez nem a teljesítményüknek köszönhető, az ugyanis semmivel sem rosszabb az úgynevezett A-ligásokénál. Egyszerűen csupán arról van szó, hogy mindig is kevésbé szerencsések voltak náluk menedzsment és marketing terén.
1970-es első lemezétől kezdve a brit Uriah Heep meghatározó, sőt stílusteremtő zenekar volt, amely számos átalakuláson ment keresztül, ám a lényege, zenei magja (a gitáros Mick Box állandó jelenlétének köszönhetően) változatlan maradt: a különféle hatások csupán beépültek a Heep muzsikájába, de nem írták felül az alapkoncepciót. A banda 5 évtizedes eddig pályafutása alatt több jellegzetes orgánumú kiváló énekest is felvonultatott, akinek a neve mind egy-egy zenei korszakkal forrt össze. 1969-től 1976-ig David Byron látta el a frontemberi feladatot: teátrális színpadi viselkedése, öltözködése, valamint a csapat többszólamú opera-rock énektémái (Byron mellett a billentyűs Ken Hensley, a dobos Lee Kerslake és Mick Box is alaposan kivette a részét a vokálozásból) óriási hatást gyakoroltak a Queenre és Freddie Mercuryra.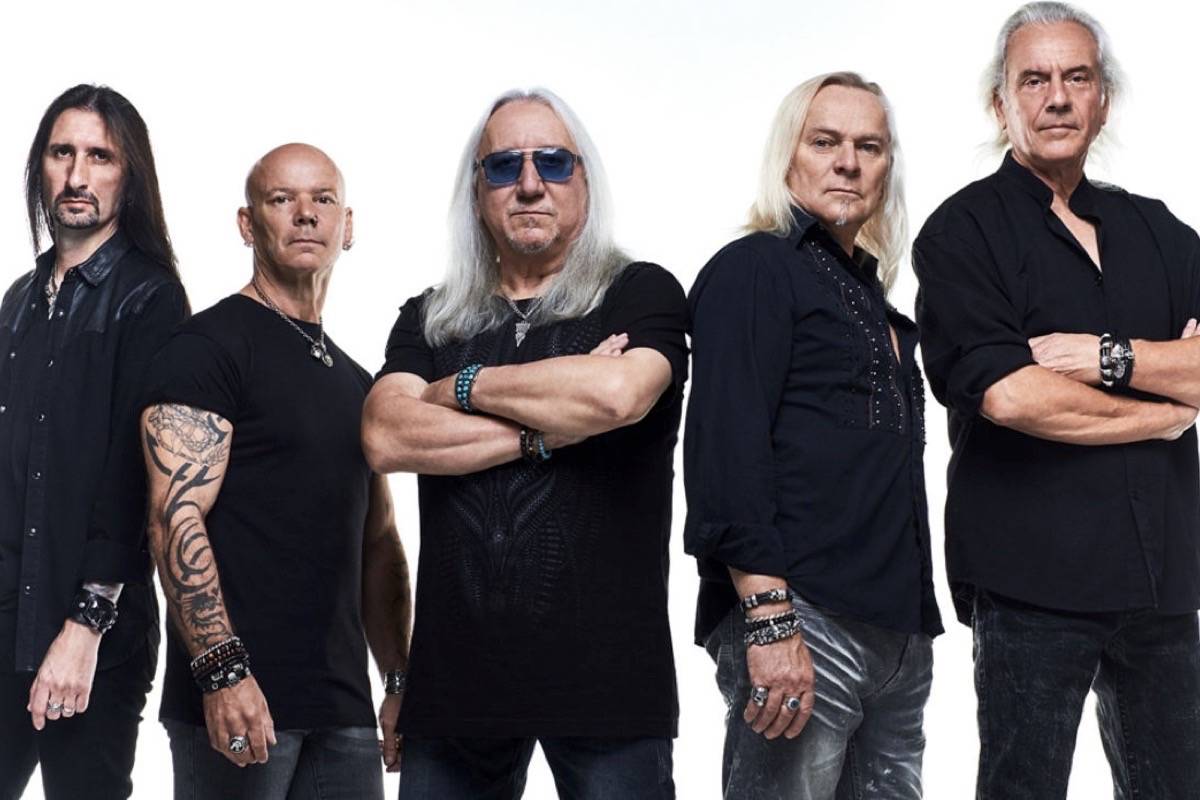 Byront az egyik legjobb progresszív hard rock zenekarból, a Lucifer's Friend-ből érkező John Lawton váltotta az énekesi poszton, akivel a csapat populárisabb, olykor a funkot és a diszkó-rockot is felvállaló irányba indult el, majd a John Slomannal és Peter Goalbyval készített lemezeken a 80-as évek elején fénykorát élő AOR műfajjal kísérletezett a zenekar. 1986-ban érkezett Goalby helyére a jelenlegi énekes, a kanadai Bernie Shaw, akivel eleinte az AOR vonalat vitték tovább, de végül fokozatosan visszatértek a vegytiszta hard rockhoz, amelynek ékes példáját nyújtotta tavalyi lehengerlő albumuk is. Nem elhanyagolható tény az sem, hogy míg a 70-es években a billentyűs-énekes Ken Hensley volt a Heep fő dalszerzője, mára tökéletesen átvette a szerepkörét Box és az 1986 óta tag Phil Lanzon billentyűs összeszokott párosa, ők is ontják magukból a fülbemászó melódiákkal megfejelt izmos rockot és a potenciális slágereket (amelyekből csakis a rádiós szerkesztők szűklátókörűsége miatt nem lesz sláger).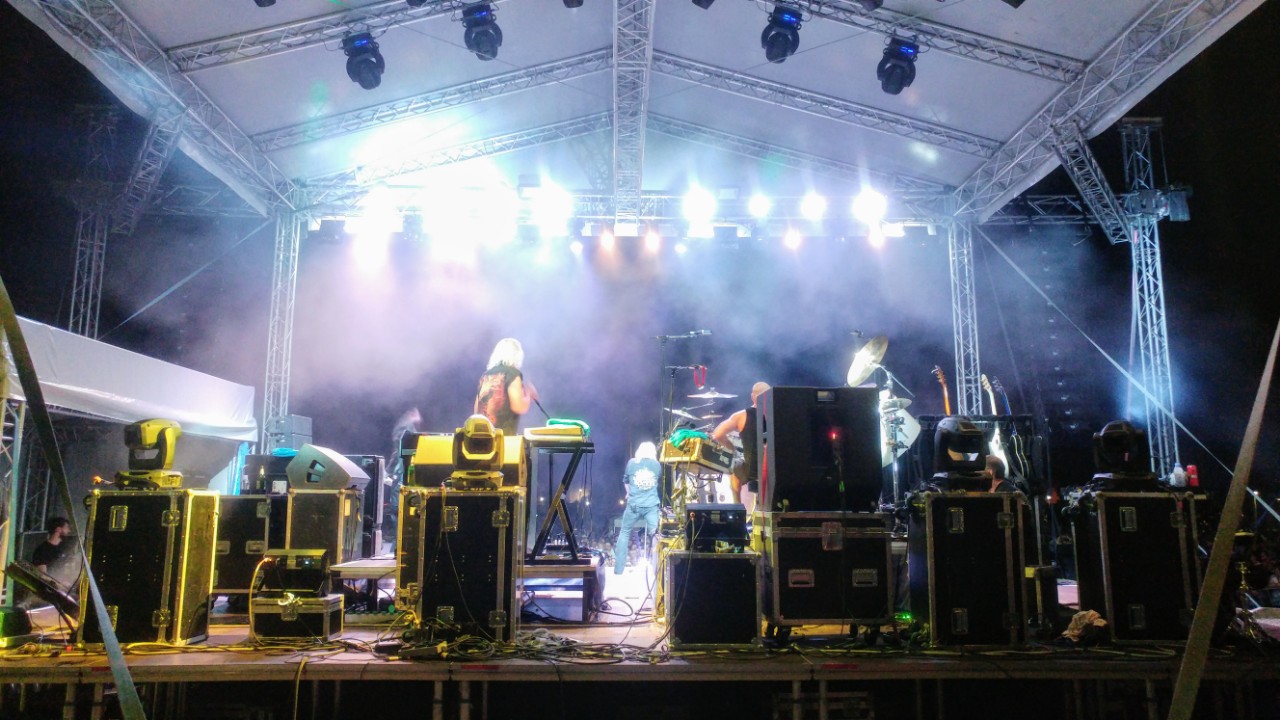 Mezőkövesden egy erőteljes, a fiatalokat megszégyenítő életerővel ügyködő Uriah Heep tette le a névjegyét egy rövidsége ellenére is teljes értékű koncerttel. Bernie Shaw ezer közül is rögtön felismerhető hangján már érezni az évek múlását (aki fénykorában akarja hallani, az 1995-ös Sea Of Light Heep-lemezt tegye fel, méghozzá jó sokszor), viszont még így is elsőrangúan énekel, kinyomja a magasakat, és frontemberként olyan vitalitás árad belőle, ami itthon sajnos – évjárattól függetlenül – senkiből (részben ez az oka annak, hogy nem tudunk kitermelni egy nemzetközi szinten is megkerülhetetlen tényezővé előlépő hard rock zenekart). Phil Lanzon a lehető legprofibban dolgozta meg a Hammond-orgonát, amiből a legszebb retro hangzásokat csalta elő, a súlyos beteg Lee Kerslake helyét 2007-ben átvevő Russell Gilbrook pedig úgy csépelte a szerelését, hogy az ember már attól leizzadt vele együtt, hogy nézte őt. Láttam már pár keményen odasózó dobost, de olyan kíméletlent, mint ez az 55 éves úriember, még soha.
A Uriah Heep esetében mindig is sarkalatos pontnak számított a basszusgitáros személye, ugyanis azon bandák közé tartoznak (például a Deep Purple-lel ellentétben), ahol a basszus nem a hangképben megbújva szolgáltatja a megbízható és pontos alapot, hanem kiemelkedik belőle, valamint igencsak technikás is. A méltán legendás elődök (Gary Thain és Trevor Bolder) helyén 2013 óta álló, a Zodiac Mindwarp And The Love Reaction-ből megörökölt Davey Rimmer elképesztő finomsággal és őserővel szólaltatta meg a témákat, a saját egyéniségével is átitatva őket. Roppant intelligensen muzsikáló, nagy valószínűséggel Geddy Lee-kúrán (is) edződött tettestárshoz jutott leigazolásával a Heep.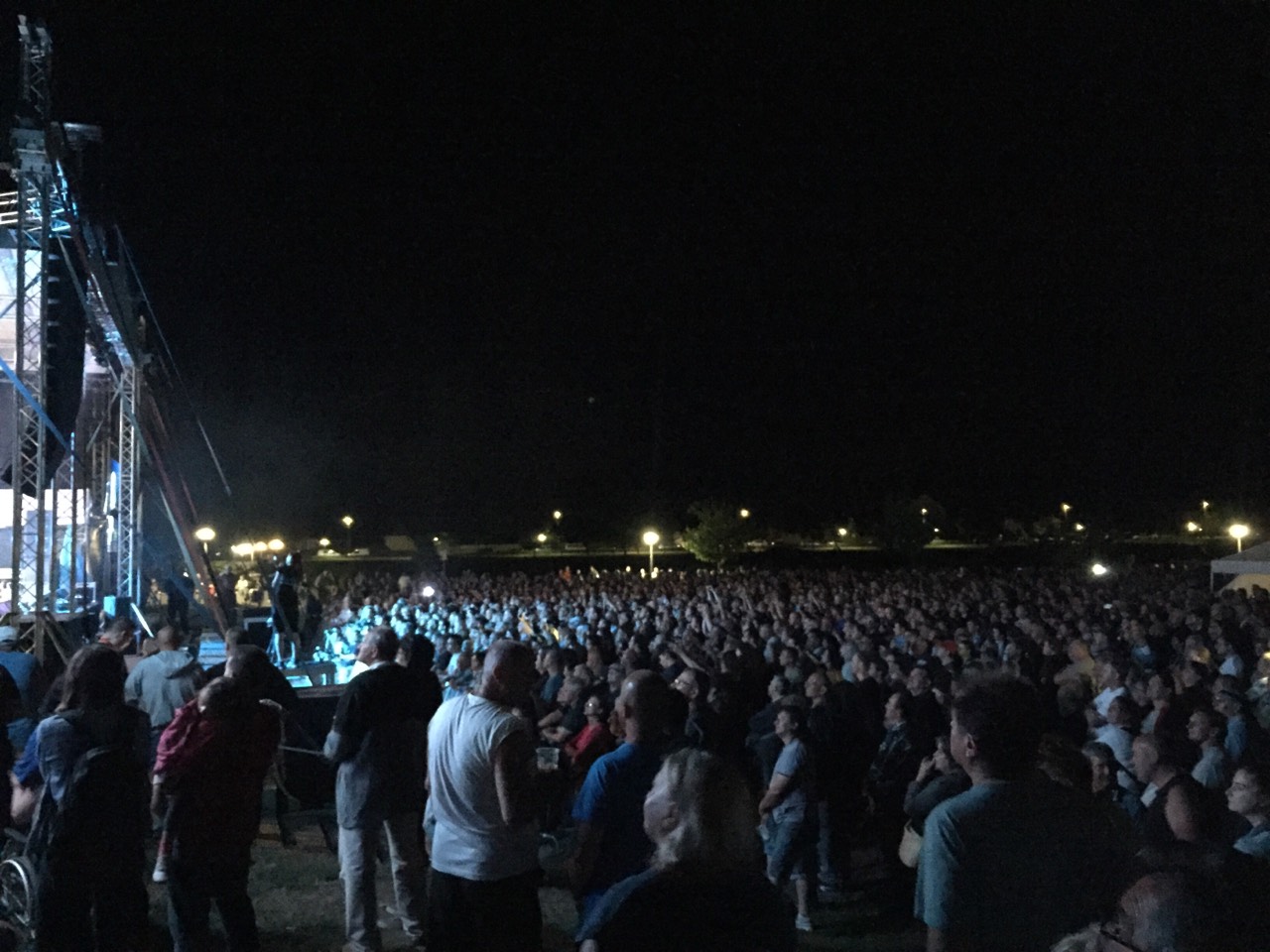 A kiváló egyéni teljesítmények mellett azért marad emlékezetes számomra ez a Uriah Heep-koncert, mert egy olyan csapatot láthattam és hallhattam, amelynek a tagjait nem csak az köti össze, hogy remekül egymásra tudnak hangolódni zeneileg, hanem a barátság is. Minden színpadi gesztusuk igazi összetartozásról árulkodott, és a számok közbeni jammelések sem elsősorban azért történtek, hogy valamelyik zenész megmutassa, mekkora hangszeres zseni, hanem mert Heep-ék élvezik az együtt kivitelezett jammelést, és kész. Egy olyan világban, ahol a legtöbb nagy zenekar általában puszta üzleti vállalkozásként működik, amelyet egymást gyakran nem is szívlelő emberek üzemeltetnek egy közös cél érdekében, akik között minimális a színpadi interakció, vérpezsdítő és felemelő érzés fül- és szemtanújává válni annak, mennyire szeretnek együtt alkotni és létezni a Uriah Heep muzsikusai. Amikor a tagok bemutatásakor Bernie Shaw a legjobb barátjának nevezte Mick Boxot (akit többször át is ölelt a koncert során), teljesen nyilvánvaló volt, hogy nem afféle szappanoperás hamis érzelgősséget kapunk a show részeként, hanem a színtiszta valóságot. Mellesleg úgy áradt folyamatosan a rocksztárság a Heep legénységének pórusaiból, hogy nem párosult fennhéjázással, a közönségét tisztelő és imádó társaság benyomását keltették. Így aztán új értelmet nyert immár kultikus első albumuk címe: Very 'eavy, Very 'umble… Nagyon kemény, nagyon szerény… Abszolút illik rájuk mindkét jelző.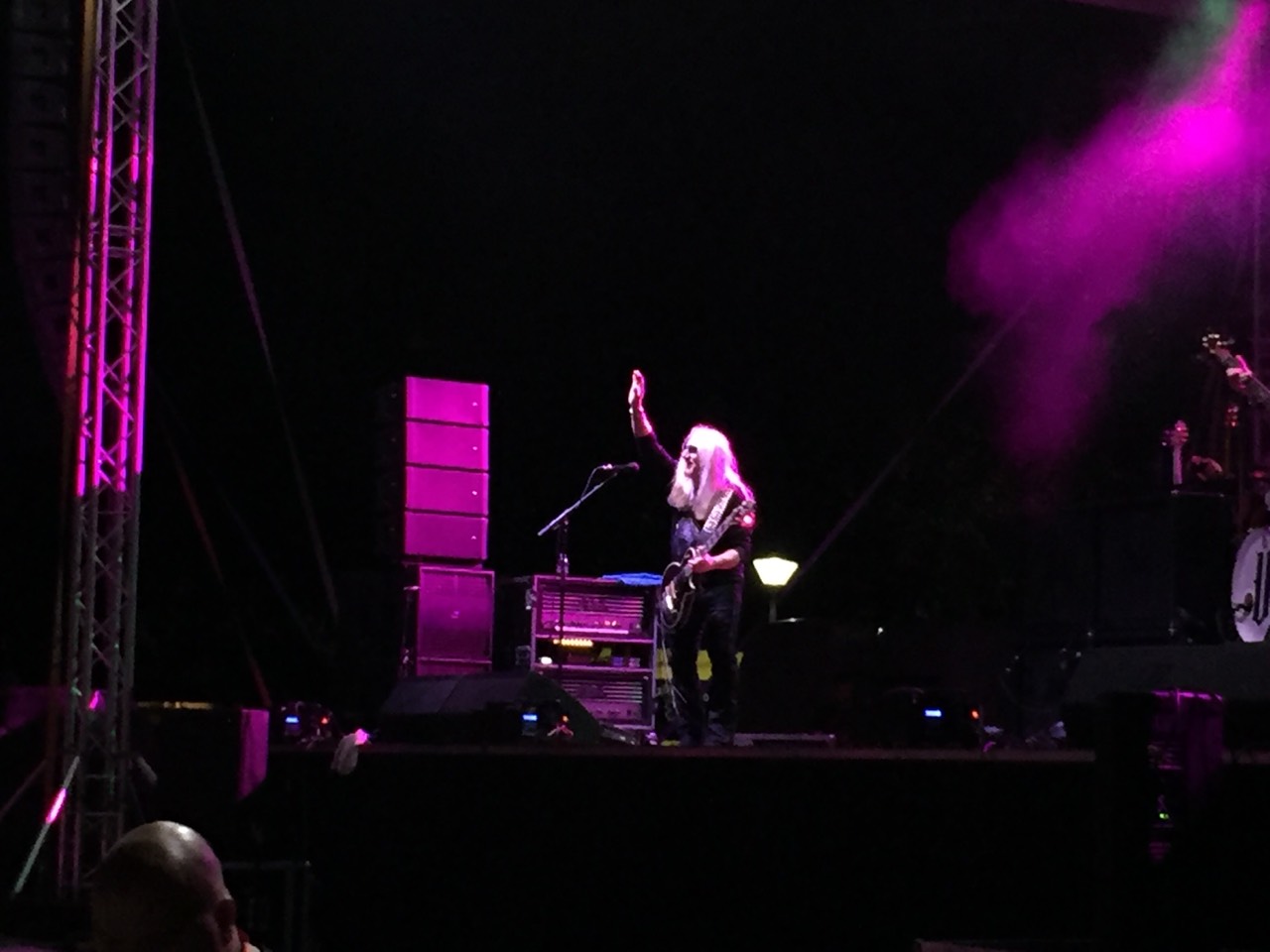 Amellett sem mehetünk el szó nélkül, hogy a túlnyomórészt közismert és a banda által már jócskán agyonjátszott slágerekből álló műsort úgy nyomta el a csapat, mintha mindegyik dal a friss albumukról származna, és olyan lelkesedéssel vetették magukat a megszólaltatásukba, hogy azt kizárólag irigylésre méltónak lehet nevezni. Tökéletes ellentétét képezték így a rutinból zenélő, megfáradt híres alakulatoknak, de azoknak is, akik lendületes profizmussal és természetes derűvel ugyan, de mégiscsak kissé unottan prezentálják a milliomodszor előadott szokásos repertoárt. Egy szó mint száz, a Uriah Heep ismét fantasztikus hangulatú koncertet adott Magyarországon. Csak remélni tudom, hogy legközelebb bátrabban szemezgetnek az életművükből egy lényegesen hosszabb buli keretében, mert a lemezeiken számos olyan alig játszott pazar dal található, amely legalább annyi figyelmet érdemelne, mint a fő slágereik. Annyit tennék még hozzá, hogy a 35 év alattiaknak sem ártana felfedezniük a zenekart (igen csekély számban képviseltették magukat az egyébként szép nézőmennyiséget vonzó eseményen), mivel a hard rock "Nagy Öregjei" közül a Heep játszik a legfiatalosabban.
A koncerten elhangzott számok: 
Grazed By Heaven
Too Scared To Run
Living The Dream
Take Away My Soul
Rainbow Demon
Stealin'
Gypsy
Look At Yourself
July Morning
Lady In Black
Sunrise (ráadás)
Easy Livin' (ráadás)