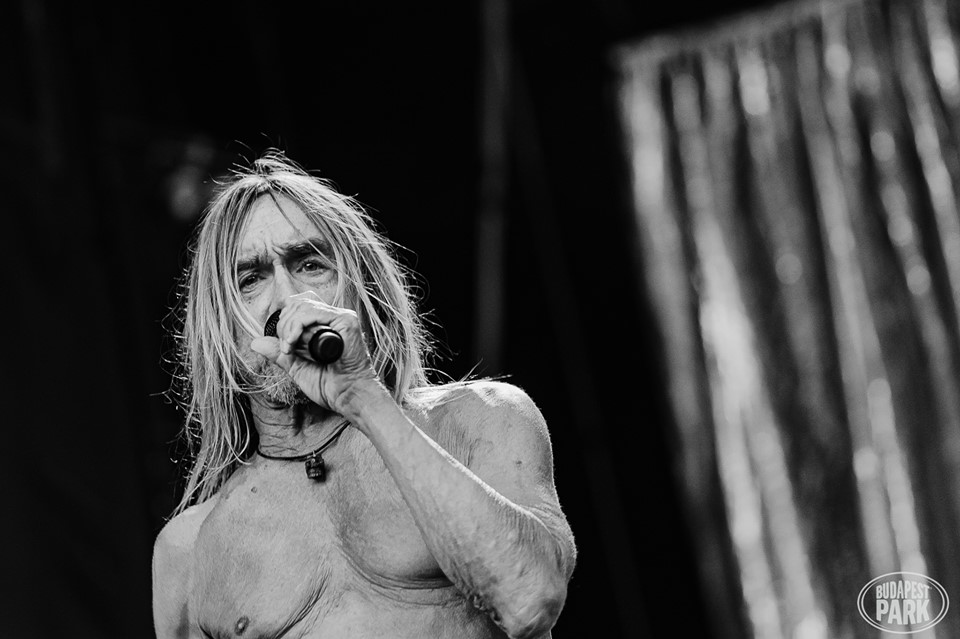 fotó: Budapest Park - Lengyel Balázs

Várjatok! Egy pillanat!...Bakancslista... bakancslista... áhh megvan... azt mondja hogy... Iggy Pop – PIPA! Bizonyára mindenkinek szerepel olyan rock ikon a listáján, akit egyszer az életben szeretne látni élőben koncertezni. Nos a Budapest Park és a New Beat szervezésének köszönhetően július 24-én, szerdán ismét Magyarországon köszönthettük a punk keresztapját, Iggy Pop-ot, én pedig kaptam az alkalmon, hogy egy újabb nevet pipáljak ki hőseim listájáról.
Az este hazai Black Bartók előadásával indult, a lemenő nap fényében léptek a Park színpadjára a srácok. Alapszabályom, hogy nem nézek utána az előzenekaroknak, ezt most is így tettem, így aztán igazán kellemes élményt nyújtott a csapat előadása. Zenéjük meglepően egyedi, melynek alapját egy angolszász indie-garage stílus adja, ám a samplerrel megfűszerezett zene teljesen egyedi világot kölcsönöz a Black Bartók dalainak. Az ének amúgy abszolút The Clash! Joe Strummer reinkarnáció!

A srácok le sem tagadhatnák, hogy Iggy Pop rajongók, többször tapsoltatták az ikonikus rocksztárt, mint saját magukat. A zene rendesen átjött egyedi gitár-sound, feszes, igencsak pörgős, pontos ritmusszekció. Műsorukban olyan dalaik csendültek fel, mint a Black Friday, a Beelzebub Blues, vagy a műsort záró I Wanna Be Your Cat.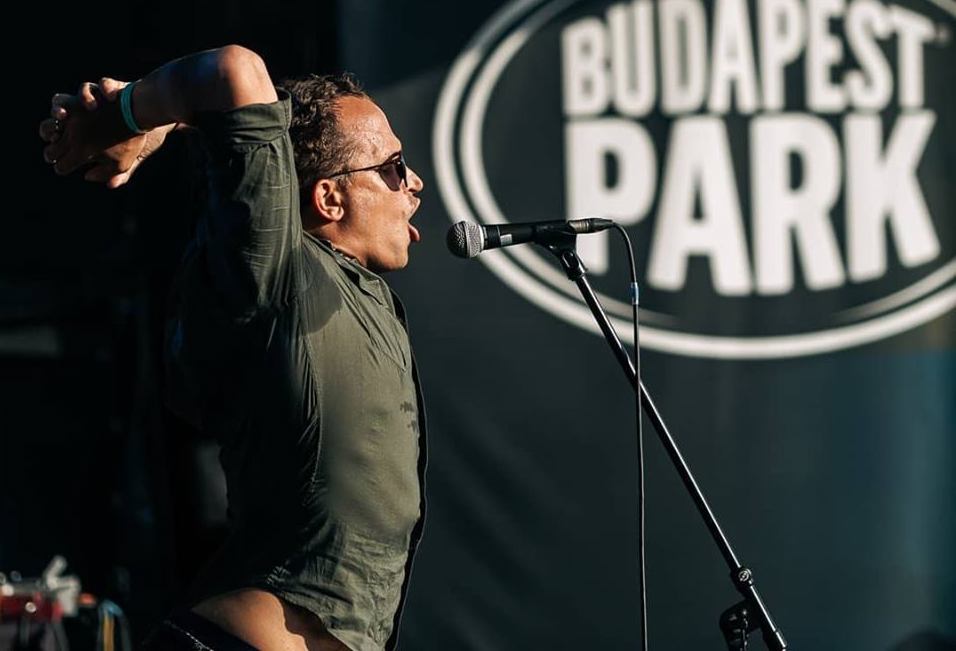 fotó: Budapest Park - Lengyel Balázs
A fővárosi csapatot követte az amerikai Cruel Hearts Club, ami pont megfelelő időszak volt felkészülni (sörvásárlás) Iggy Pop-ra. Sajnos a csaj-trio zenéje a lehető legtávolabb áll tőlem, az egyediség hiánya és a néholi intonációs problémák igencsak felejthetővé tették számomra ezt az előadást. De tegyük hozzá, szépek voltak a lányok!
Nem sokkal 20:30 előtt aztán kutyavonyítások közepette lendült be a backstageből az élő legenda, Iggy Pop és zendített rá csapatával korai zenekara, a Stooges talán legnagyobb slágerére, az I Wanna Be Your Dog-ra. A 72 éves Iggy és csapata rendesen belecsapott a lecsóba, egy I Wanna Be Your Dog – Gimmie Danger – The Passenger – Lust For Life kvartettel köszönt be Budapestre.     
Már ekkor érezni lehetett, hogy az amúgy komplexnek korántsem nevezhető zenét milyen kellemesen színezik a fúvós hangszerek. A korai Stooges daloknak is teljesen jól állt ez  a fajta új fűszer. Szóló dalokat Stooges feldolgozások követtek, T.V. Eye, Search and Destroy, Some Weird Sin, Mass Production, és két feldolgozás is felkerült a setlistre, barátja, David Bowie 72-es slágerét, a  The Jean Genie-t adta elő nekünk, a ráadásban pedig a The Dee Jays dalával, a Real Wild Child-dal zárta közel 100 perces előadását. Levonulása előtt azért néhányszor keményen földhöz vágta a mikrofonállványt, majd némi meglepettséggel konstatálta, hogy eltűnt mögűle a zenekar, majd ő is elvonult a csillagfényes pesti éjszakába.
2019-ben adott egy rocksztár. Egy olyan rockikon, aki a stílus hőskora óta aktív, több mint fél évszázada rója a színpadokat és ma, 72 évesen, a kor jele maximum csak külsőleg látszik rajta. A heroinizomzat konzervál. A viccet félretéve azonban talán az év legnagyobb eseményének adott otthont a Budapest Park múlt szerdán, Iggy pedig a szokásos lazasággal, lezserséggel nyomta le bő másfél órás műsorát, ami után én csak köszönetet tudok mondani, hogy részese lehettem.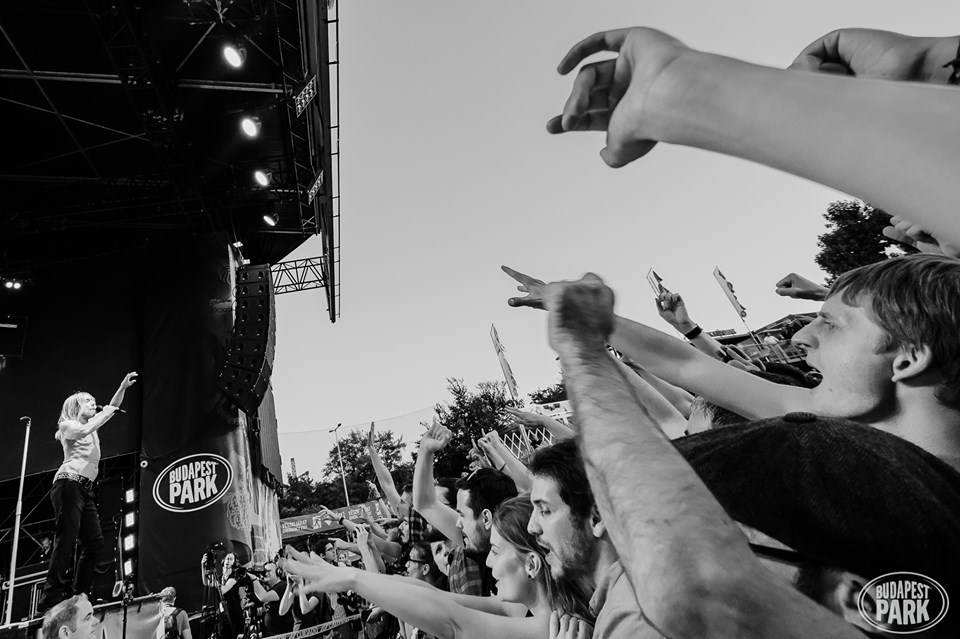 fotó: Budapest Park - Lengyel Balázs

Iggy Pop @ Budapest Park: 2019.07.24 - setlist
I Wanna Be Your Dog (The Stooges song)
Gimme Danger (Iggy and The Stooges song)
The Passenger
Lust for Life
Skull Ring
I'm Sick of You (Iggy and The Stooges song)
Some Weird Sin
Repo Man
Search and Destroy (Iggy and The Stooges song)
T.V. Eye (The Stooges song)
Mass Production
The Jean Genie (David Bowie cover)
1969 (The Stooges song)
No Fun (The Stooges song)
Down on the Street (The Stooges song)
Real Cool Time (The Stooges song)
Nightclubbing
Sixteen
Five Foot One
Real Wild Child (Wild One) (The Dee Jays cover)