Steve Hackett egyike a legfontosabb művészeknek, akik valaha felbukkantak a progresszív rock panteonjában. Részben az ő különleges és egyedi játékstílusának köszönhető, hogy a Genesis világhírűvé vált, és akárcsak egykori társai, Phil Collins és Peter Gabriel, ő is sikeres szólókarriert épített fel magának, elképesztő termékenységről téve tanúbizonyságot. A rendkívül szerény és közvetlen muzsikussal július 30-án, a Budapest Jazz Clubban tartott teltházas koncertjei (kettőt is adott aznap este egymás után a Djabével) előtt beszélgettem.
Köszönjük, hogy időt szakítottál erre az interjúra, Steve. Óriási megtiszteltetés ez az Old Time Rock and Roll Magazine számára. Kezdjük a korai évekkel… Több alkalommal is azt nyilatkoztad, hogy a Beatles Sgt. Pepper's Lonely Hearts Club Band című albuma óriási hatást gyakorolt nem csupán a Genesisre, de az egész brit progresszív mozgalomra.
Az én esetemben mindez sokkal korábban kezdődött, még az 50-es években. 1950-ben születtem, tehát jövőre leszek 70. Gyerekként és kamaszként áhítattal hallgattam a brit rádióadást. Csak két állomás létezett akkoriban, és csupán az egyik sugárzott zenét. Viszont ezen az egy adón jól megfért egymás mellett a rock and roll, a jazz és a klasszikus zene, Elvis, Glenn Miller és Gluck. Rengeteg különféle műfajú zenét hallhattunk ugyanott, és ez szélesítette a látókörünket. A Sgt. Pepper album színkavalkádja olyan, mintha Chuck Berry és George Formby stílusából keverték volna ki. Formby híres brit énekes és komikus volt, és az ő említésével arra akartam utalni, hogy a Beatles lemeze is rengeteg színpadias, varieté, revü jellegű megoldást tartalmazott, de mellette blues alapú rockot is. Ráadásul szimfonikus zenekart is bevetettek, sőt indiai hatásokat. Összességében nem maga a zenéjük hatott ránk igazán, hanem az, ahogy hangszerelték.
Állítólag a zseniális amerikai komponista, Jimmy Webb munkássága is meghatározó volt a Genesis szempontjából.
Amikor Peter Gabrielt, Tony Bankset, engem és Phil Collinst külön-külön megkérdeztek, hogy melyik a kedvenc dalunk, mind a MacArthur Parkot választottuk, amelyet Jimmy Webb a híres színész, Richard Harris szólólemezére írt. És közben egyikünk sem tudta, a többiek melyik számot nevezték meg.
Jon Anderson, a Yes énekese szintén Webbre hivatkozott, amikor arról beszélt, miképp találták meg a közös hangot Chris Squire-ral: a 5th Dimension vokálegyüttes The Magic Garden című albuma révén, amelyért mindketten rajongtak, és amit szintén Jimmy Webb írt.
Ugye milyen érdekes? Jimmy Webb nagyon nagy hatást gyakorolt a brit rockzenészekre. Egyrészt rengeteg brit klasszikus zenét hallgatott, például Vaughan Williams szerzeményeit, másrészt sok Beatlest. A templomi zenék terén is otthonosan mozgott, és szerette szétfeszíteni a harmóniamenetek kereteit.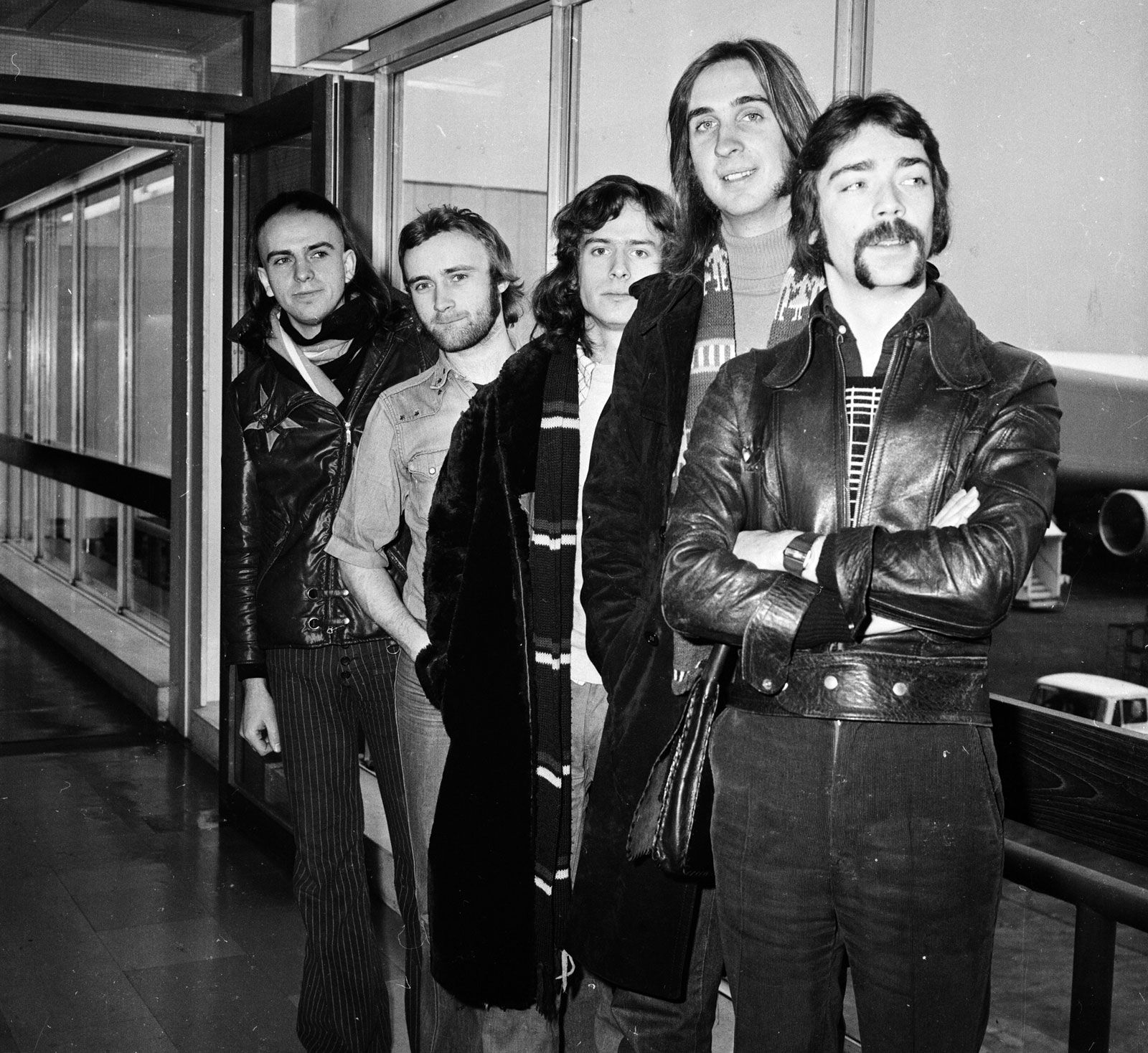 Te vagy az egyetlen a Genesis egykori tagjai közül, aki a mai napig játssza az együttes progresszív dalait.
Ebben az évben körülbelül 150 koncertem van a saját zenekarommal, a Genesis teljes Selling England By The Pound albumát előadjuk, amely 1973-ban jelent meg. Ha jól emlékszem, John Lennon pont ebben az évben jelentette ki egy újságírónak, hogy szereti a zenénket. Ezt nagyon hízelgőnek és egyben megtisztelőnek éreztük. Olyan zenét játszottunk, ami a kísérletezésen alapult, főleg hosszú kompozíciókban gondolkodtunk, sok instrumentális résszel, igazi "MTV előtti" módon. Egyszóval inkább a MacArthur Park stílusához közel állót alkottunk, mintsem a mai mainstream zenékkel rokoníthatót.
Teljes hosszúságukban adták le a rádiók a 70-es években a Genesis-dalokat?
Nem, kizárólag az amerikai főiskolai amatőr rádiók "vetemedtek" ilyesmire. Az egyetlen dalunk, amely végig lemehetett a brit rádiókban az I Know What I Like (In Your Wardrobe) volt pont a Selling England By The Pound-ról. Tehát volt egy rádióslágerünk erről a lemezről, a többi szerzeményünket viszont túl hosszúnak találták a műsorszerkesztők. Hajlamos vagyok úgy gondolni a Genesis számaira, mint olyan filmekre, amelyek nem a szemnek, hanem a fülnek szólnak. Mind egy-egy történetet mesélnek el, és nagyon más világban keletkeztek, mint amilyenben most élünk. A videokorszak térhódítása után születettek egyre jobban eltávolodtak a zenétől, jóval rövidebb időn át képesek koncentrálni valamire, mint a szüleik generációja. Sokakból valószínűleg hiányzik a képesség, hogy elmélyedjenek az olyan zenékben, mint Csajkovszkijé, Muszorgszkijé, Miles Davisé vagy a Genesisé. Engem mindenestre továbbra is az foglalkoztat, ami a 60-as években: hogyan keverhetjük egymással minél izgalmasabban a stílusokat. Akkoriban igen fontos volt számunkra, hogy meglepetést okozzunk a hallgatóinknak, egy dal egyik pillanatról a másikra teljesen új irányt vehetett. A mai zenék többségéből ez hiányzik, egy bizonyos egyszerű ritmussal kezdődnek, és az megy végig. Abszolút mértékben a lüktetésen van a hangsúly, az egyedi struktúrák létrehozására nem kerül sor.
Igaz, hogy a te javaslatodra kezdte el használni Tony Banks a Genesis egyik védjegyszerű hangszerét, a mellotront?
Így van, ragaszkodtam hozzá, hogy szerezzünk egyet, ahogy ahhoz is, hogy minél több szintetizátorhangzást emeljünk be a muzsikánkba. A különféle billentyűs hangszereknek köszönhetően akár egy egész szimfonikus zenekar vagy egy kórus hangzását imitálni tudtuk. Az volt számomra az elsődleges, hogy szélesítsük a rock and roll horizontját.
Második szólóalbumod, az 1978-as Please Don't Touch a kedvenceim közé tartozik, pláne mivel két olyan prog rocksztár is felbukkan rajta, akiket imádok: Steve Walsh és Phil Ehart a Kansasből.
Steve-vel és Phillel Angliában találkoztam, épp átruccantak hozzánk a Carry On My Wayward Son című megaslágerük sikerét követően. Steve fantasztikus, lélegzetelállítóan jó énekes volt, gyönyörű tiszta orgánummal és óriási hangterjedelemmel. Phil pedig nem csupán a csapat dobosaként tette, amit tennie kellett, hanem ő volt a Kansas vezetője, menedzsere és egyfajta mentora is. Csodás érzés volt velük dolgozni. Két dalt vettünk fel együtt, és a másodiknak, a Racing In A címűnek még a megírásába is belefolytak. Olyan hangzást akartam teremteni a Please Don't Touch-on, amely az amerikai és az angol (avagy európai) rock ötvözetét nyújtja. Richie Havens, az 1969-es Woodstocki Fesztivált nyitó fekete folkénekes is szerepel rajta. A Genesis minden tagja nagy rajongója Richie művészetének, aki később Peter Gabriellel is dolgozott. Egyedi, különleges figura volt, színészkedett is, Othellóként és egyéb színpadi szerepekben tűnt fel. Melegszívű embernek ismertem meg, aki a szó legnemesebb értelmében és megérdemelten volt sztár.
2012-ben a Yes ikonikus basszusgitárosával, Chris Squire-ral adtál ki közös lemezt A Life Within A Day címmel. Hogy sikerült összehozni ezt a minden prog rocker számára álomszerű projektet?
Chris egy karácsonyi lemezen dolgozott egy kórussal, és megkért, hogy gitározzak rajta. Igent mondtam, aztán két héten át megállás nélkül dolgoztam, mert szorított a határidő. Ezt követően hoztuk létre a Squackett projektet, ami remekül sült el. Mindketten imádjuk a többrétegű énektémákat, és ezekből jó sok akad a lemezen. Azt hiszem, Chris, aki sajnos már nincs köztünk, olykor kapcsolatba lép velem és Jo-val a túlvilágról. Egyszer csak sűrű fűszag csapja meg az orrunkat, és tudjuk, hogy Chris épp bejelentkezik nálunk. Ha-ha… Néha azon kapom magam, hogy fennhangon kérdezgetem: Hogy tetszik ez vagy az a basszustéma az új lemezemen, Chris? Igazi egyéniség volt és mestere a hangszerének. A legutóbbi stúdióalbumomon van egy Under The Eye Of The Sun című tétel, amely egy az egyben tisztelgés Chris előtt: gyors Rickenbacker basszusfutamok hallhatóak benne a kiváló Jonas Reingold jóvoltából. A feleségem testvére, Amanda és én énekeljük, és együtt egészen hasonlóan szólunk, mint Jon Anderson. Ha-ha… Van a Yes-ben valami, ami különösen megfog: a lehengerlő, adrenalin-löketes sebességük, a gyors, pontos váltásaik. Olyan őket hallgatni, mint egy tökéletes motort, amit magas sebességbe kapcsoltak. Steve Howe-val, a Yes gitárosával is dolgoztam, a GTR nevű csapatot együtt alapítottuk. Sőt a Yes első gitárosa, Peter Banks Two Sides Of Peter Banks című albumán is szerepelek, John Wetton, Jan Akkerman és Phil Collins társaságában.
Legutóbbi stúdióalbumod címe At The Edge Of Light. Milyen jelentéssel bír számodra ez a cím?
Miközben írtuk, a világban zajló baljós eseményekre, krízisekre gondoltunk. Ennek ellenére ez egy pozitív hangulatú anyag, óvatos optimizmus hatja át minden dalát. Egy csomó olyan dolog küszöbén állunk, ami aggodalommal tölt el. A szélsőségesek mindenhol teret nyernek, és nehéz megmondani, hová fog vezetni mindez. A bolygónk sorsa és a klímaváltozás is aggaszt.
Előző szólóalbumod, a The Night Siren sötétebb hangvételű, és olyan szövegtémák is felbukkannak rajta, mint a migrációs válság.
Magam is menekültek leszármazottja vagyok, a családom több mint 100 évvel ezelőtt Lengyelországból települt át Nagy-Britanniába. Gyakran mondom a közönségnek a koncertjeimen, hogy amennyiben annak idején nem engedik be a felmenőimet, most nem állhatnék előttük a színpadon. Sajnos úgy vettem észre, hogy a mai világ gazdasági szempontból hátrányosnak tartja az együttérzést. Úgy gondolom, hogy bár mindannyian individuumok vagyunk, bizonyos értelemben mind összetartozunk. A zene nem csupán energiát kell adjon nekünk, hanem gyógyítania is kell a lelket. Minden, amit alkotok, alapvetően a megbékélés üzenetét hordozza. Ilyen értelemben tehát nem mondtam búcsút azoknak az eszméknek, amiket a 60-as évektől, még a Genesishez való csatlakozásomat megelőző időktől kezdve vallok.
Hogyan kerültél kapcsolatba a kiváló magyar prog zenekarral, a Djabével?
Égerházi Attila, a Djabe vezéregyénisége és a Gramy Records forgalmazták a kiadványaimat Magyarországon. Attila később jó barátommá vált, valamint promóterként koncerteket szervezett nekem nálatok. A Djabével való közös munka során számos remek zenészt ismertem meg. Például Kovács Ferit, a Djabe egyik ex-tagját, aki egyszerre trombitás és hegedűművész, ami nekünk, nyugatiaknak szinte elképzelhetetlen kombináció. Ráadásul profi sportoló, kitűnően kendózik! Találkoztam Vukán Györggyel, a legendás magyar jazz zongoristával is, akiről úgy hírlik, fogorvosnak szintén elsőrangú volt. Tapasztalatom szerint a magyarok sokoldalú, sok mindenben tehetséges emberek. Egyik legsokoldalúbb magyar barátom Pallai Péter, aki történelmet tanított az iskolában, ahová gyerekként jártam. Nagyon érdekes életet tudhat maga mögött: versenyszerűen sportolt, de emellett igazi entellektüel, az emberi jogok harcosa. Amikor felhagyott a tanítással, a BBC World Service-nél helyezkedett el és jazz műsorokat vezetett. Úgy tudom, Magyarországon is népszerűek voltak ezek az angliai műsorai.
Mik a teveid a közeljövőre vonatkozóan? Dolgozol-e már új lemezen?
Igen, már két, jobban mondva másfél dal megszületett demó formában. Rockos anyag várható megint, amilyen az előző három is volt.
Talán viccesnek fogod találni, ezért elmondom: Mivel folyton fekete ruhákat hordasz, a magyar rajongóid közül sokan a prog Johnny Casheként emlegetnek.
Ha-ha… Ez tetszik! Mindenesetre megígérem, hogy előbb-utóbb újra színpompás leszek.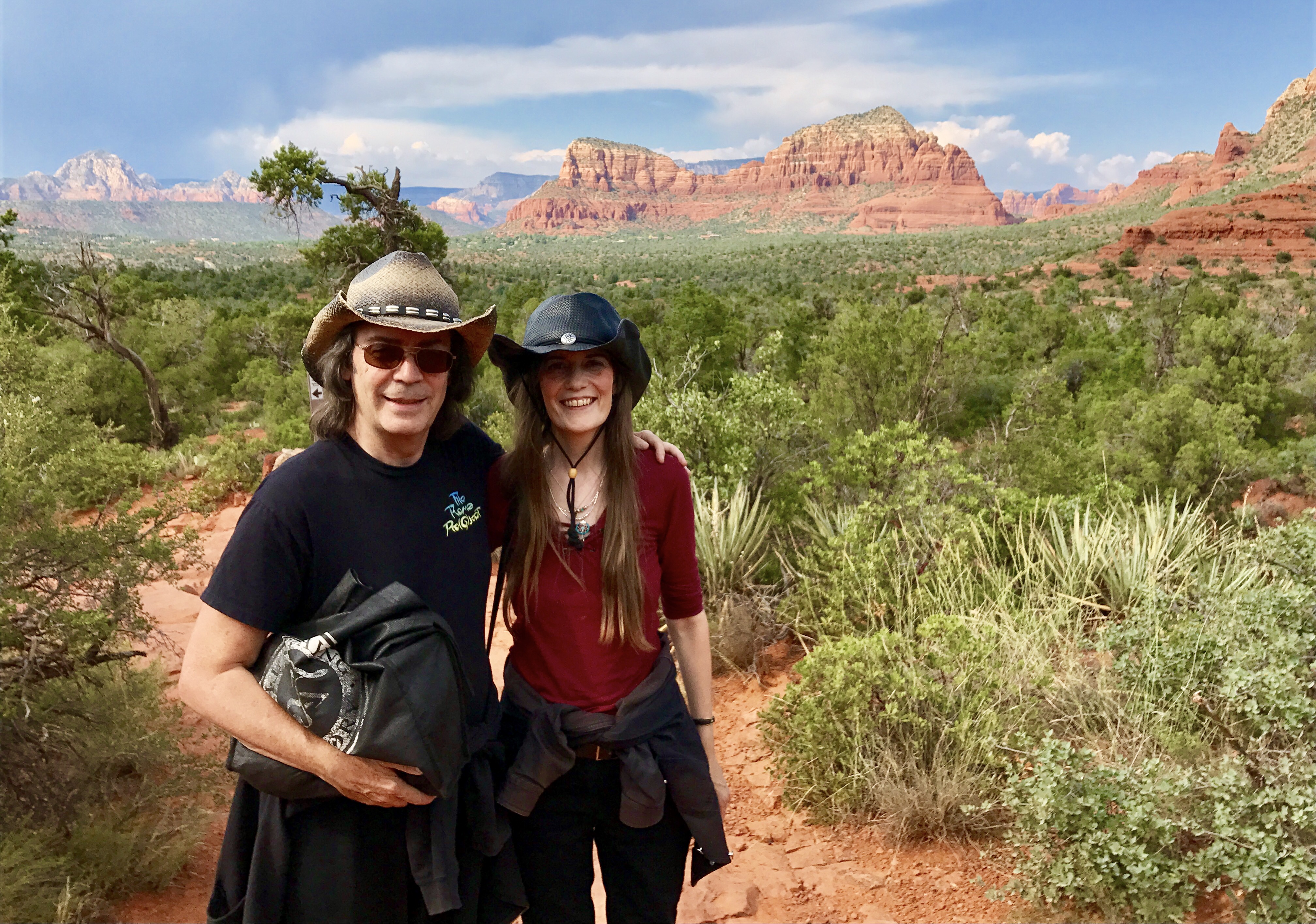 Jo Hackett 2011 óta felesége és ennél is hosszabb ideje szerzőtársa Steve-nek. Az egymás iránt maximálisan elkötelezett művészpár hölgytagjával a soundcheck közben nyílt alkalmam beszélgetni.
Nem csupán Steve szerelme vagy, hanem kiveszed a részed a dalszerzésből is. Mikor kezdődött a közös munka?
Komolyabban úgy 10 éve kezdtünk együttműködni, de ennél jóval hosszabb ideje tart a dolog. 1990-ben ismertem meg Steve-et. Egy filmeket gyártó produkciós cég alkalmazottja voltam, és ő készítette a zenét az egyik filmhez, ami nálunk jött ki. Megbeszéltük, milyen zenei motívumok passzolnának a különféle jelenetekhez, és rögtön megtaláltuk a közös hangot.
Melyik volt az első dal, amit közös szerzeményeteknek neveznél?
A Sleepers, amely Steve 2009-es albumára, az Out Of The Tunnel's Mouth-ra került fel. Párszor háttérénekesnőként is segítettem a férjemnek, de elsősorban a dalszerzésre koncentrálok. Szövegeket írok főleg, de az énektémák és a zenei részek megírásában is részt veszek néha. Az ihletet leggyakrabban az utazásaink szolgáltatják. Jártunk Kínában, Peruban, Görögországban, Kambodzsában, és ezek a helyek mind hatással voltak Steve zenéjére. Legutóbb Etiópiába mentünk, de Indiában is nagyon jól éreztük magunkat, sok ötlettel tértünk vissza onnan. Olykor elég csupán egy közös séta, hogy eszünkbe jusson egy dal ötlete: egyszer például egy kertben bóklászva egy befalazott bejáratra bukkantunk, és rögtön elkezdtük találgatni, mi lehet mögötte, ebből pedig végül dal született.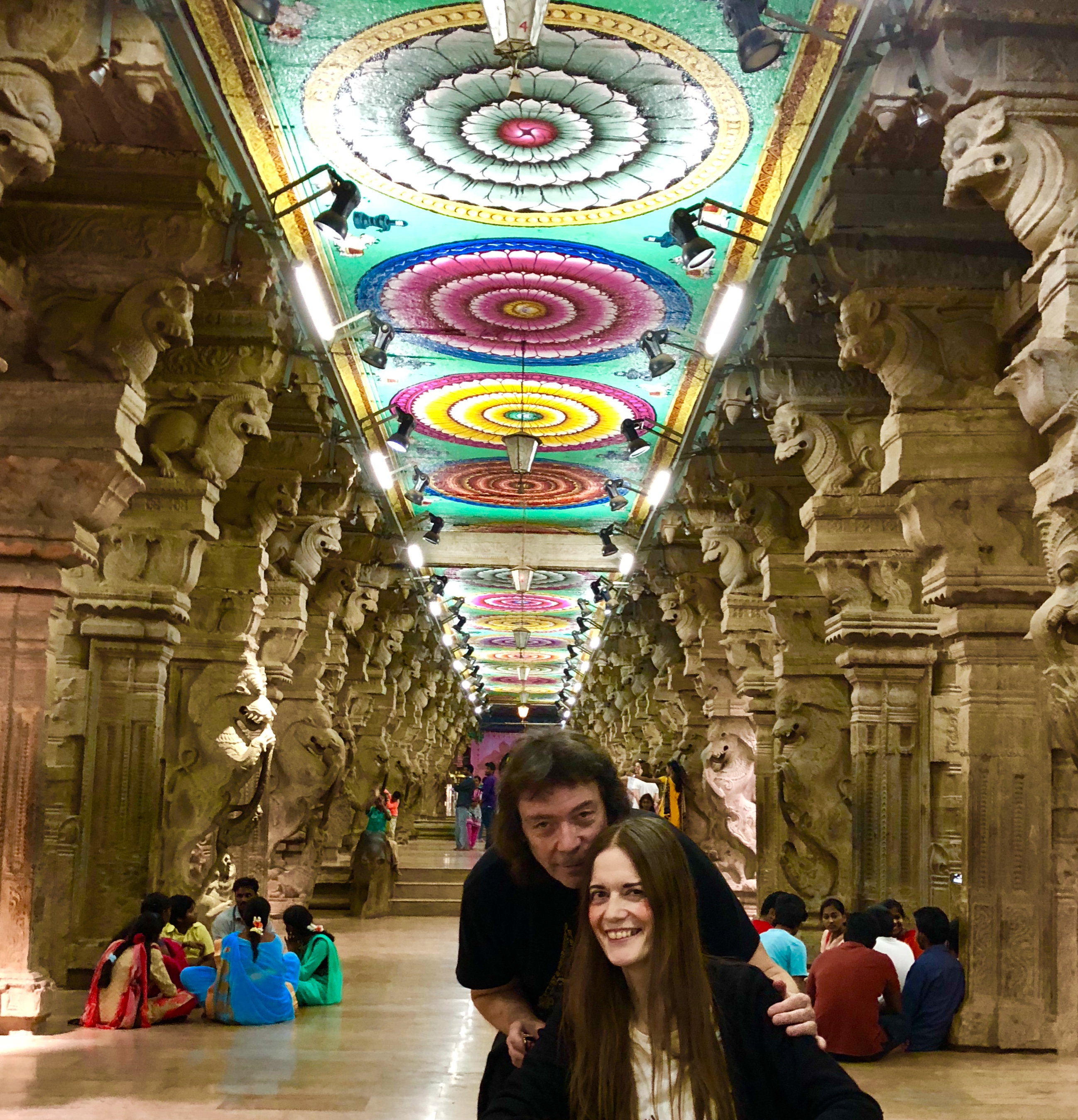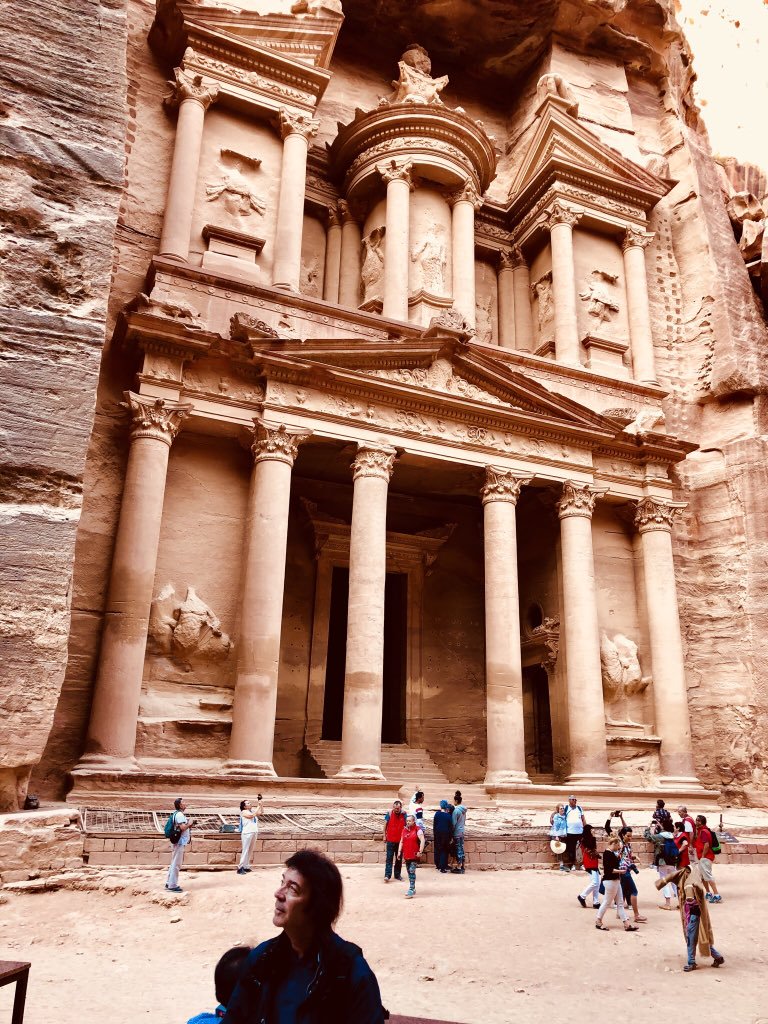 Mielőtt elkezdtetek dolgozni az At The Edge Of Light-on, a jordániai romvárosban, Petrában jártatok…
Petra fantasztikus hely. Az arab sivatagba is elmerészkedtünk, ahol a beduinok társaságában töltöttünk egy éjszakát a semmi közepén. Etiópiában pedig lementünk a Nagy-hasadékvölgy mélyére, hogy találkozzunk az ottani törzsekkel. Szeretünk más, a miénktől eltérő kultúrákat megismerni.
Mi inspirálta az Under The Eye Of The Sun-hoz készült hangulatos videót?
Az arizonai kiruccanásunk, Sedona és a Monument Valley. De máshonnan, például ázsiai sivatagokból származó képek is láthatóak benne. Két barátunk, Leigh és Franck műve a klip.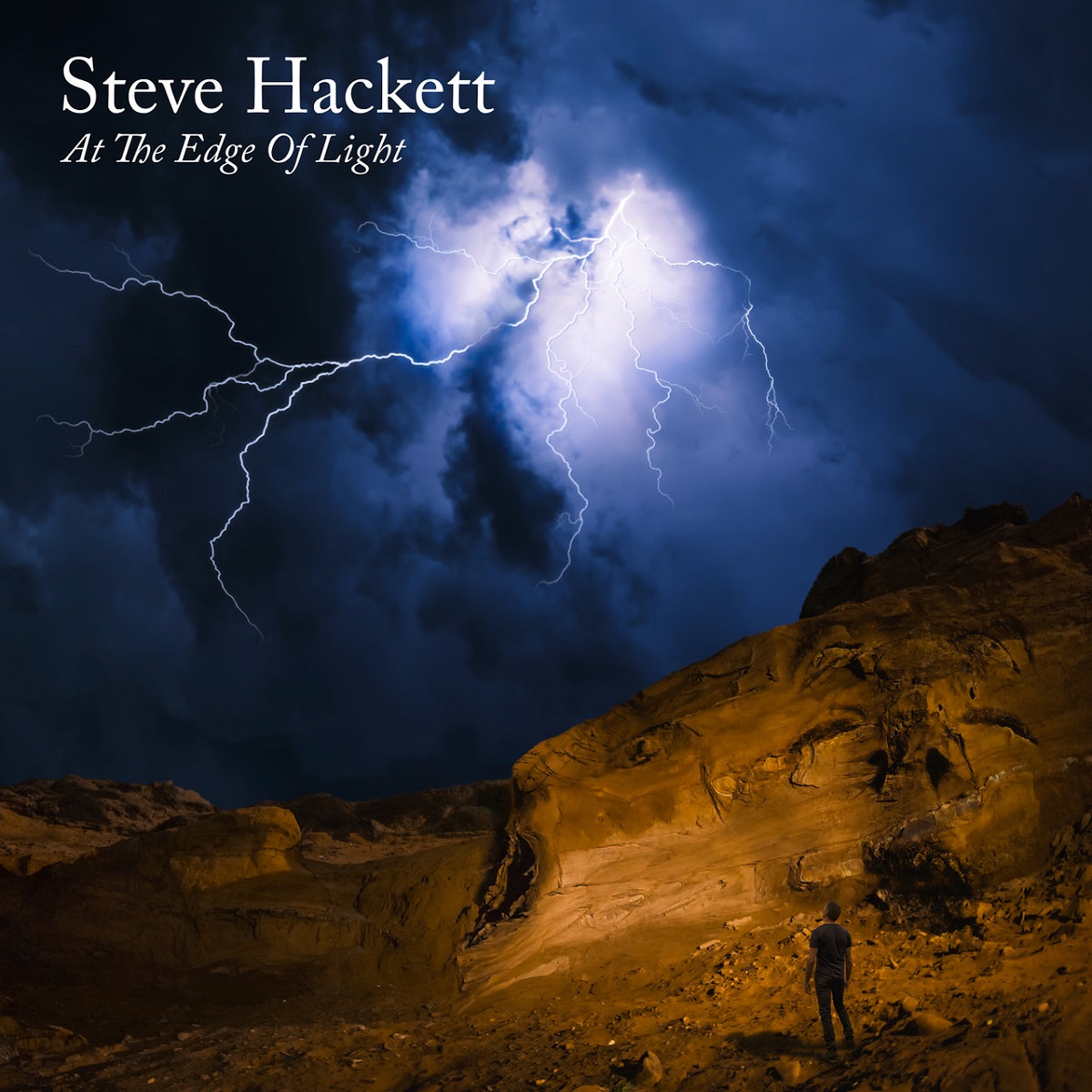 Számodra mit jelent az At The Edge Of Light lemezcím?
Egyre veszélyesebb időket élünk, de reménykedünk benne, hogy végül mégis minden jóra fordul. Amiatt is sokat aggódunk, hogy a világ egyre bezárkózóbbá válik, és a természet pusztulása sem hagy minket hidegen. Jó lenne, ha az emberek megtanulnának nyitni egymás felé. Ez számomra a cím üzenete. Steve előző albuma, a The Night Siren úgymond megkongatta a vészharangot, az At The Edge Of Light pedig a remény lemeze. A 2015-ös Wolflight hasonló témákat ölelt fel, mint a két előbb említett anyag, viszont némileg misztikusabb megközelítéssel. A borítón látható aranyos farkasok remekül viselkedtek Steve közelében (ebben persze a gazdájuknak is nagy szerepe volt), és az egyik anyafarkas még azt is megengedte neki, hogy játsszon a kölykeivel.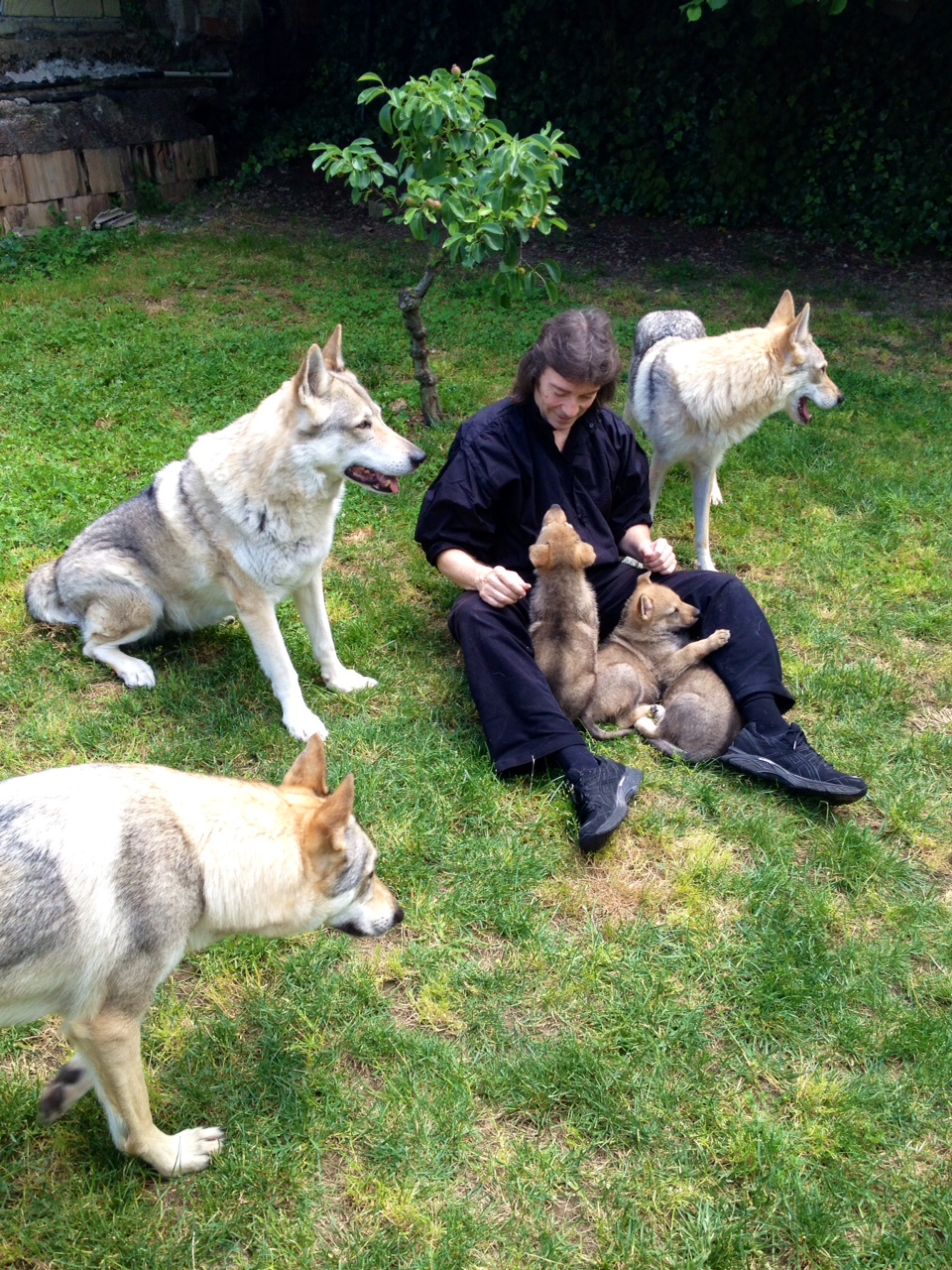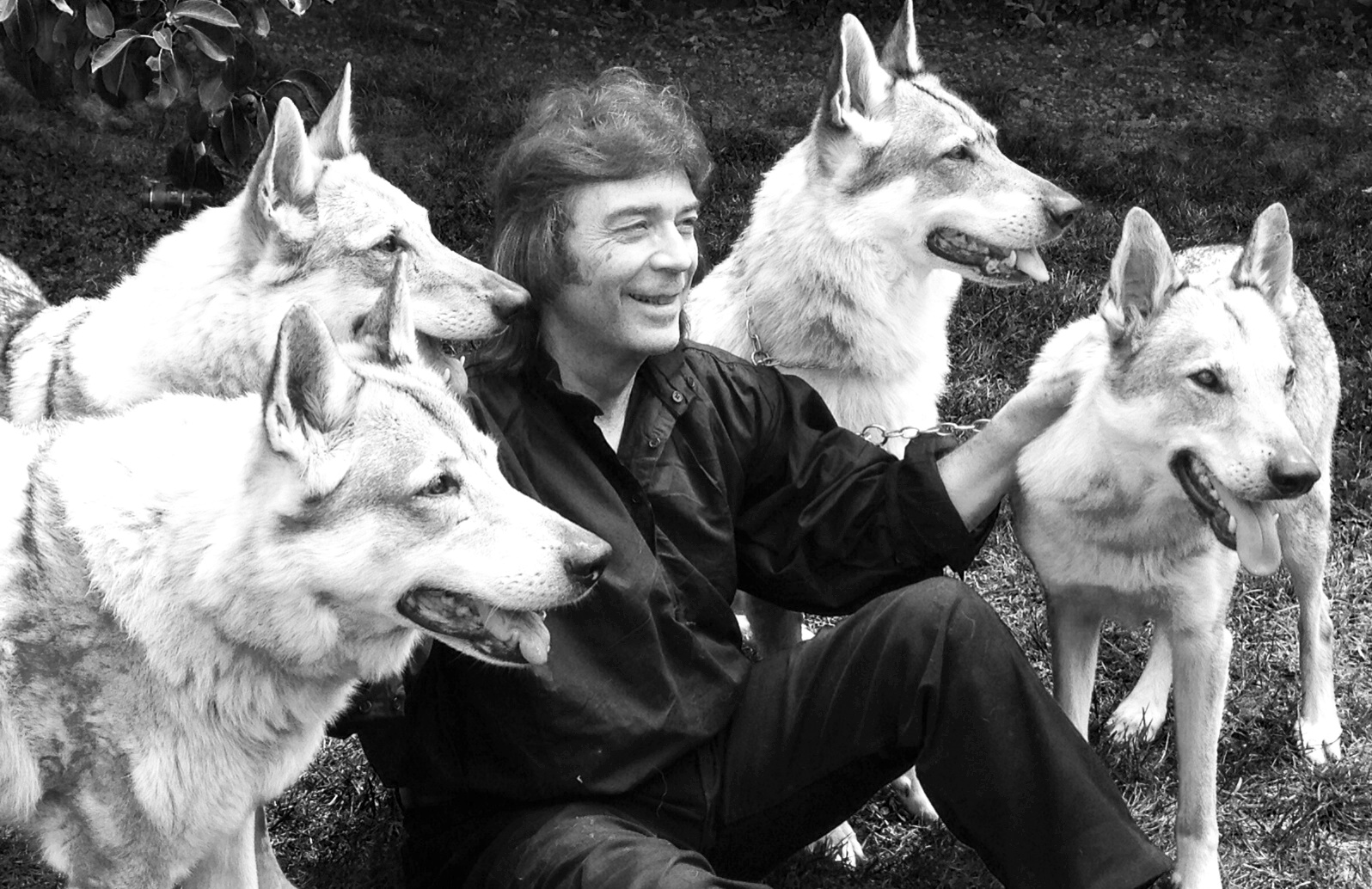 Mit várhatunk a két Hackett-től legközelebb? Hogyan folytatódik a nagy zenei kaland?
Már írjuk a következő albumot. Rocklemez lesz, de szimfonikus zenei hatásokkal, és megint sok egzotikus hangszert szeretnénk szerepeltetni.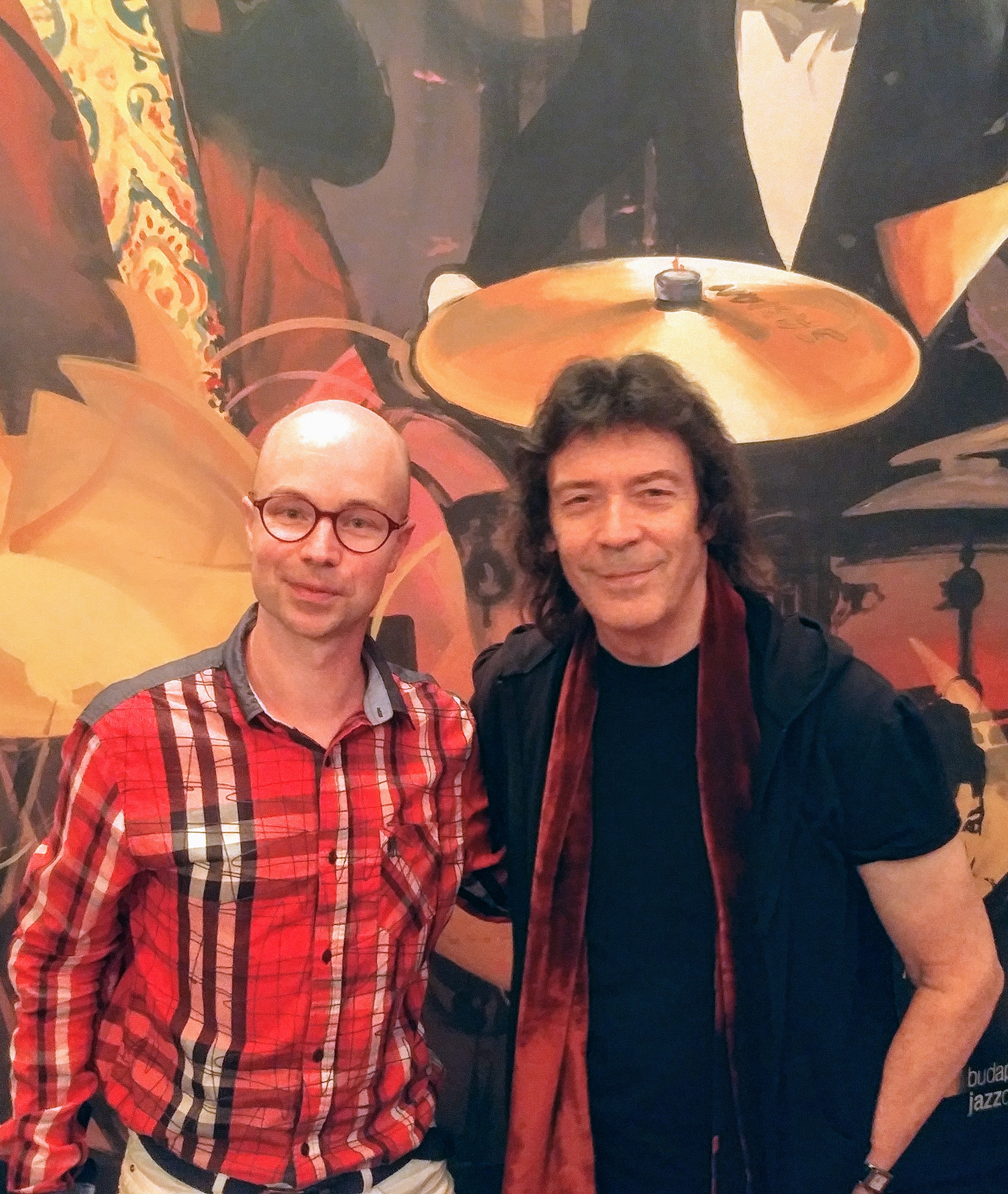 Köszönjük Égerházi Attilának, Gábor Andrásnak és Szűts Lászlónak, hogy lehetővé tették az interjú elkészítését!
A cikkben szereplő farkasos fotókat Jo Hackett, a Hackett házaspárt az Arizoniai sivatagban ábrázoló felvételt pedig Leigh Harris és Franck Avril készítette.