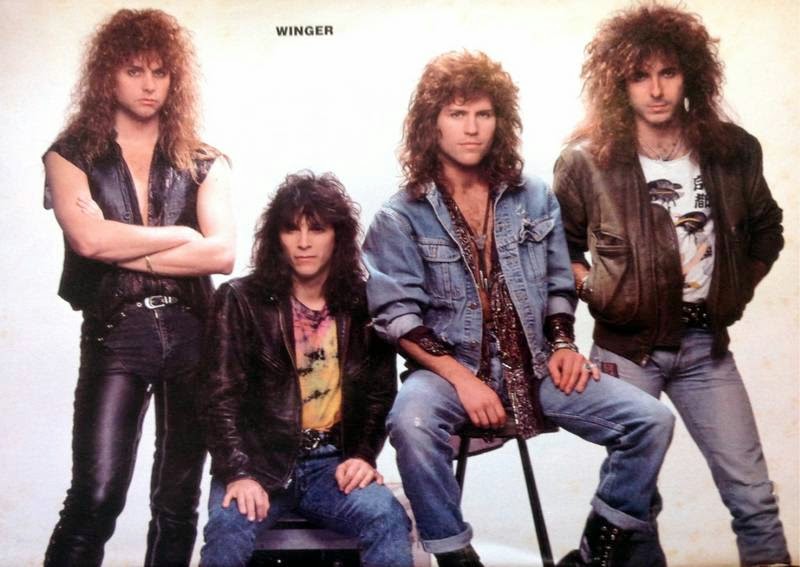 A 80-as évek hajrock inváziója rengeteg bandát termelt ki, amelyek közül a Winger volt az egyik leginkább paródiába illő, ám egyben (részben pont ezért) az egyik legjobb is. A kiválóan zenélő szépfiú hard rockerekből összerakott csapat 1990-es slágerének fülledt klipjét az a pasas rendezte, aki az új évezredben Transformers-robotdömpinget zúdított ránk.
A Wingert névadója, az énekes-basszusgitáros Kip Winger alapította, aki korábban Alice Cooper zenekarának tagja volt, a gitárosi posztot pedig Reb Beach kapta meg, aki 2002 óta a Whitesnake-et erősíti, valamint napjaink egyik fő virgamester gitárhősének számít. Rod Morgenstein dobos korábban Steve Morse (a Deep Purple jelenlegi gitárosa) Dixie Dregs nevű jazz rock alakulatában püfölte a bőröket, Paul Taylor gitáros-billentyűs pedig Kip Wingerrel együtt nyomult az Alice Cooper Bandben.
A szándékosan szexire vett Can't Get Enuff a fodrászokra is sokat költő formáció 1990-es In The Heart Of The Young című albumának nyitódala, és annyira veretes csajozós hajhimnusz, hogy egyértelmű volt: nem úszhatja meg hozzá illő videoklip nélkül. A filmecske levezénylésének feladatával az akkor még pályakezdő direktort, Michael Bayt bízták meg, aki 1989 és 1997 között tekintélyes mennyiségű zenei videót forgatott: dolgozott Meat Loaffal, a Styx-szel, Gregg Allman-nel, a Great White-tal, Tina Turnerrel és az Aerosmith-szel is. A koncepciót maga Kip Winger találta ki, aki a korabeli Coca Cola reklámok kommersz érzékiségét vette alapul: ezekben láthatóak verejtéktől nedvesen vonagló testek, amelyek egy kis hűsítésre vágynak. A Winger izzadságos, de cseppet sem izzadságszagú videója mérsékelt sikert aratott (a dal a 42. helyig jutott az amerikai slágerlistán), viszont az élvezeti értékéből cseppet sem veszített az eltelt évtizedek során, kellemes kikapcsolódást nyújt manapság is.