Jimmy Page, a Led Zeppelin gitárosa egyes élénk fantáziájú rajongói szerint vérrel írt szerződést kötött az ördöggel, és egyedül ennek köszönhető, hogy megannyi, mára ikonikussá vált riffet talált ki. Hogy valóban létrejött-e a sátáni alku, arról fogalmunk sincs, ám az tény, hogy Lucifer fiával, vagy legalábbis a magát annak tituláló pszichedelikus filmrendezővel, Kenneth Angerrel, Page nagyon is lepaktált. A kezdetben idillinek tűnő barátság végül hirtelen megszakadt, a direktor pedig bosszúból rontást küldött a rocksztárra.
Page és a mellkasán egy jókora Lucifer-tetoválást viselő Anger 1971-ben találkoztak először, méghozzá a Sotheby's aukciósház árverésén, ahová mindketten a híres brit okkultista, Aleister Crowley egykori személyes tárgyaira érkeztek licitálni. Page megszállottan rajongott (és rajong ma is) Crowley tanaiért. A Led Zeppelinnel történő sikerhalmozása közben egy ideig egy drága okkult könyveket árusító boltnak is tulajdonosa volt, amelyet Equinox néven üzemeltetett (Crowley saját kiadású újságját szintén így hívták évtizedekkel korábban), majd 1970-ben megvásárolta a Nagy Fenevad (Crowleyt ekképp emlegetik tisztelői) rezidenciáját, a Boleskine házat, amely a skóciai Loch Ness partján áll. 1972-re Page-et már baráti kapcsolat fűzte Angerhez, aki Crowley szellemi örökösének vallja magát, és meghívta a hangulatváltozásairól hírhedt filmest magához, hogy az némi mágikus praktikát bevetve, egy rituálé keretében elűzze a Boleskine kúriát lakó kísérteteket. Ez alapján valószínűsíthetjük, hogy a gitáros nem csupán a kokaint és a heroint nem vetette meg ekkoriban, de a hallucinogének iránt is élénk érdeklődést tanúsított.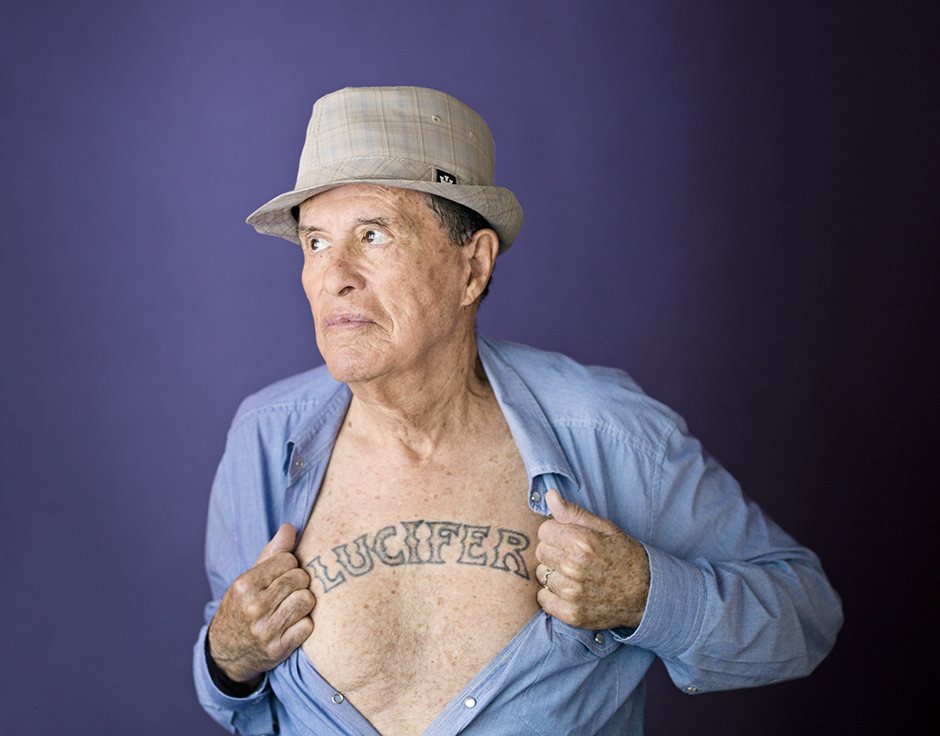 A rendező 1972-ben már javában dolgozott fő művén, a Lucifer Rising-on, és Page úgy döntött, ő fogja írni hozzá a muzsikát. Anger munkái rövidfilm hosszúságú szürrealista videoklipeknek tekinthetők: szöveg sosincs bennük, komolyzenével vagy rockkal festi alá a történéseket. A gitáros kisebb-nagyobb megszakításokkal dolgozott a leendő soundtrack-en, elsősorban akkor, amikor sem stúdióznia, sem turnéznia nem kellett a Led Zeppelinnel. Page 1975-ben megengedte Angernek, hogy beköltözzön londoni házába, és a pinceszinten kialakított  speciális helyiségben vágja véglegessé a részben Egyiptomban forgatott Lucifer Rising nyersanyagát. Már korábban is sor került itt ilyen eseményre, ugyanis ebben a házi stúdióban vágták a Led Zeppelin The Song Remains The Same című legendás koncertfilmjét is.
Page élettársa, Charlotte Martin, néhány hét elteltével azzal a hírrel lepte meg szerelmét, hogy a távollétükben Anger turistákat invitál a gitáros házába, és szép summákat zsebel be a "tárlatvezetésért". Miután fény derült a turpisságra, Page azonnal lecseréltette a zárat londoni házának ajtaján, így amikor Anger másnap ismét megjelent a helyszínen, dühödten konstatálta, hogy nem képes bejutni oda, ahol egyrészt a filmjének negatívja, másrészt az úgynevezett luciferi koronája (amelyet a neves színésznő, Mae West egyik ruhájáról származó hamis gyémántok díszítettek) található. A tajtékzó rendező felhívta a Led Zeppelin kiadóját, a Swansongot, és közölte velük, hogy vége az együttműködésnek, Page ki van rúgva, más fogja megírni a filmzenét. Pár nap múlva visszamehetett a házban lévő tulajdonaiért, Jimmy Page pedig később az állította, hogy sem neki, sem a barátnőjének nem volt problémája Angerrel, a házvezetőnőjük kérte az eltávolítását.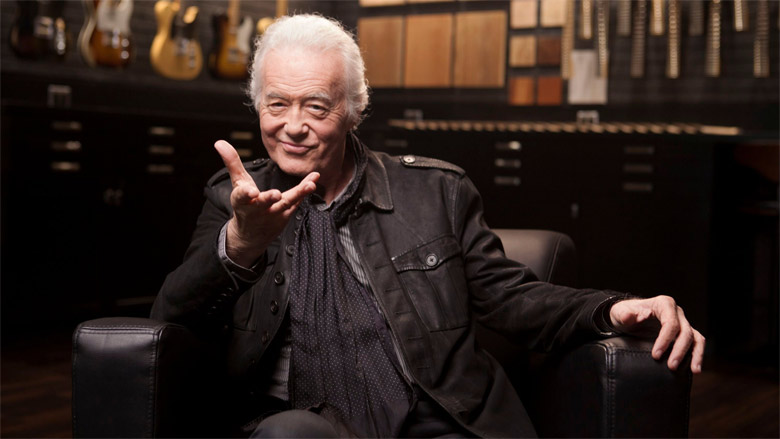 A sértődött rendező ezek után egyetlen alkalmat sem mulasztott el, hogy a sajtóban pocskondiázza Page-et, valamint a Led Zeppelint, amelyről azt mondta: lejárt a szavatossága, már semmi újat sem tudnak mutatni. Page a filmzenéjét siralmasnak és használhatatlannak nevezte: ez erős túlzás, viszont kétségtelen, hogy inkább drogmámorban fogant, helyenként kifejezetten hatásos effektmontázsról van szó, mint igazi muzsikáról. Anger abból sem csinált titkot, hogy sátáni szertartás keretében megátkozta a gitárost és zenekarát, és türelmetlenül várja az eredményt.
A józan gondolkodású 21. századi átlagember badarságnak minősíti az átkokat, ennek ellenére a mai napig sok fanatikus zeppelinista meg van győződve arról, hogy tényleg balsorsot hozott a bandának az okkultista művész haragja. Elméletük igazolásául a következőket szokták felsorolni: 1. 1975-ben Robert Plant énekes feleségével és fiával Görögországban vakációzott, és olyan súlyos autóbalesetet szenvedett, amely majdnem mindhármuk életébe került, utána pedig hosszú ideig lábadozott. 2. Miután Plant visszatért a csapatba, folyton kiújuló gégegyulladás kínozta, amely pokollá tette számára a turnézást. 3. A banda 1977-es oaklandi koncertjét követően a dobos John Bonham és a Led Zeppelin biztonsági emberei összeverekedtek a promóter Bill Graham brigádjával, ami majdnem egy halálesettel végződött: John Bindon, a zenekar biztonsági főnöke felfüggesztettet kapott, Bonham pedig  épp csak megúszta, hogy elítéljék. 4. Page-en egyre jobban elhatalmasodott a heroinfüggősége, és komolyan befolyásolta a fellépéseken és a stúdióban nyújtott teljesítményét. 5. 1977-ben megbetegedett, majd elhunyt Plant imádott kisfia, Karac. 6. 1978-ban Sandy Denny, a Fairport Convention gyönyörű hangú, ám sajnos az alkohol rabjává lett énekesnője, aki a The Battle Of Evermore című dalban duettezett Planttel, legurult a barátnője házának lépcsőjén, és úgy beütötte a fejét, hogy nemsokára meghalt. 7. John Bonham 1980-ban halálra itta magát, és ezzel megpecsételte a Led Zeppelin sorsát.
Hatott-e Anger átka? Nem valószínű, mivel olyan szerencsétlen és tragikus eseményekről van szó, amelyek között nem áll fenn szoros összefüggés. Ha azonban mégis, akkor egész biztosan visszaszállt rá: Az egyébként tényleg rendkívül tehetséges és a fénykorában újító megoldásairól híres filmes az 1972-ben forgatott, de csak 1980-ban bemutatott Lucifer Rising (amelynek zenéjét végül Charles Manson egyik bűntársa vette fel egy "börtönstúdióban" egy rakás életfogytiglanos segítségével) után nem készített több jelentős alkotást.