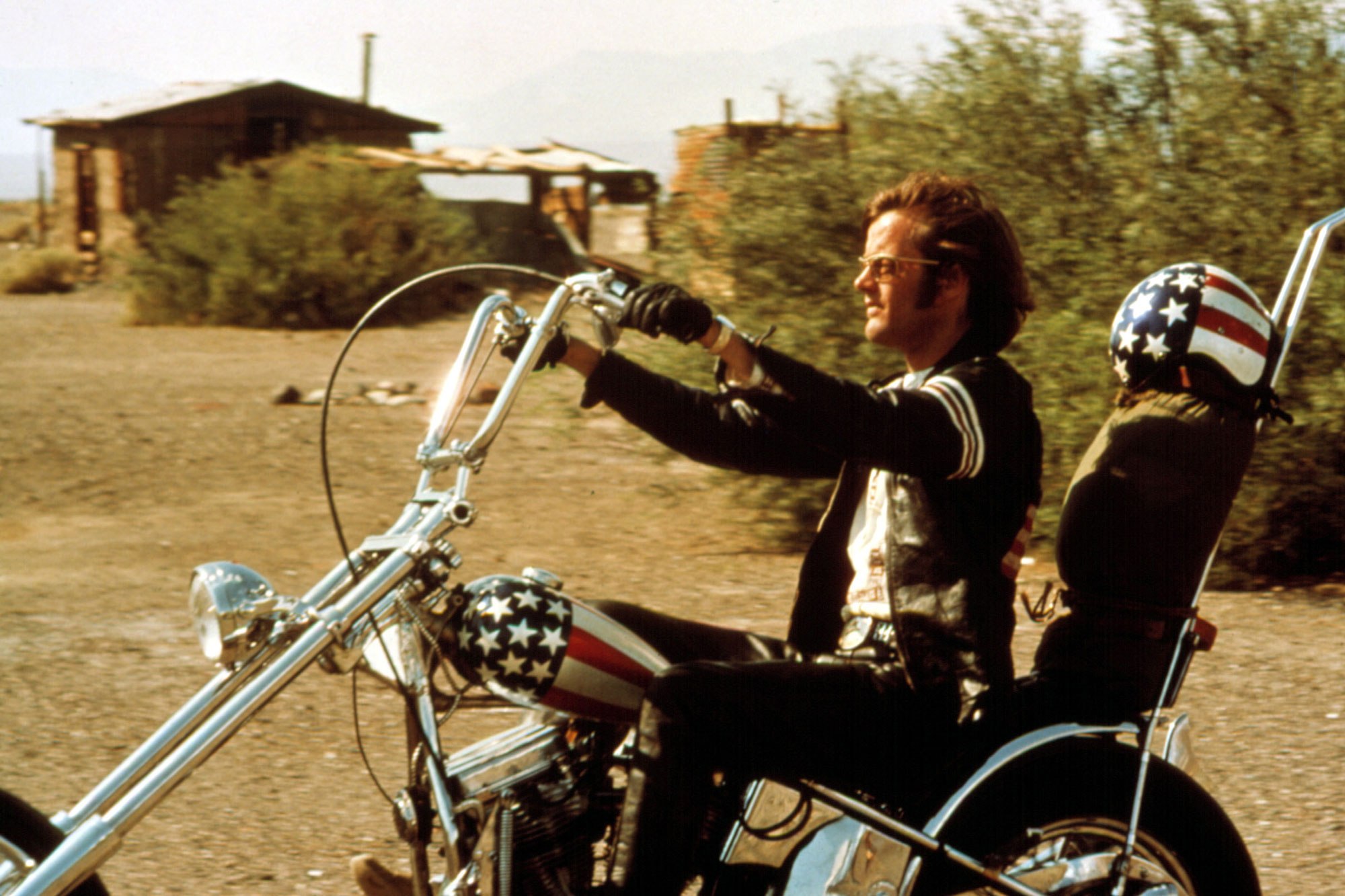 Idén augusztusban távozott az örök vadászmezők helyett a mennyei országútra egy igazi rocker színész, Peter Fonda, aki az Easy Rider (Szelíd motorosok) című kultikus alkotásban nyújtott alakításával egy egész generációnyi lázadó példaképévé és popkulturális ikonná vált. E cikkben nem csupán a rokonszenves és a sorból mindig kilógó színész életútját szeretném bemutatni, hanem azokat a Magyarországon kevésbé ismert filmjeit is, amelyeket minden valamirevaló mozibolond rockernek látnia kell, miután letudta a kötelező Easy Rider-t.
Peter Fonda 1940-ben született New Yorkban a világhírű színész, Henry Fonda és Frances Ford Seymour gyermekeként. Nyugodtan kijelenthető, hogy anyagi szempontból a leendő nagy lázadó (és nővére, a szintén színész és sztár Jane) kivételezett helyzetben nőtt fel, azonban a családfő ridegsége nem ismert határokat, és részben ennek tudható be, hogy Peterék anyja végül elmegyógyintézetbe került, ahol 1950-ben öngyilkosságot követett el. Jane még ugyanebben az évben egy osztálytársától tudta meg, hol és hogyan (borotvával vágta el a saját torkát) halt meg valójában az anyjuk, Peternek azonban még öt évig nem mondták el. Anyjuk öngyilkossága és a tény, hogy a nekik írt búcsúleveleit apjuk eltüntette, mindkét Fonda gyereket egy életre traumatizálta − a Jane-nél érzékenyebb lelkületű Petert különösen.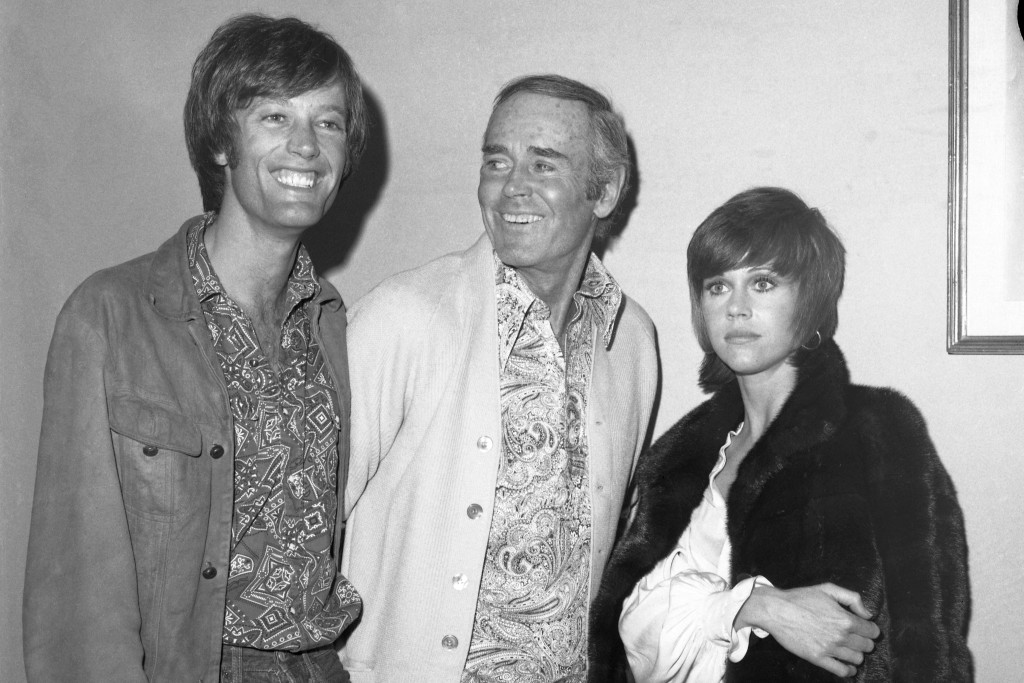 Peter Fondát egy évvel később még egy szerencsétlenség érte: egy barátjánál járt látogatóban, és a család sofőrje megengedte, hogy célba lőjön a pisztolyával, ami hátrafelé sült el, és a golyó Peter hasába fúródott. Hónapokig lábadozott a baleset után, majd visszatérhetett az iskolába. 1965-ben a Beatles tagjainak is mesélt erről a nem épp szívderítő élményéről egy közös Los Angeles-i LSD-utazásuk alkalmával, ami alatt folyton azt hajtogatta, hogy "I know what it's like to be dead." (Tudom, milyen halottnak lenni.) Ez végül a She Said, She Said című pszichedelikus Beatles-klasszikus megírására inspirálta John Lennont, aki Fonda mondatát is belevette a dalba.
1958-ban Peter apja szülővárosában, Omahában kezdett színészetet tanulni. 1960-ban visszatért New Yorkba, és csatlakozott a Cecilwood Színház társulatához, majd először tévés, később pedig mozis filmszerepekhez jutott. Tipikus jóképű amerikai fiatalokat játszattak vele, ám sosem érezte jól magát ebben a szerepkörben; lázadó hajlama és a szokványostól elütő érdeklődése a 60-as évek közepére a kibontakozó polgárjogi mozgalmak és a hippi kultúra bűvkörébe sodorta.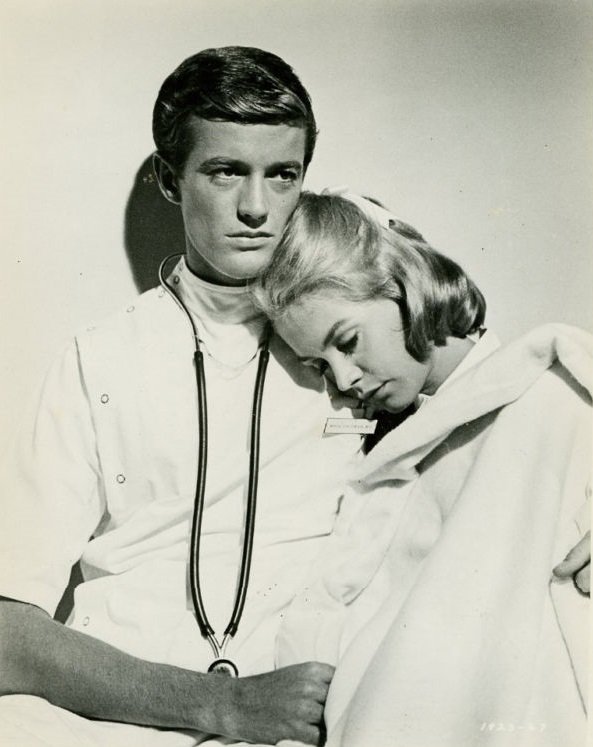 1966-ra Fonda teljes mértékben szakított a hollywoodi álomgyár műanyag mosolyú világával: megnövesztette a haját, füvet szívott, rendszeresen LSD-zett (például a Byrds ilyen téren "keményvonalasnak" nevezhető tagjaival), hippi összejövetelekre járt. Még a Playboy társasági életnek szentelt rovata is megemlítette, hogy az egykor szép karrier várományosának tűnő ifjú mára szakadt farmeres, léha rockerré züllött. Fonda viselkedése elidegenítette a mainstream rendezőket és producereket, így egyedül olyanok pályáztak már csak a kegyeire, mint az olcsó, ám ütős és polgárpukkasztó B-filmek egyik amerikai királya, Roger Corman.
Corman vezényelte le Fonda első motoros filmjét, az 1966-os The Wild Angels-t, amely megalapozta a színész renegát hírnevét. Eredetileg George Chakirisnek szánta Corman a bandavezér szerepét, de miután kiderült, hogy a West Side Story egykori sztárja nem tud motorozni, Fonda viszont nagyon is, az utóbbi kapta meg a lehetőséget a bizonyításra. Heavenly Blues bőrébe bújva egy rövid, ám rögtön kultikussá váló monológ is jutott Peternek: "Szabadon akarunk élni. Azt akarjuk csinálni, amihez épp kedvünk támad. Szabadon akarunk száguldani, és nem akarjuk, hogy a hatóságok folyton zaklassanak ezért. Ki akarjuk ütni magunkat és egy nagyot bulizni. Ezt is fogjuk tenni." (Fonda monológját később több rockbanda is "belekeverte" a számaiba, a leghíresebb a Primal Scream Loaded című dala.) Ezek a szavak akkoriban igencsak sokkolónak hatottak a mintaamerikai nézőkkel teli kertvárosi mozikban, a látvány szintúgy: piáló, drogozó, koszos motorosok szállnak meg egy Mecca nevű (egyébként valós) települést Lúzer becenevű társuk ellopott járgányát keresve. Az események végül tragikus fordulatot vesznek, ami megszokottnak mondható a motoros filmek esetében.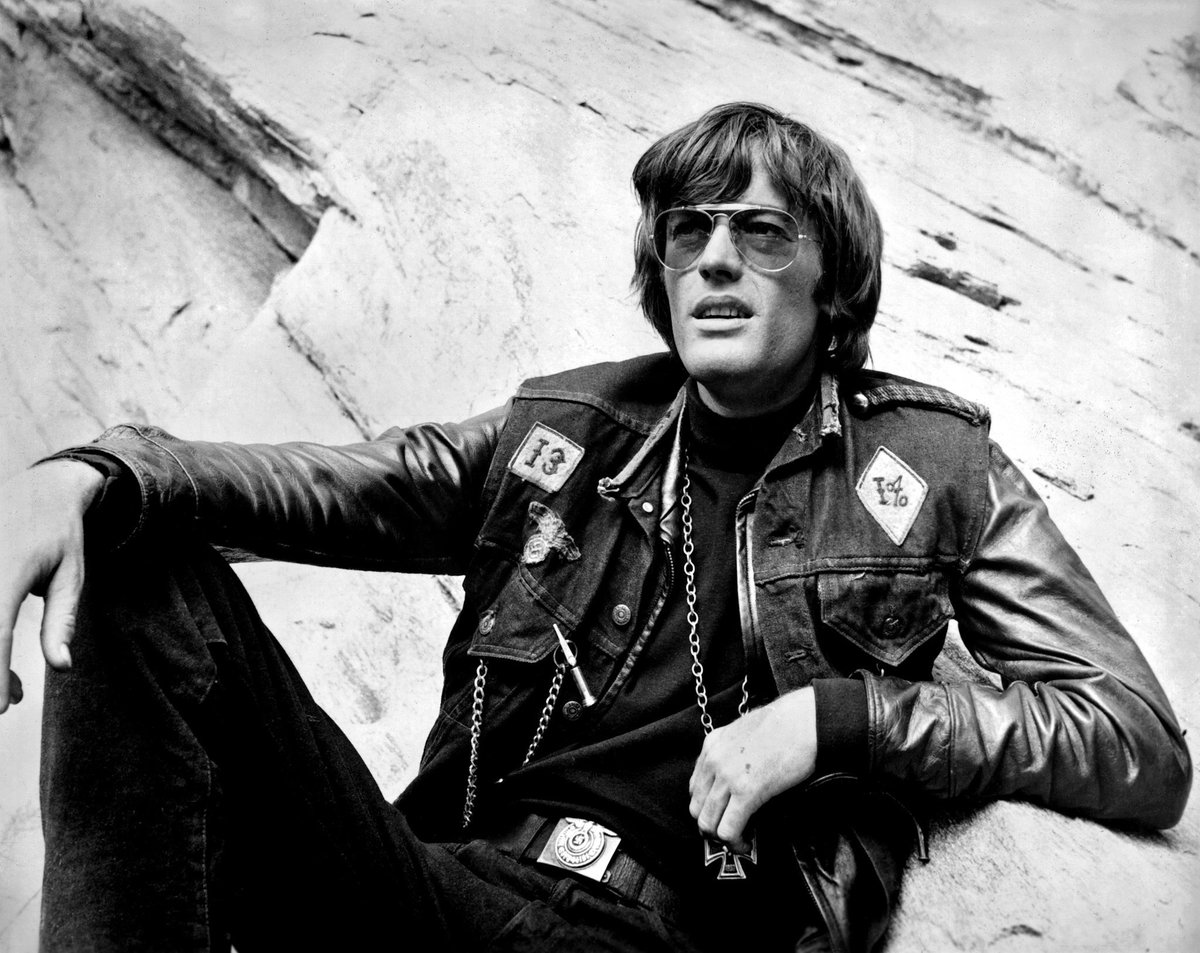 Fonda Heavenly Blues szerepében összezúzta az "ártalmatlan szépfiú" számára kiutalt skatulyáját: intellektuális fizimiskájú és hanghordozású lázadóként értelmezte újra magát, akiről elsőre azt gondolja a néző, hogy belgyógyászként vagy ügyvédként sokkal hitelesebben mutatna a filmvásznon, de amint motorra pattan, rögtön érezzük, hogy ott van ő igazán a helyén, csalóka volt az első benyomásunk. Női partnere Nancy Sinatra, Frank énekesnői pályára lépő lánya volt, aki szintén ezzel a munkával kívánta lerombolni "a mélyen tisztelt papa jó kislánya" jellegű imidzsét.
Peter Fondának a 66-os évben nem csupán a filmvásznon, de a valóságban is meggyűlt a baja a törvénnyel: részt vett egy Sunset Strip-i zavargásban, aminek a rendőrség erőszakkal vetett véget. (A környék lakói kifogásolták, hogy egyre több hippi lebzsel ott, és este 10 utánra kijárási tilalmat követeltek a polgármestertől – ez robbantotta ki a tiltakozó akciót.) Eme incidens késztette a Buffalo Springfieldet a korszak egyik legendás dala, a For What It's Worth megírására. A The Wild Angels eközben meghódította a feszültségtől csaknem szétpukkadó fiatalok szívét : az autósmozik sorra rendelték belőle a kópiákat, az ítészek meghívták a Velencei Filmfesztivál műsorába, és egymaga megteremtette a motoros filmek műfaját.
Peter Fonda következő filmjét is Corman rendezte: az 1967-es The Trip az első nagyobb költségvetésű pszichedelikus drogfilm: a Fonda által alakított reklámfilmes rendező alaposan betép a barátja házában, majd onnan kikóvályog az utcára, és sorra járja a Sunset Strip klubjait és felkapott helyeit, miközben megállás nélkül vizionál. A se füle, se farka forgatókönyvet az ekkoriban szintén hippikkel lógó Jack Nicholson írta, Dennis Hopper pedig egy misztikusan halandzsázó drogguruként bukkan fel a filmben. Valószínűleg a The Trip forgatása alatt született a három színész barátsága, amely nélkül az Easy Rider talán sosem születik meg. A film zenéjét a zseniális gitáros, Mike Bloomfield és az Electric Flag szolgáltatta, 1968-ban pedig maga Fonda is kedvet kapott egy rövid zenei kitérőhöz: Gram Parsons November Night és Donovan Catch The Wind című dalát énekelte kislemezre.
1969-ben Fonda, Hopper, Nicholson és az emigráns magyar operatőr, Kovács László (róla és az általa fényképezett, rockereknek való filmekről külön cikkben értekezünk majd) filmtörténeti mérföldkövet hoztak létre az Easy Rider elkészítésével. Az elsősorban a Fonda által előteremtett pénzből forgatott mű két droggal kereskedő, ám alapjában véve ártalmatlan, céltalanul motorozgató barát, a szófukar Wyatt (Fonda) és a szószátyár Billy (Hopper) története, akik az USA déli előítéletességének, intoleranciájának és erőszakosságának esnek áldozatul. Jack Nicholson alakítja George Hansont, a duóhoz csapódó és szintén csúnya halált haló alkoholista polgárjogi ügyvédet.
Az Easy Rider soundtrack-je legalább olyan híres, mint maga a film, elsősorban a Steppenwolf Born To Be Wild című dalának köszönhetően, amely 1969 óta minden egyes motoros fesztiválon elhangzik. Robbie Robertson, a Band gitárosa felajánlotta, hogy annyi muzsikát komponál a filmhez, amennyit csak akarnak Fondáék, ők azonban udvariasan visszautasították, és inkább több zenekartól és előadótól válogattak össze az Easy Rider jeleneteihez passzoló dalokat (a Bandtől is kiválasztottak egyet: a The Weight című slágerüket).
Arról, hogy az Easy Rider kinek is a "gyermeke" megoszlanak a vélemények. A forgatókönyvet Terry Southern (a 60-as évek felkapott írója), Fonda és Hopper jegyzi: Southern és egyes stábtagok azt állítják, hogy minden, ami a filmben látható, az ő ötlete volt, míg Fonda és Hopper azt nyilatkozták, hogy csak kiindulási alapnak használták Southern forgatókönyvét, és számos jelenetet menet közben improvizáltak. A rendezői titulust Hopper sajátította ki, ám több résztvevő elmondása alapján az érdemi munkát e téren Fonda és Kovács László végezte, Hopper ugyanis annyira sokat drogozott a forgatás alatt (a filmben lévő drogos jeleneteket is "élesben" vették fel), hogy nem nagyon volt képes bármit és bárkit rendezni. Az Easy Rider óriási nemzetközi sikert aratott: Nicholsonnak a legjobb mellékszereplői alakításért, Fondának, Hoppernek és Southernnek pedig a legjobb forgatókönyvért járó Oscar-jelölést hozott, és persze a mozikasszákba is ömlött a pénz a hatására.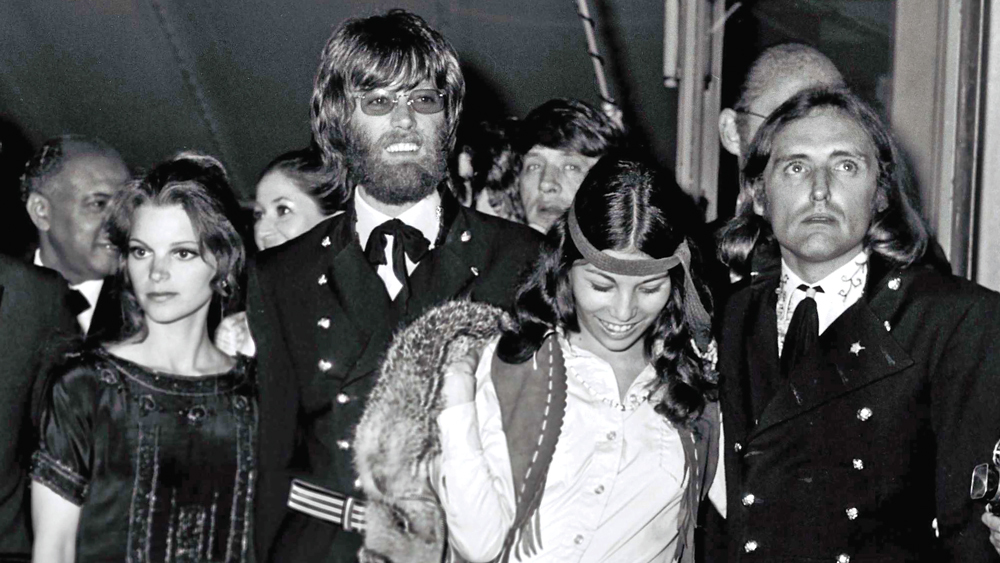 Bár úgy él a köztudatban, mint a hippi éra és a motoros rocker lét szabadságérzettől fűtött mozgóképes dokumentuma, az Easy Rider elsősorban a céltalanság és az irányvesztettség filmje, amely olyan új, realista ábrázolásmódot honosított meg az amerikai filmművészetben, amely véget vetett a szirupos és grandiózus drága hollywoodi produkciók hőskorának. Azt, hogy alapvetően a kiábrándultak és a helyüket nem lelők filmjéről van szó, nem pedig a "vadnak született szabadelvűek" vizuális hitvallásáról, az Easy Rider sokatmondó korabeli reklámszlogenje is tökéletesen érzékelteti: "Egy férfi elindult felfedezni Amerikát (ami ugyebár a közhiedelem szerint a korlátlan lehetőségek és a megvalósítható álmok országa), de nem találta sehol."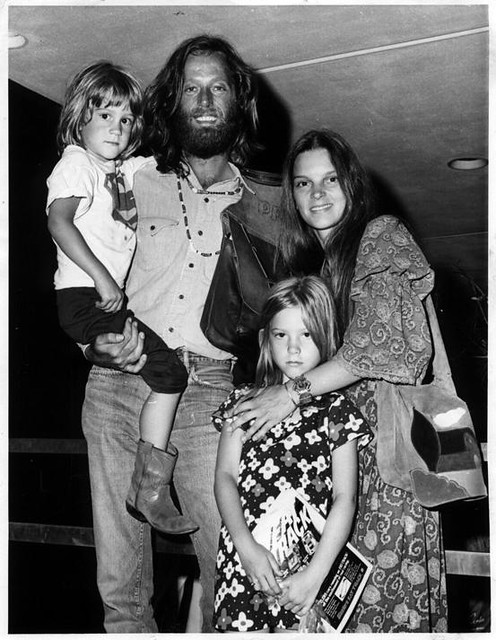 Az Easy Rider világsikerét követően Hopper és Fonda 1971-ben egyaránt megpróbálkozott az önálló rendezéssel: Hopper The Last Movie című, a maga módján rendkívül érdekes kísérlete (a mű eléggé csapongóan azt mutatja be, hogyan változtatja meg egy amerikai filmes kompánia érkezése egy perui kis közösség életét) hatalmasat bukott. Fonda The Hired Hand című realista és érzelmes westernje sem lett a mozilátogatók kedvence, viszont több dicséretben részesült, mint Hopper produkciója. A két viharvert cowboy mély férfibarátságát minden homoerotikus felhang nélkül bemutató filmet Fonda ugyanúgy magyar operatőrre bízta, mint az Easy Rider-t: ezúttal Zsigmond Vilmos irányította a kamerát, akinek ez volt az első művészi igénnyel kivitelezett munkája − akárcsak Kovács László, ő is a motoros B-filmek világából küzdötte fel magát. Bruce Langhorne gyönyörű country soundtrack-je is említést érdemel, mivel tökéletesen festi alá a hazánkfia által készített lélegzetelállító felvételeket. Fonda filmbéli barátját a korszak egyik nyers macsó karakterszínésze, Warren Oates alakította, akivel Peter a valóságban is remekül kijött, még két további filmet forgattak együtt a 70-es években.
A 70-es évtized egyértelműen Peter Fonda pályájának legizgalmasabb korszaka volt: A lázadó motoros az igazi sztárok közé emelkedett, és noha a Spielberg-szintű nagymenők továbbra is hanyagolták, jobbnál jobb szerepekben és sikerfilmekben kamatoztathatta tehetségét és sokoldalúságát. Az 1973-as Two People című drámában egy Vietnamba küldött amerikai katonát alakít, aki dezertál, megjárja Moszkvát is, majd viszonyt kezd egy New York-i topmodellel.
Az 1974-es Dirty Mary, Crazy Larry-ben a bájos Susan George-dzsal NASCAR-versenyzői karrierről álmodozó fiatalokat játszanak, akik álmuk valóra váltásához egy szupermarket kirablásával akarnak pénzt szerezni.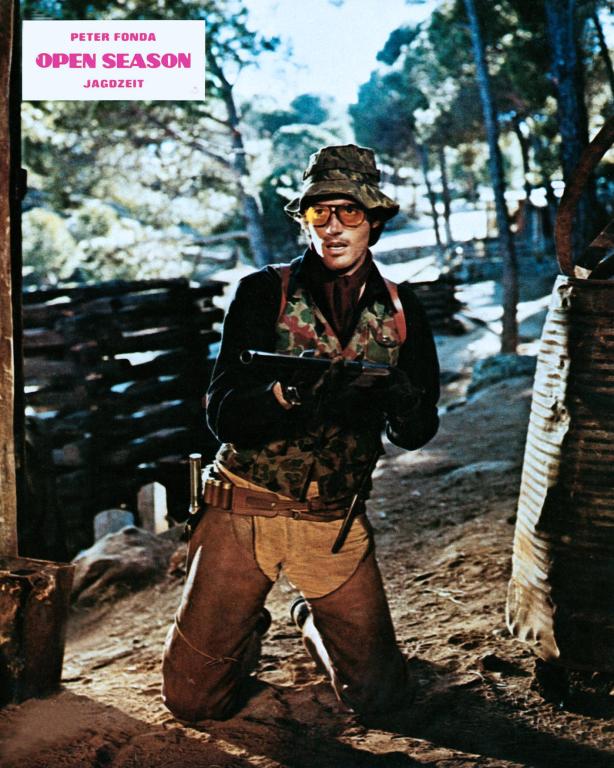 A szintén 1974-es Open Season David Osborn magyarul is megjelent, Vadászidény című regényéből készült "embervadász" thriller, amiben az áldozatok többsége sem épp rokonszenves figura. Peter Fonda és két másik kitűnő színész − John Phillip Law és Richard Lynch − Vietnamból vadállati vérszomjjal visszatérő veteránokat alakítanak, akik házaspárokat rabolnak el, majd vadásznak le egy isten háta mögötti erdőben. A John Howard által komponált és énekelt betétdal fantasztikus.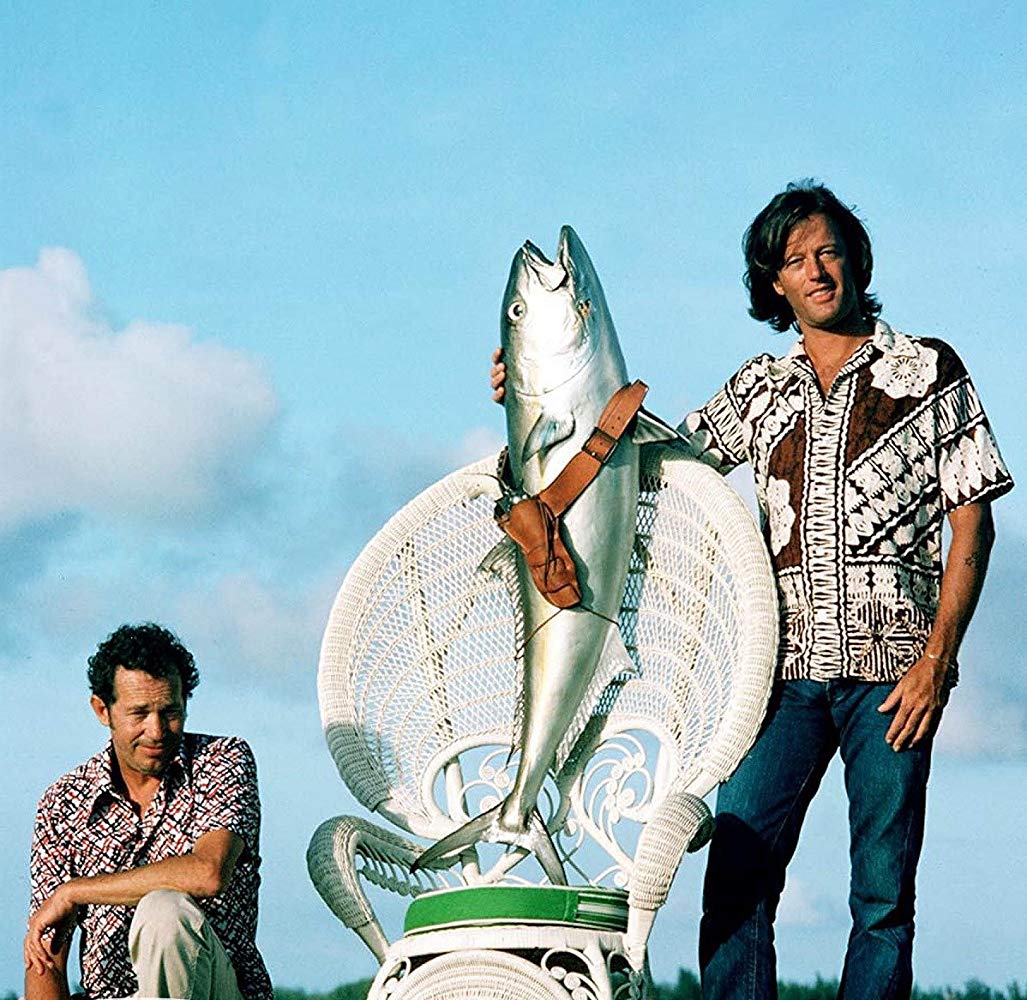 1975-ben Fonda két filmet is forgatott barátjával, Warren Oates-szal. A 92 In The Shade Floridában játszódik, és két eltérő jellemű férfi rivalizálásáról szól, akik mindketten a turistákat akarják hajóval horgászni vinni. A Race With The Devil pedig egy pörgős akciófilm, amelyben két nagyvárosi házaspár méretes lakókocsijával menekül egy egész kisvárosnyi vidéki sátánista elől, miután akaratlanul szemtanúi lettek egy azok által bemutatott kegyetlen szertartásnak (Quentin Tarantino a kedvenc retro filmjei közé sorolja a Race With The Devil-t).
Fonda 1976-ban az akciófilmeket részesítette előnyben: A sztárokkal (Christopher Lee, Telly Savalas, O. J. Simpson stb.) telerakott Killer Force-ban szakállas gyémánttolvajt alakított. A film Georges Garvarentz által írt zenéje igen népszerű manapság a gyűjtők körében: a főcím alatt felhangzó tételben a basszusgitáros olyasmiket művel, hogy az ember csak kapkodja a fejét…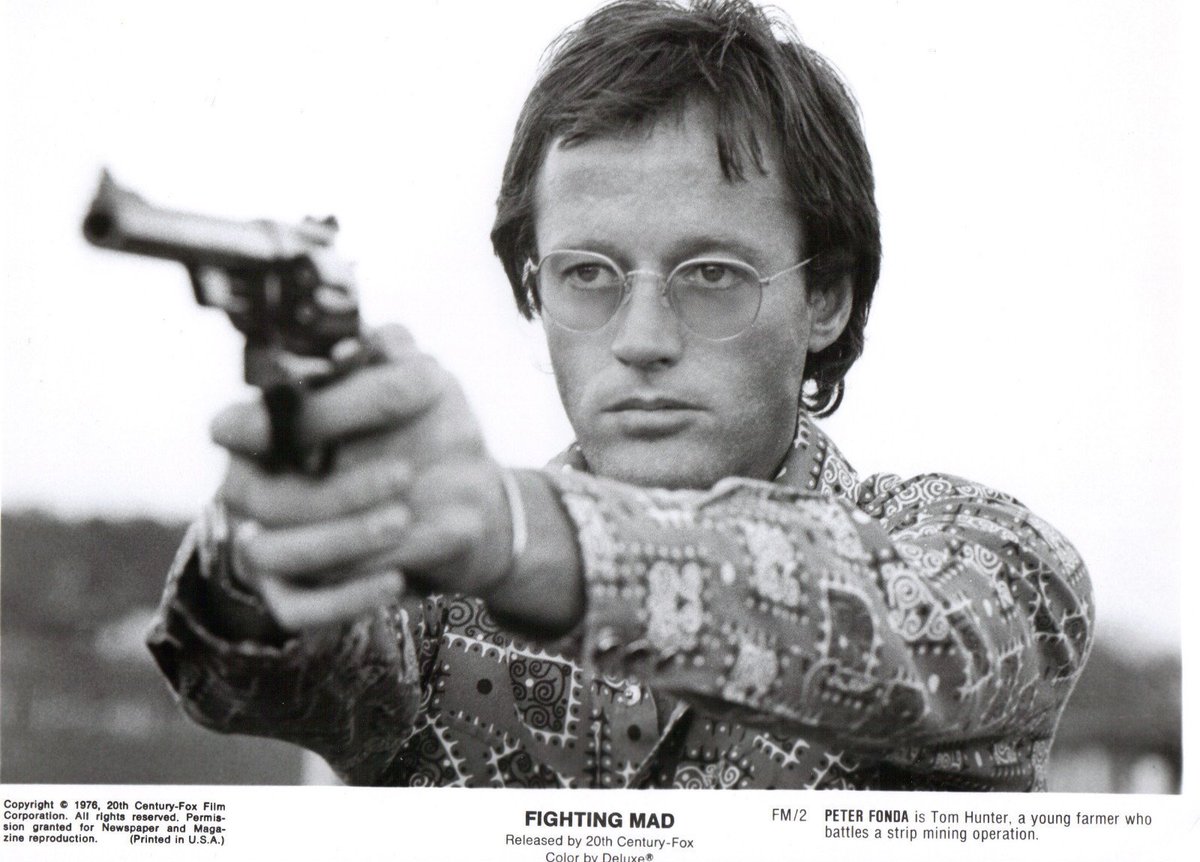 A Fighting Mad-ben Peter Fonda Charles Bronson babérjaira tör, és a városi miliőből hazatérve farmer testvére meggyilkolása miatt áll bosszút a békés vidékiek földjeire pályázó vadkapitalista nagyvállalkozón és emberein.
A Futureworld az 1973-as sci-fi klasszikus Westworld folytatása. Fonda oknyomozó újságíróként látogat el abba a futurisztikus "játszóparkba", ahol emberkülsejű robotok gondoskodnak a vendégek szórakoztatásáról… egészen addig, amíg hiba nem csúszik a rendszerbe.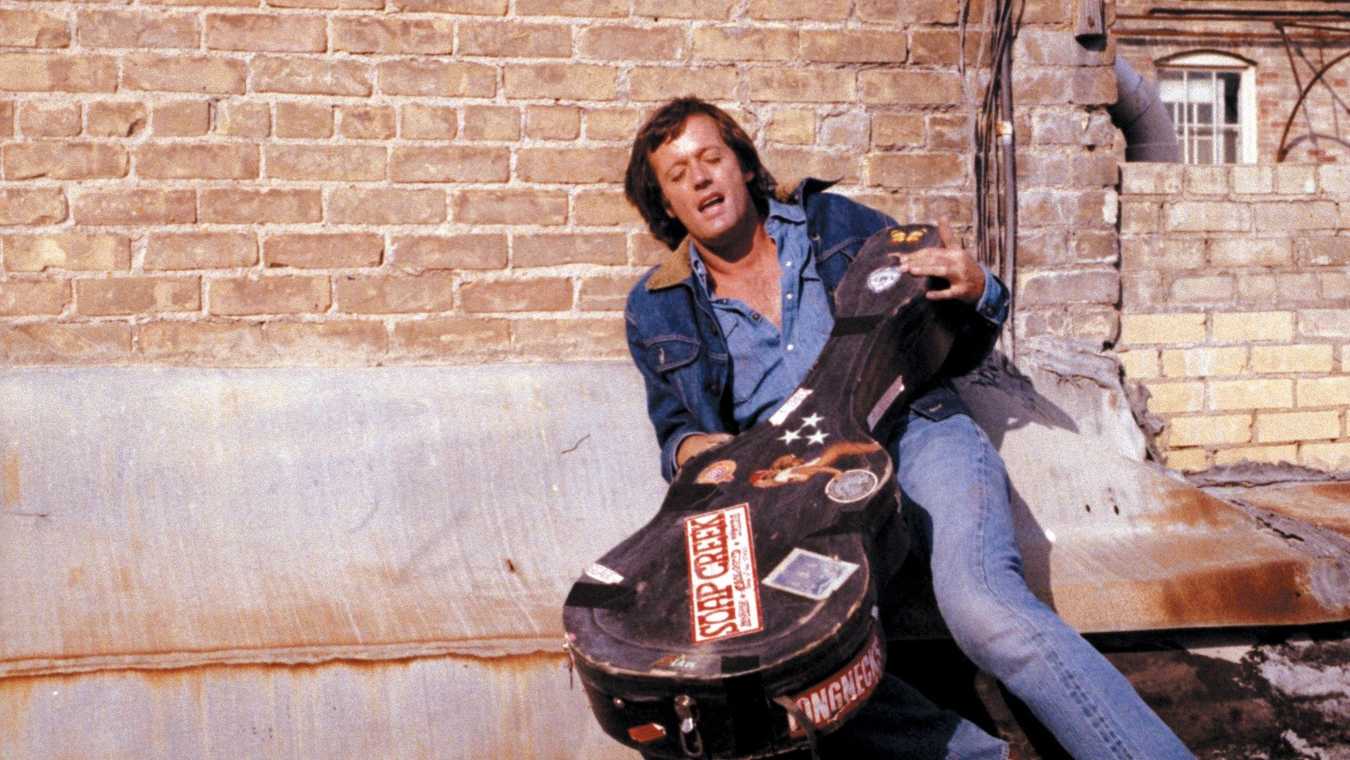 1977-ben és 1978-ban ismét Fonda lázadó imidzsére építettek a rendezők. Egyik legjobb filmjében, az 1977-es Outlaw Blues-ban egy börtönből szabaduló bűnözőt alakít, aki country énekesként szeretne befutni Texasban…
… a High-Ballin' című 1978-as akcióvígjátékban pedig független kamionosként hadakozik a kisvállalkozókat a színtérről kiszorítani vágyó hatalmasságokkal. A film Jerry Reed által énekelt főcímdala igazi southern rock gyöngyszem.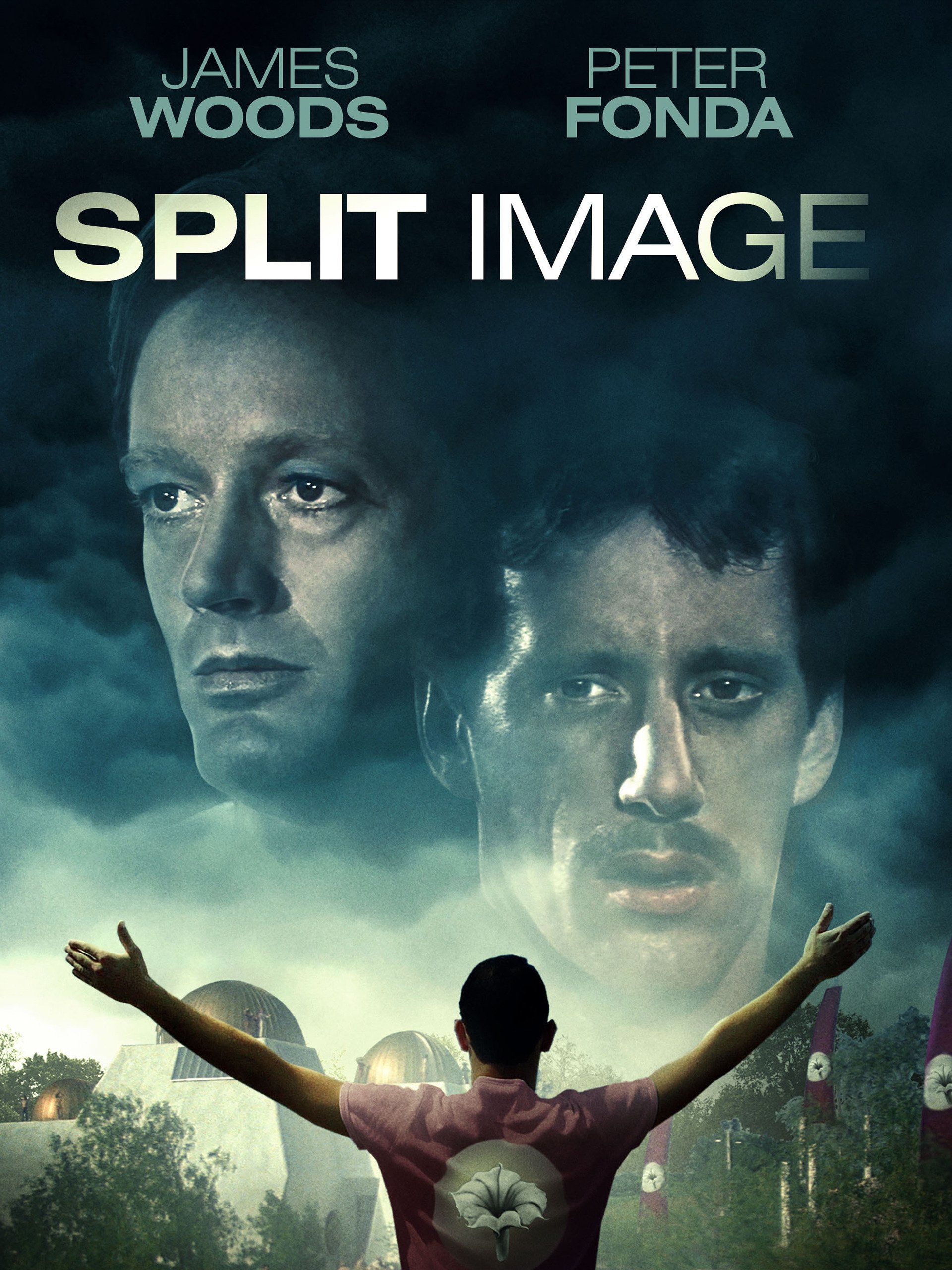 Az 1980-as években Fonda csillaga leáldozni látszott, de még mindig jutottak neki érdekes szerepek. Az 1982-es Split Image-ben egy úri modorú, ám igen veszélyes szektavezért alakít, aki teljesen átmossa hívei agyát. Az 1983-as Dance Of The Dwarves című horrorban alkoholista és nagyszájú pilótaként repít a Fülöp-szigeteki dzsungel mélyére egy fiatal orvosnőt, akivel aztán közösen kénytelenek felvenni a harcot egy csapatnyi mocsárlény ellen, amelyek leginkább a fekete lagúna szörnyére hasonlítanak, és cseppet sem törpe méretűek.
Szintén 1983-ban került a mozikba a Spasms című kanadai horror, amelyben Peter Fonda a britek legverekedősebb és legeltökéltebben ivó színészóriásával, Oliver Reedel együtt harcol egy óriáskígyó ellen. 1985-ben az A Reason To Live különösen remek színészi alakításra kínált lehetőséget Fonda számára: e tévéfilmben egy depressziós, megcsalt, kirúgott és végletesen önsajnáló irodistát alakít, akit életigenlő és be nem álló szájú kisfia ment meg az öngyilkosságtól.
A 90-es évek és az új évezred nem sok olyan feladatot tartogatott Peter Fonda számára, amely méltó volt a tehetségéhez; többnyire jelentéktelen filmekben tűnt fel. Mégis ekkoriban, 1997-ben érte el pályája legnagyobb művészi sikerét: 1997-ben Oscar-díjra jelölték az Ulee's Gold című filmben nyújtott alakításáért: Fonda egy visszahúzódó méhészt játszik, akinek a fia és a lányunokája is drogfüggő lett, ő pedig szeretné jó útra téríteni őket. Bizony nagy utat tettünk meg az Easy Rider drogcsempész Wyattjétől idáig…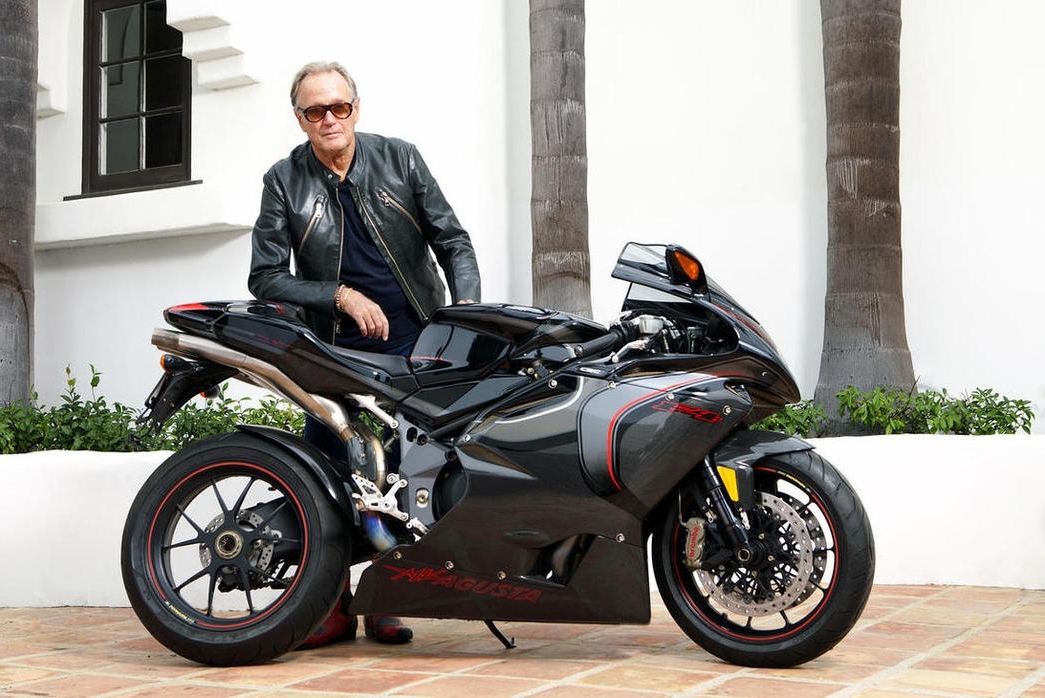 Peter Fonda élete végéig szelíd motoros maradt, állítása szerint az volt számára az igazi kikapcsolódás, ha járgánya nyergébe pattanva falhatta a kilométereket. Egy 2007-es interjúban így beszélt örök szenvedélyéről: "Egy MV Agustával járok mindenfelé, ami olasz versenymotor, és nagy odafigyelést, koncentrációt igényel a kormányzása. Én összpontosítva szeretek kikapcsolódni, fontos számomra az önfegyelem még ilyenkor is. Alattam a motor, alatta pedig az út… Kell ennél több? Nekem nem!" Az ekkor már nagypapa korú színész a közéleti témákat sem hanyagolta el: Barack Obama kétes döntéseit ugyanolyan vehemenciával kritizálta, mint Donald Trump bevándorláspolitikáját, ráadásul gyakran nyomdafestéket nem tűrő hangnemben.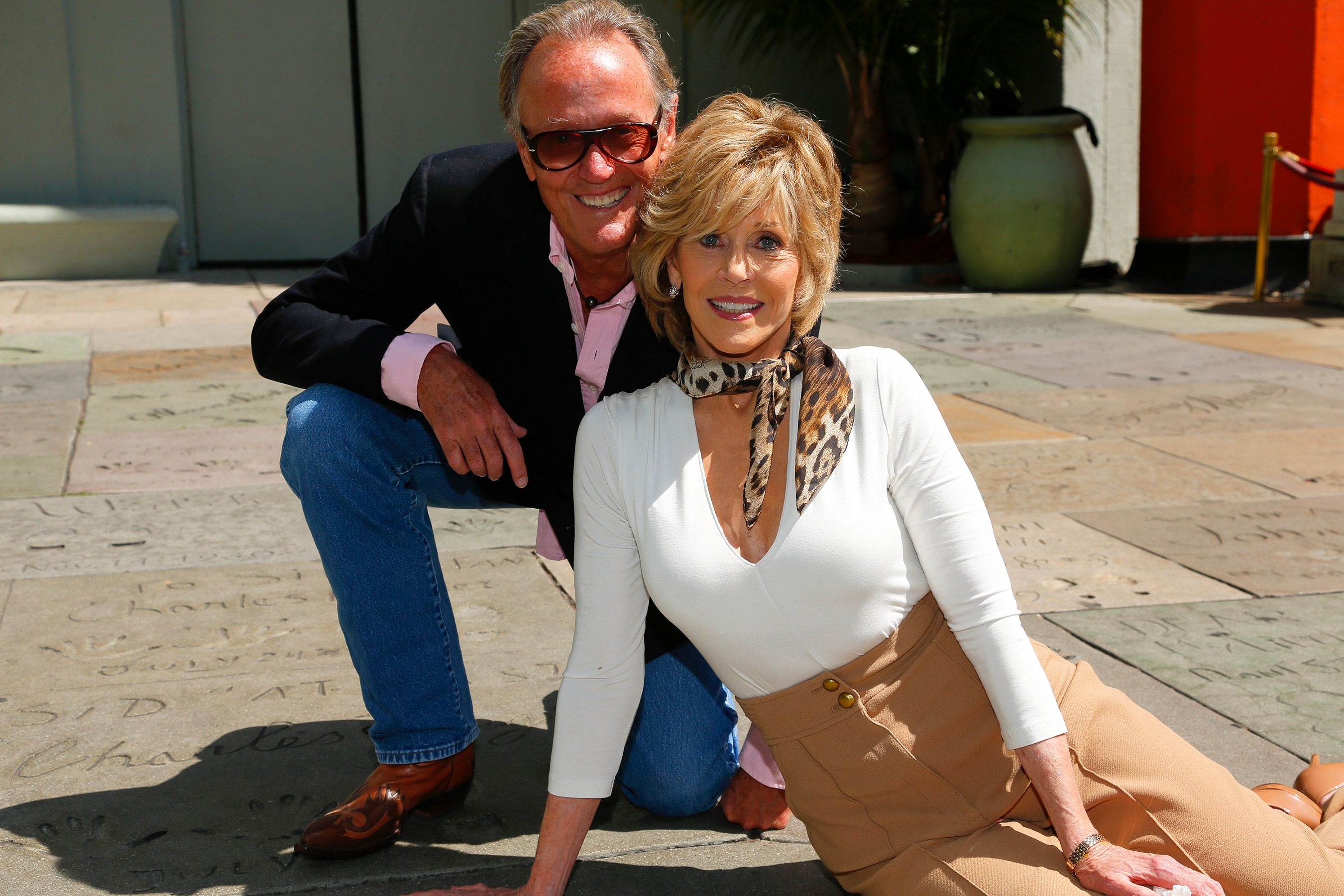 Peter Fonda 2019. augusztus 19-én hunyt el tüdőrákban, 79 éves korában… Nővére, Jane Fonda szerint nevetve és jókedvűen távozott. Halálhíre kapcsán a Steppenwolf The Pusher című, az Easy Rider-ben is elhangzó Hoyt Axton-feldolgozásának első versszaka jutott eszembe:
You know I've smoked a lot of grass
O' Lord, I've popped a lot of pills
But I never touched nothin'
That my spirit could kill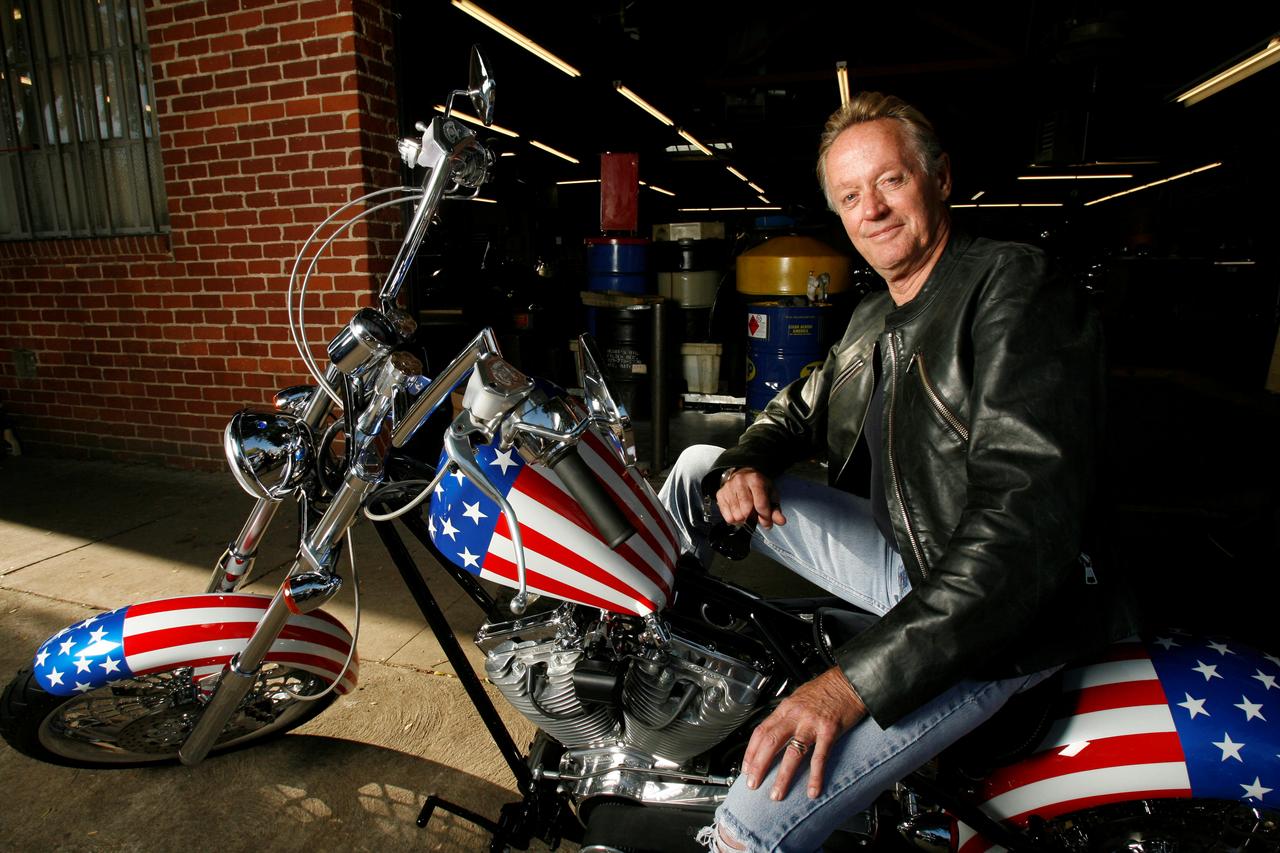 Szerettem volna frappáns és egyedi módon elbúcsúzni Petertől e cikk végén, de végül rájöttem, hogy a kliséhalmozás jelen esetben egyáltalán nem kínos tevékenység. Mi más is lehetne a végszó, mint az a dal, amiről minden rajongójának ő jut eszébe?