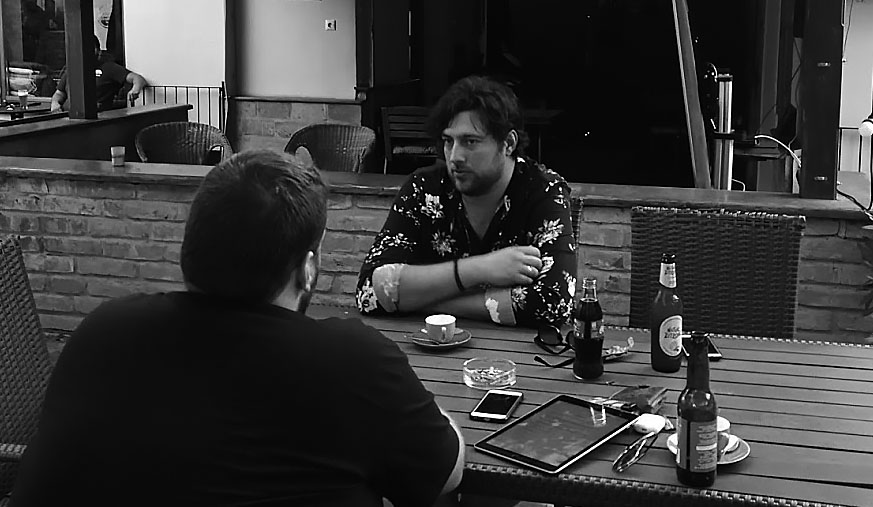 Közel három év szünet után a napokban mutatta be legfrissebb, Túl a fényeken című dalát a Turbo. Ám ez mind csak ízelítő, a srácok ugyanis az utolsó simításokat végzik legújabb, magyar nyelven íródott nagylemezükön, amit október 18-án az A38 Hajón mutatnak be élőben. Tanka Balázzsal Csongrádon, a törzshelyének számító Tisza Presszóban ültünk le beszélgetni az aktualitásokról.
A 2014-es Pentagram album megjelenését követően bejelentettétek, hogy szünetet tartotok. Kérlek, mesélj egy kicsit arról, milyen tényezők játszottak közre abban, hogy úgy döntöttetek, egy időre felhagytok a közös munkával?
Az egésznek egyszerű és emberi okai vannak. Amikor megalakult a Turbo, megfogadtuk, hogy abban a pillanatban, ahogy azt érezzük, hogy az egész zenekar veszít az erejéből, behúzzuk a kéziféket. Jerónak (basszusgitár) és nekem is gyerekek érkeztek a családba, leköltöztem Csongrádra. Jávornak (dobok) beindult a Random Trip projekt, tehát szinte mindenkinek összesűrűsödtek a dolgok, így az volt a legkézenfekvőbb döntés, hogy szünetre vonulunk.
Mondhatjuk, hogy egy aktív szünetetek volt? Hiszen 2015-ben egy akusztikus albummal (Lullabies For Awakening) jelentkeztetek, és egy koncert erejéig minden évben összeállt a csapat.
Hivatalosan az akusztikus album megjelenését megtetőző MüPa koncert után döntöttünk úgy, hogy szünetre megyünk, ami több mint 3 évig tartott. Aztán jött egy felkérést az A38-tól, hogy kellene egy koncert, amin eljátsszuk a teljes első lemezünket. Mi nagyon örültünk ennek, mert, amikor az ember hosszú ideje nem zenél, elkezdi hallgatni a korábbi dalait, albumait, mi pedig pont az első lemezbe voltunk "belegabalyodva", így kapóra jött a dolog. Hatalmas buli volt, és azt hiszem, ez egy lökést adott nekünk. Aztán egy Trillion koncerten együtt lógtam a Subscribe-os srácokkal, akik ugye a nyáron - hosszú idő után - tértek vissza a Budapest Parkban, és megdumáltuk, hogy ezen a bulin a Turbo is fellép, közös kedvencünkkel, az Apey & The Pea-vel. Ez májusban volt.


fotó: Somogyi Lajos 
A nyáron egyetlen fesztivál-koncerten láthatott benneteket a közönség, méghozzá a Hello Ugaron. Mondhatjuk, hogy visszatért a Turbo?
Ezt még így túlzás lenne kijelenteni, az Ugart azért választottuk, mert tavaly meglátogattam ezt a fesztivált és valósággal lebilincselt a hangulata. Élveztem, hogy a környéken élőknek is újra megmutattuk magunkat és azt az energiát, amit a Turbo képviselt.
Már több fórumon is bejelentettétek, hogy készül az új album. Kérlek, mesélj arról, hogy mikor fogalmazódott meg bennetek a gondolat, hogy jöhet az új lemez?
Nem nagyon tudom azt mondani, hogy ez tudatos elhatározás volt. Fontos, hogy mi lemezben gondolkozunk, nem dalokban, nem kislemezekben, csakis egész lemezekben. Van bennünk egy impulzus, egy lökéshullám, ami aztán cunamiként indul el és a végén egy digipackot fogunk a kezünkben. Itt mindennek jelentősége van, mindenben ott van az összefüggés, kezdve a dalok sorrendjétől a szövegeken át, egészen lemez grafikájáig. Koncepcióalbumnak nem lehet nevezni őket, de egy szép ívet ír le az egész. Ez most is így alakult. Felgyülemlenek bennünk olyan energiák, olyan szintek, amikor minden adott, hogy megcsináljuk. Ez körülbelül 6 hónappal ezelőtt jött el. A lemez már a finisében van, és az első talán legfontosabb információ vele kapcsolatosan, hogy a Turbo történetében először magyar nyelven íródnak a dalok.
A magyar szövegek - mondjuk úgy - megosztják a hazai zenészeket, zenerajongókat. Miért döntöttetek az anyanyelven íródott szövegek mellett?
Valóban megosztó dolog, de az a zenekar vagyunk, akinek nincs mit veszíteni. Nem azért csináljuk, hogy - teszem azt - ötvennel több lemezt adjunk el itthon. Az egész tök egyszerű: ez van most bennünk. Eddig ugye angolul jött a dolog, ami meglehetősen kényelmes, komfortos dolog, még akkor is, ha a zenéhez maximálisan passzoló angol szöveget sem könnyű írni. A Turbóra mindig is jellemző volt, hogy annyira sűrű a zene, a hangkép, hogy ebben az éneket is inkább effektként lehetne meghatározni. A másik zenekarommal, a Kalderával magyarul írok szöveget, ami kifejezetten tetszik a Turbo tagjainak. Mindig is volt bennünk egy ilyen gondolat, hogy mi lenne, ha megpróbálnánk magyarul. Egyszer már próbálkoztunk vele, ez lett a Nebulosus, amiből klip is készült, felkerült az internetre és a közönség reakciójából azt vettük észre, hogy - bár átütő sikere nem lett - teljesen megállja a helyét az angol dalaink mellett. Remélem, ezt a lemezt is ennyien szeretni fogják.
Zeneileg mi jellemzi majd az új lemezt?

Azt gondolom, hogy 150 százalékig Turbós lesz! Ugyanaz lesz rá jellemző, mint az eddigi albumainkra. A zeneiséget leginkább Dávid (gitár) formálja, aki ugye a Takkra nevet viselő zenei projektjét is viszi, ami egy elég elmélyülős elektronikus zenei vonal - én egyébként imádom -, viszont van egy brutál énje, amikor előkerül a Flying V és iszonyatos katarzist ad át vele. Az első két dal már teljesen elkészült, a Túl a fényeken videoklipje hamarosan meg fog jelenni (azóta megjelent, az alábbiakban megtekinthető), amiben ez eléggé érezhető lesz. Mi úgy hívjuk, hogy a tehervonat, mert elüt a francba! A teljes lemez összképét még nem tudom meghatározni, hiszen most zajlanak az utolsó simítások. Lesznek benne mélységek, a rám jellemző Kalderás világ, de ugyanúgy benne vannak ezek a kozmikus univerzum témák, amik a szövegekben is helyet kapnak.
Ha már így említetted a dalszövegeket, milyen témákat ölelnek fel?
Szimbolikus világot. Nem feltétlenül szeretnék mindent direktben átadni. Az érdekes egyébként az, amikor ezek az üzenettel rendelkező szövegek találkoznak a zenével. Mert akkor megsokszorozódik az ereje, és ezzel nagyon érdekes szembetalálkozni. A szövegekbe is - mint minden másba - teljes  beleszólása van a zenekarnak. Mindenkinek vannak ötletei. Éppen ezért lesznek olyanok, amilyenek. Vannak az életemben olyan témák, amik meghatározók: magánélet, vagy a környezet, a természeti jelenségek világa. Ezek közel állnak hozzám, nyilván ezekből inspirálódom. Ezoterikusnak nem nevezném, de nagyon szeretem például az olyan szimbólumokat, mint a Nap, a Hold, minden olyan dolgot, ami körbevesz bennünket, és amit át tudunk magunkon rezgetni. Szeretem nehézsúlyú tartalommal megtölteni ezeket, de az is fontos számomra hogy ne legyenek bonyolultak. Én azt osztom, hogy nem kell mindenkinek verseket írni. Szerintem a rockzene nem követeli meg azt, hogy mélyen irodalmi dolgokba menjünk. Fontos, hogy erős üzenete legyen, ami aztán lehet, hogy minden hallgatónak teljesen mást jelent.
Októberben a nagyközönség előtt mutatjátok meg az új albumot. Kérlek, mesélj egy kicsit erről is!

Október 18-án lesz a lemezbemutató koncertünk az A38 hajón, az Ék zenekar társaságában. Megpróbáljuk előadni az új művészetünket, nagyon friss lesz, és ha jól mennek a dolgok, akkor már  fizikai valójában is ott lesz a lemez nálunk. A Hajót nagyon szeretjük, mert az adottságinak köszönhetően vissza tudjuk adni a Turbós hangulatot. Már a Budapest Parkos koncertünkön is látszott, hogy nagyon nagy szeretet árad a közönségünkből, úgyhogy én egy óriási bulira számítok.
Itt ülünk a csongrádi Tisza Presszóban, melynek idei koncertprogramja országos szinten is megállja a helyét. Mit gondolsz, az egykoron a fővárosba centralizálódó rockzenei élet kezd itt vidéken is teret nyerni?

Ez egy nehéz kérdés. Igazából azt látom, hogy teljesen megváltozott a helyzet. 2000 környékén kezdtem el aktívan a könnyűzenével foglalkozni. Akkor még egy teljesen más világ volt. Külön telefonkártyákon voltak a vidéki kontaktok, sehol nem volt menedzsment, mindent a zenekar kapart ki magának. A hangulat tekintetében pedig ütős bulik voltak, örültek az emberek, hogy ott egyáltalán koncert van. Játszhatott volna ott akár a Pantera is, mert jöttek az emberek és telt ház volt. Nos, ez teljesen átfordult, minden szakmai lett: menedzsmentek, VIP sátorok, minden patentra, percről percre le van szervezve. A kérdésedre válaszolva, én borúlátó vagyok. Főleg klubszinten. Még a Turbo szintjén is nehéz, pedig már 10 éve csináljuk. Nekünk is egy másik zenekarral közösen éri meg vidékre menni. Hál'istennek vannak olyan csapatok, akikkel össze tudunk fogni, de ennek is megvannak az árnyoldalai. Este hatkor, tűző napon, kisszínpadon, stb… stb… Mindig van valami hullám, ami elviszi a figyelmet az értékes, hangszeres zenéről. 
Azért örülök, hogy vannak ilyen helyek, mint a Tisza Presszó, mert más szemléletet vesznek fel. Elhatározzák, hogy ők egy kultúrhely szeretnének lenni, és megpróbálják. Nagyon színvonalas programsorozatot raktak össze a nyári szezonra. Amikor Áron Andris Apey-műsorát a 60 éves bácsi könnyes szemmel hallgatja végig, akkor azt gondolom, megéri csinálni mindezt.