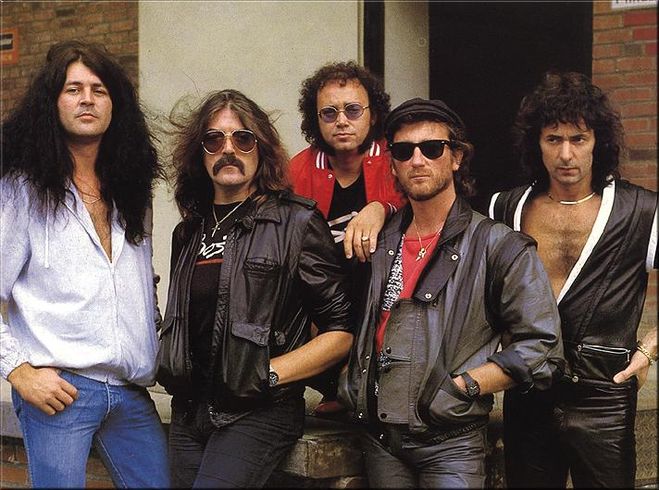 1987-ben a hajmetál élte aranykorát, ám a Deep Purple hagyományosabb felfogású hard rockjának is jutott nem kevés babér. A csapat aktuális, The House Of Blue Light című albuma azonban nem épp baráti hangulatban készült, és talán ennek tudható be, hogy Ian Gillan énekes a szokásosnál is több ironikus hangvételű dalszöveggel állt elő: például azzal, amelyikben egy olyan hölgyről esik szó, aki nem eredeti rendeltetésüknek megfelelően használja a pingponglabdákat.
1976-os feloszlása után 1984-ben alakult újjá a Deep Purple: visszatért a zenekarba Ian Gillan énekes, Ritchie Blackmore gitáros és Roger Glover basszusgitáros, kiadtak egy erős új albumot, a Perfect Strangers-t, és hatalmas turnézásba kezdtek. A lemez Nagy-Britanniában az 5., az USA-ban a 12. helyig jutott az eladási listán, a csapat 1984 novemberétől 1985 augusztusáig tartó amerikai koncertkörútja pedig az 1985-ös év második legsikeresebbje lett, csak Bruce Springsteen bulijaira váltottak többen jegyet a tengerentúlon ebben az esztendőben. 1986-ra azonban megint kiéleződtek a Blackmore és Gillan közti kibékíthetetlen ellentétek, és az 1987 januárjában megjelent The House Of Blue Light című album már a "régi szép", folyamatosan kölcsönös utálkozással mérgezett légkörben készült. Ennek köszönhetően a tagok savanyú szájízzel emlékeznek rá, és kifejezetten gyenge munkának vélik ma már (én viszont a kedvenc Purple-produkcióim közé sorolom).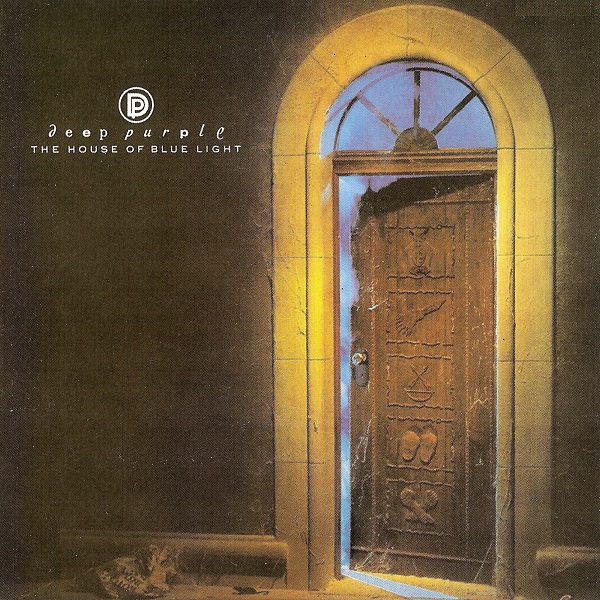 A megzápult hangulat Ian Gillan ekkori dalszövegeire is hatást gyakorolt. A lemezt nyitó Bad Attitude-ot az ihlette, hogy Blackmore-ral veszekedésig fajult egy barátinak szánt focizgatásuk, amelynek végén az énekes elküldte melegebb éghajlatra az gitárost, aki ezt követően felhívta zenésztársa figyelmét arra, hogy minősíthetetlenül és lekezelően viselkedik. Utóbbi érzékeltetésére a cop an attitude szlengkifejezést alkalmazta, mire Gillan ezzel vágott vissza: "Hát ez meg mi a francot jelent? Nem tudsz angolul, Ritchie?" És újból egymás torkának estek…
A második tételként felcsendülő The Unwritten Law a felelős szexuális gondolkodásról szól: Ha az emberfia tripperes lesz, akkor visszafogja magát, és nem bújik ágyba az ismerősei nőivel, hogy azok szintén részesüljenek szenvedéseiből. Ez az íratlan törvény… Az énekes eredetileg más íratlan törvényeket is belerakott volna a dalba, de végül megelégedett ezzel az eggyel, amelyről keményen turnézó muzsikusként úgy gondolja, a legfontosabb a világon. A frontember azt állítja, hogy a The Unwritten Law riffjeire volt a legnehezebb szöveget és énekdallamokat írnia egész addigi életében, úgyhogy mire elkészült velük, meg akarta fojtani Blackmore-t.
A Call Of The Wild Gillan bevallása szerint egy szándékosan pehelykönnyű dal, amelyben nem épp polkorrekt (Mit is mondott Ritchie korábban? Lekezelő…) modorban egy olyan nőről értekezik, akivel kielégítően össze lehet gyűrni a lepedőt, de másra nem igazán használható. A Mad Dog szövege részben egy szerelmi csalódás, részben pedig a Blackmore zenekari jelenléte miatt érzett frusztráció eredménye: mindkettő az őrületbe kergette Gillant. A Black & White vitriolos támadás az álhíreket gyártó sajtó ellen, az emberek ugyanis hajlamosak könnyedén elhinni mindazt, ami fekete-fehér (vagyis fekete betűkkel fehér papírra nyomtatták). Gillan ekkoriban olyanokat nyilatkozott az általa gyűlölt zugfirkászoknak, hogy zenélni szeret ugyan, de zenét hallgatni egyáltalán nem: előbb csinál egy széket vagy szekrényt a házába (az énekes tapasztalt amatőr asztalos), mint hogy feltegyen egy lemezt. Nem épp bizalomgerjesztő albumpromóciós technika…
A Hard Lovin' Woman a Deep Purple 1970-es Hard Lovin' Man-jére adott megkésett reakció: Ha már van a csapatnak dala egy olyan férfiről, akivel nem habostorta az élet, legyen egy ugyanilyen nőről is… A The Spanish Archer-nek semmi köze a spanyol íjászokhoz, a give someone the Spanish archer kifejezés azt jelenti, hogy szakítunk valakivel, méghozzá nem éppen kulturált módon. Gillan szerint Blackmore agyonszólózta a dalt, ezért aztán ki nem állhatja, legszívesebben lehagyta volna az albumról… A többieknek viszont tetszett, így felkerült rá. A Strangeways ellenben Gillan kedvenc száma az anyagról. Vajon miért? Természetesen az impozánsan kidolgozott énektémák miatt, amelyekre előadójuk a mai napig igen büszke.
A következő dal a Mitzi Dupree, amelynek nem csupán címe, de szövege is a zenekar történetének egyik legfurcsábbja. Gillan 1983-ban, a Black Sabbath énekeseként repülővel utazott Los Angelesből Salt Lake City-be, és pont egy csinos nő mellett kapott helyett, aki Mitzi Dupree művésznéven lett ünnepelt sztár Kanadában, ahol kiérdemelte "a pingpong királynője" titulust. Szó sincs róla, hogy a hölgy az olimpiai csapat tagjaként öregbítette volna hazája hírnevét: csupán azzal foglalatoskodott, amivel megannyi thaiföldi és szingapúri sztriptíztáncosnő is, azaz a műsora tetőpontján pingponglabdákat lőtt ki a puncijából. "Amikor Bangkokban jártam, magam is szemtanúja voltam ennek a mutatványnak. A színpad közvetlen közelében öt jól öltözött olasz üzletember foglalt helyet, a lenyűgözően szép táncoslány pedig sorban mindegyikük borospoharába egy-egy pingponglabdát repített a puncijából. Hát van férfi, akit az ilyesmi nem ihlet meg azonnal?" – idézte fel később kellemes emlékeit az énekes.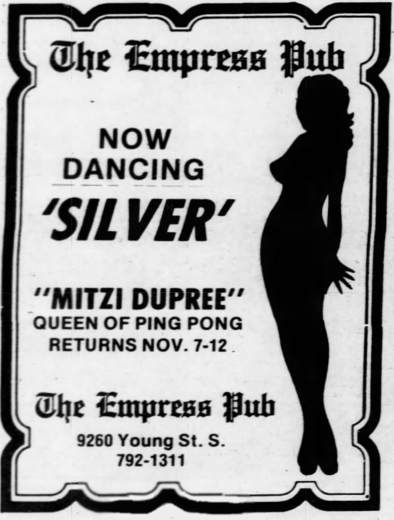 Mitzi Dupree egy kanadai bányászvárosba tartott − ahol a kiéhezett férfipopuláció nem is sejtette, miféle egzotikus performanszoknak válik szemtanújává hamarosan −, Gillan azonban előtte még lebonyolított vele egy rövid affért. A hölgy pár évvel a Deep Purple énekesével való légi találkozás előtt egész nagy botrányt okozott Torontóban, ahol a lakosság erkölcséért aggódókat felbosszantotta növekvő népszerűsége, ezért feljelentették. A művésznőt végül nagy csinnadrattával letartóztatták közszeméremsértésért, de előtte állítólag a teljes kerületi rendőrállomány végignézte a műsorát, mondván: biztosak akartak lenni abban, hogy valóban bűnös cselekedetről van szó, és egyébként is több szem többet lát… "A Mitzi Dupree-t sosem adtuk elő élőben: én imádtam, egész nap ezt dúdoltam, de a többiek utálták (kivéve Rogert), különösen Ritchie. Vannak olyan dalaink, amelyeket csak egyvalaki vagy legfeljebb két ember szeret a zenekarból, a többiek viszont irtóznak tőlük. Ilyen a Flight Of The Rat is a korai időkből: az a dobosunk, Ian Paice egyik kedvence, de mindenki más gyűlöli, úgyhogy sosem fogja a közönség koncerten hallani" – mesélte Gillan.
A Deep Purple 1987-es lemezét a Dead Or Alive zárja, amely az énekes szerint: "Egy rakás szar… Fogalmam sincs, mit keres az albumon. Bár elképzelhető, hogy élőben működni fog. A többieknek mindenesetre tetszik, ez a lényeg. Kit érdekel a véleményem?"