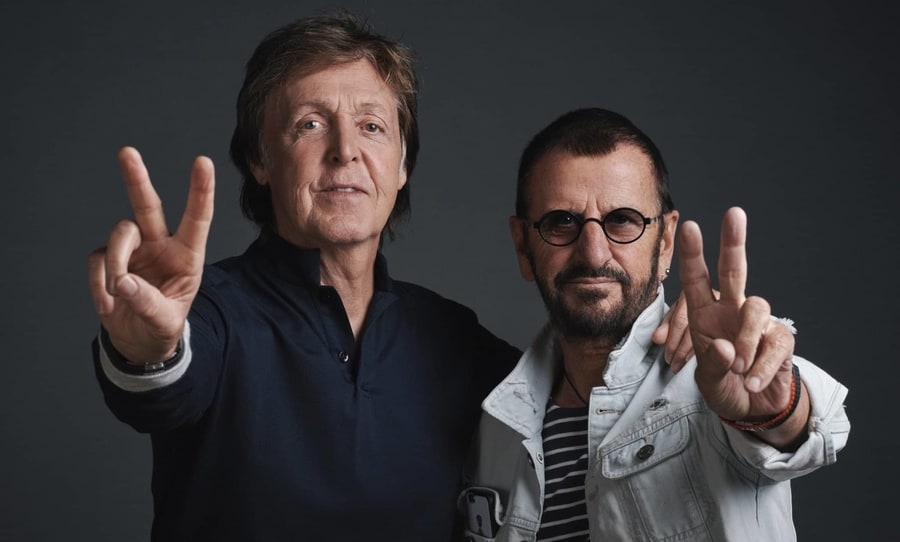 A Grow Old With Me egyike a John Lennon által írt utolsó daloknak. A Beatles legendás vezére demo formájában rögzítette, amikor 1980-ban a Bermuda-szigeten nyaralt, de csak az 1984-es poszthumusz Milk And Honey albumán jelent meg. Idén a Nagy Négyes egykori dobosa, Ringo Starr "porolta le" legújabb lemezéhez, az október 25-én boltokba került What's My Name-hez, ráadásul ex-Gombafejű társa, Paul McCartney is betársult.
Yoko Ono 1980 egyik nyári napján azzal hívta fel az épp Bermudán tartózkodó férjét, hogy Let Me Count The Ways címmel egy Elizabeth Barrett Browning által ihletett dalon dolgozik, és azt mondta Lennonnak, hogy ő pedig írhatna egy olyat, amely a költőnő szintén költő férje, Robert Browning egyik versén alapul. John aznap tévézés közben arra lett figyelmes, hogy épp Robert Browning Rabbi Ben Ezra című versét szavalják az egyik adón, és ez adta meg neki végül a kezdő lökést a Grow Old With Me elkészítéséhez.
Ono és Lennon egyaránt az 1980-as Double Fantasy-ra szánta a friss szerzeményeit, de mivel az anyagnak még karácsony előtt meg kellett jelennie, nem maradt idő rendesen felvenni őket. Ezért úgy döntöttek, hogy az 1981-re tervezett következő albumukon, a Milk And Honey-n szerepeltetik majd a két új dalt. Lennont 1980 decemberében meggyilkolta egy narcisztikus őrült, így az énekes már nem tudta stúdiókörülmények közt rögzíteni a Grow Old With Me-t, a poszthumusz Milk And Honey-n a szám demója található. Lennon azt mondta a feleségének, hogy a romantikus szövegű dal végleges verzióját monumentális hangszerelésű esküvői favoritként képzeli el, amelyre párok milliói kelnek majd egybe a világ minden táján. Ezért 1998-ban, Ono kérésére, a Beatles egykori producere, George Martin elkészítette a dal szimfonikus változatát, amely a John Lennon Anthology box set részeként látott napvilágot.
Ringo Starr 2019 októberében adta ki 20. szólóalbumát, amelyen helyet kapott egy különleges felvétel: a Grow Old With Me általa énekelt és dobolt verziója, amelyben Paul McCartney basszusgitározik és háttérvokálozik, Joe Walsh, az Eagles tagja pedig a gitárszólót játssza. Ringo azt nyilatkozta, hogy azóta fel akarta venni ő is a dalt, mióta hallotta Lennon teljes bermudai hanganyagát, amelyen a szerzemény előadása előtt az énekes a következőket mondja: "Ez a dal pont jó lesz Richard Starkeynak! Neked való, Ringo!" A dobos-énekes verziójába Jack Douglas, a Milk And Honey producere belevágta a Beatles George Harrison által írt és énekelt Here Comes The Sun-jának vonósait. "Így mind benne vagyunk: John, Paul, George, és én is" – mondta elérzékenyülten Ringo, aki 3:03-nál így búcsúzik barátjától: "Isten áldjon, John."