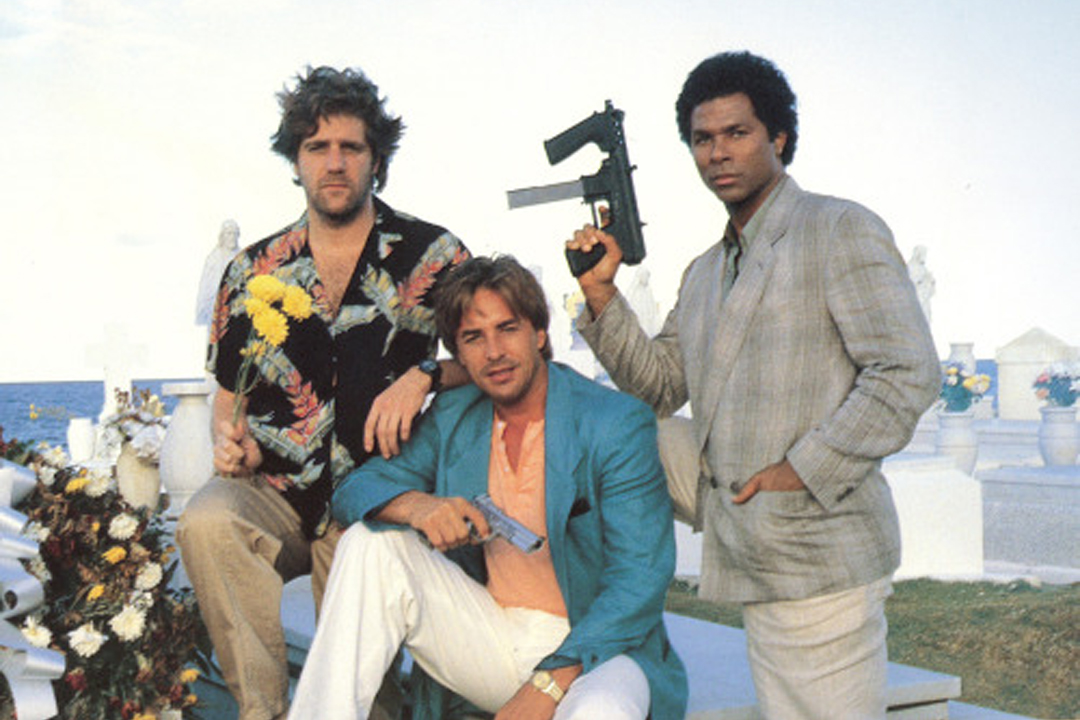 A 2016-ban elhunyt Glenn Frey minden idők egyik legnépszerűbb zenekarának, az Eagles-nek az alapító gitáros-énekese, amerikai nemzeti rockikon, aki mellesleg (legalábbis Sasok-béli zenésztársa, Don Felder szerint) egy kiállhatatlan fráter volt. Jelen cikkünkben azonban nem a jellemhibáiról és botrányairól számolunk be, hanem arról, hogyan került bele nem csak egy dala, de ő maga is a 80-as évek legmenőbb sorozatainak egyikébe, a Miami Vice-ba.
A Smuggler's Blues (Csempész Blues) egy rosszul elsült drogügylet zenés és mozgóképes krónikája, ennek a számnak a videoklipjét találták a legjobbnak az MTV ítészei a csatorna 1985-ös díjkiosztóján. Frey ugyan sosem tevékenykedett drogcsempészként, ellenben szerfogyasztó múltja miatt rendelkezett némi rálátással a problémára, valamint a dílerek és a szállítók hektikus életvitelének nehézségeit is mélyen átérezte. "Aki több évtizeden át rocksztárként él, képtelen nem kapcsolatba kerülni efféle figurákkal. Azt hiszem, sikerült egyetlen dalba sűrítenem az életformájuk minden fő jellemzőjét. Büszke vagyok a szövegére: költészetnek nem mondanám, inkább újságírósan lényegre törő " – nyilatkozta a gitáros-énekes nem sokkal a szerzeménye slágerré válása után.
1984-ben, a dal megjelenésekor már javában "tombolt" a reagani konzervativizmus, amely legalább annyi hívet szerzett magának, mint ellenséget. A drogterjesztés elleni küzdelem központi szerephez jutott a politikai kampányokban és a média mindennapos híreiben egyaránt. Az alvilág és a keménykötésű detektívek közt dúló "drogháború" a ponyvairodalom és a mozifilmek, valamint a tévésorozatok világában is elkezdte éreztetni a hatását, a rock színtéren pedig a Smuggler's Blues volt az első olyan nóta, amelyet a témakörnek szenteltek.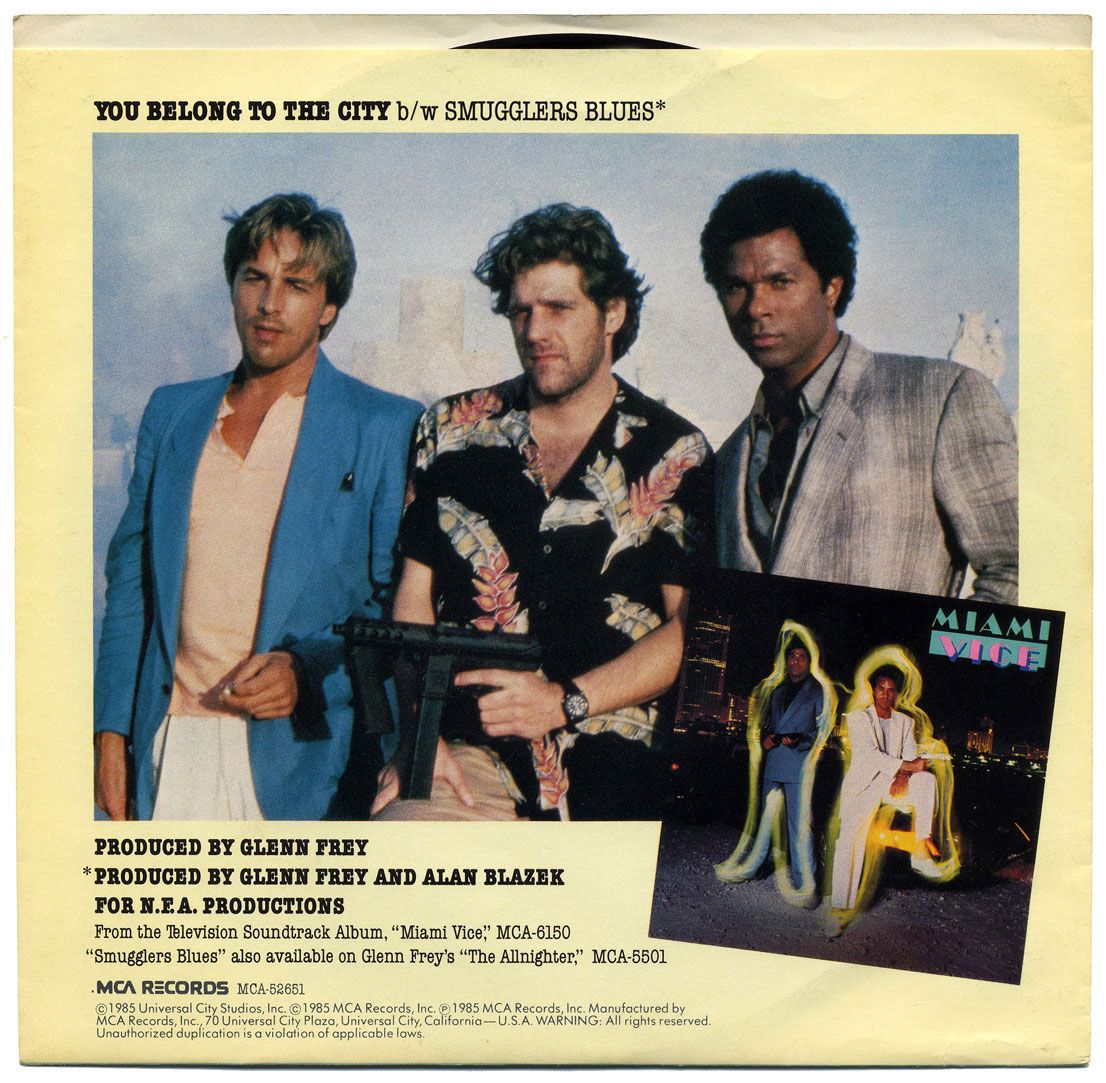 Michael Mann producer (aki rendezőként olyan filmeket jegyez, mint a Szemtől szemben vagy Az utolsó mohikán) pont Frey második albumának (The Allnighter) megjelenési évében indította útjára a Miami Vice című bűnügyi sorozatot, amelyben Don Johnson és Philip Michael Thomas olyan nyomozókat alakítanak, akik főleg drogbárók bandáiba épülnek be. A széria megasikernek bizonyult, Mann-nek pedig annyira megtetszett a hozzá passzoló Frey-sláger, hogy Miguel Piñero forgatókönyvíróval egy teljes epizódot (első évad, 15.) készíttetett a dalszöveg alapján: ez szintén a Smuggler's Blues címet kapta, és a dal is elhangzik benne, amelyből többször idéznek sorokat a szereplők. Ráadásul Frey még színészi feladatot is kapott ebben a részben: egy drogfüggő és rockzenét hallgató pilótát játszik, akit Johnsonék felbérelnek titkos akciójukhoz. Glenn Frey addig ütötte a Miami Vice vasát, amíg meleg volt: dalt írt You Belong To The City címmel a második évad első epizódjához, és ennek népszerűsége még a Smuggler's Blues-ét is felülmúlta: a filmsorozat soundtrack albumát az amerikai lemezeladási lista élére repítette, ahonnan el sem mozdult 11 héten át.
A Miami Vice-os kitérő alaposan fellendítette Frey szólóelőadói karrierjét, és a tehetséges zenész a színészetet is folytatta (igaz, kisebb-nagyobb szünetekkel): 1993-ban még saját detektívsorozattal is megkínálták South Of Sunset címmel, ez azonban megbukott, és hét epizód után felhagytak a gyártásával. Mozifilmes főszerep ugyancsak jutott neki a Miami Vice-nak köszönhetően, de sajnos csupán a Let's Get Harry című 1986-os csapnivaló akciófilmben, amelyben egy gyári alkalmazottakból álló társaság úgy dönt, hogy egy profi zsoldos segítségével ők maguk szabadítják ki kolumbiai lázadók által elrabolt barátjukat.