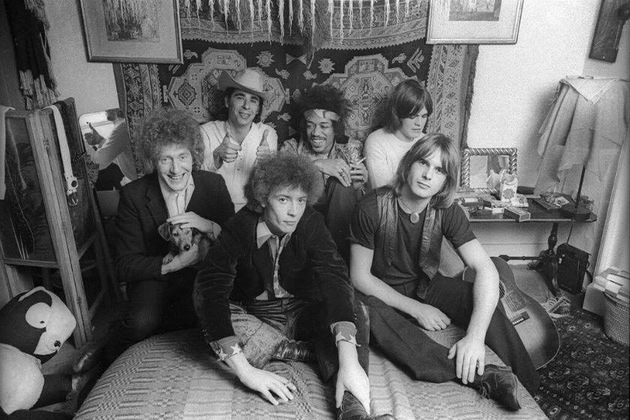 A címet akár így is folytathatnánk: és mégsem vitték semmire. Sajnos az Eire Apparent esete ékesen bizonyítja, hogy hiába az elsőrangú muzsika és egy világsztár nem csekély zenei hozzájárulása, ha egy rockzenekar nem kap megfelelő kiadói támogatást és profi promóciót.  Ezúttal egy jobb sorsra érdemes albumot mutatunk be nektek, amely már a megjelenése pillanatában feledésbe merült, viszont az eltelt évtizedek során a kuriózumokat vadászó gyűjtők egyik kedvencévé vált.
Az északír Eire Apparent tagjai az 1960-as évek eleje óta zenéltek együtt − először Tony & The Telstars, majd The People néven, de egyik formáció sem keltett különösebb feltűnést. 1967-ben Londonba tették át a székhelyüket, ahol érdeklődni kezdett irántuk az Animals egykori basszusgitárosa, Chas Chandler, aki ekkor már Jimi Hendrix menedzsere volt főállásban. Chandler először az üzlettársa feleségével átkereszteltette az ekkor még People nevű bandát Eire Apparentre, majd egyetlen kislemez elkészítése után azonnal turnézni küldte őket az USA-ba és Kanadába az Animals előzenekaraként. Minden simán ment egy vancouveri fellépésig, amely után Henry McCullough gitárost (aki később Joe Cocker Woostockban is játszó kísérőzenekarának, valamint Paul McCartney Wingsének tagja lett) letartóztatták marihuána birtoklása miatt, majd repülőjegyet adtak a kezébe és hazatoloncolták. A helyét Mick Cox vette át, és bár derekasan helytállt a további turnéállomásokon, ahol az Eire Apparent már Jimi Hendrix és a Soft Machine társaságában lépett fel, mégis inkább ritmusgitárosnak érezte magát, a szólózás nem volt erős oldala. Így aztán amikor 1968 októberében a zenekar stúdióba vonult Los Angelesben felvenni első albumát, az ekkor már velük baráti viszonyban lévő Hendrix nem csupán producerként kísérte el őket, hanem a lemez tizenegy dalából kilencben magára vállalta a szólógitáros szerepét is.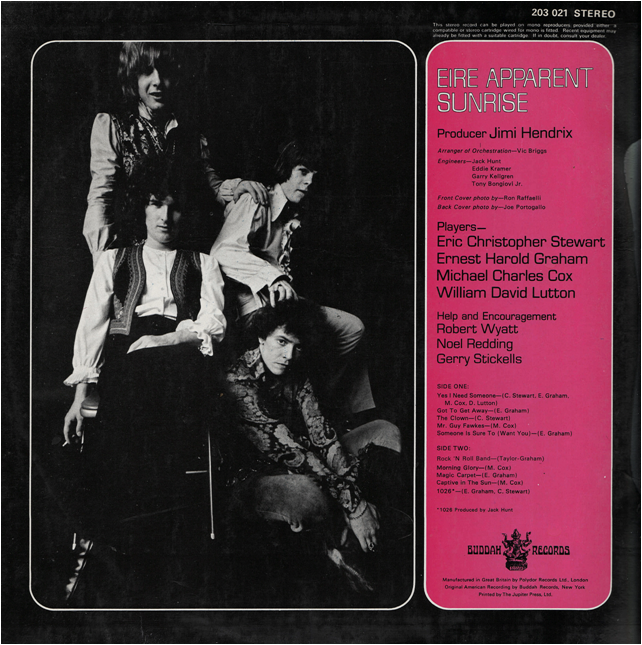 A világ és az uralkodó zenei ízlés viszont nagyot változott néhány hónap alatt, és mire a Sunrise című, kiváló pszichedelikus pop-rockot tartalmazó anyag 1969 májusában a boltokba került, a blues hatású korai hard rock teljesen kiszorította az éterből és a lemezboltokból a bódító hippimuzsikát. Így fordulhatott elő, hogy a Beatles, a Pretty Things, a Tomorrow és a Grapefruit legsikerültebb elvont szerzeményeivel versenyre kelő Eire Apparent dalok, amelyek fél évvel korábban akár még nagy slágerek is lehettek volna, esélyhez sem jutottak a rádiókban.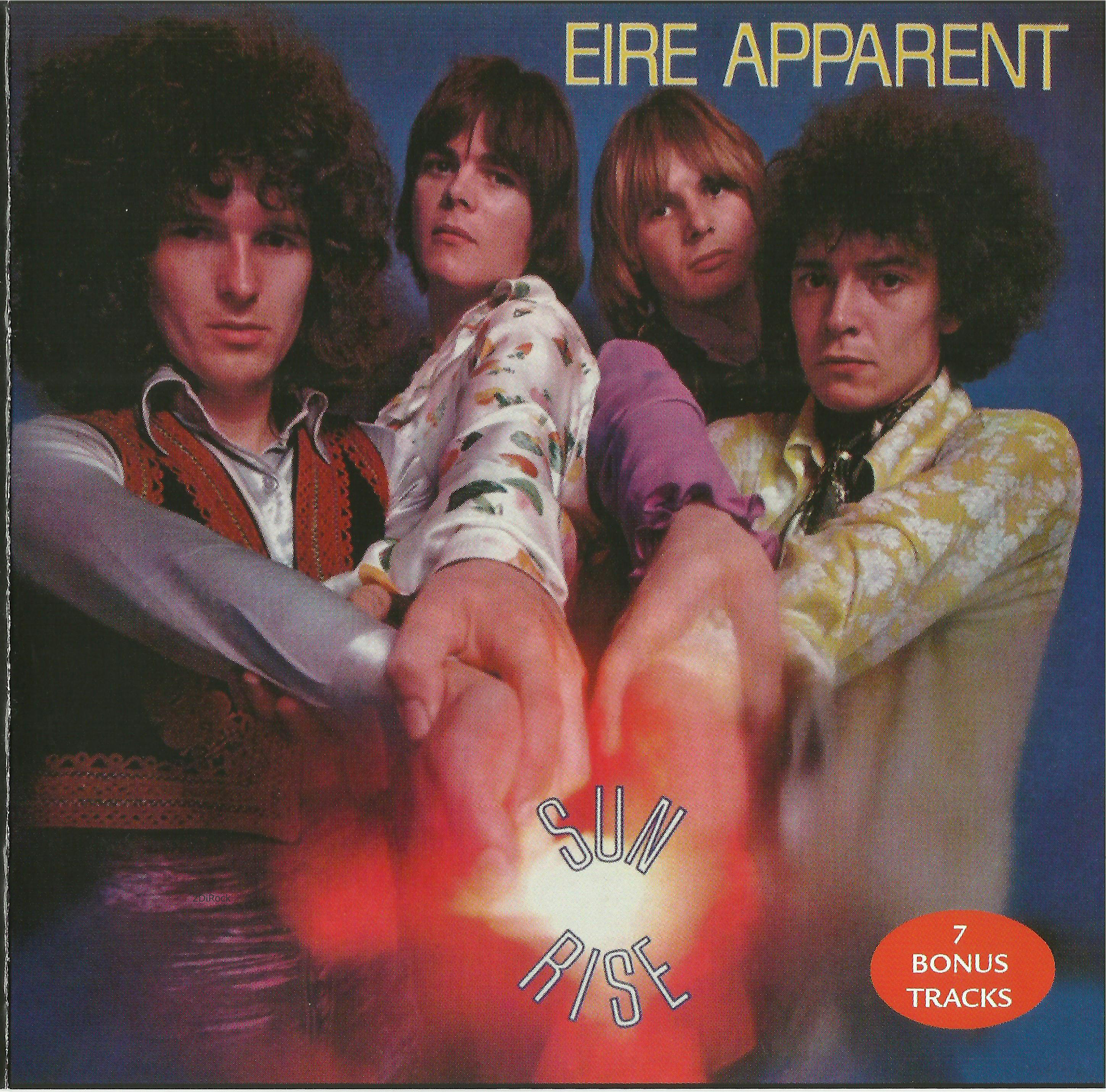 Bár felröppent a hír, hogy a csapat a sikertelenség ellenére elkezdett dolgozni a második albumán (ezúttal a Soft Machine dobosa, Robert Wyatt vállalkozott náluk producerkedésre), végül felhagytak a munkálatokkal, és 1970-ben bejelentették a feloszlásukat. A Sunrise-ot ezt követően sokáig csak sercegős bakelitként lehetett beszerezni, de a svéd Flawed Gems kiadó 2010-ben megkönyörült rajtunk, és a bónuszdalokkal megpakolt, "remastered" CD-jüknek köszönhetően végre remek minőségben élvezhetjük a 60-as évek egyik legjobb pszichedelikus albumát, amely abszolút mértékben megérdemli az újrafelfedezést. Tekerjük hát fel a hangerőt, és halljuk, mit alkotott Jimi az ír cimboráival!