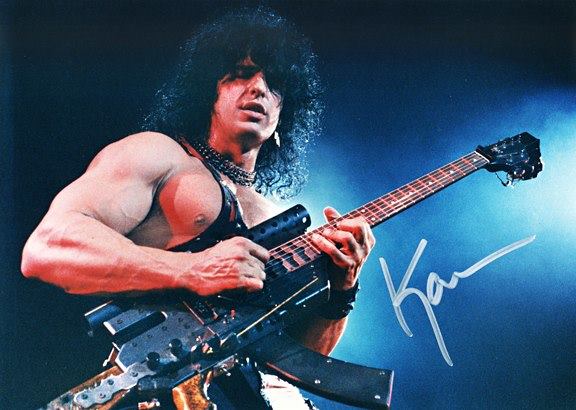 1985-re Alice Cooper a 70-es évek vége óta gyengélkedő karrierje válságba került: Az 1982-es Zipper Catches Skin és az 1983-as DaDa albumok a szokásos shock rock helyett New Wave hatású pop-rockot tartalmaztak, ami alaposan megtépázta a horrorista koncerteket produkáló rockművész hírnevét. Ráadásul alkoholizmusa és drogfüggősége hosszú elvonókúrára kényszerítette, amelynek végeztével kétségtelenül új, ám meglehetősen nyúzott emberként tért vissza kiadójához. Az egyszemélyes felmentő sereg egy felpumpált izomzatú "Frankenstein" képében érkezett meg a stúdióba, aki géppisztoly-gitárjával és Rambo-imidzsével, valamint sallangmentes metálriffjeivel és szólóival segített felkorbácsolni a kijózanított énekes iránti érdeklődést.
Kane Roberts jókor volt jó helyen, és munkaadójával való gyümölcsöző együttműködése a teljes ismeretlenségből szinte egy szempillantás alatt a világ legfőbb koncerttermeibe és a slágerlisták élére repítette. Első közös munkájuk, az 1986-os Constrictor a glam metál divathullám tetőzésekor jelent meg, és a lemezbemutató turné a 80-as évtized egyik legjövedelmezőbbje lett. Alice úrnak nem csupán a zenéje vált izmosabbá − a már eleve izmos új gitárosnak hála −, de a színpadi showelemek terén is eldurvult a helyzet: minden addiginál több művér folyt el, a cooperi trade mark-nak mondható guillotine és társai mellé pedig felsorakozott egy embereket felnyársaló bicikli. Roberts a lemez összes dalát társszerzőként jegyezte, köztük az olyan közönségkedvenceket is, mint a Teenage Frankenstein vagy a Péntek 13. horrorszéria hatodik részének betétdalaként is elhangzó He's Back (The Man Behind The Mask).
A Cooper-Roberts páros következő nagy dobása az 1987-es Raise Your Fist And Yell volt, amely semmilyen szempontból nem tért el az előző anyag jól bevált formulájától. Az agysejteket cseppet sem stimuláló, viszont a célcsoportokat egészségtelen mennyiségű fejrázásra késztető zsigeri metál dominált ezúttal is, olcsó rémregényekből vett témákkal és fogós refrénekkel. A Prince Of Darkness című dal a lemezen kívül John Carpenter azonos című filmjében is felbukkant (akárcsak maga Cooper), Robert Englund, a Rémálom az Elm utcában filmek Freddy Kruegere pedig a Lock Me Up-ban vendégeskedett.
Az album kiadását követő turnén már a groteszk határát is átlépő horror műsorszámoktól rémüldözhetett a nagyérdemű, amelyek hatására Németországban Coopert öncenzúrára kényszerítették a szervezők, és kivetettek vele bizonyos mutatványokat a koncertmenüből. Nagy-Britanniában egy konzervatív képviselő, David Blunkett egyenesen be akarta tiltatni az énekes showját az abban látható erőszakorgia okán, ám a vak (így a felháborítónak titulált fellépéseket csak elképzelni tudó) honatya erőfeszítéseit nem koronázta siker.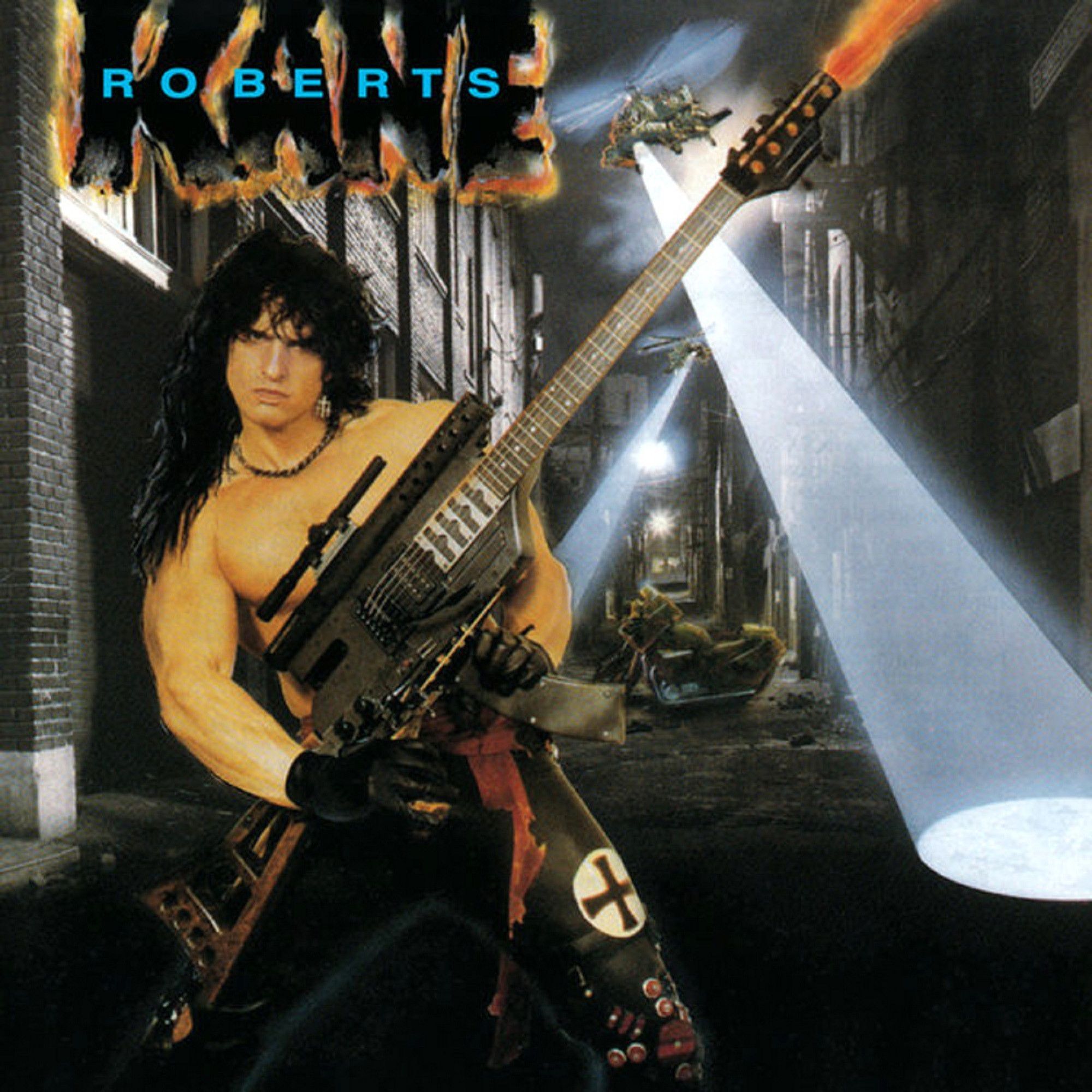 Kane Roberts még ugyanebben az évben jelentette meg első szólóalbumát, amelyen nem csak gitárosként, hanem énekesként is helytállt, ám a lemez nem a zene miatt vált híressé, hanem a 80-as évek tufa akciófilm-imádatát a hajmetál túltupírozottságával tökéletesen ötvöző borítója és a hozzá készült promófényképek révén. Ma már Roberts nem győz szabadkozni: a fotóst, a menedzsmentet és a géppisztoly-gitár tervezőjét okolja amiatt, hogy rocker Rambót csináltak belőle, ám ettől még a tény tény marad: ő pózolt képeken és futkározott a színpadon ilyen imidzs birtokában (ráadásul mindezt már Alice Cooper oldalán is megtette korábban).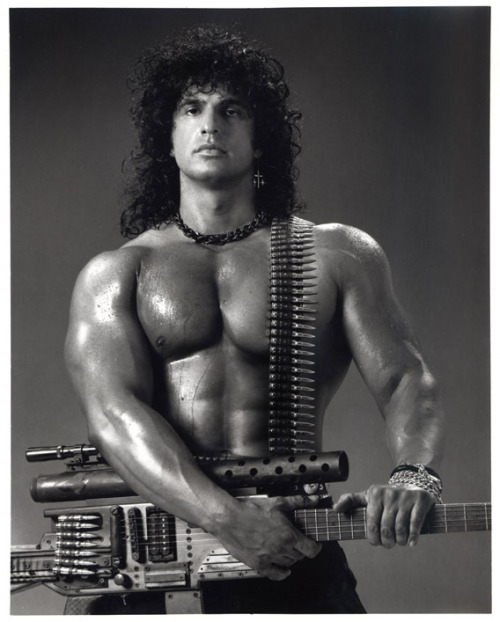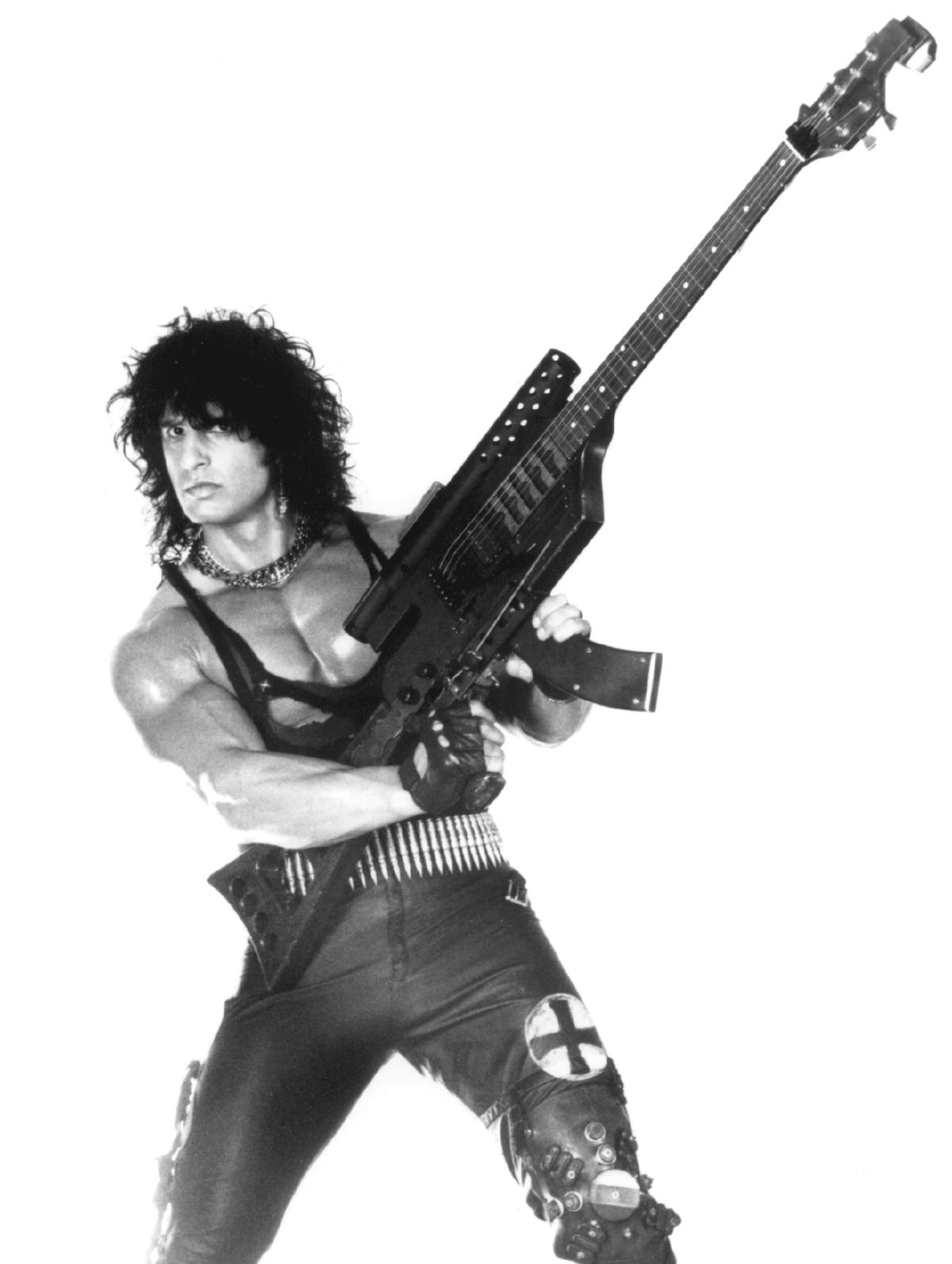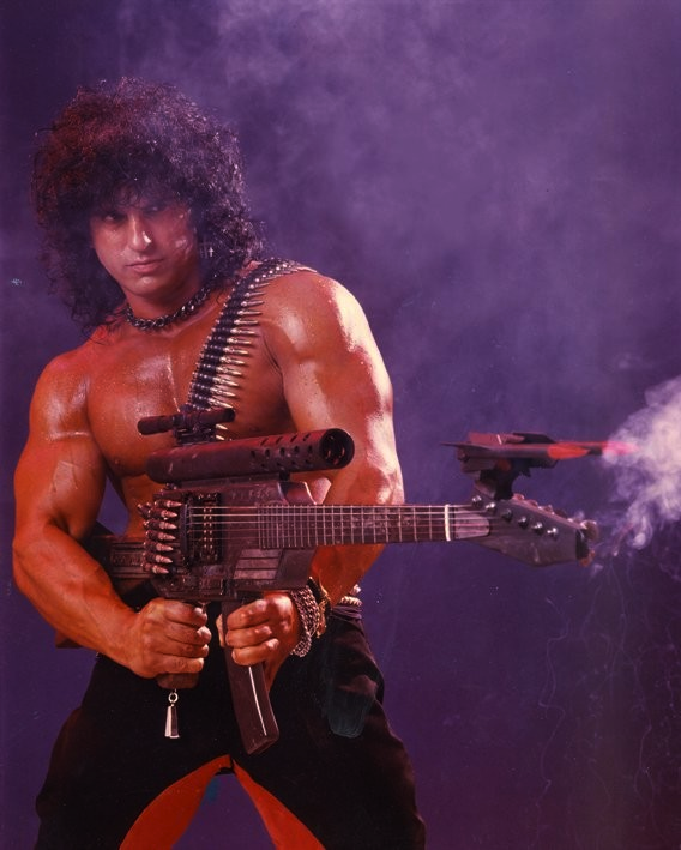 Az 1989-es, a vele készülteknél is nagyobb sikert hozó Cooper-albumon, a Trash-en már csupán egyetlen dalban, a Bed Of Nails-ben hallható Roberts játéka: Desmond Child producer rádióbarát irányba terelte a megint népszerű Coopert, és ehhez sem Roberts gitározása, sem külseje nem illett. Ez azonban nem szegte kedvét hősünknek, aki az elmúlt évtizedekben több szólóalbumot is készített (a legutóbbit épp tavaly), valamint programozóként és számítógépes játékok fejlesztőjeként is megtalálta a számítását. A gyúrást sem hagyta abba, amiről az alábbi fotó tanúskodik.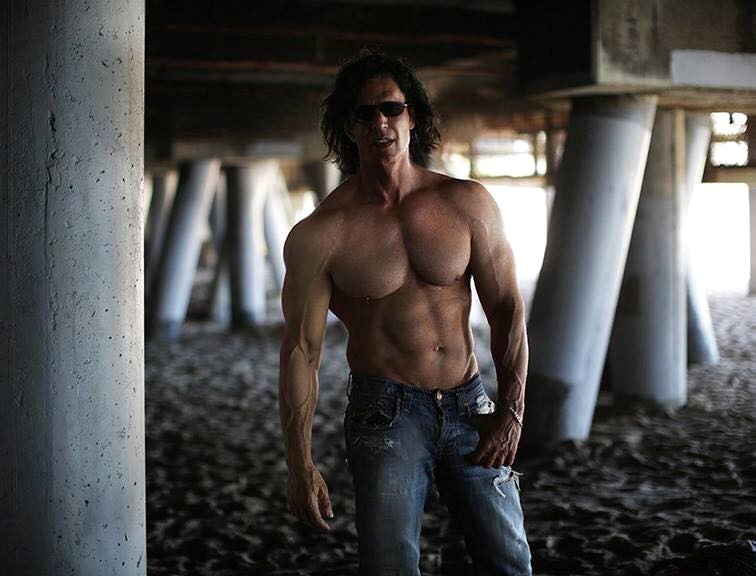 Végezetül néhány idézet Mr. Robertstől…
Miután kikerültem Alice csapatából, senki sem hívott fel azzal, hogy csatlakoznék-e a zenekarához. Sejtettem, hogy így lesz: A hajbandákban lányosan vékony, sok sminket használó fiúk nyomultak, akiknek kisebbrendűségi érzésük támadt volna a férfias megjelenésem miatt. Ezt nem a hatalmas egóm mondatja velem: több közismert zenészkollegám is közölte velem utólag, hogy ezért nem akartak velem dolgozni. Alice-nek nem volt problémája a külsőmmel, de ebben nincs semmi meglepő: őt pont inspirálja, ha valami szokatlan, és akkoriban a muszklijaimmal én bizony annak számítottam a hard rock műfajban.
Egyesek nem az Alice-szel töltött idő miatt, hanem azért ismernek meg az utcán, mert szerepeltem Wes Craven Shocker című horrorfilmjében, targoncavezetőként volt benne egy rövid jelenetem. Eredetileg Michael Hutchence, az INXS énekese játszotta volna a figurámat, de Craven végül engem kért fel, mert – mint mondta – az én arcom sokkal pszichopataibb.
A legfurcsább kérdés, amit interjúban valaha nekem szegeztek? Talán ez: Kinek a fejét vágnám le Alice guillotine-jával? Azt válaszoltam, hogy Jackóét, aztán elvinném egy őrült tudóshoz, és poénból ráoperáltatnám vele egy bombanő testére.