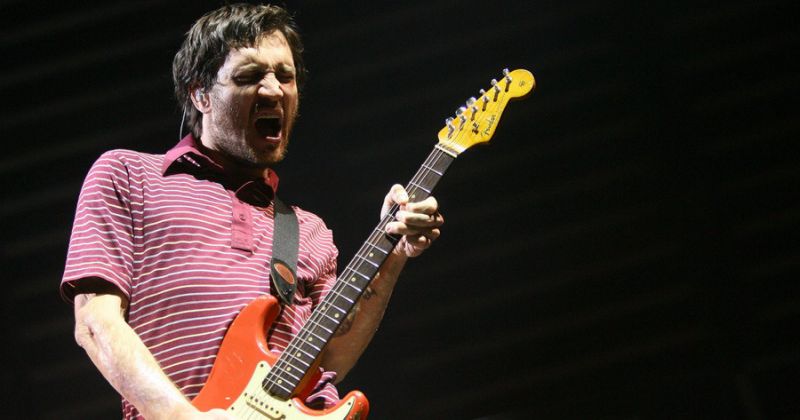 Szavakkal igencsak nehéz leírnom azt az érzést, amit nem is olyan régen egy komor vasárnap este éltem át. Épp hétfői teendőimről próbáltam elterelni gondolataim, így egy totálisan felesleges, ám hatalmas erőfeszítéseket nem igénylő Instagram átlapozást választottam. A posztok csak pörögtek egymás után, nem is igazán dolgoztam fel az információkat, inkább csak lapoztam a következőre. Aztán viszont jött egy igencsak minimál stílusban készült, ám annál tartalmasabb bejegyzés, amitől ott helyben kihordtam lábon – pontosabban az ágyon – egy szívrohamot. – Ez nem létezik! Ilyen nincs! Ez biztosan valami kamu! – gondoltam.
A fenti képből már nyilván kitaláltátok, hogy ez a bejegyzés a Red Hot Chili Peppers hivatalos fiókjára kikerült hír volt, melyben a kaliforniai funk rock ikonok bejelentették, hogy 10 év után visszatér a zenekarba a korábbi gitáros, John Frusciante. Több aktualitása is van ennek az írásnak. Egyrészt már jó ideje érlelődnek bennem a gondolatok a váltás kapcsán, másrészt a mesterünk épp ma ünnepli 50. születésnapját.
A hír atombombaként robbantotta fel az internetet, a zenekar rajongótábora részéről azonban nem volt osztatlan az öröm… de miért is? Lássuk a történteket! A poszt nyilvánosságra kerülését megelőzően a Chili basszusgitárosa, Flea kaliforniai házába hívta át Josh Klinghoffert, ahol a csapat közölte vele, hogy a jövőt ismét Frusciante-vel képzelik el. Abba most nem mennék bele, hogy mennyire volt diplomatikus ez az eljárás. Klinghoffer későbbi interjúkban elmondta, bár váratlanul érte a bejelentés, nem maradt benne tüske a zenekar döntése miatt. Rajongói oldalról már nem volt ilyen egyszerű a történet. Sokan támadták az együttest, amiért ily módon köszöntek el Klinghoffertől, mások pedig nemes egyszerűséggel a megváltó eljöveteleként aposztrofálták, hogy Frusciante a harmadik etapját kezdte meg a Red Hot Chili Peppers gitárosaként.
Csekkoljuk le gyorsan az idővonalat! 1988-at írunk, és egy az iskolai tanulmányainak fityiszt mutató 18 éves fiú Los Angelesbe költözik. Napi 14-15 órát foglalkozik zenéléssel, közben feltűnik egy-egy jam session-ön, ennek köszönhetően botlik bele előbb Flea-be, majd Anthony Kiedisbe, akiket rajongóként tisztel. A közös zenélés egyenes utat jelent számára a Red Hot Chili Peppersbe. Példaképe, Hillel Slovak nyomdokaiba lép. Teszi mindezt tudatosan: több interjúban és könyvben is kifejti, mennyire görcsösen próbált Slovak méltó utódjaként megfelelni a közönségnek. 1989-ben a Mother's Milk albumon mutatkozik be, ahol bár zsenialitása még nem bontakozik ki, nem mondhatjuk, hogy nem alkot maradandót, a Pretty Little Ditty-vel példának okáért megcsinálja a későbbi rapcore csapat, a Crazy Town "teljes karrierjét".
Az igazi Frusciante későbbi felszínre töréséhez egy Rick Rubin nevezetű ipse is kellett, aki 1991-ben első ízben dolgozik a zenekarral, és a korábbi vaskalapos produceri módszereknek hátat fordítva hagyja, hogy a csapat elképzelései érvényesüljenek. Az eredmény? A '90-es évek egyik sikerlemeze, a Blood Sugar Sex Magik, olyan felejthetetlen szerzeményekkel, mint a Give It Away, a Suck My Kiss, vagy a magány örök himnuszaként a köztudatba ivódott Under The Bridge. A turné kellős közepén aztán beüt a krach, a 22 éves gitáros nem bírja el a népszerűséggel járó terheket, remeteként vonul el a nyilvánosságtól, és egy levelibéka szellemi szintjére narkózza magát.
Barátja, Bob Forrest kérlelésére vonul be egy pasadenai elvonóra, ahol a halál torkából hozzák vissza a szakemberek. Karjain végzett bőrátültetés nyomai még ma is láthatók. A nincstelenségbe sodródott, ám kigyógyult gitárost Flea hívja vissza a Peppersbe, Kiedis pedig kisegíti, hogy egyáltalán legyen min gitároznia. 1999-ben aztán előrukkolnak a Californicationnel, mely mindmáig a csapat egyik legnagyobb gazdasági sikere, Frusciante pedig élete legteljesebb zenei anyagaként tekint rá.
A zenekar népszerűsége a By The Way (2002) és a Stadium Arcadium (2006) megjelenése után sem csökken, a gitáros dalszerzői képességeinek köszönhetően számtalan mindmáig a zenekart meghatározó világsláger hallható ezeken az albumokon is. A dupla lemezes Stadium Arcadium turnéját követően már nem láthattuk közösen a nagy négyest, 2009-ben pedig bejelentette, ismét elhagyja a Red Hot Chili Peppers-t, hasonló okokra hivatkozva, mint '92-ben.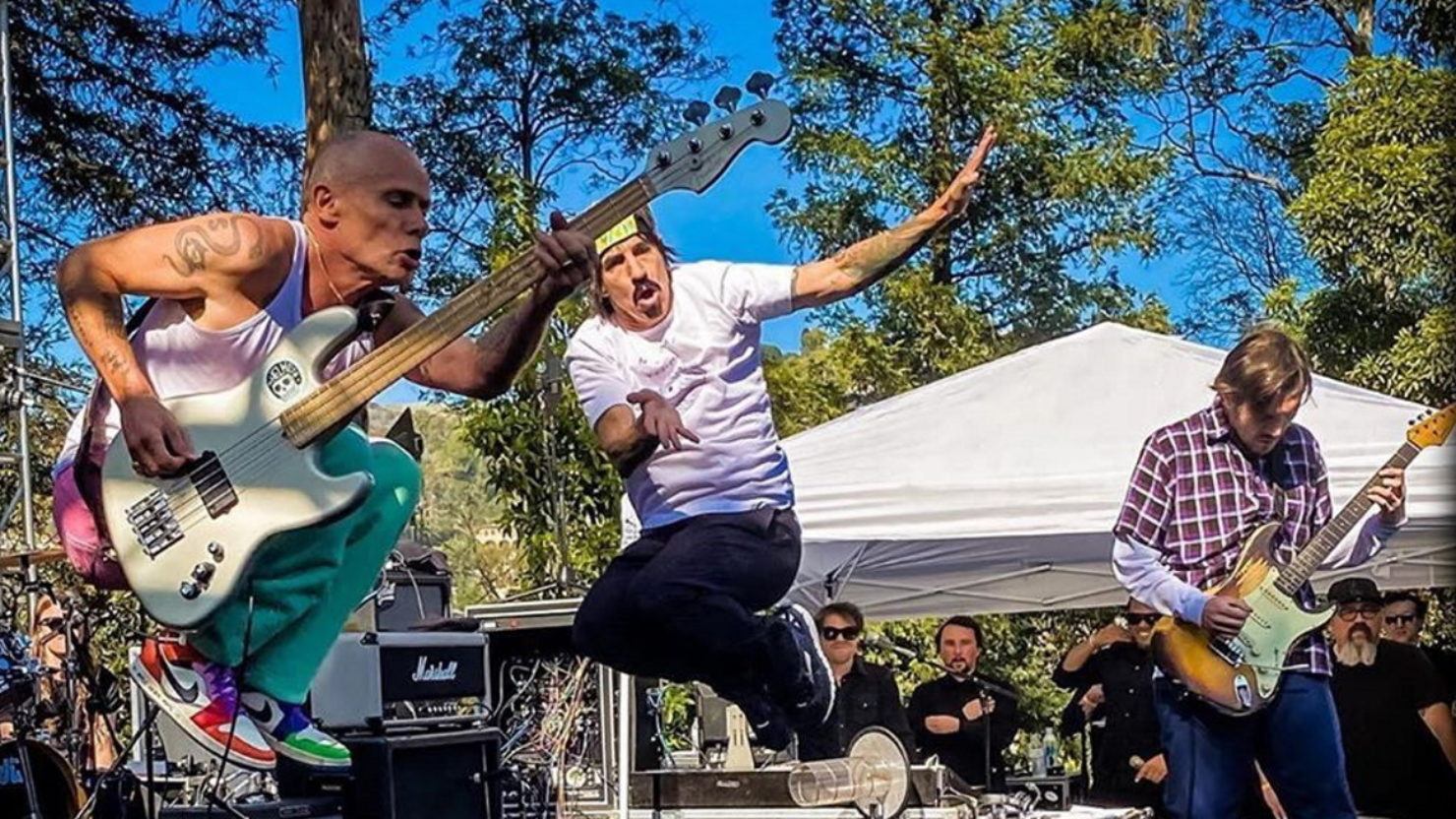 A történet igazából ennyi, de a kérdések továbbra is megbújnak a sztori mögött. Vajon mit tud ez a srác? Miért nincs átütő siker nélküle? Miért laposodik el az egész történet, ha nincs a zenekarban? Hová tűnnek az Otherside-ok, a Scar Tissue-k, a Dani California-k, a Can't Stop-ok, amikor épp a töke tele van a sikerrel, a pompával, a fényűzéssel, és hátat fordít a világnak? A kérdés költői...
A magam részéről azt gondolom, John Frusciante több annál, hogy a Red Hot Chili Peppers történetének egyik gitárosaként tekintsünk rá. Ő egy alkotóelem. Méghozzá a legjobb, legtökéletesebb recept alkotóeleme Anthony Kiedis, Michael Balzary 'Flea' és Chad Smith mellett. Elmondhatatlanul örülök, hogy visszatért.