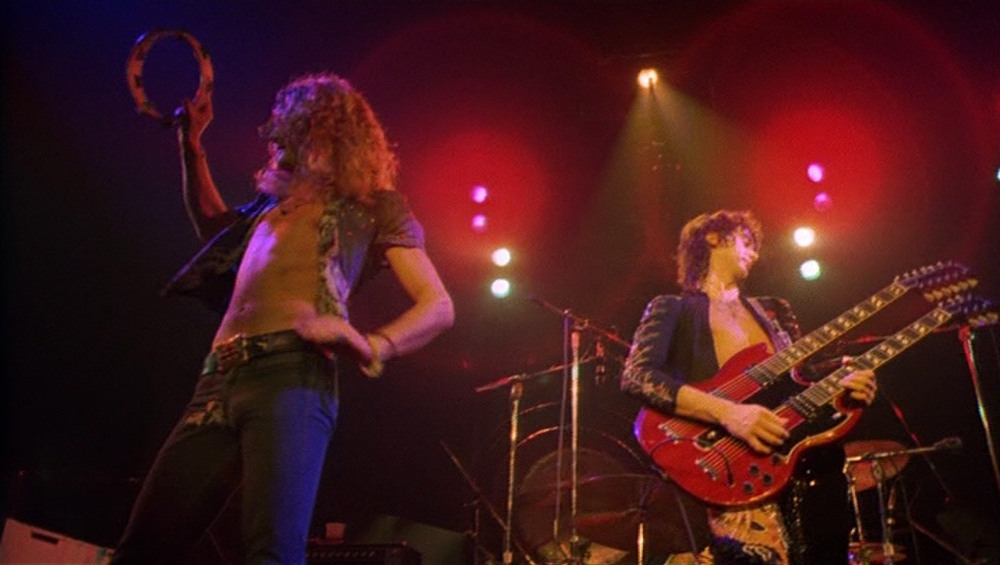 Karantén közepette se maradjunk elsőrangú rockélmények nélkül! A #maradjotthon kampány jegyében blogunk szerkesztői háromrészes cikksorozatban mutatják be nektek kedvenc rockzenei koncertfilmjeiket. Ezúttal Beardman52 kedvenceivel ismerkedhettek meg.
A listám összeállításánál próbáltam arra törekedni, hogy az egyes filmek túlmutassanak a szimpla zenei élményen, így jómagam az 5 kedvenc 'koncertfilm és doku' kategóriában indulnék. Olyan filmeket gyűjtöttem össze nektek, amelyek egy kiváló koncert eseményein kívül megmutatják az egyes zenekarok, előadók színpadon túli arcát is. 
AC/DC – Let There Be Rock (1980)
A film az ausztrál gigászok egyik csúcsidőszakában, 1979-ben született meg. Youngék a Highway To Hell album megjelenése után a franciaországi turné közben két helyi filmesnek adták ki a feladatot az elkészítésére. A zenei tartalom a Párizsban, Lille-ben, Reimsben és Metzben adott koncertek videóanyagából tevődik össze. Ezek mellett a Let There Be Rock a hobbijuknak élő AC/DC tagokat is bemutatja, így többek között láthatjuk Phil Ruddot egy Porsche 928-as volánja mögött, Cliff Williamset repülőgépet vezetve, Malcolm Youngot pedig a futballpályán. A film végül 10-12 órányi nyersanyagból állt össze 95 percesre. Magyarországon 1982-ben mutatták be Szóljon a rock! címmel. A zenekar énekese, Bon Scott a film utómunkálatai közben hunyt el, ő már nem láthatta a végleges változatot.
Led Zeppelin – The Song Remains The Same (1976) 
A Led Zeppelin örökbecsű koncert dokujából csak többszöri nekifutásra lett mozifilm. A terv már valamikor a 1969-ben felmerült a zenekarban és Peter Grant menedzserben, annak rendje és módja szerint 1970 januárjában és júliusában is rögzítettek egy koncertet, de ezeket alkalmatlannak találták. Végül a 3 év múlva a Madison Square Gardenben adott tripla koncert lett a befutó... látszólag. A közeliket ugyanis már új rendezővel, egy évvel később a Madison Square Garden színpadának másolatán, egy stúdióban vették újra. A koncertjeleneteken felül itt is megjelennek amolyan fantáziajelenetek, amelyek a tagok magánéletébe engednek betekintést. A film rengeteg csúszással és többletköltséggel készült el, egyes hírek szerint közel negyedmillió dollár lett a végleges csekk.  
The Who – The Kids Are Alright (1979)
1979 nyarán a Cannes-i Film Fesztiválon debütált az angol fenegyerekek rock dokumentumfilmje. A filmre több szempontból is egy amolyan best of-ként tekinthetünk, az élőzenés jelentek közel 15 év legsikeresebb koncertfelvételeinek nyersanyagából tevődnek össze: természetesen megtaláljuk köztük a dobos, Keith Moon utolsó előadásainak néhány jelenetét is. Ezek mellett a rock doku több kiváló interjút és TV-s előadást is megörökít, a CBS, a BBC, vagy a London Weekend Television felvételeiből, amelyekben természetesen kimutatja a foga fehérjét a csapat, így a vicces képsorok sem maradnak el. Az előzeteshez pedig Ringo Starrt kérték fel, aki néhány érdekes számadatot is megoszt ízelítőként.
Ezt a koncertfilmet az HBO-n láttam 18 évesen. Viszonylag későn, de ezzel ismertem meg a Rolling Stones munkásságát. A Martin Scorsese által készített mű két, 2006 őszén adott rendhagyó előadás nyersanyagából állt össze. A különlegessége, hogy olyan dalok is felkerültek a setlistre, melyeket korábban még sosem játszott élőben a Stones. Számos vendégzenész is csatlakozott hozzájuk, így Buddy Guyt, Jack White-ot, vagy Christina Aguilerát is láthatjuk a New York-i Beacon Theatre színpadán. A koncertfelvételek mellett ritka archív képeket, valamint kulisszák mögött készült felvételeket és interjúkat is bemutat a Shine A Light.
A végére hagytam örök kedvencemet, a Red Hot Chili Peppers Off The Map címre keresztelt DVD-jét. A kiadvány mondhatni rendhagyó módon készült, egy teljes koncert (amely ez esetben is több helyszín felvételeiből állt össze) mellett egy turnéfilmet is tartalmaz, amelyből a zenekar mindennapjait ismerhetjük meg. A Red Hot tagjai mellett a filmben több ízben feltűnik a Foo Fighters legénysége, valamint Woody Harrelson és Chris Rock színészek is, akik közeli kapcsolatot ápolnak a zenekarral. Az Off The Map az 1999-es Californication album világkörüli turnéján készült, amelyen ismét John Frusciante tépte a húrokat.  
(a videón "közreműködik" a Foo Fighters Chad Smith legnagyobb bánatára)