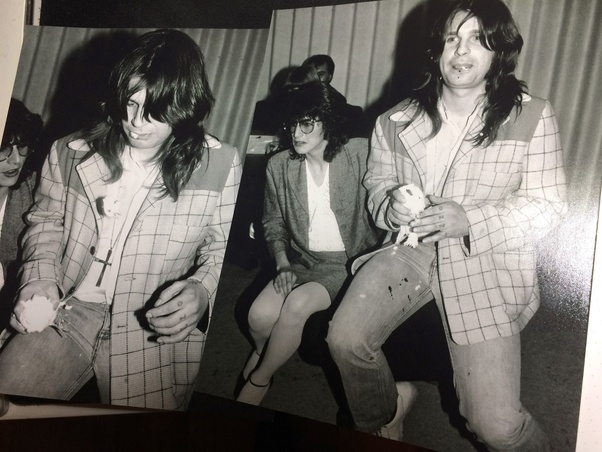 A tények néha meredekebbek, mint amit mi magunk el tudnánk képzelni. Valami hasonló történt 1981. márciusában is, amikor a Black Sabbath-tól éppen távol maradó Ozzy Osbourne – "jóhírének" fenntartás érdekében – leharapta két fehér galamb fejét a CBS egyik nyilvános rendezvényén.
A bizarr történteket azóta többen is felelevenítették, így tett Mick Wall is Symptom Of The Universe című Black Sabbath biográfiájában. Wall azt írja, hogy Ozzy szólókarrierje igen kilátástalanul indult, mivel debütáló lemeze, a Blizzard Of Ozz népszerűsége hazai terepen nem igazán akart beindulni. A siker reménye azonban még ott volt az 1981 márciusi amerikai megjelenésben. Addig is valahogy fent kellett tartani a hírnevét a Black Sabbath egykori énekesének, így Sharon Arden (Ozzy későbbi felesége) menedzser úgy döntött, szép gesztus lenne, ha Ozzy megjelenne a kiadó, az Epic Records nagyszabású promóciós rendezvényén.
Sharon elintézte, hogy Ozzy néhány perces beszédben mondhasson köszönetet a kiadó munkatársainak kiváló munkájukért és erőfeszítéseikért. Úgy tervezte, hogy amolyan csattanóként a beszéd végén Ozzy szabadon enged majd három fehér galambot, ám az énekes a rendezvényre igyekezve útközben benyakalt egy üveg brandy-t.
Ott volt egy a PR-os nő is, aki folyton traktált. Elmondtam beszédet, majd a végén megkérdeztem őket: Szeretitek az állatokat? - Aztán fogtam egy galambot, és leharaptam a fejét. Majd fogtam a következőt, és annak is. A fejüket pedig odaköptem az asztalra. A PR-os nő sikoltozva esett a padlóra. Ezután szépen kidobtak, majd mondták, hogy soha többé nem dolgozhatok a CBS-nek.
Sharon ezek után megpróbált a történtekből előnyt kovácsolni. Arra törekedett, hogy az összes amerikai újság lehozza az esetről szóló cikket, pont a Blizzard Of Ozz tengerentúli megjelenésének napján. A sztori valódi katalizátora lett Ozzy karrierjének, úgy vették a lemezét, mint a cukrot. A Blizzard Of Ozz az angliai 60 000+-os eladott példány után szárnyalni kezdett az USA-ban, és több mint 5 millió értékesített darabbal (5x platina) újra a csúcsra emelte a Black Sabbath ex-énekesét.