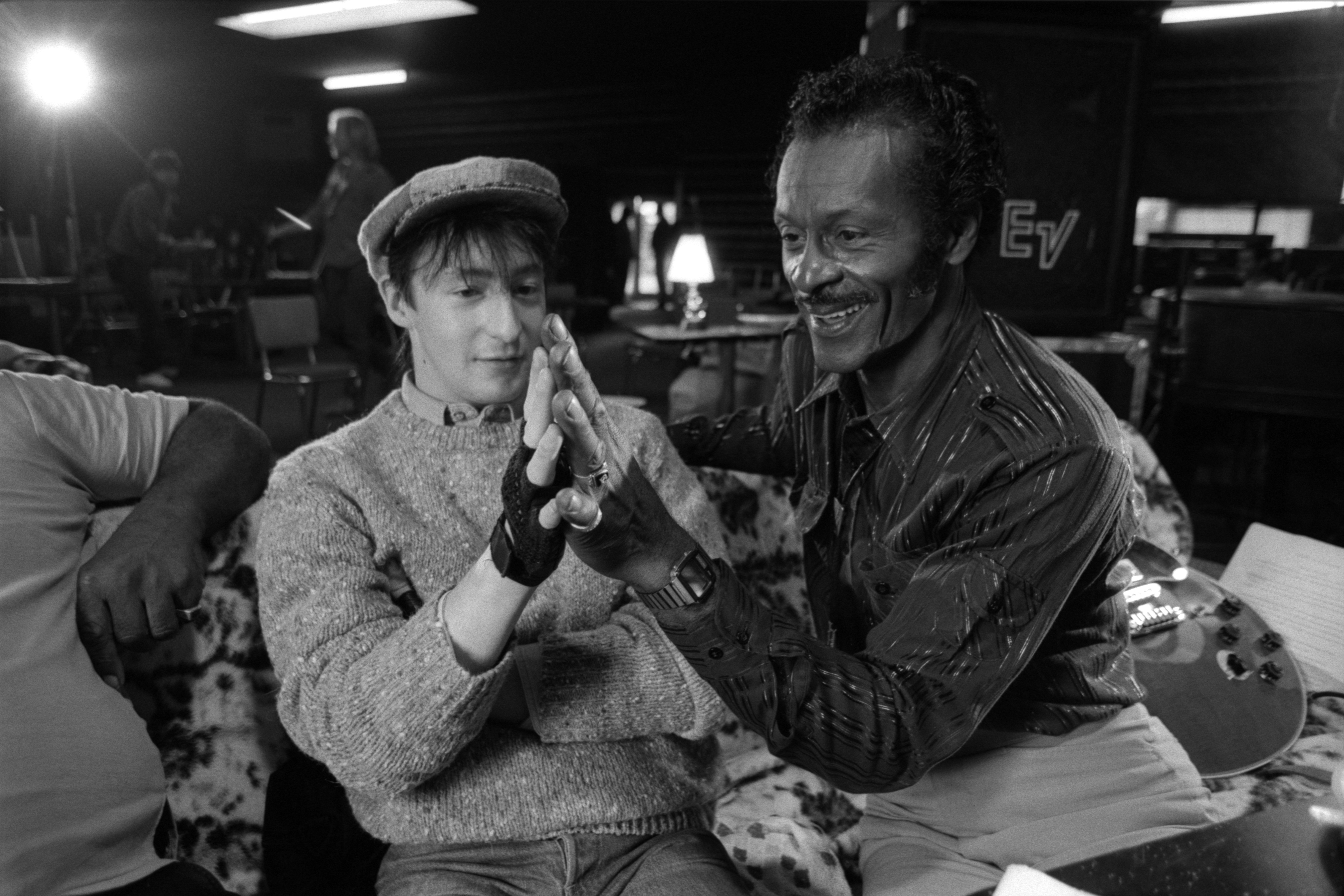 fotó: Terry O'Neill
1972-ben John Lennon azt nyilatkozta, hogy Chuck Berry a hőse és a rock and roll műfajának megkerülhetetlen alakja. 1986-ban Berry azzal viszonozta a bókot, hogy a színpadon az akkor már hat éve halott Lennont a '60-as évek legnagyobb hatású rockzenészének nevezte, majd felkonferálta John fiát, Juliant, és közösen előadták Berry slágerét, a Johnny B. Goode-ot, amelyet '72-ben a Mike Douglas Showban a kacsajárást a rockbulik szerves részévé tevő legendás muzsikus Julian apjával is eljátszott.
Julian és Chuck egymásra találására a Berry 60. születésnapja alkalmából szervezett, sztárparádéval megfejelt két ünnepi koncerten került sor, amelyeket a legenda és zenészbarátai a St. Louis-i Fox Theatre-ben adtak: dokumentumfilm is megörökítette őket, a címe Hail! Hail! Rock 'n' Roll. Chuck és Julian duettjében Keith Richards is közreműködik, és a gitáros igencsak elemében van a felvétel tanúsága alapján − majd kibújik a bőréből örömében, hogy ilyen jelentőségű rocktörténelmi esemény részese lehet. Berry és az apjára nem csupán külsőleg, de hangilag is kísértetiesen hasonlító fiának közös produkciója energiától duzzad, a közönség is szinte eszét veszti tőle, és nyugodtan kijelenthetjük, hogy sokkal tüzesebbre és élettel telibbre sikeredett John és Chuck 1972-es, kissé hakni ízű tévés együttműködésénél. A dal végén elhangzik egy furcsa, a meghatottságtól zavarossá váló párbeszéd: Chuck azt mondja Juliannek, hogy adja át üdvözletét a papájának. Julian azt feleli, hogy megteszi, mire Chuck azt válaszolja, hogy ő pedig majd elmondja Juliannek, mit válaszolt John, mert úgyis találkoznak majd.
Julian Lennon John Lennon és Cynthia Powell házasságából született 1963-ban. Paul McCartney róla írta a Beatles 1968-as megaslágerét, a Hey Jude-ot, amelynek szövegét vigasztalásnak szánta a kisfiúnak, akit apja ekkor hagyott magára Yoko Ono kedvéért. Julian, akárcsak John, végül maga is a zenei pályát választotta, és rendkívül tehetséges előadónak bizonyult, de pályáját beárnyékolta, hogy a kritikusok folyton az apjához hasonlítgatják, mivel nem csak a vonásaik egyformák, de a hangjuk és a dalszerzői stílusuk is egyezik. Eddig összesen hat szólóalbumot készített, a legutóbbit 2011-ben. Idén Dennis DeYounggal, a Styx egykori énekesével jelentetett meg duettet, aki hangsúlyozta, hogy nem híres apja miatt esett Lennon fiára a választása, hanem azért, mert Julian 1984-es bemutatkozó anyagát, a maga idejében roppant sikeres Valotte-ot minden idők egyik legjobb lemezének tartja. John Lennon és Yoko Ono fia, az apjáéra szintén kísértetiesen hasonlító hangú Sean, ugyancsak zenész lett: 2015-ben énekes-gitárosként a világ egyik legjobb basszusgitárosával, Les Claypoollal alapított zenekart The Claypool Lennon Delirum néven, amely mára a pszichedelikus színtér meghatározó bandájává nőtte ki magát.