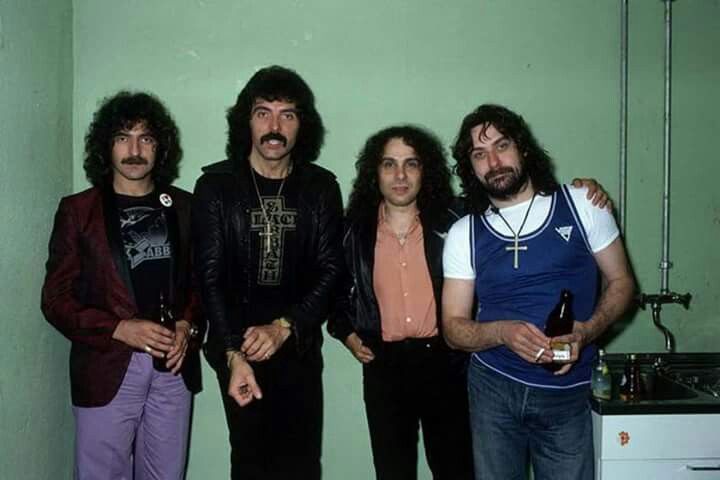 A metal közösség valósággal gyászolt azon a napon, amikor a Black Sabbath kirúgta énekesét, Ozzy Osbourne-t. Bár a Never Say Die! album történelmi sikertelensége megálljt parancsolt a Sabbath féktelen, kokainmámorban telt mindennapjainak, az odáig padlógázon teljesítő zenekar most a kézifék behúzására kényszerült. 1980. április 25-én azonban új énekessel valami örökbecsűt készítettek Iommiék. Az korszakalkotó Heaven And Hell album történetét meséljük el most nektek.
Tony Iommi gitáros így emlékezett vissza az Ozzyval történő szakításra:
Ozzy teljesen kontrollálhatatlanná vált. Nem akarok álszent lenni, mi magunk sem voltunk épp angyalok, de ő átlépett egy bizonyos határt. A kreatív folyamat már rég nem működött. Erőltettük a dolgot, hiszen a kiadó folyamatosan "kopogtatott az ajtónkon", de egy idő után muszáj volt bevallanom nekik, hogy itt most gond van. A folytatás pedig kétesélyes volt: vagy szétszéledünk, vagy megválunk Ozzytól. Az utóbbi mellett döntöttünk.
Nyolc album elkészítése után új fejezet nyílt a Black Sabbath történelemkönyvében. A rajongók és a zenei szakmában dolgozók elképzelhetetlennek tartották, hogy a zenekar egy karizmatikus énekes hiányában felül tudja múlni az eddigi munkáit, de sokan még a minőségi szint elérésében is kételkedtek. Végül az a terv látott napvilágot, hogy egy Ozzyt csak beugróként helyettesítő énekest keresnek, amíg ő összeszedi magát. Bizonyos értelemben a sors iróniája, hogy erre a posztra a Sabbath-menedzser Don Arden lánya, Sharon Arden – igen, az a Sharon, aki később Ozzy neje lett! – ajánlotta a Rainbow és az Elf zenekarok épp munkanélküli énekesét, Ronnie James Diót. 
Iommi szerint a következőképp zajlott a nagy találkozás:
Meghívtuk a Beverly Hills-i villánkba Ronnie-t. Játszottam neki egy riffet, ő pedig csak elkezdett énekelni. "Azt a mindenit!" – mondtam. – "Ez valami csodálatos!" Azonnal tudtam, hogy itt nincs szükség semmiféle formális dologra, interjúra, meetingre. Rögtön belevágtunk a közös munkába. A kreatív folyamat nagyon frissítő volt számomra, mert míg Ozzy együtt élt és együtt énekelt a riffjeimmel, addig Ronnie túlénekelte azokat. Nem csupán munka szempontjából működtünk egy hullámhosszon, de akkor úgy éreztem, az egész olyan, mintha már ezer éve ismernénk egymást. Nyilván már hozzászokott az angol emberekhez, értette az összes szlenget, emellett nagyon jó humorérzéke volt. Illett közénk.
Miközben a Black Sabbath második változatának két fő dalszerzője újjáépítette a zenekar összetört alapját, Geezer Butler basszusgitáros magánéleti válsággal küzdött, és többször az alkotói folyamat felfüggesztésére kényszerült, hogy rendezze családi ügyeit. A nagyobb gondot viszont a dobos, Bill Ward alkoholproblémái jelentették. Ronnie James Dio erről a következőket mondta:
Geezer csak néhány napot dolgozott velünk, miután megérkeztem. Tony és én írtunk meg mindent. Egy másik basszusgitárossal mentünk el Floridába, hogy elkezdjük a felvételeket. Néhány nap múlva Geezer felhívta Tonyt hogy szeretne visszajönni, és megkérdezte,van-e esély erre? Én fontosnak tartottam, hogy együtt játsszanak, de úgy tűnt, Geezernek még mindig nem tisztult ki a feje.
A gitáros szerint végül mégis sikerült egymásra hangolódniuk mind a négyüknek:
Idővel a dalok kezdtek végleges formát ölteni, és Geezer és Bill ennek hatására már komolyan vették a dolgot. A Black Sabbath végre olyan hatékonysággal és életerővel kezdett el játszani, amire a Sabotage óta nem volt példa. Hittünk abban, amit csinálunk, és ez vitt előre bennünket.
Annak ellenére, hogy lelkesedtek a zenekar munkája iránt, a kiadó fejesei egyben szkeptikusak is voltak abban a tekintetben, hogy szeretni fogják-e a rajongók az Ozzy nélküli Sabbath-ot. Ennek az lett a vége, hogy végül nem fizették ki az új lemez felvételeit. A zenekar azonban hitt az új anyagban, és átvállalták a költségeket. Iommi így írta le a munkafolyamatot:
Ez persze azt jelentette, hogy tejesen más módon kellett hozzáállnunk a munkához. Most nem volt idő elkényelmesedni. Összeszedetten, gyorsan kellett dolgoznunk. Most nem azok az idők jártak, amikor vettünk egy tonna kokaint, mondván, épp lemezt készítünk.
Azonban a feszített tempó ellenére sem fosztották meg magukat teljesen a nem zenei élvezetektől: ahogy elkészültek egy dallal, a Black Sabbath tagjai a stúdió közelében található sztriptízbárban múlatták az időt. A DJ pörgette a lemezeket, a lányok táncoltak, Tony pedig társai megviccelésén törte a fejét. Amíg Bill a női idomokra koncentrált, Iommi többször megpörkölte az öngyújtójával. Egyszer aztán beütött a balsors, és a dobos komolyabban megégett. Ez idő tájt derült ki az is, hogy Dio valósággal retteg a kígyóktól. Több sem kellett Tonynak:
Találtam egy döglött csörgőkígyót, és egy horgászzsinórra kötöttem, majd betettem Ronnie autójába úgy, hogy a másik végét a kilincshez erősítettem. Amint kinyitotta az ajtót, olyan volt, mintha a kígyó megtámadná. Ronnie persze nem tartotta akkora poénnak, mint én.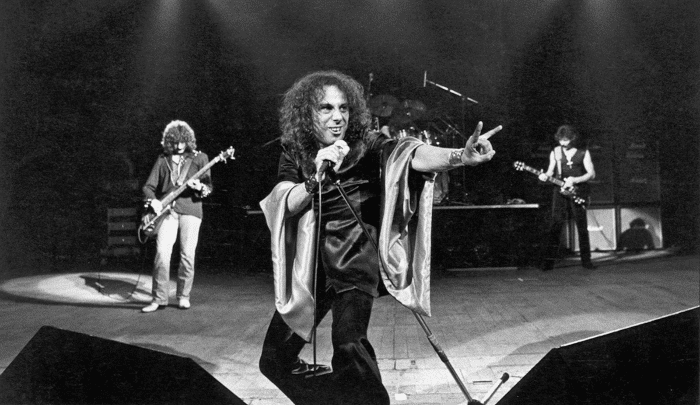 A zenekar 1979 októbere és 1980 januárja között rögzítette a kilencedik Black Sabbath nagylemezt, mely a Heaven And Hell címet kapta. A munkálatok Miamiban zajlottak a Criteria Recording Stúdióban, Martin Birch közreműködésével. A producer arra ösztönözte a zenekar tagjait, hogy a felvételek során kísérletezzenek és bővítsék a hangszeres paramétereket úgy, hogy azok illeszkedjenek Dio több oktávos hangterjedelméhez. Ennek eredménye például a Children Of The Sea is, amely a Led Zeppelint idéző akusztikus dallamokat mossa át egy igazán heavy témába. A Die Young intrója inkább a Pink Floyd munkáinak jellegzetességeit hordozza magában, ám ennek ellenére a dal a lemez egyik legkeményebb darabja, amelyben a progos elemek is szerephez jutnak, többek között Geoff Nichols billentyűsnek köszönhetően.
A Lady Evil vagy a Wishing Well inkább az egyszerűbb, blues alapú dalok közé tartoznak, amelyeknek Iommi pszichedelikus gitárszólói adják meg a pikantériáját. Ám a Black Sabbath ezen az albumon sem tudta levetkőzni a korábbi sajátos stílusjegyeket, és megint ontották magukból a pokoli energiával bíró középtempós dalokat. A címadó darab a zenekar pályafutásának egyik legfőbb slágere, szubjektív véleményem pedig az, hogy a refrénben hallható téma Iommi egyik legzseniálisabb ötlete.
Dio szerint a munkálatok után mindannyian érezték, hogy nagyot alkottak:
Amikor befejeztük a lemezt, közösen meghallgattuk a dalokat, és a többiek arcán ott tükröződött az igazolás. Aki pedig kételkedett bennünk, a megjelenés után azt mondta: Oké, erre fogok pattogni a kocsimban.
A Heaven And Hell a Billboard lemezeladási lista 28. helyén startolt, végül platinalemez lett. A sikere révén a tagok számára bebizonyosodott, hogy nincs szükségük Ozzyra ahhoz, hogy zsigeri és ösztönből táplálkozó zenét csináljanak. Persze a Sabbath karrierjének második korszaka korántsem tartott olyan sokáig, mint az első, ám hasonlóan tartalmas zenei élményt nyújtó alkotások születtek, mint korábban, még ha egyesek nem is tartják őket számon a legnépszerűbb Sabbath-lemezek között.