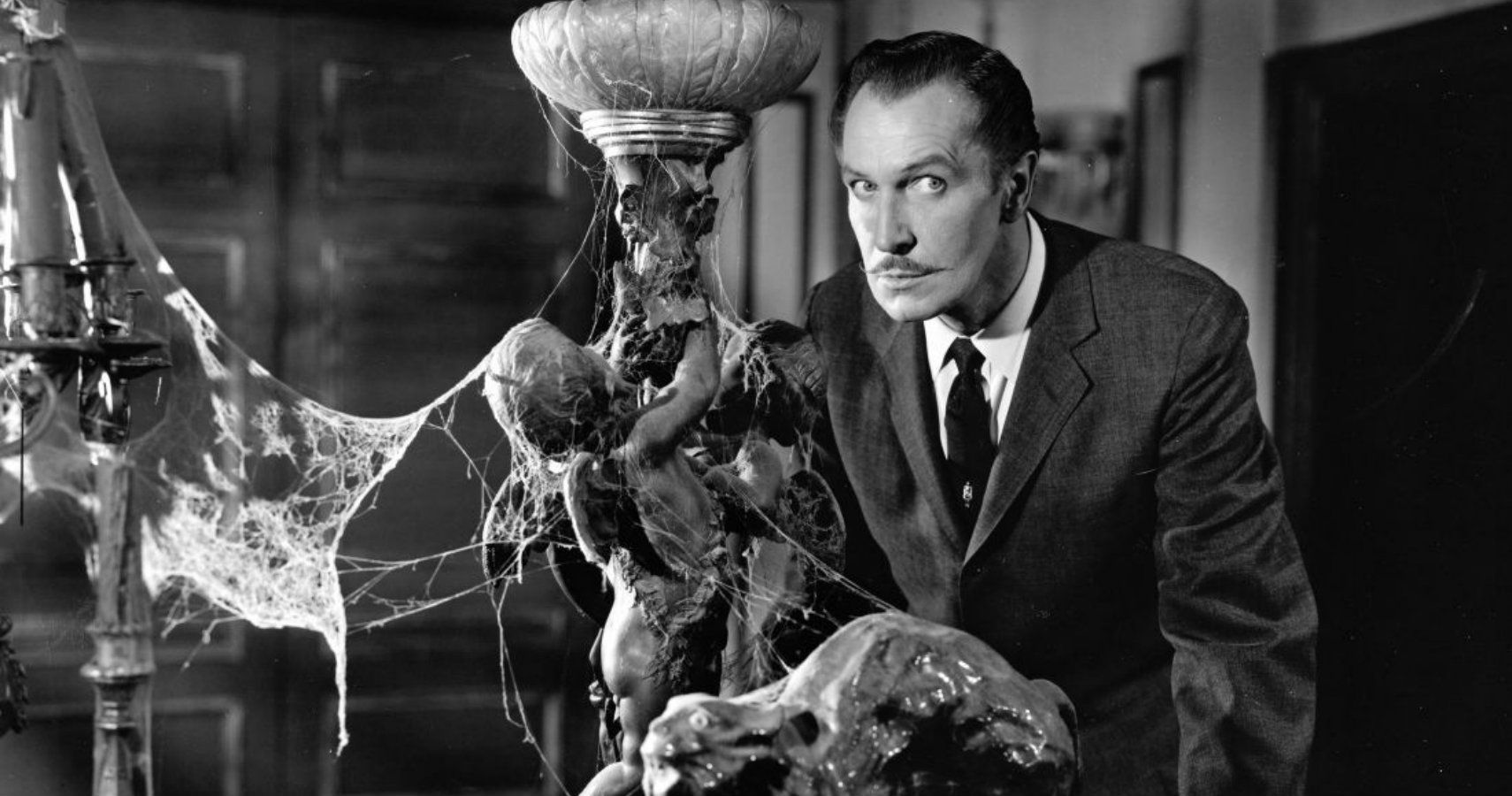 A St. Louis-ban született Vincent Price (1911−1993) minden idők egyik legnépszerűbb horrorszínésze, aki sajátos fekete humorával és shakespeare-i jellegű alakításaival több generáció kedvencévé vált. Orson Welles színtársulatának tagjaként kezdte pályáját, majd sorra jöttek a különféle "rosszfiú" filmszerepek. A mozi történelemkönyvében azonban az 1960 és 1964 között Roger Corman rendezésében készített Edgar Allan Poe-adaptációkkal biztosított magának előkelő helyet: senki sem tud ugyanis olyan rokonszenvesen gonosz lenni, mint ő, amikor a gótika mesterének antihőseit alakítja. E filmek kultusza a tengerentúlon és az Egyesült Királyságban máig akkora, hogy Poe nevének említésétől az USA vagy a ködös Albion szülötteinek többnyire Price is rögtön eszükbe jut. Vincentünk klasszikus műveltségről és kifinomult ízlésről árulkodó bariton hangja, amellyel mindig minden egyes szót kristálytisztán ejtett, a pop- és rocksztárokat is lenyűgözte: ő beszél sejtelmesen Michael Jackson Thriller című megaslágerében és Alice Cooper 1974-es sikeralbumán, a Welcome To My Nightmare-en. Ezúttal viszont nem ezekről, hanem egy világhírű hard rock csapathoz fűződő munkáiról lesz szó.
Vincent Price és a Deep Purple tagjainak útjai első alkalommal 1975-ben keresztezték egymást. Roger Glover, a csapat basszusgitárosa egy évvel korábban vette fel első szólóalbumát egy halom sztárvendég, többek közt a Purple-ös Glenn Hughes, David Coverdale és Ian Gillan részvételével: ez volt az állatok dzsemborijáról szóló The Butterfly Ball And The Grashopper's Feast, amely teljes egészében William Roscoe 1802-ben írt gyermekversén alapult. Price a stúdiólemezen nem szerepelt, viszont a londoni Royal Albert Hallban előadott színpadi verzióban narrátorként segítette a zenekart ezer közül is felismerhető orgánumával. 
Az amerikai horror brit földön is gyakran forgató királya 1977-ben rögzítette Ian Gillan saját stúdiójában, a londoni Kingsway Recorders-ben Bobby "Boris" Pickett 1962-es bájos halloweeni szörnyhimnuszának, a Monster Mash-nek a feldolgozását. A számban hallható zenészek közül Liam Genockey dobos, Steve Byrd gitáros és John McCoy basszusgitáros egy évvel később már Gillan kísérőbandájában játszott.
A Deep Purple 2016-os albumára, a Now What?!-ra két emléknóta került fel: elhunyt zenésztársuk, a billentyűmágus Jon Lord előtt az Above And Beyond-dal, Vincent Price előtt pedig a róla elnevezett dalukkal tisztelegtek. Utóbbihoz klipet is gyártottak, amely hitelesen idézi fel a legendás színész Poe-filmjeinek hangulatát.
Price nem csupán a filmvásznon remekelt, de számos hangoskönyvet jelentetett meg bakeliten. Ezek egy része horror témájú (Poe-novellák felolvasásától egészen a démonidézés legmegfelelőbb módszereinek ismertetéséig terjed a repertoár), másik része viszont a főzés rejtelmeivel kapcsolatos. Price ugyanis szerte Hollywoodban híres autodidakta mesterszakács volt, akinek szó szerint könyörögtek híres kollégái, hogy nála vacsorázhassanak. 1977-ben jelent meg az Osztrák-Magyar Monarchia legnevezetesebb étkeinek elkészítését taglaló albuma, amelyen természetesen a gulyáskészítés titkaiba is beavatja hallgatóit.