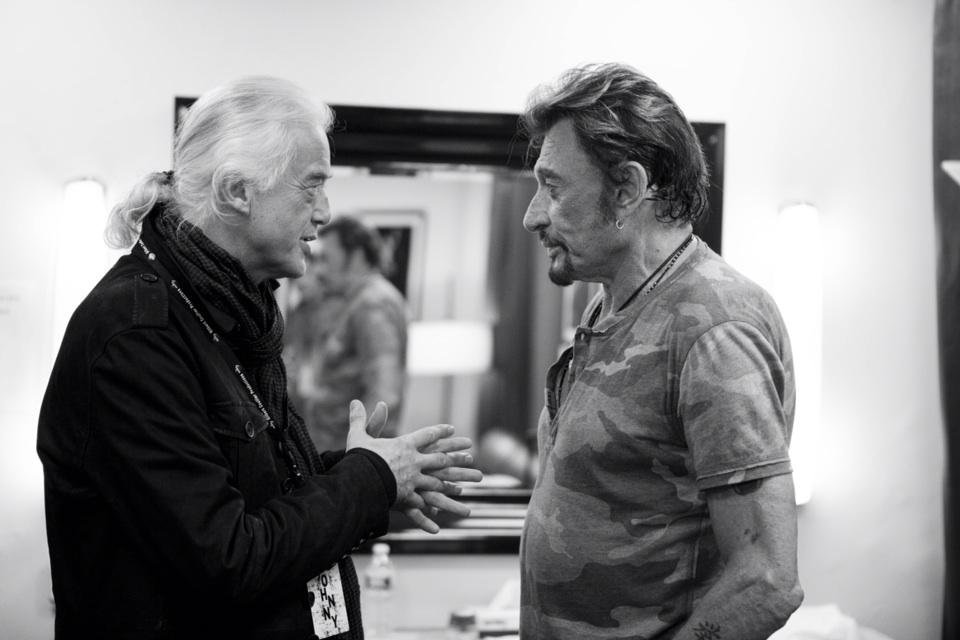 Jimmy Page, a Led Zeppelin gitárosának session munkáiról már értekeztem néhányszor e blogon. Ezúttal két különleges közreműködéséről mesélek nektek, amelyek a '60-as években kitartóan bérzenélő muzsikus legzúzósabb tételei a Led Zeppelin előtti időszakából. Ezeket nem mással követte el, mint a franciák legnépszerűbb rocksztárjával, Johnny Hallydayjel, akivel Jimmy csak 2012-ben találkozott újra, konkrétan az otthon milliókat megmozgató, de máshol kevésbé ismert énekes első New York-i fellépése előtt (ekkor készült a fenti kép).
Hallyday állandó szerzőtársa és gitárosa 1965 és 1971 között Mick Jones, az I Want To Know What Love Is című AOR világslágert jegyző Foreigner leendő főnöke volt. A francia földön otthonosan mozgó brit muzsikus hívta meg 1967-ben Jimmy Page-et Párizsba, hogy a színtiszta rock and roll és a bombasztikus sanzonok után a pszichedelikus kemény rock irányába forduló Hallydayt két dalban is segítse karcos gitárjátékával.
Az első – stílszerűen – a Psychedelic címet kapta, nehogy bárkinek is kétsége legyen afelől, milyen műfajban íródott. Remek tétel, ami sokkal inkább száguldó és fülsiketítően morajló motorokat juttat az ember eszébe, mint a szivárványszínű hippi kábulatot. Page állítása szerint Albert Kingtől ellesett megoldásokat alkalmazott e nótában (később ugyanezt nyilatkozta a Whole Lotta Love kapcsán is).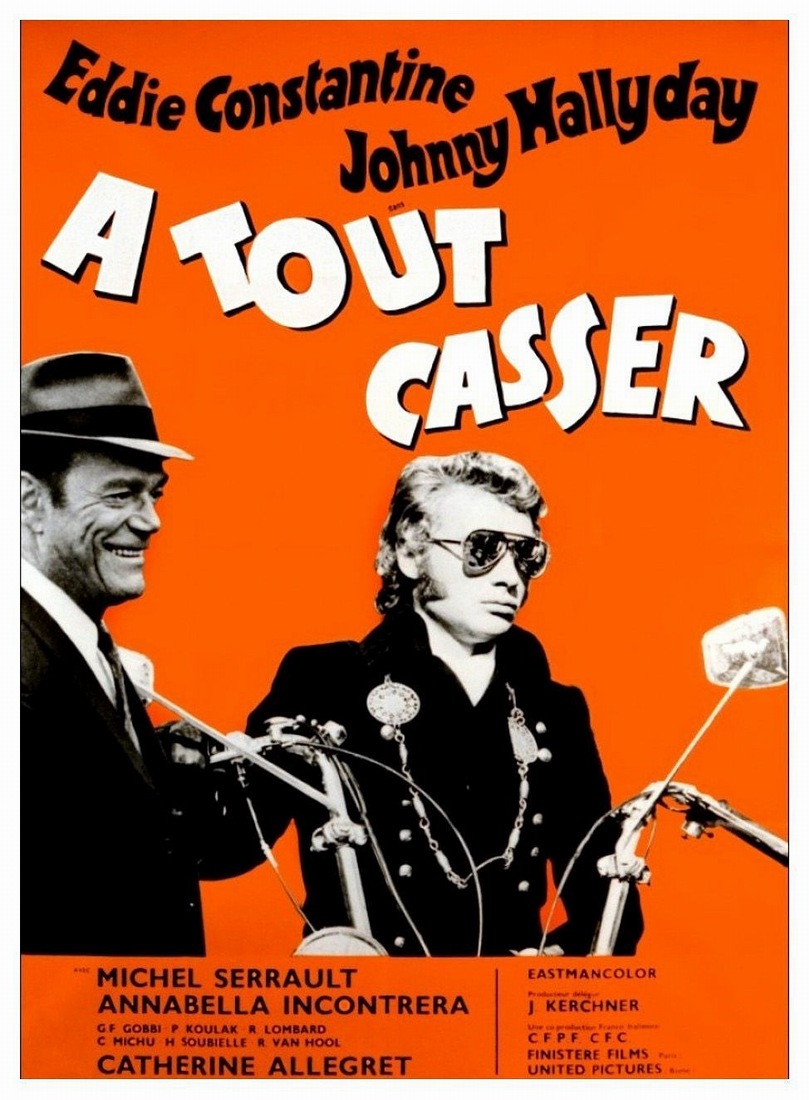 A második Hallyday-Page produkció az Á tout casser, amely az azonos című 1968-as film betétdala. A francia Elvis megirigyelte az amerikai Elvis filmes karrierjét, és úgy döntött, ő is gyártat magának egy mozgóképes művet, ami illik az imidzséhez. Hallyday a példaképénél kissé marconábbra (sőt: "Brandósabbra" – lásd A vad című 1953-as klasszikust) vette a figurát, és egy motoros banda vezérét alakítja, akinek meggyűlik a baja egy gengszterfőnökkel, amikor annak engedélye nélkül akar klubot nyitni a helyi rockereknek. A filmet az USA-ban McCarthynak köszönhetően feketelistára tett rendező, John Berry dirigálta, és olyanok szerepeltek benne Hallydayen kívül, mint Eddie Constantine (francia kémfilmek amerikai származású sztárja) és Michel Serrault (Őrült nők ketrece). Ennek ellenére nem aratott nagy sikert, a Jimmy Page által felturbózott dala viszont máig népszerű az ikonikus Johnny rajongóink körében.
Johnny Hallyday két évvel később a Small Faces és a Humble Pie tagjaival vett fel nagylemezt, erről itt olvashattok részletesen.