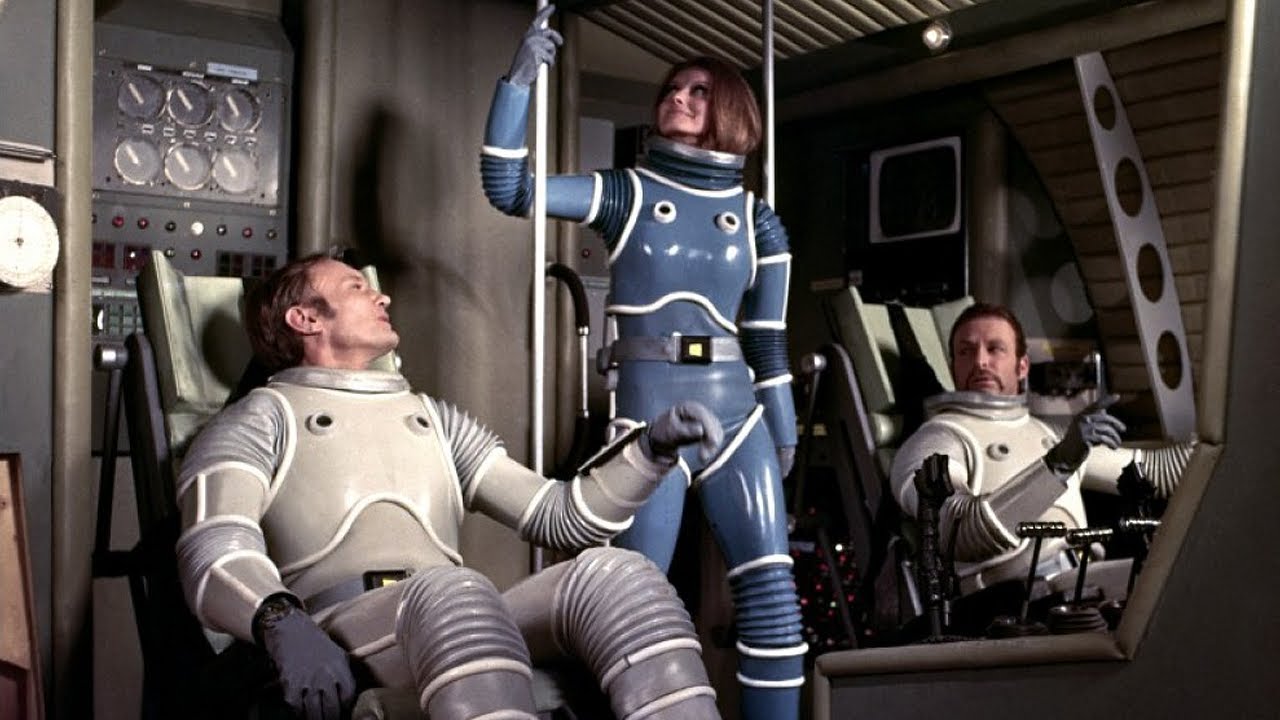 A hatvanas évek végén a sci-fi és a rock világa többször is frigyre lépett egymással. Több ekkoriban különösen aktív sci-fi író (Harlan Ellison, Michael Moorcock, stb.) rokonszenvezett a hippik és a pszichedelikus zenei színtér törekvéseivel, sőt ihletet is merített belőlük. A sci-fi filmek futurisztikus berendezései és ruhakölteményei pedig gyakran úgy néztek ki, mintha más bolygókra kiránduló és a távoli planéták bódító szereit szedő hippik tervezték volna őket. Ezek után azon sem kell csodálkoznunk, hogy egyes sci-fiknek olyan főcímdal jutott, amely nem lógott volna ki például egy Jefferson Airplane albumról sem.
1968-ban mutatták be az az amerikai és japán mozik a két ország koprodukciójában készült The Green Slime című tudományos-fantasztikus agymenést. A filmben egy Flora nevezetű méretes aszteroida tart a Föld felé, és egy csapatnyi űrhajós azt a feladatot kapja, hogy szálljanak le rajta és robbantsák fel. Miután teljesítették a küldetést, visszatérnek az űrállomásra, ám egyikük az űrruhájára tapadt zöld nyálkát hoz magával, amiből aztán egy polip és egy hibrid növényember szerelemgyerekeinek látszó vérszomjas lények születnek az űrbázis melegében. A bátor asztronauták felveszik ellenük a harcot, de nincs könnyű dolguk, mert a "zöldek" a rájuk leadott lézerlövésektől csak még jobban szaporodnak, szó szerint serkentően hatnak rájuk a találatok…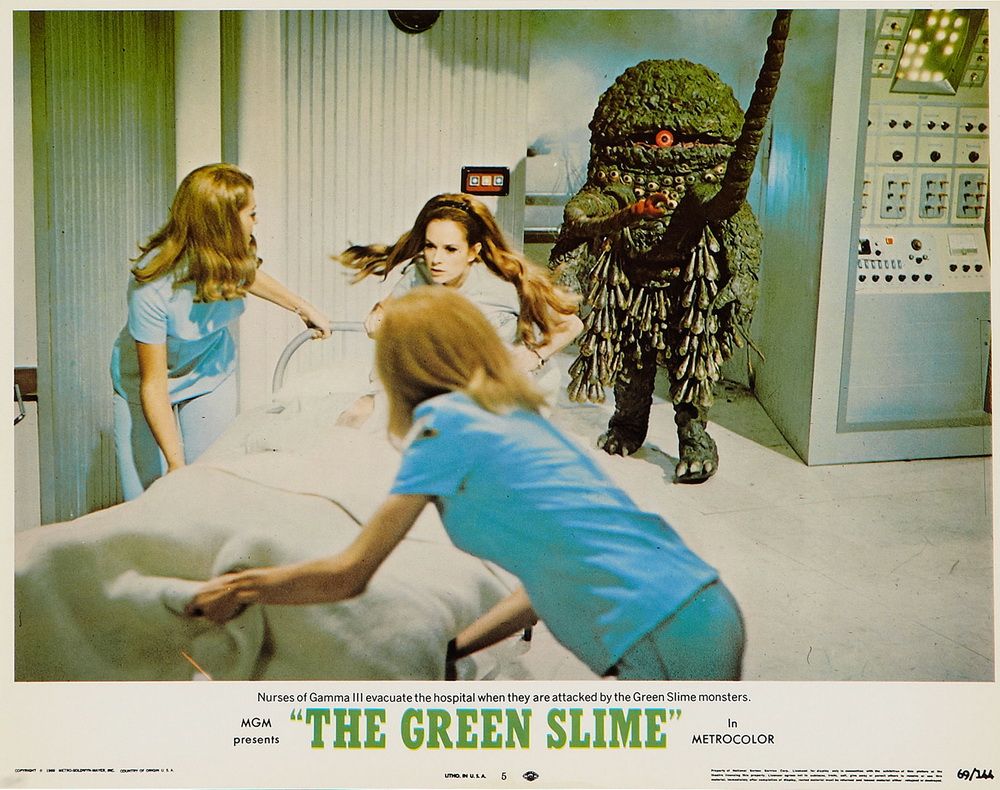 A The Green Slime főcímdala, amely egy igazi garázs-rock gyöngyszem, a surf rock legenda dobos és zeneszerző, az olasz felmenőkkel rendelkező Richard Delvy (eredeti neve Richard Delvecchio) munkája. Delvy az énekesi feladatot Frank Zappa későbbi harcostársára, Rick Lancelotra (igazi neve Ricky Lancelotti) bízta, a hatvanas évek kedvenc "pszichedelikus zajkeltőjét", az electro-theremint (a theremin továbbfejlesztett változata) pedig maga a feltaláló, Paul Tanner kezeli a nótában, aki például a Beach Boys egyik legnagyobb slágerében, a Good Vibrations-ben is közreműködött. Igazán vérpezsdítő szerzeményről van szó, amelynek hallatán bárki szívesen válna csúf és nyálkás földönkívüliekre tüzelő csillagharcossá.
A főleg horrorfilmek gyártásában érdekelt brit Hammer filmstúdió 1969-ben rukkolt elő a Moon Zero Two-val, amelyet magabiztosan "az első űrwesternként" reklámoztak. A western elnevezés jelen esetben arra utal, hogy bár az űrben járunk, a történetvezetés a tipikus cowboyfilmekét idézi. A rosszfiúk kezében itt is hamar elsül a fegyver, de az golyó helyett lézert lő, a hagyományos vadnyugati szerkó helyett mindenki szkafandert visel. A még nagyrészt feltérképezetlen, de már pár földi kolóniával rendelkező bolygóövezet jelképezi a vadnyugatot, és természetesen az űrcsehók sem hiányozhatnak, ahol mogorva és megfáradt űrhajósok kortyolgatják a holdbéli koktélt, és nagyon nem szeretik, ha közben valaki felbosszantja őket. Aranyrögök helyett pedig a szereplőgárdának egy zafírból álló aszteroidára fáj a foga…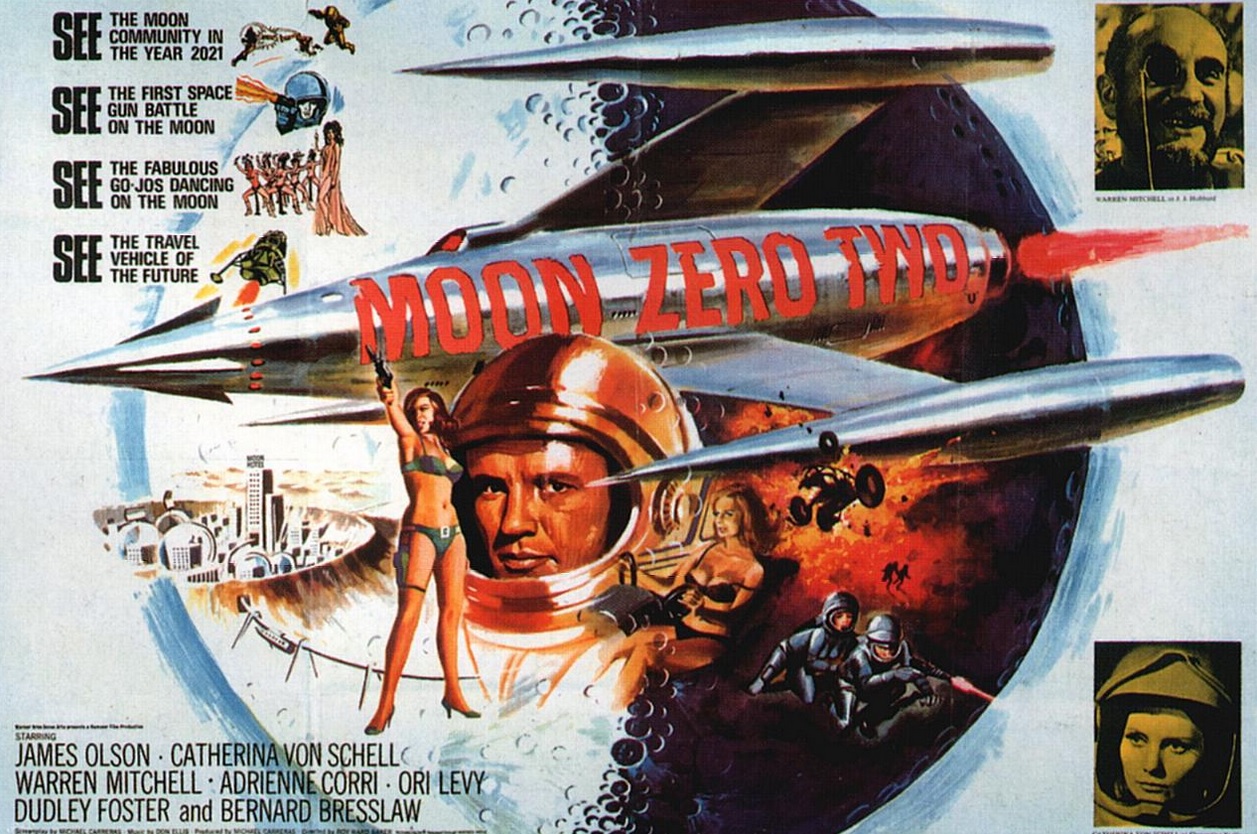 Az alműfaj-teremtőnek szánt sci-fi végül nem aratott sikert, főcímdala, amelyet az Oscar-díjas Francia kapcsolat soundtrack-jét is jegyző jazz-trombitás, Don Ellis komponált és a legendás Julie Driscoll adott elő, viszont a kislemez-gyűjtők kedvencei közé tartozik. Driscoll a hatvanas évtized egyik legjelentősebb énekesnője, aki Brian Auger billentyűssel a pszichedelikus hippi rock, a jazz, a soul és a blues sajátságos ötvözetét népszerűsítette szerte a világban, és annak idején hazánkban is közismertnek számított (Zalatnay Sarolta az egyik fő hatásának nevezte). Driscoll és Ellis közös munkája epikus nagyzenekari tétel, amely minimum egy lenyűgöző látványvilágú 2001: Űrodüsszeia utánzatot sejtet, nem pedig egy kis költségvetésű és az alkotók szándéka ellenére olykor önparódiába átcsapó csillagporos mesét.