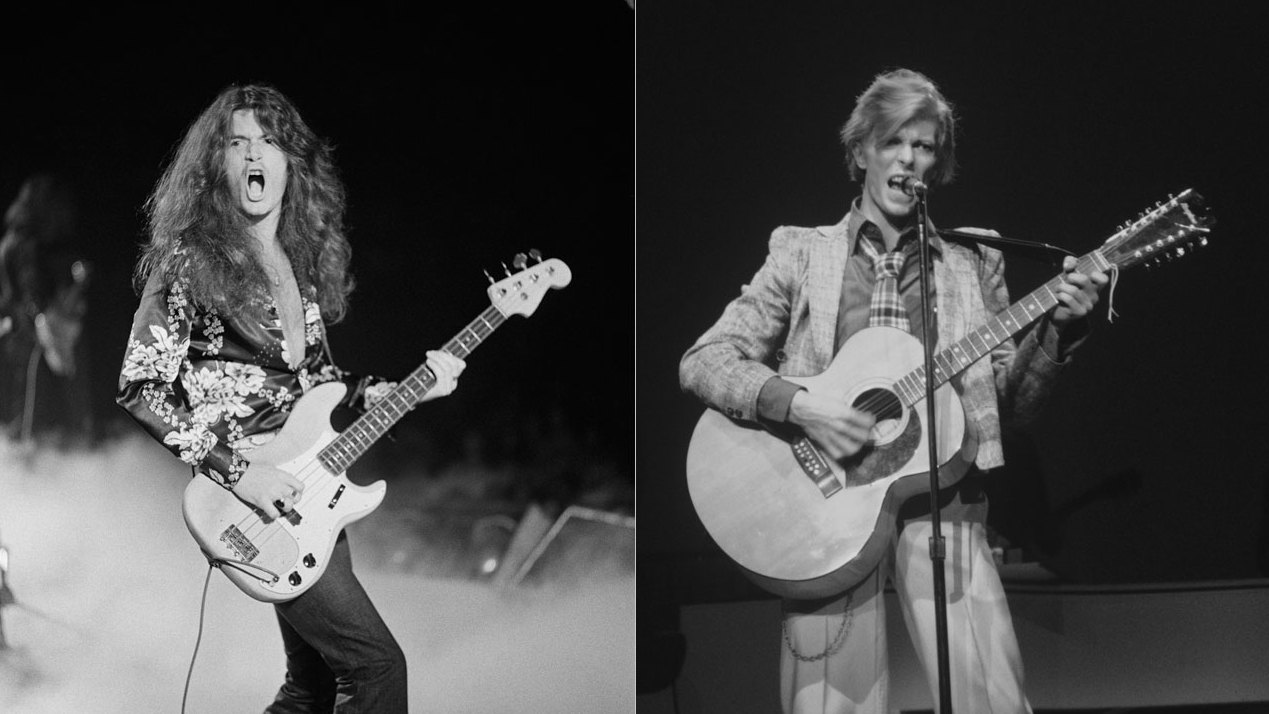 David Bowie, a rock kaméleonja, és Glenn Hughes, a Deep Purple soul- és funk-fanatikus basszusgitáros-énekese 1974-ben ismerkedett meg egymással, és úgy tűnt, a két sztár életre szóló barátságot köt. Ez azonban mégsem következett be; az ismeretségük ugyanis rövidnek, ám igen intenzívnek és produktívnak bizonyult. A részletekről Hughes 2011-ben megjelent, The Autobiography: From Deep Purple To Black Country Communion című önéletrajzi kötetében számolt be.
Egy, a híres Beverly Wilshire Hotelben rendezett bulin találkoztam először Daviddel. Olyanok társaságában ütöttem épp ki magam, mint Alice Cooper, Harry Nilsson, Keith Moon és Ronnie Wood, tehát a rockvilág legzüllöttebb krémjének tagjaival. Egyszer csak megjelent David felesége, Angie, és azt mondta, hogy a férje látta a tévében a California Jam című Purple-koncertfilmet, és szeretne megismerkedni velem. Angie ezek után odavezetett Davidhez, aki egy sötét szobában várt rám, és rögtön azzal kezdte, hogy mit keresek a Purple-ben soul- és funk-rajongó létemre. Elkezdtem sorolni az érveimet, és végül csaknem négyórás beszélgetés kerekedett belőle. Másnap elmentem David koncertjére az Universal Amfiteátrumba, ő pedig az azt követő napon ellátogatott a stúdióba, ahol épp a Stormbringer című albumunkon dolgoztunk, és végignézte, ahogy feléneklem a Hold On-t. Innentől kezdve egészen 1976 elejéig elválaszthatatlanok voltunk. Amikor Ritchie Blackmore kiállt a Purple-ből, semmi kedvem nem volt folytatni, de David meggyőzött róla, hogy érdemes. A Mercedesével vitt el meghallgatni Tommy Bolint, aki aztán az új gitárosunk lett.
Megkérdezte, hogy lakhat-e nálam egy ideig Beverly Hillsben, én pedig rögtön igent mondtam. Akkoriban A Földre pottyant férfi című sci-fi főszerepére készült, és rajtam és Phil Daoussison kívül (az asszisztensem, aki főleg arra ügyelt, hogy ne keveredjek bajba) hivatalosan senki sem tudta, hogy Los Angelesben időzik, el akart tűnni a média árgus tekintete elől. Még David zenésze, és a menedzsere, Tony Defries sem tudták, hol lehet. Végig mellette voltam, miközben az óriási sikert arató Station To Station albumát rögzítette, és nem szégyellem bevallani, hogy talán nem is akadt közben józan pillanatunk. David igazi zseni volt, a Golden Years fantasztikus szövegét felvétel közben improvizálta. Azt akarta, hogy én is énekeljek a lemezen, de a Deep Purple menedzsmentje közbelépett, mivel a zenésztársaimnak nem tetszett az ötlet. Teljesen kiakadtam ettől, és innentől fogva nem éreztem már olyan jól magam a csapatban, mint korábban.
David folyton azzal nyaggatott, hogy máshogy és sokszínűbben kell öltözködnöm; jó néhány ruhámat ki is dobta, annyira undorodott tőlük. Akkoriban kezdtem dolgozni az első és egyben az egyik legjobb szólóalbumomon, a Play Me Out-on, amelyen végre kiélhettem a soul- és funk-mániámat, és úgy véltem, David a befolyása alá akar vonni, de ez nem volt ellenemre. Eredetileg ő lett volna az album producere, de végül ebből sem lett semmi. Állandóan azt hajtogatta, hogy "sose csináld kétszer ugyanazt, vágasd le a hajadat, és mindig másfajta dalokat írj". 1975 elejére mindketten kőkemény kokainfüggővé váltunk, és olyan szinten eluralkodott rajtunk a paranoia, hogy az leírhatatlan. A Földre pottyant férfi-ben David egy idegen lényt alakít, és a szerepre készülődve egyre inkább annak is képzelte magát a kokónak köszönhetően. A legváratlanabb pillanatokban kiáltott fel az utcán, hogy épp UFO-t lát az égen, hazaérve meg odaállt az ablakhoz, és telerajzolta repülő csészealjakkal. Riasztó mértékű üldözési mániája fejlődött ki eddigre, de nálam biztonságban érezte magát.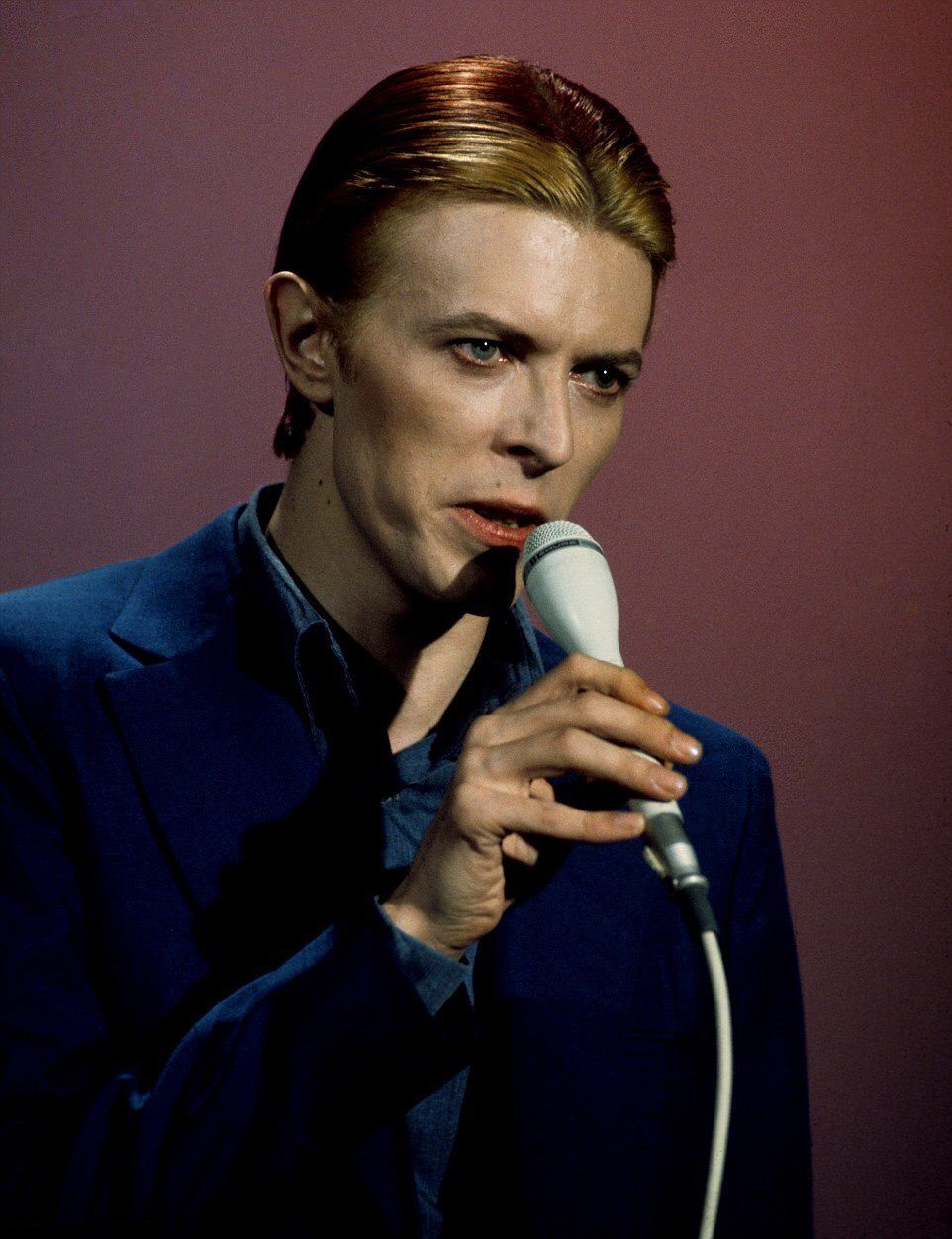 David rendkívül androgün jelenség volt, és akkoriban igencsak szabados időket éltünk, maradjunk ennyiben. Nem feküdtem le vele soha (a feleségével, Angie-vel, viszont igen: ritka agresszív az ágyban), de néha előfordult, hogy kéz a kézben sétálgattunk. Egyikünk sem talált ebben semmi kivetnivalót, és csak röhögtünk, ha emiatt homokosnak néztek bennünket a járókelők. Amikor David elköltözött tőlem egy Doheny Drive-i villába, elszabadult a pokol. Egyik este épp nála voltunk Nigel Olssonnal, Elton John dobosával, és David annyira beporozott, hogy azt kezdte hajtogatni, hogy az ördög a ház úszómedencéjében lakik, nekünk pedig el kell kapnunk, aztán kitenni a szűrét. Úgyhogy a nap hátralévő részét mindhárman a medencében töltöttük David ördögét keresve. David ekkoriban alig aludt, de ha néha sikerült elbóbiskolnia, napokig fel sem ébredt. A Los Angeles-i korszakát később a legsötétebbként emlegette az interjúiban, úgyhogy nem haragszom rá, amiért az 1976-os távozása után többé senkivel sem lépett kapcsolatba az akkori brancsból. Örültem volna persze, ha a barátságunk kiállja az idő próbáját, de sokkal jobban örülök annak, hogy végül mindketten leszoktunk a drogokról és megszabadultunk a démonjainktól.